Our Top Pick Up 100% Since Our May Update (Vul ASX) – Now with Institutional Backers
Vulcan Energy Resources (ASX:VUL | FWB:6KO) is creating noise in Europe's green energy space as it seeks to supply the crucial battery material, lithium hydroxide, to the European electric vehicle battery market — the fastest growing in the world.
VUL plans to extract and process battery-grade lithium hydroxide from geothermal brines using geothermal generated power, a world-first process with zero net carbon emissions.
This Zero Carbon LithiumTM product will deliver a much needed onshore lithium hydroxide supply to Europe and its battery electric vehicle industry.
The company has a successful scoping study under its belt, outlining how a combined operation — producing lithium hydroxide and renewable energy — with net zero carbon footprint would be the first negative-carbon lithium project in the world.
VUL is now working towards delivery of a pre-feasibility study (PFS) by the year's end.
Vulcan Energy is the Next Small Cap's Pick of the Year for 2020 and we hold a large, long term position this stock, first becoming shareholders in August 2019 and recently doubling the size of our position.
VUL has been up as high as 130% since we last updated readers in May – at that time the stock was trading at 28.5¢.
A lot has happened in the space of two months, with the company's share price hitting 65¢ per share since.
The company secured $4.8M in funding in a significantly oversubscribed capital raise at 40c/share – with strong support by institutional investors in Australia and Europe.
The latest news is a prominent EU backed funding body, EIT InnoEnergy, has made a direct investment in Vulcan to assist in completion of the PFS — at 51¢ per share, an 8.5% premium to VUL's 30-day VWAP (average share price) at the time.
Recognising that Vulcan is fully aligned with Europe's Green Deal objectives, EIT InnoEnergy had previously opted to enter a separate agreement with VUL to assist with fast-tracking project approvals and securing future large-scale project development funding, including funding from public sources.
EIT InnoEnergy decision to back Vulcan ultimately came down to the fact that, "a strong European battery industry is a cornerstone of the European recovery plan recently issued by the European Commission".
The company's CEO explained that this strong European battery industry "will be one of the key differentiators for batteries 'made in Europe' to be produced sustainably with the goal of complete carbon neutrality at every stage of the value chain.
"Therefore, making Vulcan's mission of carbon-neutral lithium extraction in the Upper Rhine region in Germany is of utmost strategic importance and has our full support, financially and beyond."
The Next Small Cap's investment in VUL is based on similar reasons: the quality and location of its assets in Germany's Upper Rhine Valley – including Europe's largest lithium resource; its management team that continues to strengthen; and its demonstrated progress towards a commercial dual revenue operation (geothermal energy and lithium hydroxide).
With the rise of Europe's auto and battery industries and the increasing political pressure to reduce carbon emissions, we expect further doors will open for VUL in securing approvals and funding as it progresses towards delivering Europe's — and the world's — first Zero Carbon LithiumTM source.

Market Capitalisation: A$35.6 million
Share Price: A$0.53 (€0.32)
Here's what I like about Vulcan Energy Resources: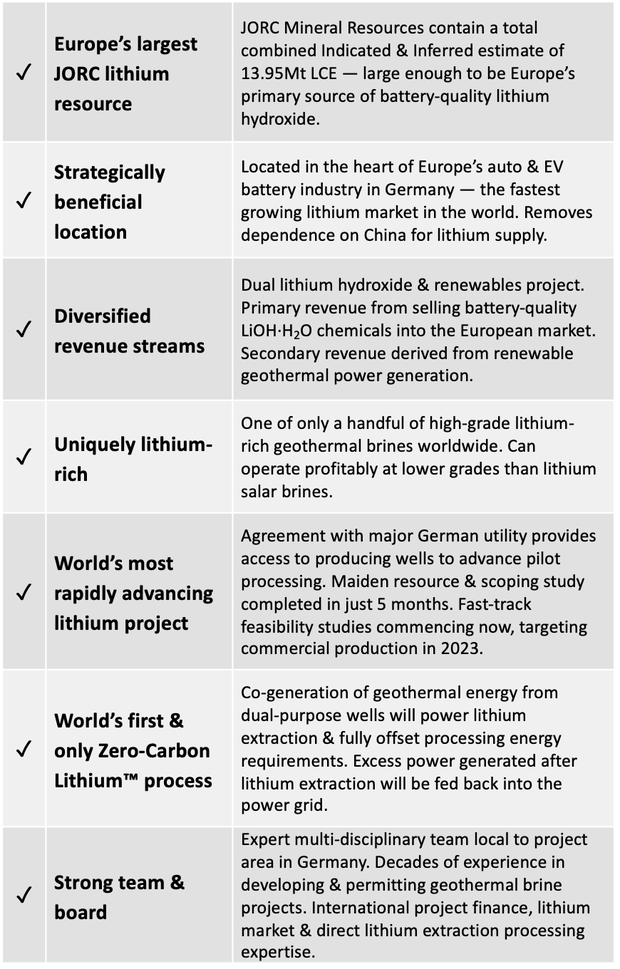 Delivering Zero Carbon Lithium to Europe
Europe is the fastest growing lithium ion production centre in the world – faster than China and faster than North America — driven by the greening of the economy that includes a shift to lower emission vehicles.
Multiple battery manufacturers and automakers need a local supply of battery-grade lithium hydroxide to manufacture Li-ion batteries and power the growing number of electric vehicles on the roads.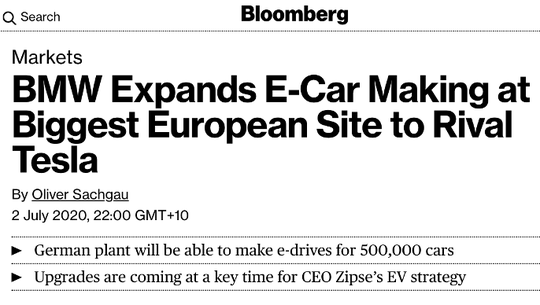 That said, Europe currently has no domestic lithium production.
Currently, the processed battery material is transported to battery manufacturers and automakers in Europe from environmentally damaging hard-rock mining or salar type brines operations in Australia, China and the Americas.
This results in the generation of significantly more CO2 emissions than the manufacture of vehicles with traditional internal combustion engines.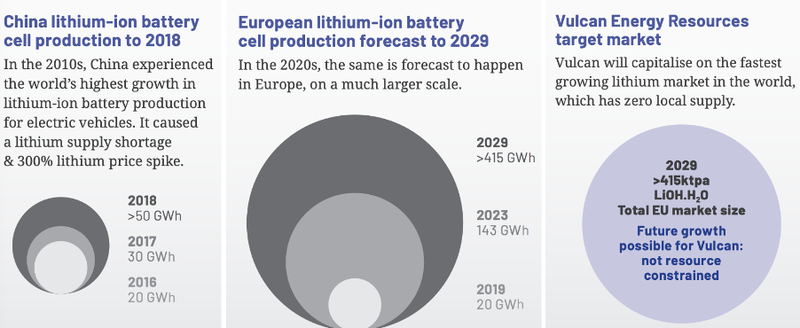 VUL target market
Zero Carbon LithiumTM process
Vulcan Energy Resources (ASX:VUL | FWB: 6KO) is making Zero Carbon LithiumTM production possible, using modern extraction methods from geothermal brines.
The company has all the pieces in place for successful zero net carbon lithium production with renewable heat, high lithium grades, and a high brine flow rate.
This is a rare occurrence as most geothermal brines don't have the required flow rate or lithium grade. In fact, they have been identified in only two places worldwide: The Upper Rhine Valley in Germany, and California's Salton Sea.
In combination with its unique and very large lithium resource, Vulcan's Zero Carbon LithiumTM process will pump up hot lithium-rich brine to the surface, then use the renewable heat to drive lithium extraction, with renewable energy as a saleable by-product.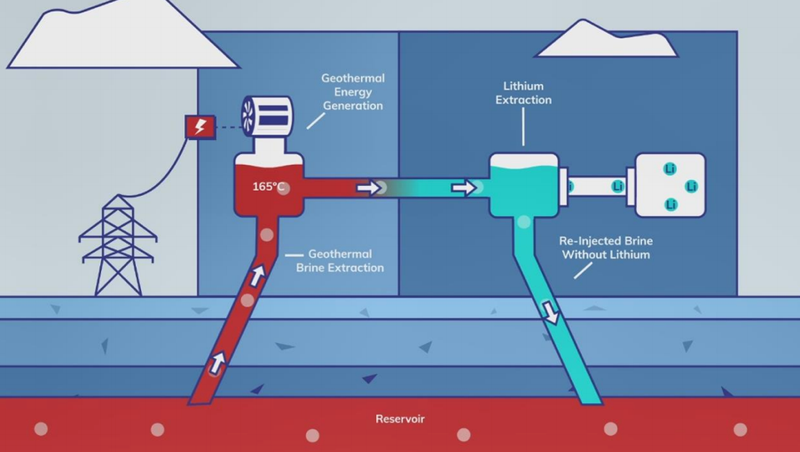 Schematic of the Zero Carbon Lithium process
EIT InnoEnergy Investment
"Accelerating the development of a strong European battery industry is a cornerstone of the European recovery plan recently issued by the European Commission.
"It will be one of the key differentiators for batteries 'made in Europe' to be produced sustainably with the goal of complete carbon neutrality at every stage of the value chain.
"Therefore, making Vulcan's mission of carbon-neutral lithium extraction in the Upper Rhine region in Germany is of utmost strategic importance and has our full support, financially and beyond."
This is the view of Diego Pavia, CEO of EIT InnoEnergy, the European-backed funding body, that is are backing the European battery industry with more than just words.
In an agreement signed this week, EIT InnoEnergy has committed to make staged cash investments to Vulcan Energie Ressourcen GmbH, the company's 100%-owned German subsidiary.
The investments will be made in three tranches: the initial tranche is valued at A$0.51/share (equivalent to the 15-day VWAP and at an 8.5% premium to 30-day VWAP) and is subject to shareholder approval.

Vulcan previously announced as it had won the backing of EIT InnoEnergy, to help obtain and fast-track licences, develop relationships with lithium off-takers in Europe's automotive and battery industries, and secure project funding.
EIT InnoEnergy is the innovation engine for sustainable energy across the European Union, including accelerating innovation and commercialisation along the entire battery value chain.
It is supported by the European Institute of Innovation and Technology (EIT), a body of the EU and is part of the Business Investment Platform (BIP) of the European Commission's European Battery Alliance (EBA) initiative.
EIT InnoEnergy manages the industrial development program of the EBA, the "EBA250" — a project-driven community which brings together more than 250 industrial and innovation actors, from mining to recycling, with the common objective to build a strong and competitive European battery industry.
Under its agreement with VUL, EIT InnoEnergy will assist with:
- Securing project funding, including EU, national or regional grants, and liaising with EU project finance and development banks;
- Driving relationships with European lithium off-takers, aimed at the entering of binding off-take agreements;
- Obtaining and fast-tracking licenses and permitting for VUL's operations with respect to societal/environmental acceptance of the project and recruiting key personnel.
Well funded to progress PFS
Vulcan is now well funded to progress with its pre-feasibility study, having not only secured initial funding from EIT InnoEnergy, but also completing a significantly oversubscribed Placement to institutional investors in June, raising $4.8 million.
The Placement was strongly supported by Environmental, Social, Governance (ESG) focused investors, including new institutional and sophisticated investors from both Australia and Europe.
The funds raised from will be used for the completion of a PFS at the Vulcan Zero Carbon LithiumTM Project, including engineering studies and bench-scale lithium extraction testwork.
The Placement funds will also support engineering, construction and operation of a pilot plant, plus the purchase of seismic data to fast-track siting and development of geothermal production wells.
Vulcan received firm commitments to raise gross equity proceeds of $4.8 million (before costs) through the issue of 12,000,000 fully paid ordinary shares at an issue price of 40 cents per share.
Here's CEO Dr Francis Wedin providing Seneca Financial Solutions' Luke Laretive with an update on the company post capital raising on 5 July.
Analyst research looks positive
German research house Alster Research has released an update to their previous coverage on Vulcan Energy Resources Ltd.
"When the Pre-Feasibility Study is presented (scheduled for the end of 2020), we can likely assume an equity valuation of at least US$125 million (A$192M / €110.6M) on the capital markets."
Alster maintain a BUY recommendation and a A$2.45, or €1.45, per share price target on Vulcan Energy Resources Ltd.
This is a significant (+450%) premium to the share price close at the time of the report of A$0.445 / €0.26 — and the current A$0.53 / €0.32.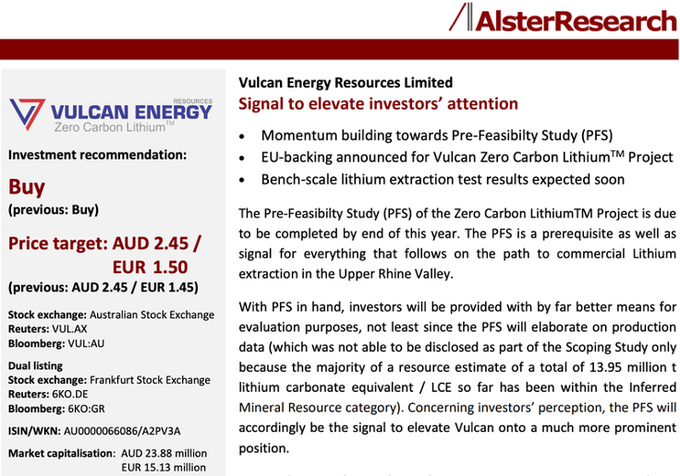 In addition to Alster, Wise-owl have initiated coverage of VUL, as have Morningstar.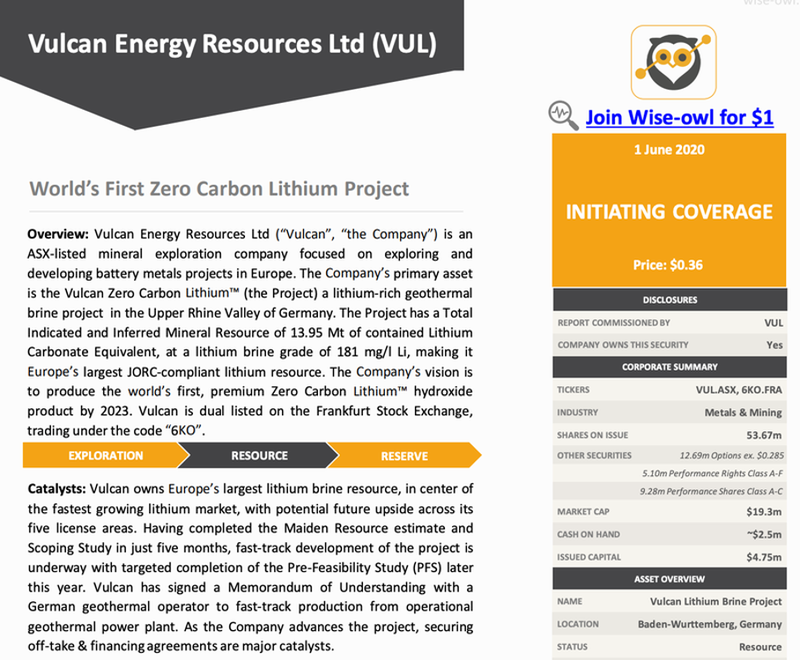 Furthermore, the company's recent share price momentum and upcoming newsflow saw the Bull.com.au identify VUL as a 'Buy' on 28 June.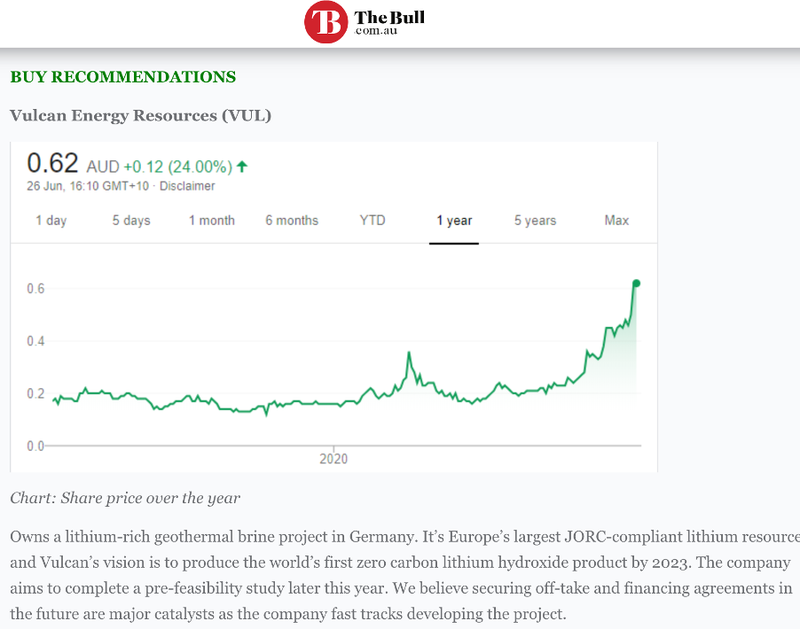 What's next for Vulcan?
Having completed the project's maiden resources assessment and scoping study in quick time, VUL will now move through the pre-feasibility and definitive feasibility stages.
It has a highly active 6-12 months ahead as it further accelerates its project development.
To support its ambitions, Vulcan's partnership with EIT InnoEnergy will help to unlock funding, including that from EU and national grant schemes.
This strategic partnership with the EU-backed group will also help in securing offtake agreements, further investments with banks, and working with local stakeholders to assist with successful permitting.
Given that it has such a large lithium resource — a globally significant 13.95Mt contained Lithium Carbonate Equivalent (LCE) — VUL will be able to simply drill more wells if it wants to produce more lithium and grow alongside the European electric vehicle market in the 2020s and beyond.
For more on VUL see my last article: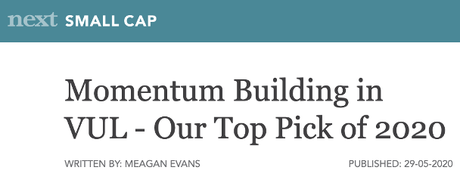 ---