Momentum Building in Vul ASX - Our Top Pick of 2020
PUBLISHED: 29-05-2020 11:18 a.m.
Vulcan Energy Resources (ASX:VUL | FWB: 6KO), the Next Small Cap's Pick of the Year for 2020, is gathering serious momentum since the widespread market collapse in March.
The stock has tripled from its March low point, but it is still only capped at $24 million (as of 12 June). We maintain a large, long term position in this stock and recently increased our holdings.
The company is attracting increasing investor and media attention as it seeks to supply the crucial battery material, lithium hydroxide, to the European electric vehicle battery market — the fastest growing in the world. VUL plans to extract lithium from brine using geothermal power, via a process that generates zero net carbon emissions.
This last fact is important as the European Union will be climate neutral by 2050. To achieve this the European Green Deal Investment Plan is designed to attract at least one trillion euros worth of public and private investment in coming decades, working to decarbonise the energy sector and rolling out cleaner, cheaper and healthier forms of transportation
UPDATE, 13 JUNE 2020: German research house Alster Research has released an update to their previous coverage on Vulcan Energy Resources Ltd.
"When the Pre-Feasibility Study is presented (scheduled for the end of 2020), we can likely assume an equity valuation of at least US$125 million (A$192M / €110.6M) on the capital markets."
Alster maintain a BUY recommendation and a A$2.45, or €1.45, per share price target on Vulcan Energy Resources Ltd.
This is a significant (+450%) premium to Friday's share price close of A$0.445 / €0.26.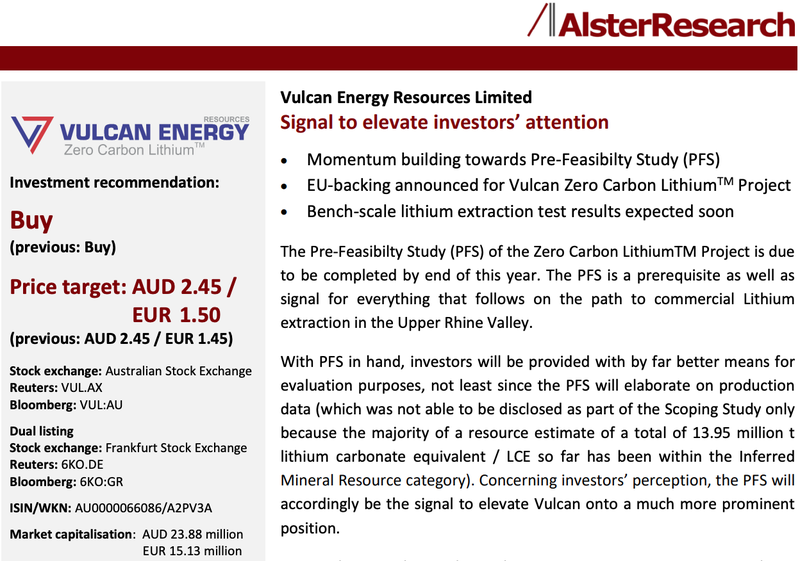 In addition to Alster, Wise-owl have initiated coverage of VUL, as have Moringstar.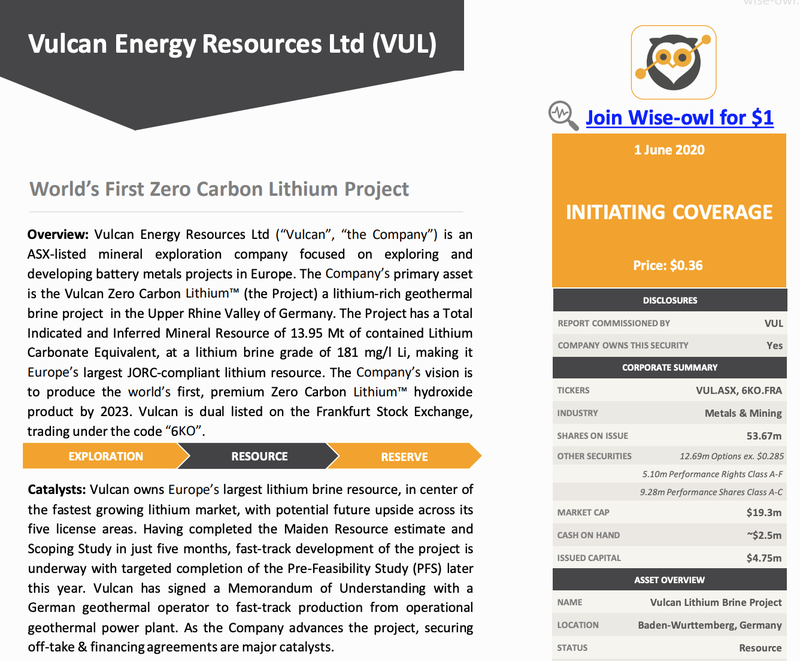 VUL's February scoping study showed potential for a combined operation producing lithium hydroxide and renewable energy, with net zero carbon footprint, making the Vulcan Zero Carbon LithiumTM Project the first negative-carbon lithium project in the world — right in the heart of Europe's auto and EV battery industry.
Earlier this year, this first of its kind Zero Carbon LithiumTM scoping study catapulted the stock to as high as 38¢ per share — an almost 150% gain from the start of the year.
But that was before the COVID-19 outbreak struck markets worldwide saw the company, which operates in the pandemic hit Germany, sold off back to as low as 15¢ per share amid the uncertainty.
Since then, buyers have begun to return to VUL, tripling the company's share price from its March lows to reach 53¢ per share on June 11.
But we haven't seen anything yet, say Alster Research. The German research house's $2.45 (€1.45) per share price target on VUL makes for "the first time in our company history of 14 years we initiate coverage with a ten-bagger".
Of course, analyst price targets in early stage companies are extremely speculative, but we too at the Next Small Cap see serious long-term growth potential in VUL — especially now as the story begins to break out and gain more market support.
The company, our 2020 Pick of the Year, maintains a prime position in our long-term investment portfolio, a position that we have been adding to since we first became shareholders in August 2019.
Our investment in VUL stems from the quality and location of its assets in Germany's Upper Rhine Valley – including Europe's largest lithium resource, its management team that continues to strengthen, and its demonstrated progress towards a commercial dual revenue operation (geothermal energy and lithium hydroxide).
Further, the rise of Europe's auto and battery industries and the increasing political pressure to reduce carbon emissions will open doors for VUL in securing approvals and funding.
If it can achieve its mission and deliver Europe's — and the world's — first Zero Carbon LithiumTM source, the company would no doubt reach that analyst price target and beyond.

Vulcan Energy Resources
ASX:VUL, FWB:6KO
Market Capitalisation: A$23.88 million
Share Price: A$0.445 (€0.26) (as of close 12 June)
Cash: A$2.5 million (at 31 March)
Here's what I like about Vulcan Energy Resources: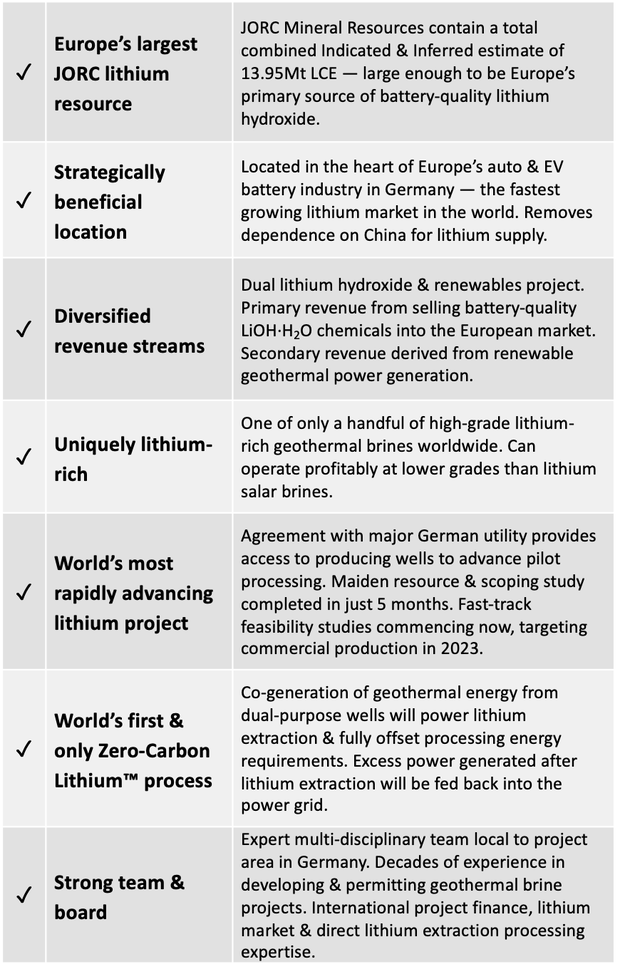 Europe is the fastest growing lithium ion production centre in the world – faster than China and faster than North America — yet it has no domestic lithium production.
The battery material is currently sourced from environmentally damaging hard-rock mining or salar type brines operations, which is then processed and transported to battery manufacturers and automakers in Europe. This generates significantly more CO2 emissions than the manufacture of vehicles with traditional internal combustion engines.
Vulcan Energy Resources (ASX:VUL | FWB: 6KO) will deliver Europe its first onshore lithium hydroxide supply for its battery electric vehicle industry — all while generating zero net carbon emissions.
VUL is setting out to deliver a world first: a unique lithium production process that generates zero net carbon emission and is located in the heart of the European auto and lithium-ion battery industry.
Zero Carbon LithiumTM production is possible using modern extraction methods from geothermal brines. These hot, salty fluids deep in the sub-surface produce renewable power and heat, and sometimes contain lithium.
For successful production a deep geothermal brine reservoir is required with the following geological conditions:
Renewable heat;
High lithium grades;
High brine flow rate.
But finding all three of these conditions is rare — most geothermal brines don't have the required flow rate or lithium grade.
VUL scoured the globe to find these reservoirs, which it identified in just two places: The Upper Rhine Valley in Germany, and California's Salton Sea.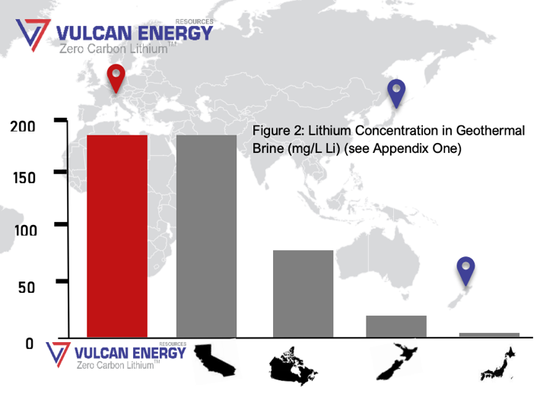 Lithium Concentration in Geothermal Brine (mg/L Li)
VUL used its geological expertise to pick out the best areas in the Upper Rhine Valley for sub-surface lithium grade and potential flow rate.
It secured exclusive rights to these areas: a very large license package hundreds of square kilometres in size, underneath which is the lithium, stored in the hot geothermal reservoir.
Zero Carbon LithiumTM process
Vulcan will use its Zero Carbon LithiumTM process married with its unique and very large lithium resource to pump up hot lithium-rich brine to the surface, then use the renewable heat to drive lithium extraction, with renewable energy as a saleable by-product.
The company will use renewable heat derived from the geothermal brines to drive the lithium extraction process with zero fossil fuel consumption.
Even the power grid will be decarbonised by producing a surplus of renewable electricity. Any spent brine will be re-injected into the processing plant.
VUL will use its proprietary Zero Carbon LithiumTM process, married with its unique and very large lithium resource, to pump up hot lithium-rich brine to the surface. It will then use the renewable heat to drive lithium extraction, with renewable energy as a saleable by-product. Ultimately, this could disrupt and lead the resources industry towards a Zero Carbon future.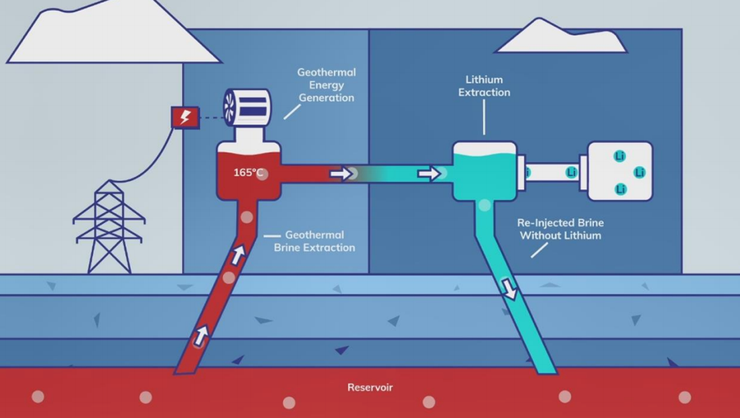 Schematic of the Zero Carbon LithiumTM process.
European Green Deal to decarbonise the energy sector
This comes as EU sets out plans to be climate neutral by 2050.
EU has recognised climate change and environmental degradation as "an existential threat to Europe and the world" and seeks to a resource-efficient economy where there are no net emissions of greenhouse gases by 2050 and economic growth is decoupled from resource use.
The European Green Deal is a roadmap for making the EU's economy sustainable. It will transform climate and environmental challenges into opportunities, boosting the efficient use of resources by moving to a clean, circular economy and restore biodiversity and cut pollution
To achieve climate neutrality in 2050, a European Climate Law has been proposed that would turn the political commitment into a legal obligation and a trigger for investment.
The EU says reaching this target will require action by all sectors of the economy, including
- Investing in environmentally-friendly technologies
- Supporting industry to innovate
- Rolling out cleaner, cheaper and healthier forms of private and public transport
- Decarbonising the energy sector
- Ensuring buildings are more energy efficient
- Working with international partners to improve global environmental standards
VUL company recently presented its Zero Carbon LithiumTM Project to European Commission and European Investment Bank Vice-Presidents, alongside Volkswagen, BASF, Umicore and French utility company EDF as part of a European Battery Alliance (EBA) presentation by key European battery industry leaders.
Vice-President European Commission, Maroš Šefčovič commented: "We will set up a dedicated alliance to remove bottlenecks in the critical raw materials supply chain. Europe will need 18x more lithium by 2030".
He added, "I'm absolutely convinced that the owners of electric vehicles want a "full story". They want to know that the product, the car, has been manufactured to the highest environmental standards. That the raw materials have been extracted in a sustainable way."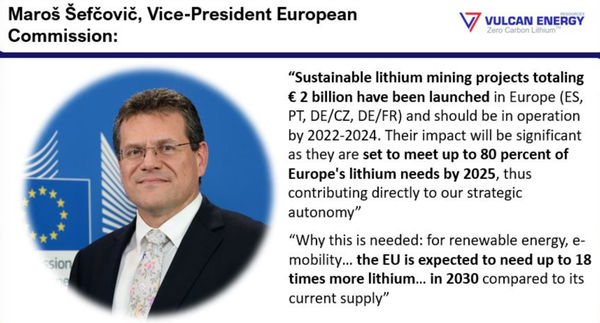 For more on VUL see my last article: "Vulcan "Our First Ten-Bagger" say German Research House".

"Did you see the Next Mining Boom article on GTR?'
VUL, our 2020 Pick of the Year, maintains a prime position in our long term investment portfolio, a position that we have added to since we first became shareholders in August 2019.
Over at the Next Mining Boom, we recently initiated coverage on GTR ago when it was an unknown stock priced at 1.2c. GTR is now priced at 4.4c, and has been as high as 5.3c in May (a gain of over 340% in just a few weeks).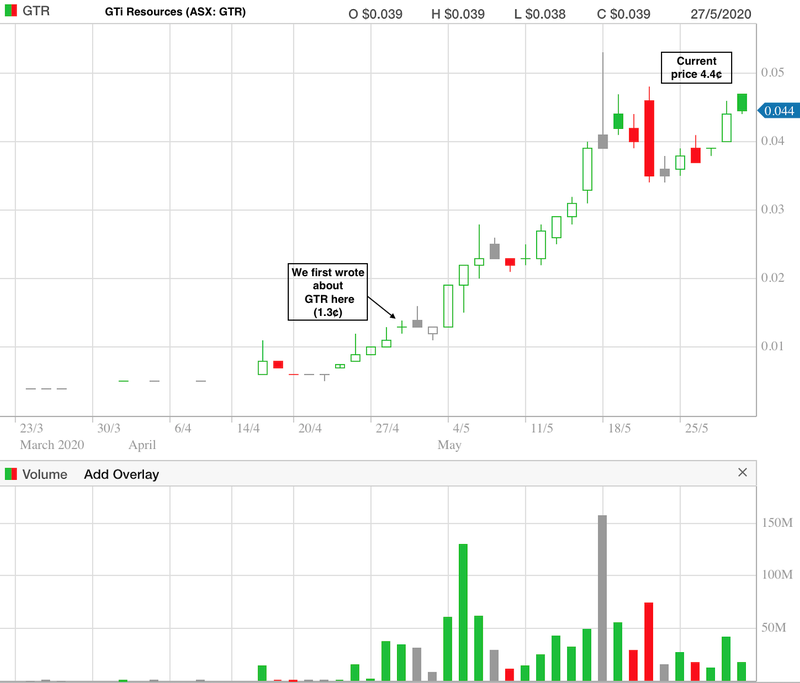 EIT InnoEnergy Partnership signed
Vulcan Energy has won the backing of the European Union funding body, EIT InnoEnergy, to help obtain and fast-track licences, develop relationships with lithium off-takers in Europe's automotive and battery industries, and secure project funding.
It will also support efforts in securing offtake agreements, further investments with banks, and working with local stakeholders to assist with successful permitting.
EIT InnoEnergy, as part of the Business Investment Platform (BIP) of the European Commission's European Battery Alliance (EBA) initiative. It is the innovation engine for sustainable energy across the European Union, including accelerating innovation and commercialisation along the entire battery value chain. It is supported by the European Institute of Innovation and Technology (EIT), a body of the EU.
The European Commission founded the European Battery Alliance in October 2017 and includes the European Commission, European Investment Bank and key EU industry stakeholders such as automakers, battery and cathode producers.
EIT InnoEnergy manages the industrial development programme of the European Battery Alliance, the "EBA250". This is a project-driven community which brings together more than 250 industrial and innovation actors, from mining to recycling, with the common objective to build a strong and competitive European battery industry.
Under its agreement with VUL, EIT InnoEnergy will marshal its ecosystem and significant EU-wide resources to drive the Zero Carbon LithiumTM Project forward.
Through the agreement, EIT InnoEnergy will assist Vulcan with:
Securing project funding, including the use of applicable EU, national or regional grant schemes, and liaising with EU project finance and development banks
Driving relationships with European lithium off-takers, aimed at the entering of binding off-take agreements.
Obtaining and fast-tracking necessary licenses for Vulcan's operations in Germany and services with respect to societal/environmental acceptance of the project and recruiting key personnel.
Compensation for all EIT InnoEnergy services are entirely success-based, with no upfront cost to Vulcan.
The Australian Financial Review was one media outlet that picked up the news...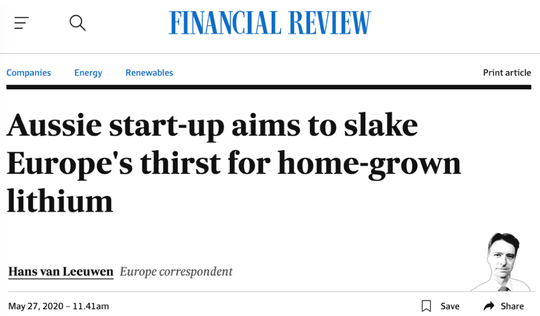 Vulcan expands team with two appointments
Dr Katharina Gerber
On May 11, VUL announced that Dr Katharina Gerber joins Vulcan Energy Resources team as a Non-Executive Director.
Dr Gerber was awarded her chemistry PhD on cathode materials for lithium-ion batteries magna cum laude (with great distinction) at the University of Bonn, Germany.
Currently a Project Leader at the California Energy Commission (CEC) focussed on lithium extraction from geothermal brines, life-cycle assessments of energy storage technologies, California State energy and environmental policies and management of grant funding opportunities.
Dr Gerber participates in multiple interagency working groups, including the "California Lithium Valley" initiative.
Unique combination of expertise in lithium-ion battery chemistry and lithium extraction from geothermal brines.
Ranya Alkadamani
Dr Gerber's appointment follows the appointment to the Board in late-April of Ranya Alkadamani, who is highly regarded in the ethical and sustainable investment sector, as a Non-Executive Director.
Alkadamani has had vast experience in the political and corporate arena through her responsibilities in handling strategic communications and external affairs for Andrew Forrest's Minderoo Foundation and Minderoo Group.
She was also Press Secretary to former Australian Prime Minister Kevin Rudd during his time as Australian Foreign Minister. She was spokesperson for the Australian Department of Foreign Affairs and Trade.
Alkadamani is also founder and chief executive of Impact Group International, a group focused on strategic communications advice for ethical/impactful organisations.
Being highly regarded in the ethical and sustainable investment sector, Alkadamani brings valuable experience to the table given VUL's mission is to produce and supply the electric vehicle battery market in Europe with the world's first Zero Carbon LithiumTM.
Vulcan fast tracking towards production
Having completed the maiden resources assessment and scoping study in quick time, VUL will now move through the pre-feasibility and definitive feasibility stages. Bench-scale processing test work as part of the PFS has commenced.
The partnership with EIT InnoEnergy announced on 26 May will help to unlock funding, including that from EU and national grant schemes. It will also help in securing offtake agreements, further investments with banks, and working with local stakeholders to assist with successful permitting.
Given its rapid momentum to date, construction of VUL's own pilot plant to demonstrate and de-risk the project is expected to be completed this year. Following this, the DFS will be completed in 2021.
A "sensible" scale-up is planned, first with a small commercial plant to be built at an existing geothermal operation, saving CAPEX: Stage 1.
A MoU with a highly respected local geothermal plant operator gives access to live brine for processing test work. It may also allow for the processing of the plant's waste brine to product VUL's first commercial Zero Carbon LithiumTM hydroxide. This could deliver a shortcut to commercial development.
Stage 2 will be much larger and would involve VUL's own wells and geothermal plant construction.
More on the Scoping Study is available here.
Given that it has such a large lithium resource — a globally significant 13.95Mt contained Lithium Carbonate Equivalent (LCE) — VUL will be able to simply drill more wells if it wants to produce more lithium and grow alongside the European Electric Vehicle market in the 2020s.
---