Vul ASX "Our First Ten-Bagger" say German Research House
PUBLISHED: 16-03-2020 10:11 a.m.
It has been barely two weeks since the Next Small Cap named Vulcan Energy Resources (ASX:VUL | FWB: 6KO) as our Pick of the Year for 2020. And while global markets have seen some major volatility in that time, our view of Vulcan hasn't changed.
In fact, after reviewing the research we are bringing to you today, our optimism around Vulcan's outlook has only strengthened.
That research by None has a target price for Vulcan at more than 12 times its current market value, making it "the first time in our company history of 14 years we initiate coverage with a ten-bagger".
Located in Germany's Upper Rhine Valley basin, the Vulcan Zero Carbon LithiumTM Project is aiming to be Europe — and the world's — first Zero Carbon LithiumTM project.
It has outlined plans to produce battery-grade lithium hydroxide from hot sub-surface geothermal brines pumped from wells with a renewable energy by-product, with first commercial production targeted by as soon as 2023.
Not only has Vulcan developed a way to extract lithium with zero carbon emissions, but it has secured Europe's largest lithium resource, right next to Europe's largest car and battery manufacturing plants.
The company last month released its scoping study indicating the potential for its Vulcan Zero Carbon LithiumTM Project to be the first negative carbon lithium project in the world, helping to decarbonise what is known to be a highly CO2-intensive product.
The study demonstrates the potential for a combined operation producing lithium hydroxide and renewable energy, all with a net zero carbon footprint.
The positive scoping study prompted Alster to calculate an enterprise value, using a discounted cash flow projection, for Vulcan Energy Resources' Zero Carbon LithiumTM Project of US$769 million — equivalent to approximately A$1.3 billion, or €700 million.
On that basis, and after allowing for some future dilution, Alster set a price target of €1.45, or A$2.45 per share with its initial investment recommendation a "buy".

Vulcan Energy Resources
ASX:VUL, FWB:6KO
Market Capitalisation: A$8.73 million
Share Price: A$0.20 (€0.11)
Cash in bank: A$3.15 million, as 31 December 2019.
Here's what I like about Vulcan Energy Resources: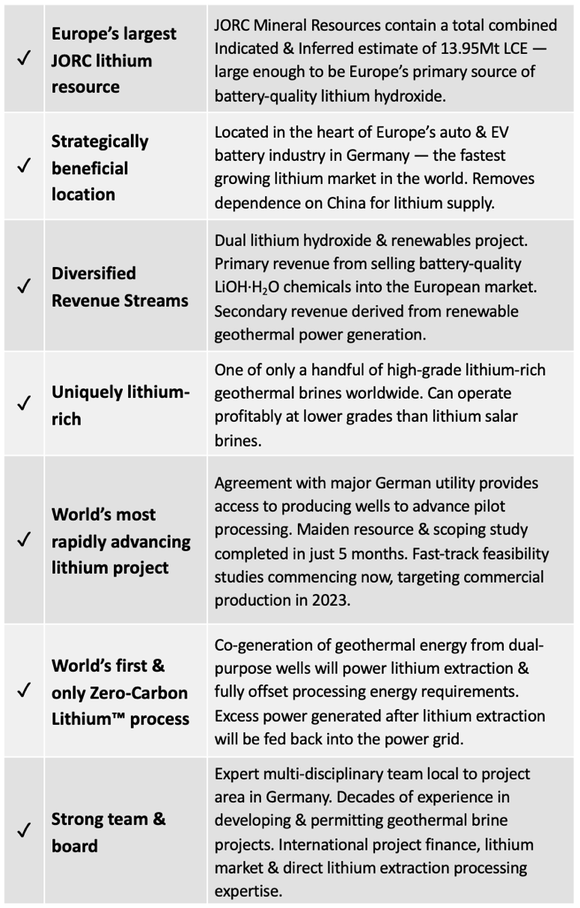 Demand for battery quality lithium hydroxide for use in electric vehicles is on the rise in Europe, set to grow faster than anywhere else in the world over the coming decade. However, it has zero domestic supply of battery grade lithium products.
To help meet this demand, Vulcan Energy Resources (ASX:VUL) has secured Europe's largest lithium JORC Resource (Indicated and Inferred) at the Vulcan Lithium Project — a globally significant 13.95Mt contained Lithium Carbonate Equivalent (LCE).
Not only has Vulcan secured Europe's largest lithium resource, right next to the major car manufacturing plants, but it developed a way to extract lithium while emitting zero carbon emissions.
Positive scoping study sets the stage
The company last month released its scoping study demonstrating that Vulcan is on track to deliver battery-grade Zero Carbon LithiumTM hydroxide to the European electric vehicle battery industry.
The study indicates the potential for the Vulcan Zero Carbon LithiumTM Project to be the first carbon emission free lithium project not only in Europe, but in the world, helping to decarbonise what is known to be a highly CO2-intensive product.
For my take on Vulcan check the last Next Small Cap article for February 21 where I explain why Vulcan is our Top Pick of 2020 and why have we taken a large position in the company and are long term holders.
In it, I explain that according to our rough back of the envelope calculations, Vulcan could be bringing in US$350 million yearly at Stage 2 over the 30+ year project life.
Read: "REVEALED: Our Top Stock Pick for 2020".
Since then, Alster Research has undertaken a more extensive review and valuation of the company and its project. Its investment recommendation and share price target were revealed in a May 4 report on Vulcan when Alster initiated coverage of the stock...
Based in Hamburg, Germany, SRH Alster Research is a research house with a focus on both equity and credit research. The group cover more than 70 different stocks and contribute to a joint research portfolio with one of Germany's largest banks, Norddeutsche Landesbank (NORD/LB).
Alster Research continuously seeks exciting and promising investment opportunities for institutional investors, especially in the small and mid-cap sector.
Alster Research initiate coverage of Vulcan
The following is summary of Alster Research's report initiating coverage of Vulcan energy resources and its reasons for its buy recommendation and its target price.
The complete report is available here: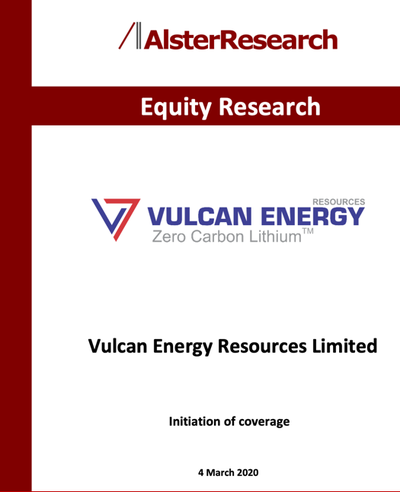 By separating lithium from thermal water, Vulcan Energy Resources is planning to achieve a zero-emissions, cost-effective way of extracting lithium hydroxide. Other lithium deposits in Europe are hard rock deposits, the extraction of which would be quite environmentally damaging.
Various cost advantages owing to geological factors point to the economic viability of the lithium project in the Upper Rhine Valley; in addition to the lithium content and a high flow/production rate achieved there, the energy required for the extraction process is significantly lower thanks to what is already a high starting temperature of over 120°C.
The most important aspect, however, which also combines cost-effectiveness considerations with the aspect of minimising the environmental footprint, is the immediate proximity to industrial customers.
The transportation distance of a few hundred kilometres to existing or planned battery factories and the industrial mobility cluster in the south-west of Germany is a decisive argument that helps to underpin the advantages associated with the carbon footprint of the electric drive versus the combustion engine.
The need for electric drive systems to have a superior carbon footprint in the production phase, too, is a key aspect, and one that has the very highest priority.
The supply security argument is also a top priority. For industrial and security policy reasons, Europe has to manage to break away from its current 100% reliance on raw material supplies from South America or Asia.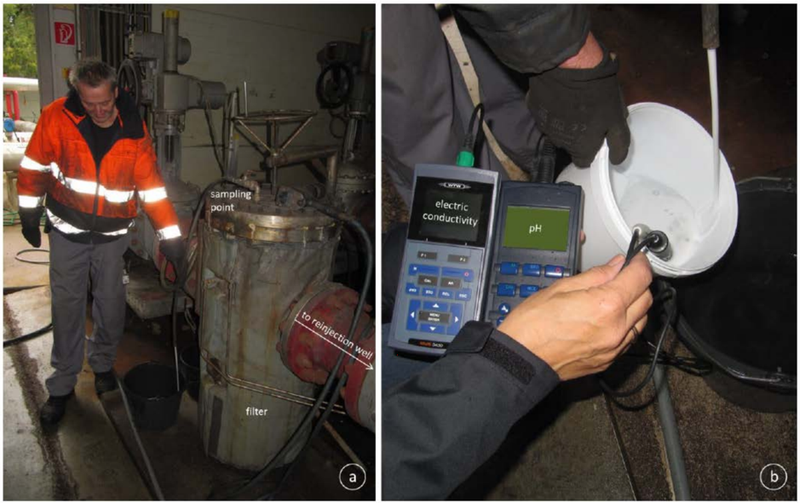 Confirmatory sampling of wells in Upper Rhine Valley by Vulcan team, and measurement of on-site brine parameters
Project development
According to the recent scoping study a staged ramp-up to production is planned, with Stage 1 comprising the construction and operation of a Direct Lithium Extraction (DLE) and lithium hydroxide plant at the existing Insheim geothermal plant.
Vulcan signed an MoU in November 2019 giving it access to the Insheim licence that contains an operational geothermal plant and wells, where hot, lithium-rich brine is being pumped to the surface and electricity produced.
Stage 1 Production Plant:
Direct extraction and lithium plant to be located at an existing operational geothermal power plant. It is contemplated that this would commence a year prior to the larger Stage 2, as a means of scaling up commercial production.
Vulcan will base the pilot plant for lithium production at this operational geothermal power plant. This will shorten the process involved in both exploration for geothermal energy use and the construction of the geothermal power plant. Implementation of Stage 1 is likely to require funds of approximately US$55 million.
In order to ensure that the project progresses at a rapid pace, Vulcan is also focusing on the promising greenfield project at the Ortenau licence area, Stage 2 in the scoping study. Conducted in parallel with Stage 1, Stage 2 will involve the development of a lithium extraction facility in the Upper Rhine Valley.
Stage 2 Production Plants (Ortenau License):
Once the exploration phase and the planning process (pre-feasibility study/PFS, detailed feasibility study/DFS) is completed and once all official licences have been granted, two geothermal power plants are to be built in Ortenau, each with one DLE plant.
Stage 2 will add considerably larger capacity, with the drilling of ten new production geothermal wells across two plants, construction of a new combined geothermal, DLE and lithium hydroxide plant at Vulcan's 100%-owned Ortenau license.
Plant 1 at Ortenau is to be equipped with a production capacity of four wells in 2024, and Plant 2 with a capacity of six wells. Production at both Stage 2 plants is anticipated to start in 2024.
The first expansion of four wells, direct lithium extraction (DLE), and capacity for lithium hydroxide synthesis will require an investment of US$425 million.
The Vulcan Zero Carbon LithiumTM process over the two stages: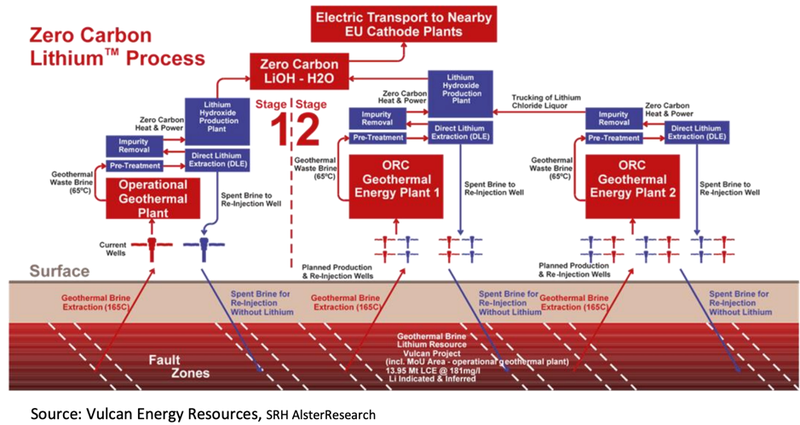 Alster Research's valuation
Based on the 181 mg/l lithium concentration in the brine, a resource mineral resource estimate of 13.9Mt LCE has been indicated for Vulcan Energy Resources, placing it at the very top of the rankings for the peer group of exploration projects in Europe – all of which are based on hard rock deposits.
However, at this stage Vulcan's market valuation does not reflect the size of the lithium resource.
Nevertheless, with the project's resources having only just been confirmed in December 2019, going forward they will from now appear in any comparative analyses performed by various issuers, which will attract increasing attention among investors due to the project's outstanding magnitude.
Raising capital remains a key aspect for the implementation of the zero-carbon project in the Upper Rhine Valley. While the funds required for Stage 1 remain relatively lean at around US$55 million.
It is estimated that for the period 2024-2027 cash inflows of US$960 million will cover the total anticipated capex of US$848 million.
After the ramp-up phase from 2022 to 2023, which will be characterised by high capex, the investment will then pay for itself within a four-year period.
By discounting its modelled cash flow projection, Alster calculated an enterprise value for Vulcan at US$769 million — corresponding to around €700 million or A$1.3 billion.
Assuming dilution from raising additional equity as required, Alster determined a per share valuation of €1.45, or A$2.45 and provided and initial "buy" investment recommendation.
Clearly, there's significant upside potential on offer here for investors, while the coming four years will see a large volume of newsflow as Vulcan progresses towards commercial production.

---