Drilling Set to Commence at TMR's High Risk, High Reward Ecuadorian Gold Play
PUBLISHED: 09-06-2020 12:25 p.m.
Tempus Resources Ltd (ASX:TMR) has released new data that has defined a high priority gold target at its Rio Zarza licence area in southern Ecuador.
This is highly significant as the Rio Zarza Project is located directly adjacent to the world-class producing Fruta del Norte gold mine, the most valuable greenfields gold discovery of the last 15 years operated by the $2.4 billion capped Lundin Gold (TSX: LUG).
When we last covered Tempus in early May in the article: TMR Now Fully Funded for Canada and Ecuador Next Door to Where Newcrest Has Expanded its Stake, we noted that Fruta del Norte hosts an NI43-101 Indicated Mineral Resource of 23.8 million tonnes at 9.61 g/t gold and a further Inferred Mineral Resource of 11.6 million tonnes at 5.69 g/t gold (9.48Moz total).
This is highly sought after ground with the $19.3 billion capped Newcrest Mining (ASX: NCM) expanding its exposure to gold production at Fruta del Norte, having raised its ownership stake in Lundin to 32% in December last year.
Given recent results, things are looking positive for TMR in this region and with money in the bank, the company is in a strong position to capitalise.
A helicopter-borne geophysical survey over all of the Zamora Project concessions was completed in late December 2019.
The results of this survey along with the acquisition of previously unreported assay results show anomalous gold and silver close to the interpreted geophysical target that further enhance the case for drilling at Rio Zarza.
Based on the interpreted geophysical data and new assay information, three proposed new drill holes have been designed to explore the potential of a gold mineralised body underneath and beyond the current drilling at Rio Zarza.
Drilling is planned for the December quarter following the easing of international and domestic travel restrictions.
In the meantime, the company plans to undertake further modelling of the data from the geophysical survey, including 2D inversion of the gravity data, to better define the location and inclination of the potential ore-bearing structures.
As the dust clears from COVID-19 lockdowns, Tempus will be accelerating its progress at its Zamora Project as well as progress at its Canadian asset, the Blackdome-Elizabeth Gold Project.
It should be noted, that our team at the Next Mining Boom love a potentially high reward exploration play, so we have taken a significant, long term position in this company. It's hard to ignore Tempus, when you consider a former next door neighbour in Aurelian Resources went from C30¢ to C$40 on significant gold discoveries. Aurelian was subject to a friendly C$1.2 billion takeover by Kinross Gold Corp. Lundin took over in 2014 after a C$240 million acquisition.
With that in mind, let's get the latest from ...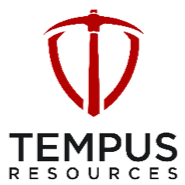 Tempus Resources
ASX:TMR
Share Price: $0.23 (at market open 9 June 2020)
Market Capitalisation: $11.05 million
Here's why I like TMR: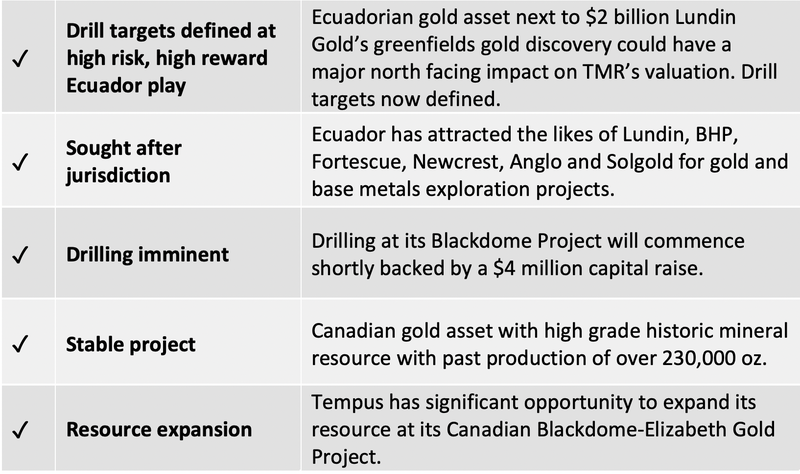 Tempus: A quick recap
Tempus Resources (ASX:TMR) has two gold key projects: the Blackdome-Elizabeth Project which includes a historical Mineral Resource declared under Canadian NI43-101 and the Rio Zarza asset in Ecuador.
You can read an in-depth account of these projects in our initial article: High Risk, High Reward? This $9M Capped ASX Explorer's Neighbour went from 30¢ to $40.
Further insight can be gained from managing director Brendan Borg's interview with Swiss Resource Capital AG as seen below.
As far as its Canadian play goes, Tempus company recently picked up a low risk, high producing, high grade mine in British Columbia that comes with a ~300,000 ounce resource.
Previous economic studies on Blackdome-Elizabeth were conducted when the gold price was just US$950 dollars per ounce. Today gold is trading at approximately US$1,600/oz.
As for Ecuador, the macro environment in Ecuador is favourable to junior explorers and presents a great deal of upside, with the country becoming one of the most sought after exploration jurisdictions for gold and base metals exploration: BHP, Fortescue, Newcrest, Solgold, AngloGold Ashanti and First Quantum have all made advances in the country.
Suffice to say, Tempus is well positioned to realise the potential of its holding.
Blackdome-Elizabeth is a nearer term, lower risk play than TMR's Ecuadorian project, however both assets offer the company and its investors overall rewards with major catalysts to come.
The focus of today's article is Ecuador.
Ecuador progressing well
Just today, Tempus updated the market on its Ecuadorian play noting that new data has defined a high priority gold target at Rio Zarza.
Managing Director, Brendan Borg commented, "The results of the geophysical survey interpretation are very encouraging in their own right, with the acquisition of previously unreported assay results showing anomalous gold and silver close to the interpreted geophysical target further enhancing the case for drilling at Rio Zarza."
The survey was flown at 200 metre line spacing for a total of approximately 600 line-kilometres. It included ZTEMTM (Z-Axis Tipper Electromagnetic) which provided superior exploration depth and high resolution, as well as excellent resistivity discrimination.
New assays from 2011 drilling have also proven to be promising.
This was the last time drilling was completed on the Rio Zarza Project. The final three holes from this program, namely RZDDH11-07, RZDDH11-08 and RZDDH11-09 were completed without assays being released by the laboratory.
RZDDH11-07 was of particular interest, being a deeper hole, and exhibiting epithermal banded/colloform quartz clasts in the Suarez Formation conglomerate, the geological unit which overlies and flanks Fruta del Norte gold mineralisation.
Tempus is now in possession of previously unreleased assays from the final three drill holes from the last drilling in 2011.
The assays from the hole of primary interest, RZDDH-11-07, exhibited a zone anomalous in gold, silver, copper, manganese, lead and zinc over the final 19.1 metres of the hole.
Two intervals of highly anomalous gold and silver have been identified within this broader 19.1 metre interval as indicated below.

The epithermal banded/colloform quartz clasts indicate proximity to an eroded hydrothermal vein system.
The presence of clasts restricted to the lower Suarez Formation is one factor that led to the original discovery of Fruta del Norte.
Tempus engaged geophysical consultants to provide an assessment of the helicopter survey data, and if appropriate, to recommend targets for drill testing.
As indicated below, a significant resistivity anomaly in which the Fruta del Norte deposit is hosted extends to the west and below the current extent of drilling at Rio Zarza.
The shape of the anomaly is interpreted to most likely represent more than one body.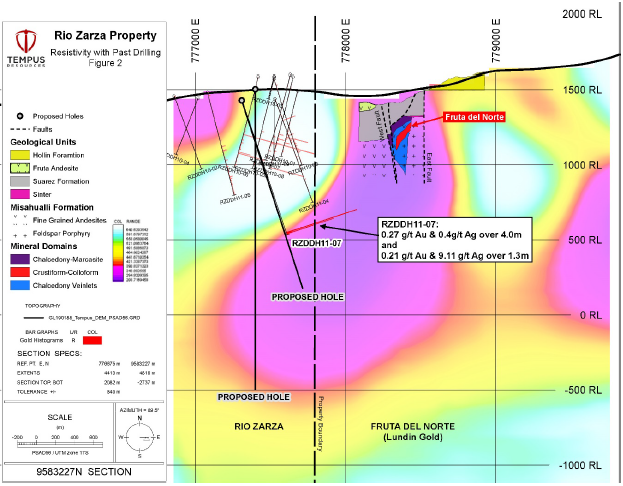 Tempus will drill three holes
Based on the interpreted geophysical data and new assay information, three proposed new drill holes have been designed to explore the potential of a gold mineralised body underneath and beyond the current drilling at Rio Zarza.
The first, and highest priority of these holes, will be a direct extension of drill hole RZDDH11-07, with a planned total depth of 1,375 metres.
The two additional holes are proposed to be along strike of, and/or deeper into the prospective interpreted geological unit, and will be adjusted based on the results of the first hole.
Drilling is set to commence in the December quarter this year.
Cashed up and ready to go
Last month, Tempus successfully completed a bookbuild for the issue of approximately 26,169,868 million new shares to raise approximately $4 million at an average issue price of 15.3 cents per share.
The placement was to sophisticated and institutional investors, including Sprott Asset management, a prominent investor in the mining industry and an Asia-based specialist natural resources investment fund.
This was an important raise at an important time as Borg said, "This capital raising ensures Tempus is well funded for the exciting period ahead."
Proceeds from the Tranche 1 placement are being applied to the company's exploration projects in Ecuador and for general working capital, whilst the larger Tranche 2 component will be used to fund exploration at the company's Blackdome-Elizabeth Gold Project in British Columbia.
With money behind it, Tempus is well positioned to forge ahead on both projects, but it is the high risk play in Ecuador that is the focus of attention in the here and right now, as the company hopes to repeat the enormous feats of those who have come before it in the region.
---