High Risk, High Reward? This $9M Capped ASX Explorer's Neighbour went from 30¢ to $40
PUBLISHED: 18-02-2020 09:56 a.m.
High risk, high reward. That's what investors should expect from this ASX gold junior as it sets its sights on making the best of an Ecuadorian gold project directly adjacent to a 10 million ounce monster deposit.
This $9 million capped ASX listed explorer, which is considering an additional listing on the TSX, owns prospective ground directly adjacent to the C$2.6 billion capped Lundin Gold's (TSE:LUG) Fruta del Norte tenements — the most valuable greenfields gold discovery of the last 15 years.
Our team certainly love a potentially high reward exploration play and we have taken a significant, long term position in this company. It's hard to ignore when the next door neighbours went from C30¢ to C$40 on some eye-watering gold discoveries.
Fruta del Norte hosts an NI43-101 Indicated Mineral Resource of 23.8 million tonnes at 9.61 g/t gold and a further Inferred Mineral Resource of 11.6 million tonnes at 5.69 g/t gold (9.48Moz total).
Lundin Gold's Fruta del Norte hosts strikingly similar geochemistry, alteration and geological features to the company's Ecuadorian project – one of several projects the company has under management.
Fruta del Norte has a long history. It was originally managed by Aurelian Resources, which in 2007 claimed the property held an estimated 13.7 million ounces of contained gold and 22.4 million ounces of contained silver.
On the back of its results at Fruta del Norte, Aurelian went from trading at circa C$0.30 to over C$40.
In 2008, Aurelian was subject to a friendly C$1.2 billion takeover by Kinross Gold Corp. Lundin took over in 2014 after a C$240 million acquisition, after Kinross failed to come to terms with the Ecuadorian government
It's not just the project that is worth considering.
The macro environment in Ecuador is also favourable to junior explorers and presents a great deal of upside.
Ecuador has become one of the most sought after exploration jurisdictions for gold and base metals exploration: BHP, Fortescue, Newcrest, Solgold, AngloGold Ashanti and First Quantum have all made advances in the country. Suffice to say, today's company is well positioned to realise the potential of its holding.
However, there is one thing holding it back from moving full steam ahead in Ecuador.
The company is awaiting the approval of a water permit — the last piece of the puzzle required for the company to commence full scale operations.
The permit is expected to be delivered imminently and will be a major catalyst once it comes through as it will enable this geographically diversified company to discover just how lucrative this project could be.
The company will go hard and fast, drilling four to six deep holes over a three to four month program. That drilling program could be make or break in this region, however the Ecuadorian project is just one in the company's stable of gold assets.
Whilst Ecuador provides a high risk, high reward play that appeals to investors with a high risk profile, this company is backed by a second major gold asset, located in Canada.
The company recently picked up a low risk, high producing, high grade mine in British Columbia that comes with a ~300,000 ounce resource.
Previous economic studies done on this project were conducted back when the gold price was US$950 dollars per ounce. Whilst gold has come off slightly from recent highs, it is still trading at above US$1,500/oz.
This is a more of a longer term play than its Ecuadorian project, with the company projecting a six month drill program to commence around May, with pre work to first be done in April.
The company will undertake at least five months of solid drilling through to September that it expects will lead to an updated JORC compliant resource. This is likely to be followed by a Prefeasibility Study (PFS).
So, on one hand we have a high risk, high reward play with a major catalyst to come that could start the ball rolling in determining how lucrative this project is and on the other hand we have a stable asset with a resource in place that provides the company with a strong backbone.
It's the best of both worlds, so let's find out who this company is.
Introducing....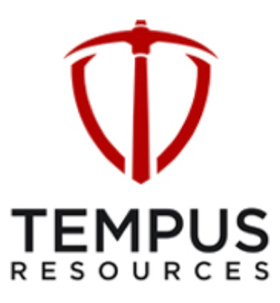 Tempus Resources
ASX:TMR
Share Price: $0.21 (at market close 17 February 2020)
Market Capitalisation: $8.92 million
Here's why I like TMR: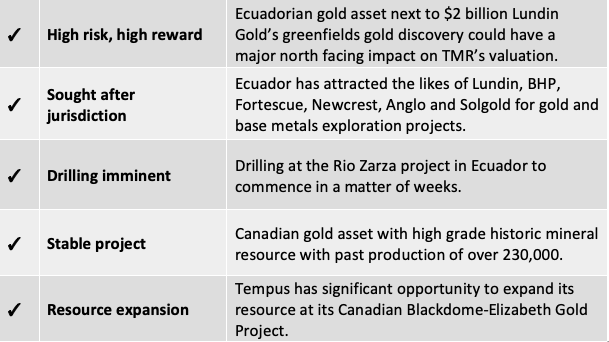 Tempus Resources: A quick overview
"Any success with our drilling program could be very lucrative," says Tempus Resources (ASX:TMR) MD Brendan Borg of the company's Ecuadorian assets.
Ecuador, more specifically Tempus Resources' Zamora Projects which includes the Rio Zarza Project and Valle del Tigre, mark the high-risk, high-return portion of an overarching gold play that also includes a more stable, long term play in Canada.
Tempus has two major projects: Zamora in Ecuador and Blackdome-Elizabeth in Canada.
The two projects offer investors a good balance of a high-risk, high reward play against certainty in Canada, where there is an existing resource which the company feels it can expand on.
We will look at the projects in more detail shortly, however here's Borg explaining the overall opportunity at the 121 Mining Investment conference in London just a month ago.
The company's early year focus is on its Rio Zarza Project, where it is set to commence a significant drilling program next month.
Firstly, it needs one final catalyst to fall into place: a grant for a water permit.
This permit is expected in the coming weeks and once granted, it will be all systems go as Tempus attempts to ride the coattails of C$2.6 billion neighbour, Lundin Gold.
With that in mind, let's take a more detailed look it the company's Ecuadorian assets.
Ecuador: high-risk, high reward
Tempus Resources Zamora assets are early stage gold exploration assets, based in one of the most sought after and prolific gold and base metals regions in the world: Ecuador.
The South American country is home to mining giants BHP (ASX: BHP), SolGold (LON: SOLG), Fortescue (ASX: FMG) and Newcrest Mining (ASX: NCM).
BHP, which entered Ecuador in 2017, became the largest shareholder in Ecuador-focused Sol Gold in November 2019, tipping out Newcrest.

BHP paid $22 million to raise its interest in SolGold to 14.7% from 11.1%.
The reason: SolGold's Cascabel copper-gold project has the potential to become one of the largest copper-gold assets ever discovered with an estimated productive mine-life of 55 years.
SolGold estimates that recent recoveries at the project could add $8.7 billion of revenue over the life of Cascabel.
Cascabel is just one project that has made Ecuador so attractive to the world's mining giants. Lundin Gold's Fruta del Norte is another and is considered the most valuable gold discovery of the last 15 years.
Fruta del Norte hosts an NI43-101 Indicated Mineral Resource of 23.8 million tonnes at 9.61 g/t gold and a further Inferred Mineral Resource of 11.6 million tonnes at 5.69 g/t gold (9.48Moz total). (NI43-101 is the national instrument for the Standards of Disclosure for Mineral Projects within Canada).
It's worth looking at a little bit of history here. In March 2007, Aurelian recorded a 250 metre interval grading 35.18 g/t gold and 27.1 g/t silver in drill hole CP-07-100 and a 264 metre interval 5.4 g/t gold and 8.8 g/t gold in drill hole CP-07-101. Other exceptional results include 172.7 metres grading 7.71 g/t gold in infill drilling and 158.6 metres grading 8.13 g/t at its Condor Project.
Lundin kicked off production at Fruta del Norte in November 2019.
Tempus' Rio Zarza Project comprises two concessions covering approximately 1,000 ha, directly adjacent to Fruta del Norte as evidenced in the map below: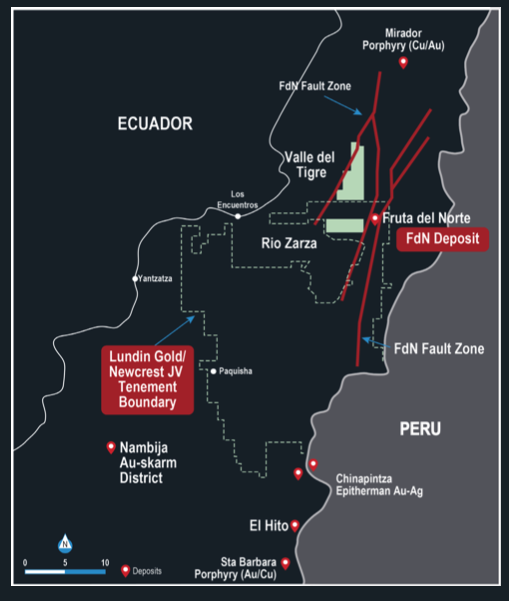 Investors would be pleased that Rio Zarza's eastern boundary is just 850m west of the Fruta del Norte deposit and shows similar geology and alteration.
There has been limited exploration done at Rio Zarza in the past. Exploration was carried out between 2008 and 2012, and included surface magnetics, IP, gravity surveying, soil/stream sampling, mapping and limited diamond drilling.
While exploration did delineate a number of targets, the majority of which were situated in the eastern part of the property, what was done was completed without modern equipment leading to a lack of geological understanding.
The map below illustrates historical drill holes and Rio Zarza's proximity to Lundin.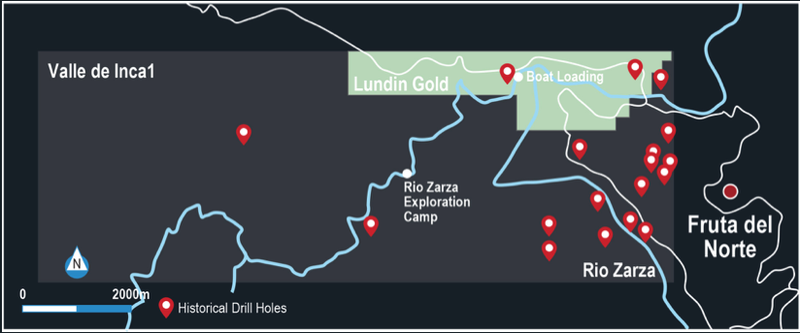 By applying modern exploration and drilling techniques, Tempus expects results to be different this time around.
The company has already conducted field mapping, ionic soil sampling and airborne geophysical programs, with results currently being assessed.
These results will enable Tempus to refine drilling locations, with drilling set to commence in April.
Drill permitting is substantially advanced, with the company just waiting on the water permit to be granted before it can progress further.
Rio Zarza isn't the only asset in Ecuador
Tempus Resources' Ecuadorian assets are located in the Zamora Mineral District, which includes further major deposits such as the Mirador porphyry copper deposits and the Sta Barbara Au-Cu deposit.
Also, in the mix is TMR's Valle del Tigre II asset which also enjoys a proximal relationship with the Fruta del Norte deposit.
The important subparallel north-northeast rift faults that control the Fruta del Norte deposit are repeated in the Valle del Tigre II concession.
While work is yet to commence here, TMR has begun community discussions, with a small field office to be set up on the licence to actively engage with community groups.
Field exploration will commence following appropriate discussions, but the company is confident that it has a promising asset as it displays a similar age, fault-controlled western sedimentary-volcanic basin to Fruta del Norte.
Notably, significant gold stream-sediment anomalies previously generated by Climax Mining are located in the southern part of the concession. Tempus has already completed an airborne survey, with analysis due shortly.
Further exploration will include magnetotellurics, magnetics, gravity and ionic soil sampling, followed up by stratigraphic drilling of the coincident targets.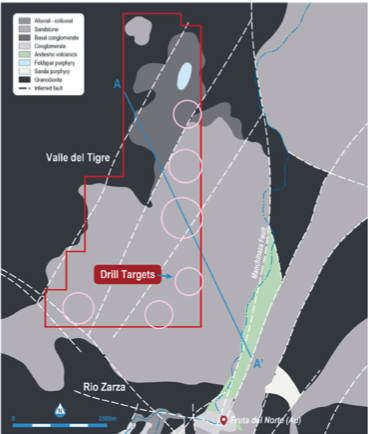 Drill targets are structural in nature.
While this Ecuadorian play could go a long way to making the company, it won't break it. As well as this high risk, high reward project, Tempus Resources has its own gold safe haven on its books.
Canadian Gold
Late last year, Tempus Resources acquired 100% of the Blackdome-Elizabeth and Mineral Creek Gold Projects located in the Tier-1 jurisdiction of British Columbia, Canada.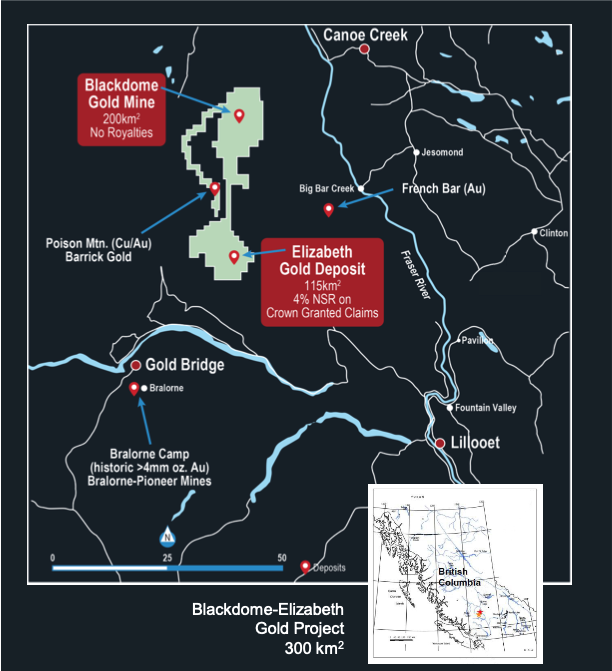 Located approximately 200km from Vancouver, the projects are the opposite of high risk, high reward and set the foundations for Tempus' overarching gold play.
Blackdome and Elizabeth are two deposits, making up one project that is significantly de-risked by previous production history, with demonstrated excellent metallurgical recoveries and key approvals and permits received.
Furthermore, with solid infrastructure in place, this project provides Tempus with a pathway for a low cost, fast-track re-start.
Here is Borg speaking about the acquisition:
Like Rio Zarza, the Blackdome and Elizabeth projects are in close proximity to producing mines.
Blackdome-Elizabeth lie just 35km northeast of past producing Bralorne Gold Mine and the Mesothermal type vein system is analogous with Bralorne, which was mined to ~2,000 metres.
Bralorne was recently acquired by Tallisker Resources for $8.7 million cash, plus shares and options and it's easy to see why. Bralorne has a long production history, having produced 4.2 million ounces of gold at a grade of 17.7 g/t largely between 1928 and 1971.

Dr Terry Harbort, President and CEO of Talisker said of the acquisition: "With more than 60 veins identified, many open along strike and at depth, and with demonstrated high-grade continuity from historic sampling, Bralorne represents an excellent opportunity to add significant ounces for Talisker."
Blackdome has had past successes of its own and its grades are similar or better than that of Bralorne. Like Talisker, Tempus will be looking to improve on previous work done.
Mining ceased at Blackdome in 1991 after more than 330,000 tonnes of ore had been milled for 231,547 oz gold (at 21.9 g/t) and 564,300 oz silver.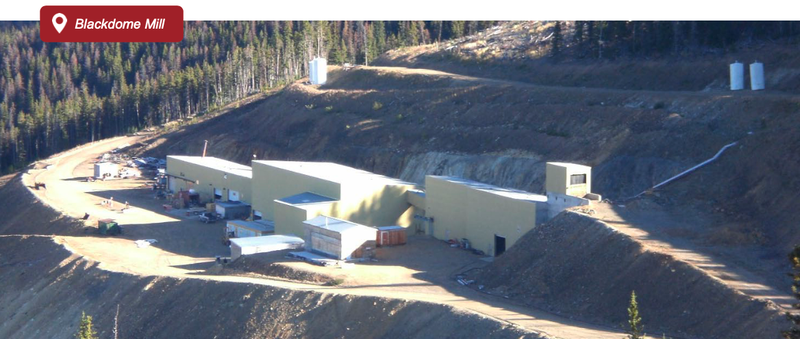 Blackdome hosts high-grade historic NI43-101 Mineral Resources (reported in 2009/2010) of 52,600 ounces of gold at 11.3 g/t Indicated, and 231,900 ounces of gold at 11.7 g/t Inferred.

At Elizabeth, there is significant high and 'bonanza' grade gold intercepts from the most recent drilling conducted in 2010-2011:
> 5.06 m at 76.5 g/t
> 2.50 m at 96.3 g/t
> 0.91 m at 134.9 g/t
> 1.46 m at 45.1 g/t
Note, this is not included in the historic resource.
Here's a look at recorded resource estimates at Elizabeth:

Tempus believes it will be able to update the Mineral Resource of the Blackdome-Elizabeth Gold Project after completing a significant resource expansion drilling program. This will lead to a fast-tracked pre-feasibility study (PFS), and, as mentioned, will provide a rapid pathway to resume production.
Work to come could lead to new discoveries
While drilling at the Blackdome-Elizabeth Project won't begin until after the current North American winter, the company is already buoyed by a strong pre-drill program.
Recently completed soil sampling at Elizabeth has generated a significant new gold anomaly, with results showing gold in soil up to 0.66 g/t as can be seen in the diagram below: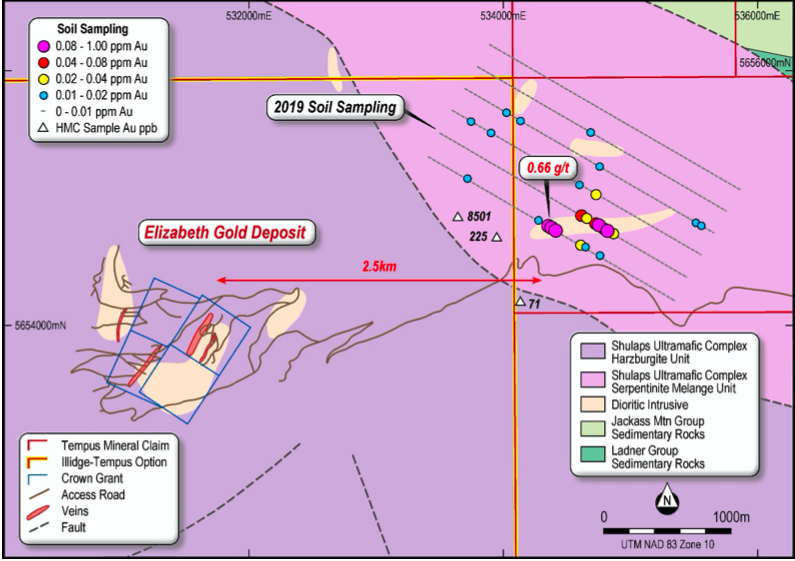 The company is confident that follow up trenching and drilling will lead to a completely new discovery, highlighting the significance of this being an unexplored region with untapped potential.
Across the way at Blackdome, the resource estimate was restricted primarily to two veins. However, historical resources and drill targets with intercepts greater than 5 g/t gold have been delineated over eight zones in six of the veins, which have yet to be re-evaluated, which could lead to significant upside.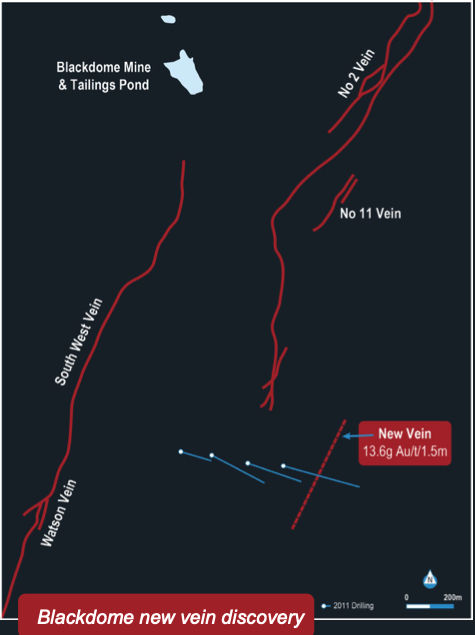 A new drilling program will commence in May 2020 when the company will proceed to expand the resource.
Mineral Creek
As part of the overall acquisition of Sona Resources, Tempus also picked up the Mineral Creek Gold Project.
Mineral Creek comprises of 42 contiguous mineral claims totalling 9,877.29 hectares. The predominant geological structure is the north-south-trending Mineral Creek fault zone, which hosts the Mineral Creek gold zone.
Importantly for Tempus, several narrow quartz veins that splay off the Mineral Creek fault have returned bonanza-grade gold assay values.
Like the other Canadian assets, this project has a long history of exploration, however it is a non-core project and Tempus is open to offers.
The project mix could lead to steady rewards
One project is a hard and fast high-risk, high reward play that could lead to big returns.
When you consider neighbour Lundin Gold is capped at C$2.6 billion (A$2.9B) and Tempus at just A$9 million, there's a lot of upside for the Australian junior in its Ecuadorian play alone.
However, when you factor in the recent acquisition of its Canadian assets, you'll find that Tempus has a solid backbone as well.
Blackdome-Elizabeth is a resource rich project, with historical numbers that bode well for a future resource upgrade and new discoveries.
Tempus not only gives investors exposure to highly prospective exploration ground in Ecuador, but also a proven past producer in Canada. It's the best of both worlds and when drilling begins in Ecuador in April – perhaps quicker – we'll soon know just how successful 2020 will be for this ambitious gold explorer.
---