TMR's gold project visualised in 3D
Disclosure: S3 Consortium Pty Ltd (the Company) and Associated Entities own 8,148,000 TMR shares and 4,716,000 TMR options at the time of publishing this article. The Company has been engaged by TMR to share our commentary on the progress of our Investment in TMR over time.
Our long held junior gold exploration Investment Tempus Resources (ASX:TMR) recently completed its 40-hole 2022 drilling program.
This has been TMR's most successful drilling program to date — it now has multiple open high-grade vein zones in development.
Plus, TMR still has 21 assay results pending, all due within the coming weeks.
To help us understand what we are looking for with TMR, we created a 3D model using TMR's publicly available drillhole information: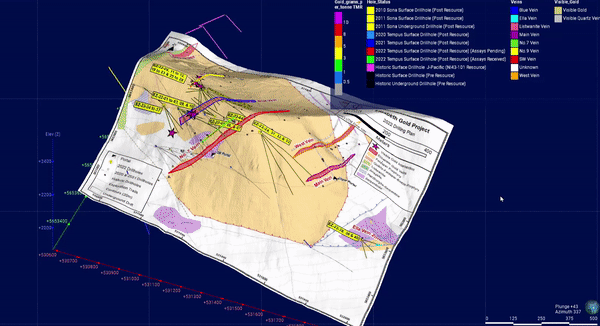 Today we will use this new 3D model to visualise what TMR has achieved and what we hope to see next.
Gold has been one of the most out of favour sectors this year.
And the share prices of most gold explorers are near multi year lows, TMR included.
But we predict a big year for gold in 2023, so have added to our TMR holding at 5c in its recent cap raise.
TMR is now trading at 6c per share, with a market cap of only $14M.
We want to see TMR discover enough new high grade gold veins for it to eventually put its project back into production through its existing gold processing plant.
(It's a lot cheaper and faster to restart an existing plant than build a new one.)
Hopefully, the work TMR has been doing while gold was out of favour means that it has everything lined up and ready to get the project back into production once the gold sector bounces back.
Having drilled another 40 holes this year, we thought now was the perfect time to try and visualise the progress TMR has made: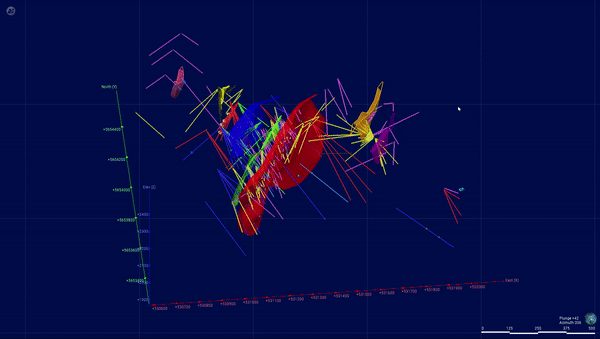 Using the models generated we wanted to lay out the following:
What has TMR done since acquiring the project and how has the project changed?
Has TMR made new discoveries and just how big might they be?
What we are looking for from TMR's 2022 drilling program.
What will all of this info feed into?
IMPORTANT: TMR Elizabeth 3D Model Disclaimer
This 3D model is based on limited publicly available information and is intended only as a guide to assist with understanding the approximate location of drillholes and the mineralised veins in three-dimensional space. Veins have been modelled using only drillhole collar details, significant assay intercepts and corresponding surface maps and cross sections publicly released by Tempus Resources. The veins are an interpretation of this data created by the modeller. No geological logging, single sample assay results or downhole survey points have been used to create this model. For simplification purposes veins in this model extend to the topographic surface, however in reality they are covered by an overburden layer. Vein dimensions, thicknesses and extents are approximate in nature and should not be used to make financial investment decisions.
All of this helps provide some context (visually) for our TMR "Big Bet".
Our 'Big Bet'
"TMR becomes a gold producer following the discovery of enough new gold sources to justify the restart of its onsite gold mill."
NOTE: our "Big Bet" is what we HOPE the ultimate success scenario looks like for this particular Investment over the long term (3+ years). There is a lot of work to be done and many risks involved - some of which we list in our TMR Investment Memo. Success will require a significant amount of luck. There is no guarantee that our Big Bet will ever come true.
To monitor TMR's progress since we first Invested and to track how the company is doing relative to our "Big Bet", we maintain the following TMR "Progress Tracker":
Click to see our TMR Progress Tracker here (including new 3D models instead of images of icing in a cake slice):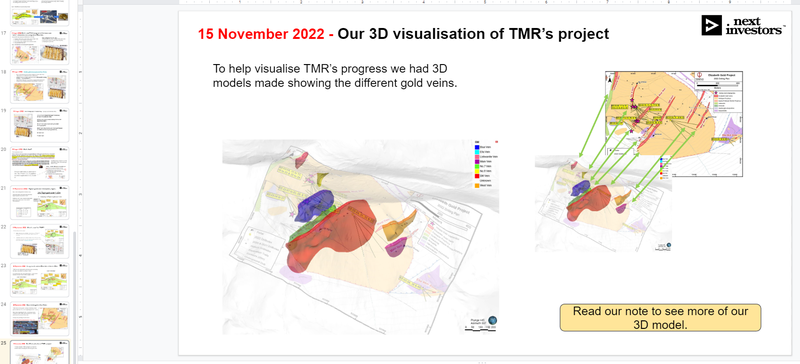 More on the pending assays:
3D models drawn help us visualise the purpose of TMR's drilling programs.
What we want to see is relatively simple, the colourful blobs (veins) get bigger as more successful drilling is completed which feeds into an upgraded JORC resource that is big enough to start TMR's gold mill.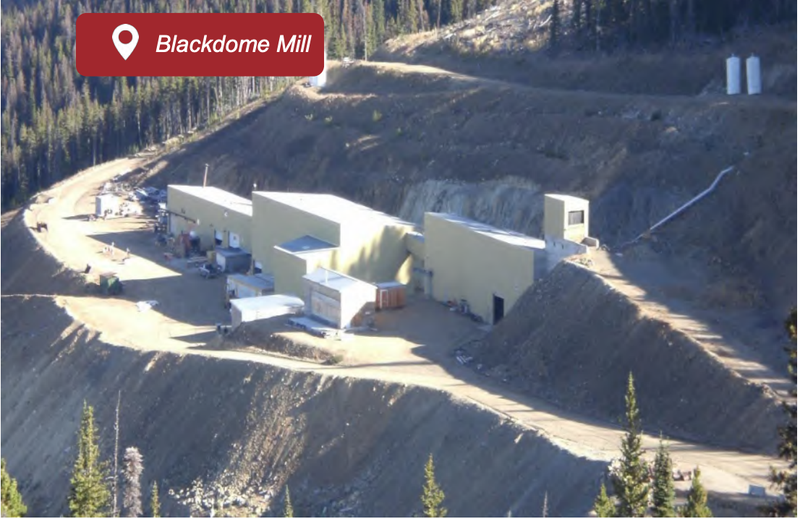 This year's drilling program primarily focused on the 'Blue Vein' (shown in... blue below), and after hitting multiple zones of visible gold at the 'No.9 Vein' (shown in yellow), TMR extended the drilling program to drill 10 more holes than first intended.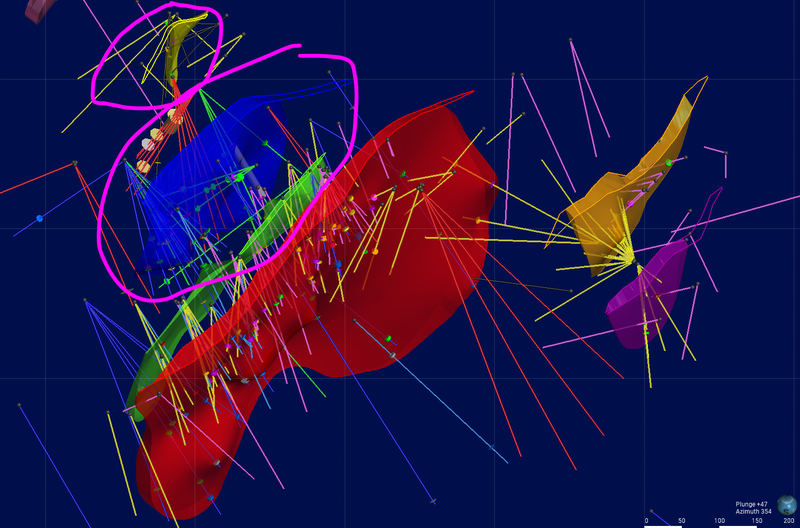 TMR now has 21 assays pending from the 40 hole drilling program with most of them from in and around the No.9 Vein. Those pending assays are shown in red here: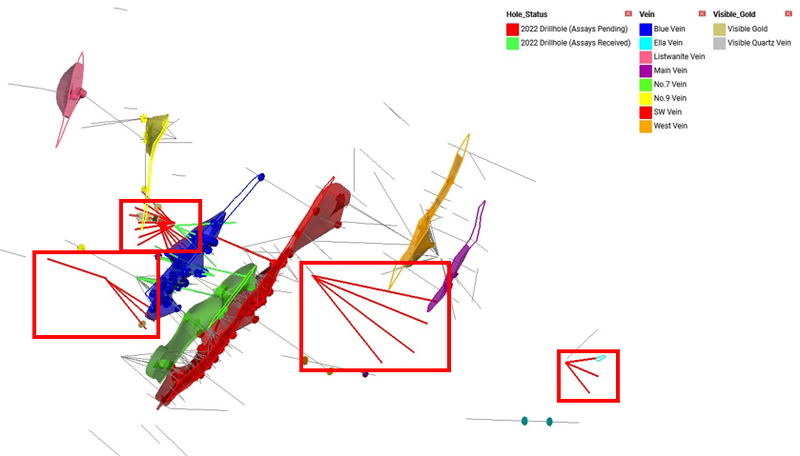 We are especially interested in the upcoming assay results and hope to see the from this long intercept show lots of visual gold represented by the gold cylinders here: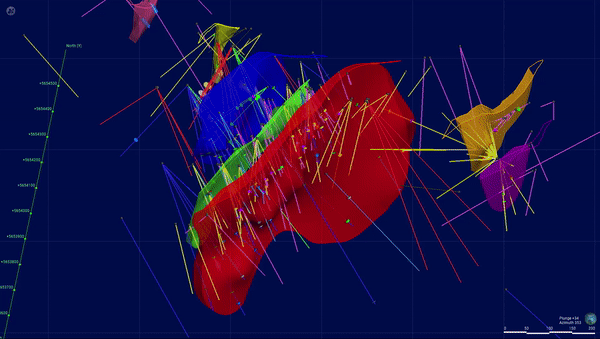 Up until this point, most of TMR's mineralisation has been thin (<5m) and high grade.
Drillhole 20 (shown in the image above) on the other hand hit a ~25.75m quartz vein.
If the grade profile of this intercept is as high as we have been seeing, then TMR may have hit another high-grade gold system that can be added into an upgraded JORC resource.
Our TMR 3D model:
Note that these 3D models are just an interpretation of the publicly released data and assumptions have been made in their creation with no input from the company. They are for illustrative purposes only and should not be relied upon for making investment decisions.
1. What has TMR done since acquiring the project and how has the project changed?
When TMR first acquired its project, the company had four main vein structures which overlaid on a map. It looked like this: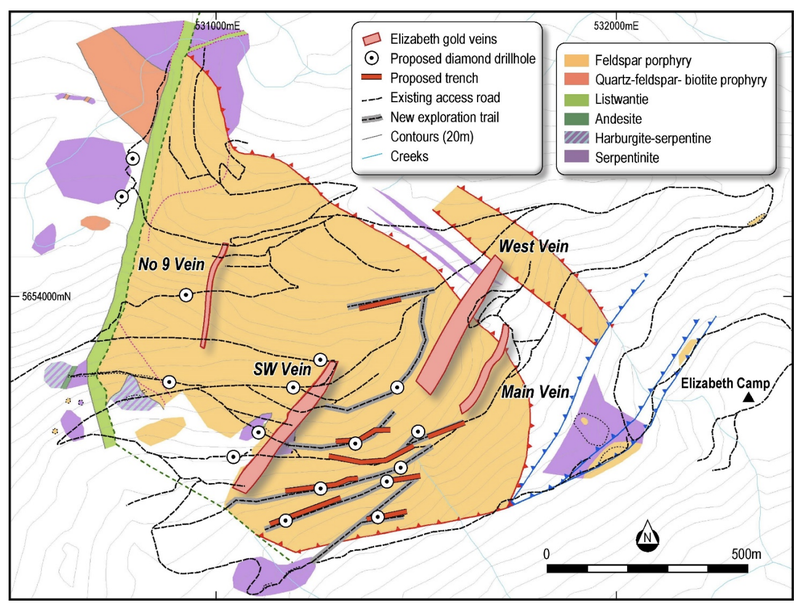 TMR ran drilling programs in 2020, 2021 and 2022 for a total of ~80 drillholes.
Across those three years of drilling, TMR discovered the Blue Vein (2021) and more recently hit visible gold intercepts (assays pending) at the No.9 Vein.
You can see all of the drillholes that TMR has completed since its acquisition on the map below.
Basically, anything that's not yellow was drilled by TMR.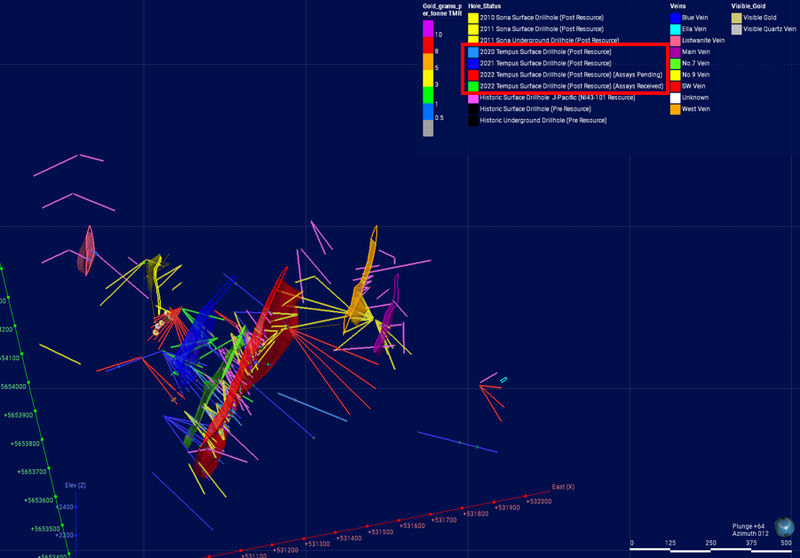 Merging this drilling data together spits out a 3D model of TMR's project now, making it very easy for us to visualise the company's progress since acquiring the project back in 2019.
Below is an image showing the project now.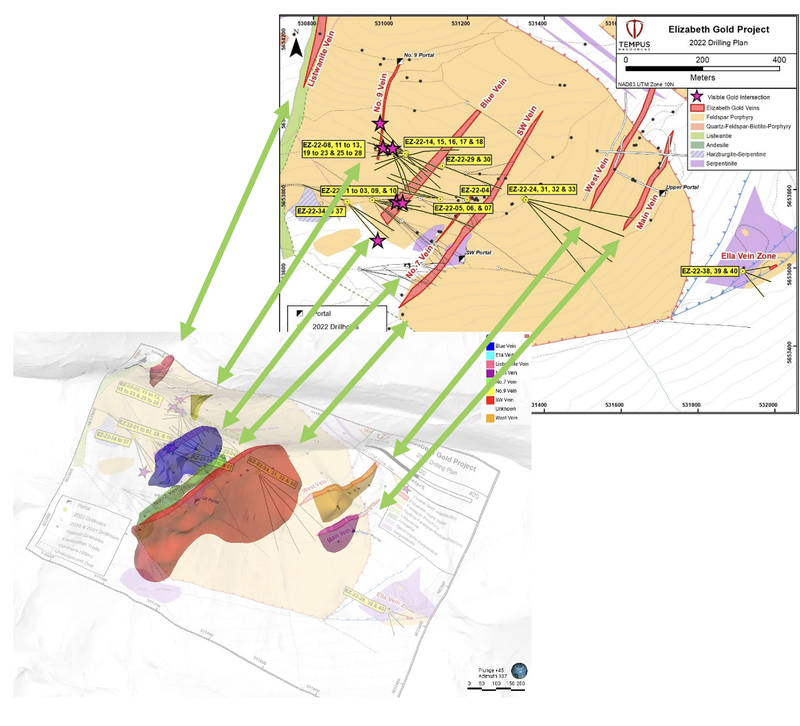 2. Has TMR made new discoveries and how big might they be?
This one is important, after all, our Investment Thesis centred around TMR making new high grade discoveries that are of large enough size to put its project back into production through its existing gold processing plant.
To this end, TMR's first new discovery was the 'Blue Vein' in September 2021.
This vein is most analogous to the existing SW Vein, which has a historic resource of ~144k ounces of gold.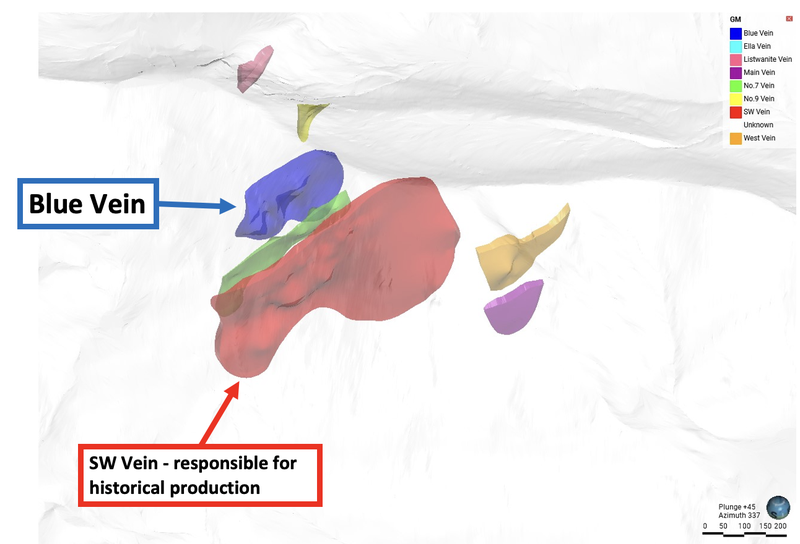 TMR also hit several visible gold intercepts from the No.9 Vein during this year's drill program.
Whilst this wasn't a new discovery, it has the potential to be a large extension to an otherwise small area of mineralisation.
Of course, upcoming assays will reveal just how big of an extension this could be.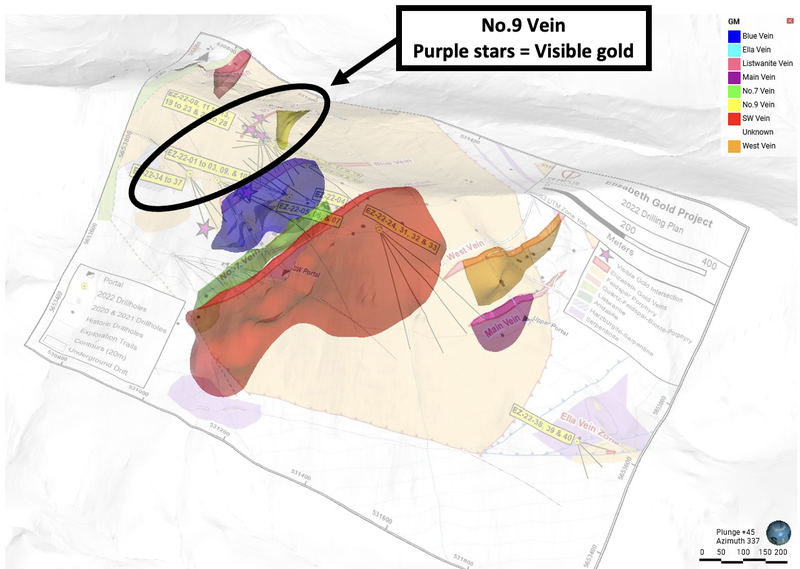 This neatly leads to our next question.
3. What are we looking for from this year's drilling program?
Naturally, after hitting multiple visible gold intercepts at the No.9 Vein, TMR decided to focus a large part of its 2022 drilling program on this newly discovered area.
At present we have 19 assay results from a total of 40 holes drilled, most of which are pending from the No.9 Vein.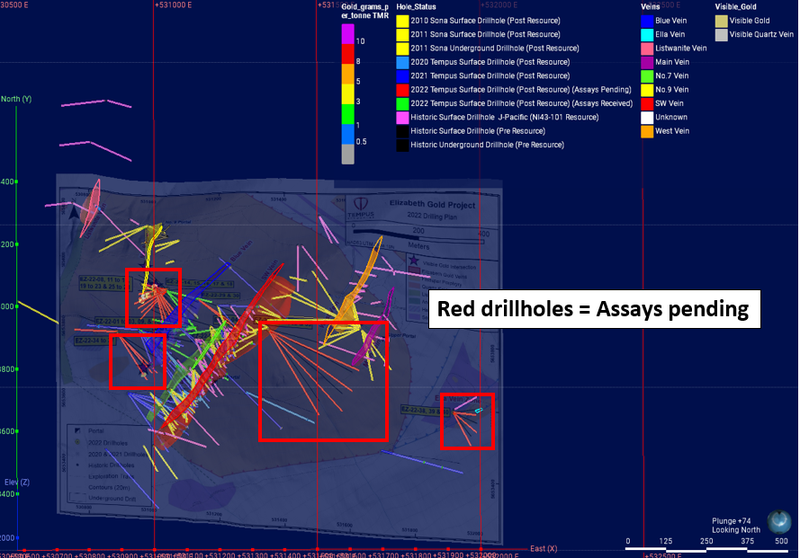 One assay we will be keeping an extremely close eye on is drillhole 20 (EZ-22-20).
This is the intercept where TMR hit a ~25.75m thick quartz vein and confirmed multiple intervals of visible gold.
If we see high-grade gold mineralisation over that entire interval, then we think this could be a major catalyst for TMR's share price.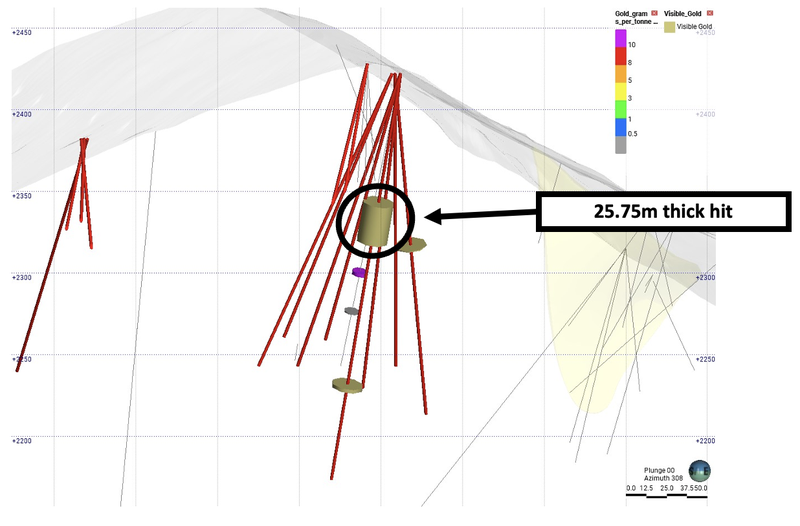 4. What will all of this info feed into?
Ultimately, TMR is looking to make new discoveries and put its project back into production.
To do that, TMR needs to update, and more importantly, increase its overall resource estimate.
On this front, TMR has now confirmed that once the assays from this year's drilling program have come in, it will commission an updated resource estimate.
TMR expects the resource estimate to be delivered in Q1 of 2023.
Resource estimates are put together by taking all available drilling data, punching in some general assumptions and modelling deposits to get a tonnage and overall gold grade profile.
To try and see if we could visualise how an increased resource would compare to TMR's existing ~300k ounce historic gold resource, we modelled all of the drillholes that currently sit outside of TMR's resource.
The image below shows TMR's existing resource profile and all of the drillholes that sit outside of it.
Of course, an obvious caveat here is that the assays are not yet back from this year's drilling program, so the colourful veins may get bigger or smaller depending on the assay results.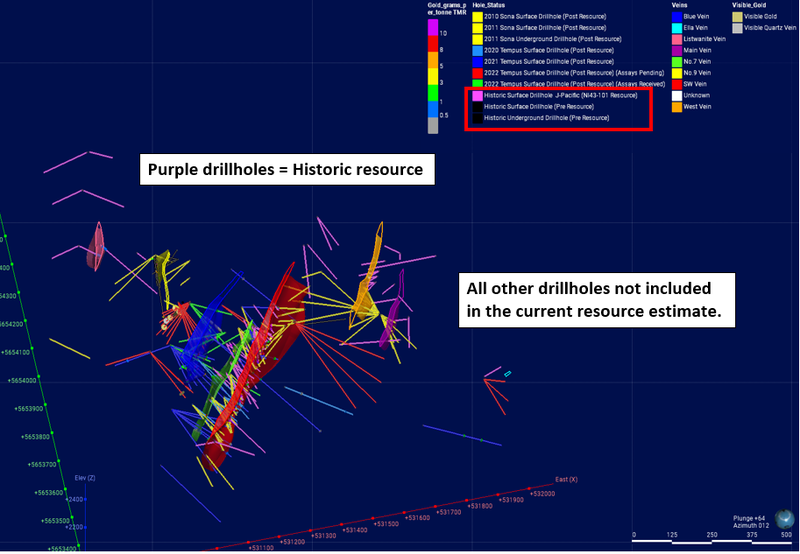 What's next for TMR?
40 hole (9,760m) drilling program at TMR's Canadian gold project 🔄
As of today's announcement we have results from the first 19 holes which means there are still ~21 assays pending.
As mentioned, we are particularly interested in seeing what comes from the remaining assays at the No.9 Vein.
Below are the milestones we will be tracking for the drilling program:
✅ Drilling program commenced
✅ 40-hole drilling program completed
🔄 Drilling results pending (assays)
Given TMR is targeting thin gold veins, our focus will predominantly be on the grades of mineralisation.
We expect that anything above ~4-5g/t of gold will mean TMR could be onto something commercially mineable.
Updated mineral resource estimate 🔄
Since acquiring its project in 2019 TMR has completed three drilling programs for a total of ~80 new holes.
On top of this TMR completed ~49 drillholes in 2010 and 2011 that all sit outside of the current mineral resource estimate of 300k ounces of gold.
TMR will be looking to include all ~129 new drillholes in an updated mineral resource estimate that it expects to be ready in Q1-2023.
To do that TMR will have ~275% more drillholes than the 74 used to put together the ~300k ounce 2009 historic resource estimate.
Our 2022 TMR Investment Memo
Click here for our TMR Investment Memo, where you can find the following:
Key objectives we want to see TMR achieve
Why we are Invested in TMR
What the key risks to our Investment thesis are
Our Investment plan
---