TMR intercepts 28.1g/t of gold over a 28.5m, thickest vein we've ever seen
Disclosure: S3 Consortium Pty Ltd (the Company) and Associated Entities own 8,148,000 TMR shares and 4,716,000 TMR options at the time of publishing this article. The Company has been engaged by TMR to share our commentary on the progress of our Investment in TMR over time.
It's thick.
We were expecting good news based on the previously announced visual gold hits - but these results have come in well above our expectations.
Our junior gold exploration Investment Tempus Resources (ASX:TMR) just put out the strongest single drill result we have seen from its Canadian gold project.
28.1g/t of gold over a 28.5m intercept from a shallow depth of just 84.4m.
Included inside this intercept was gold grades as high as 175.2g/t... but the significance of this intercept is more so its thickness.
The intercept comes at the perfect time with the gold price up almost 20% over the last four months - the first signs of love for a sector that was hated in 2022.
Gold is one of our top investment themes for 2023.
In the past TMR has delivered some extremely high grade hits, but only at a fraction of the intercept length of what they have delivered today.
High gold grades are great, but they need to be combined with intercept length to get the market's attention.
A metric that gold explorers typically use to compare the significance of a gold drill results is usually the simple calculation of "grade x thickness" or "grade thickness".
The metric combines two important factors when reading assay results - the grade and the thickness of a drill intercept to standardise the score of a single assay.
Today's results from TMR returned a grade thickness of 800.
For context, the drill result TMR released back in September which measured 1,572g/t gold over 0.20m had the highest grades ever seen at TMR's project BUT the grade thickness on that intercept was ~315.
This makes today's result over 2.5x more significant.
TMR's President and CEO Jason Bahsen also commented on the result saying "Hole 20 sets a new record in terms of combined grade and thickness for our Elizabeth Project".
The significance of the result also comes from the type of project that TMR is drilling - a gold project hosted inside thin but really high grade veins.
Today's 28.5m thick intercept is a step change in the thickness and is still considered bonanza grade at 28.1g/t gold.
We aren't sure what the strict definition for a "vein" is - but 28.5m sounds extremely thick for a "vein".
TMR now has multiple gold veins that it can incorporate into its maiden JORC resource which the company expects to put out in Q1-2023.
A JORC resource will form the basis for a restart of the company's existing processing infrastructure.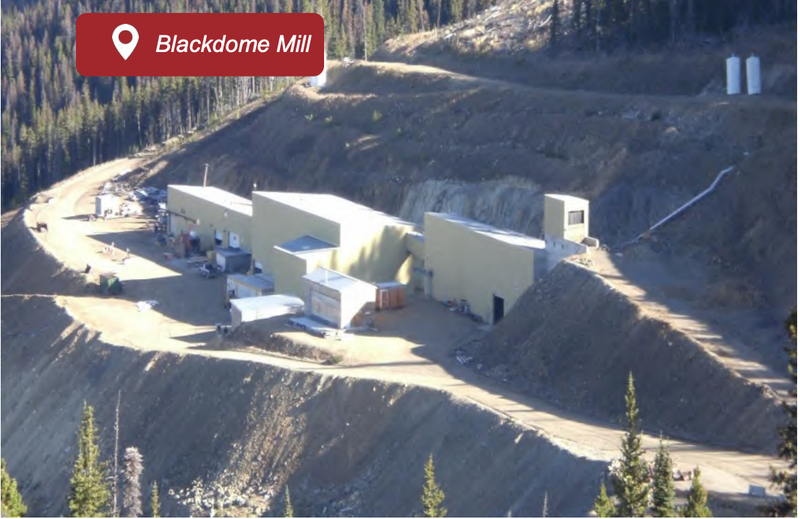 TMR's historically producing gold mill is one of the key reasons we invested in TMR.
We are hoping that this new material gold strike will fast track the decision to re-start TMR's gold mill and put TMR into production during the gold price run we anticipate.
We updated our 3D model to include the intercepts released today: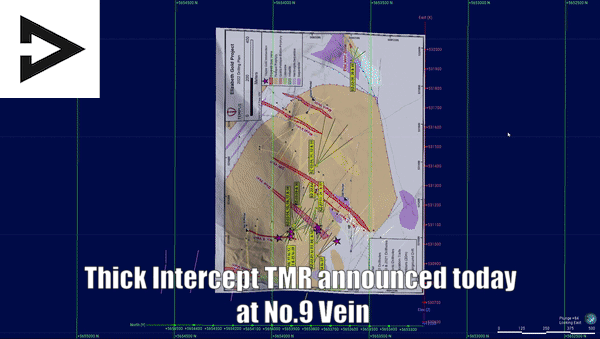 For those closely following our TMR coverage, we flagged in our last update that we thought this particular hole had the potential to produce strong assay results. It has now delivered.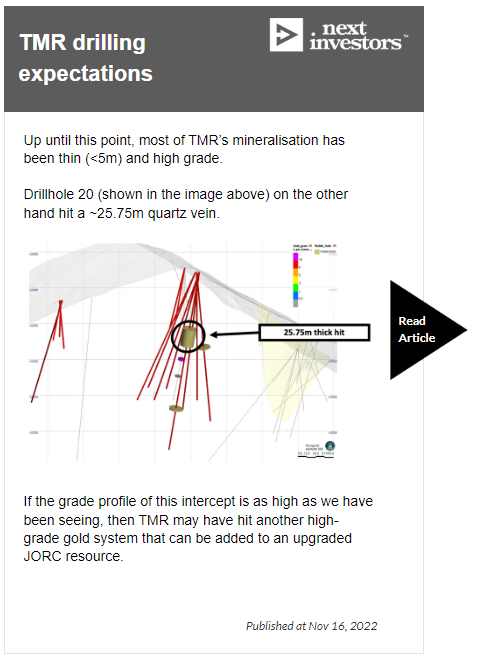 Having just raised ~$1.4M at 5.6c and 6.7c per share, the company doesn't have any immediate reason to raise any cash either.
TMR now has six assays pending, and once those are received it can look to complete the modelling of a maiden JORC resource estimate, which is expected to be delivered this quarter.
With results like today from the No.9 Vein, Blue Vein and West/Main Vein, we are hoping for a material increase in TMR's maiden JORC resource estimate.
With a market cap of just $13.4M we think that a maiden JORC resource estimate could be the catalyst to a sustained re-rate in TMR's share price.
(...because the JORC resource is the critical step to re-starting the gold mill)
This brings us to our 'Big Bet' for the company.
Our 'Big Bet'
"TMR becomes a gold producer following the discovery of enough new gold sources to justify the restart of its onsite gold mill."
NOTE: our "Big Bet" is what we HOPE the ultimate success scenario looks like for this particular Investment over the long term (3+ years). There is a lot of work to be done and many risks involved - some of which we list in our TMR Investment Memo. Success will require a significant amount of luck. There is no guarantee that our Big Bet will ever come true.
To monitor TMR's progress since we first Invested and to track how the company is doing relative to our "Big Bet", we maintain the following TMR "Progress Tracker":
Click to see our TMR Progress Tracker here (including new 3D models instead of images of icing in a cake slice):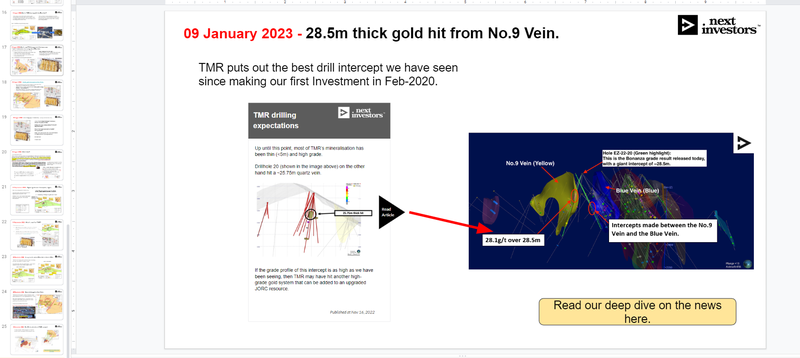 IMPORTANT: TMR Elizabeth 3D Model Disclaimer
This 3D model is based on limited publicly available information and is intended only as a guide to assist with understanding the approximate location of drillholes and the mineralised veins in three-dimensional space. Veins have been modelled using only drillhole collar details, significant assay intercepts and corresponding surface maps and cross sections publicly released by Tempus Resources. The veins are an interpretation of this data created by the modeller. No geological logging, single sample assay results or downhole survey points have been used to create this model. For simplification purposes veins in this model extend to the topographic surface, however in reality they are covered by an overburden layer. Vein dimensions, thicknesses and extents are approximate in nature and should not be used to make financial investment decisions.
Major discoveries made since TMR acquired the project
With today's news, TMR adds to the major discoveries it has made since acquiring its Canadian gold project in 2019.
The two major discoveries with the potential to bring the project back into production are now:
The Blue Vein (discovered in September 2021)
This vein is most analogous to the existing SW Vein which has a historical resource of ~144,000 ounces of gold.
The image below shows how the Blue Vein is still relatively smaller than the SW Vein, and it helps visualise what TMR is looking to achieve by running extensional drilling programs.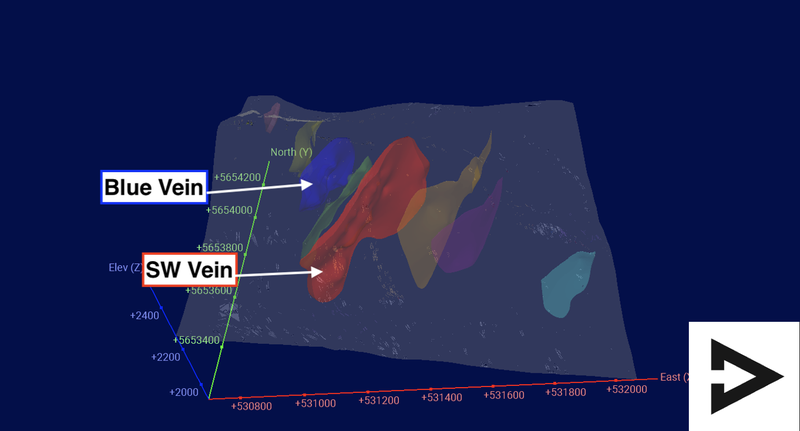 Most importantly, the entire Blue Vein discovery sits outside of any resource estimate that exists on TMR's project. That means all of the gold mineralisation from the blue structure should be added to TMR's maiden JORC resource estimate.
We think that with future drilling programs, the Blue Vein has the potential to turn into a structure similar to that of the SW Vein and hope that it will host a resource of similar size.
No.9 Vein (major intercept made today).
After today's hit, TMR can add the No.9 Vein as another prime area of interest at its project.
With the highest grade thickness ever intercepted at the project, the No.9 Vein is now one of the main areas we want to see TMR aggressively drill out.
TMR has been generally hitting thin but extremely high-grade gold structures.
For example, the intercept made earlier this year of 1,572g/t over a short interval of 0.2m was the highest grade intercept TMR ever made BUT was still relatively thin.
The grade thickness on that result was ~315.
Today's result came in at 28.1g/t of gold over a 28.5m intercept from a shallow depth of just 84.4m.
The grade thickness of today's result is ~800, or almost 2.5x TMR's highest grade intercept ever.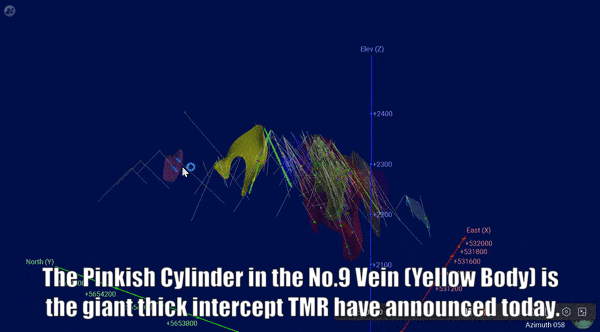 The No.9 Vein now sits over a strike length of ~150m and is open to the south and south-west.
We also note the comments from President and CEO Jason Bahnsen who thinks that "Structurally it is possible that the No. 9 and Blue Veins join together with the potential for additional gold mineralisation to cumulate in the area of the intersection and with the further extensions along strike to the south-west".
This points to the potential for the two structures to come together and form a larger gold system - something we look forward to TMR testing in future drill programs.
Below is an image of where that hit came from — our 3D model has been updated to reflect the intercept announced today.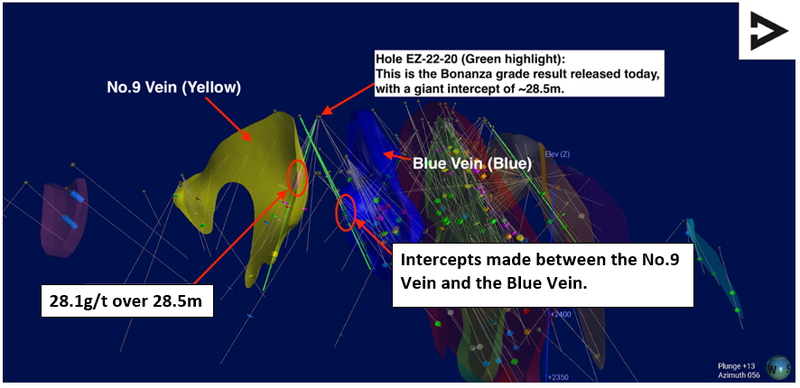 Similarly to the Blue Vein, none of the intercepts from the No.9 Vein were included in TMR's historic JORC resource report.
If we continue to see TMR hit intercepts like today's results, we think TMR could be on its way to increasing its resource base to a level that justifies putting its project back into production.
Below is our most up to date interpretation of TMR's project.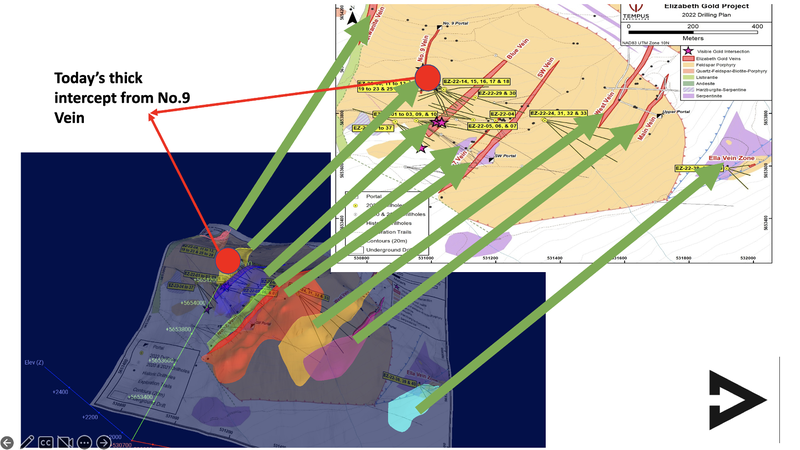 Looking ahead to the maiden JORC resource estimate
TMR's project has a historical resource of ~300k ounces of gold primarily from its South West Vein.
Below is our 3D model of where most of the historic resource comes from: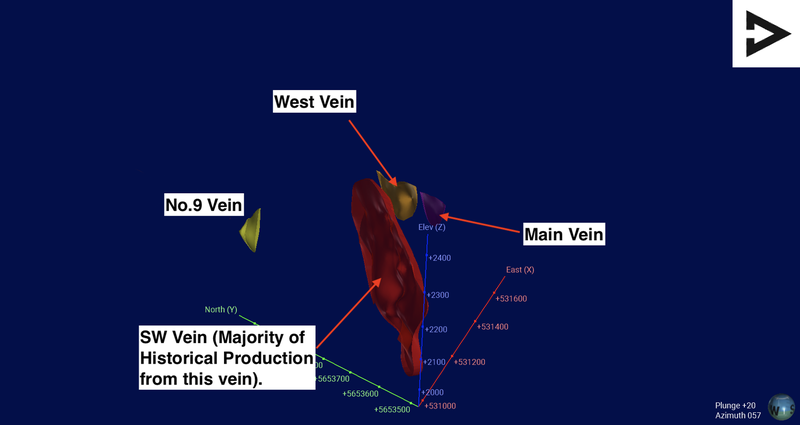 When TMR first acquired its project in 2019 the company had four main vein structures, including the South-west Vein that is responsible for most of the historic production from the project.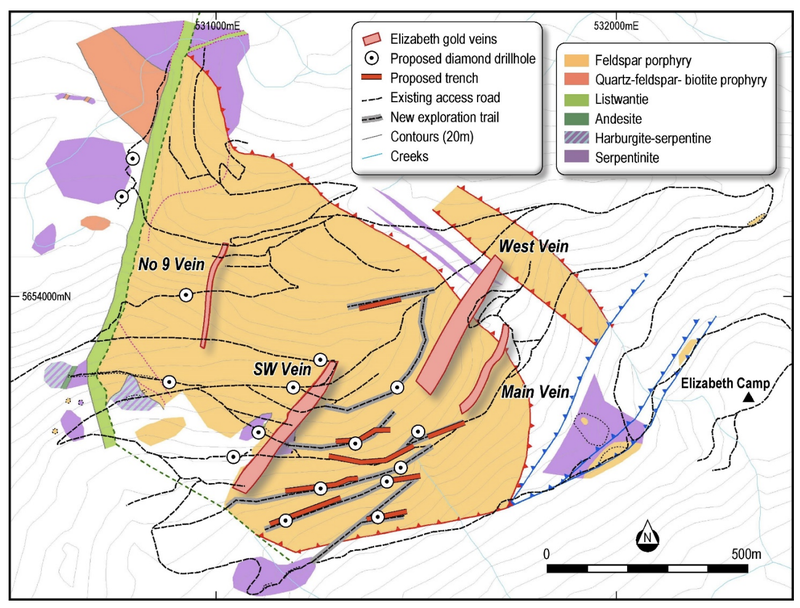 Since then, the company has undertaken three years' worth of drilling programs with the idea of finding more gold to justify returning the project to production.
Through those drilling programs TMR has completed a total of ~80 drillholes, all of which sit outside of the current historical resource estimate.
On top of this, TMR has data available from ~49 drillholes completed in 2010 and 2011 that also sit outside of the current mineral resource estimate of 300k oz silver.
This gives TMR data from a further ~129 drillholes for the updated JORC resource estimate.
For context, the ~300k ounce 2009 historic resource was put together using ~74 drillholes.
This will mean TMR has ~275% more drill hole data to include in its resource model.
TMR expects the resource estimate to be delivered in Q1 of 2023.
We also note that the gold price is up almost 20% over the last 4 months, and we are backing gold to have a big resurgence in 2023.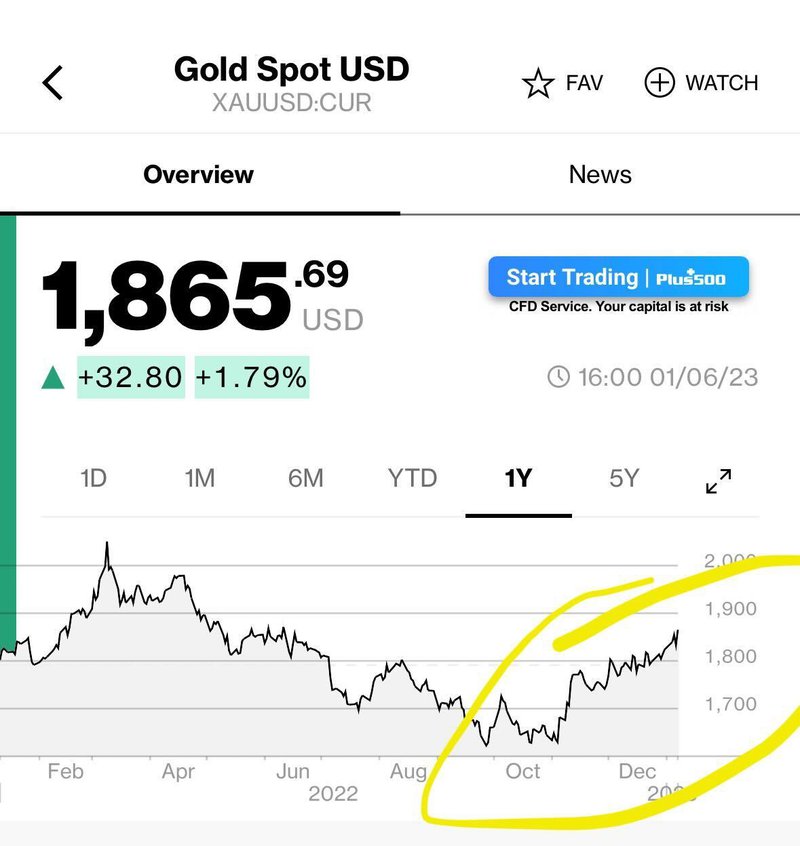 Given that TMR already has an existing mill to move quickly into production, we think that the timing of the JORC resource coincides nicely with the gold rally.
That said, TMR's fortunes will all depend on how much gold is identified in the JORC resource, and if it is economical to produce.
We hope this results in TMR's JORC resource coming in higher than the company's existing historic resource number.
Below is an image showing all of the drillholes OUTSIDE of the current historical resource (including the ones where assays are still pending).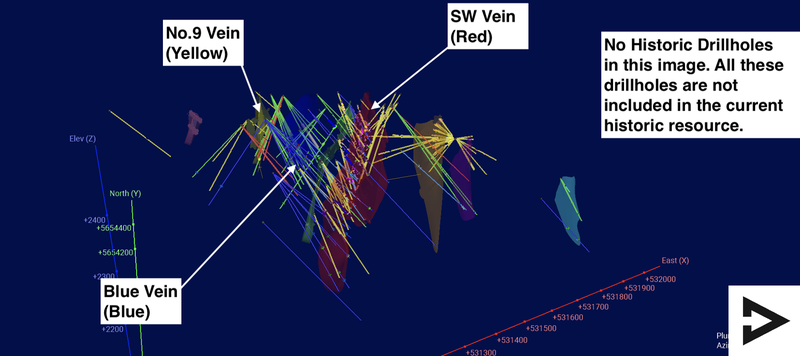 All of the work going into TMR's maiden JORC resource is central to our Big Bet of the company making new discoveries and putting its project back into production.
We are now hoping the maiden JORC resource is large enough to warrant feasibility studies on a restart of TMR's existing processing infrastructure.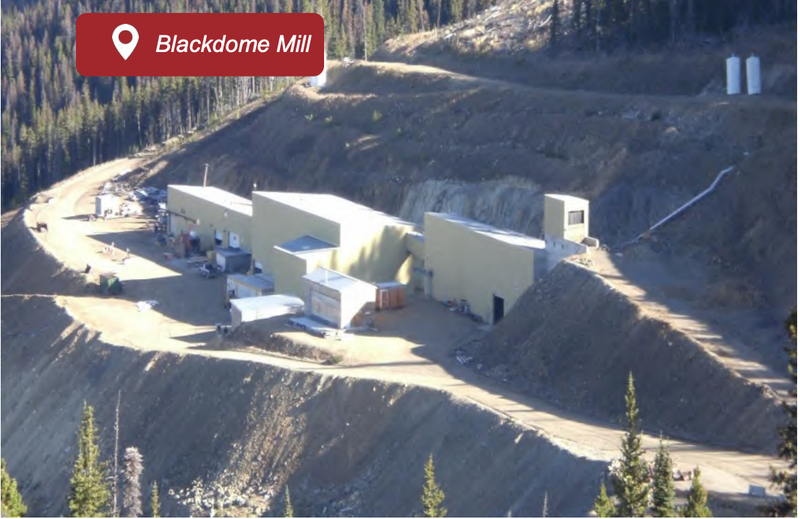 As part of our expectation setting going into this key catalyst, we have considered the difficulties of converting a historic resource into a resource number that has JORC compliance.
Often, when non-JORC resources get converted to JORC status, the size goes down because previous estimates were made using far less strict guidelines.
Considering the project already has a historical resource of 300k gold ounces, we have set up our bull/base/bear case expectations as follows:
Bull case = >300k oz of gold
Base case = 100-300k oz of gold
Bear case = <100k oz of gold
Directors Anthony Cina and Jonathan Shellabear own performance rights that vest if the JORC mineral resource estimate (MRE) is over 500k oz at 1g/t gold, these were issued in 2021.
We think that the market will view a MRE of 500k oz gold at 1g/t very favourably as it is significantly above our bull case.
More on the recent cap raise
Late last year TMR completed an oversubscribed capital raise.
The capital raise saw TMR bring in a total of ~$1.4M via two separate issues:
~$1.1M at 6.7c per share by issuing "flow-through shares".
~$336k at 5.6c per share by issuing ordinary shares.
The placement also came with 1:1 free "warrants" (options) with a two-year expiry and an exercise price of ~10c per share.
The difference in the capital raise pricing was due to the types of shares being issued.
"Flow-through shares" are a type of share issuance in Canada that give investors certain tax deductions.
This means companies can raise capital at premiums to the current market price. In TMR's case, this was at an almost ~10% premium to TMR's market price at the time of the raise.
The second issue is more representative of the type of capital raises we are used to on the ASX, with TMR issuing shares at a discount to its current market price of ~10%.
We did not participate in this capital raise as it was only open to Canadian investors.
What's next for TMR?
Assay results from remaining six drillholes 🔄
As of today's announcement we have results from the first 34 holes which means there are still six assays pending.
Given TMR is targeting thin gold veins, our focus will predominantly be on the grades of mineralisation.
We expect that anything above ~4-5g/t of gold will mean TMR could be onto something commercially mineable.
Updated mineral resource estimate 🔄
Since acquiring its project in 2019 TMR has completed three drilling programs for a total of ~80 new holes.
On top of this TMR completed ~49 drillholes in 2010 and 2011 that all sit outside of the current mineral resource estimate of 300k ounces of gold.
TMR will be looking to include all ~129 new drillholes in an updated mineral resource estimate that it expects to be ready in Q1-2023.
Our 2022 TMR Investment Memo
Click here for our TMR Investment Memo, where you can find the following:
Key objectives we want to see TMR achieve
Why we are Invested in TMR
What the key risks to our Investment thesis are
Our Investment plan
---