PRL provides Green Hydrogen update as world realises sudden urgency to switch to clean energy
Our 2021 small cap Pick of Year, Province Resources (ASX:PRL) is aiming to develop Australia's first renewable energy powered "Green Hydrogen" project in a proposed partnership with "keen to turn green" global energy super major Total.
After spending a fair bit of time trading sideways around 13¢ after raising $18M in May, PRL finally looks ready to move upwards again.
It has emerged from its "quiet execution phase" with a broad operational update on its HyEnergy Zero Carbon HydrogenTM Project this morning, and should also be supported by clean energy tailwinds in the mainstream media this week.
The world's attention is now firmly on the urgency to switch to clean energy after this week's Intergovernmental Panel on Climate Change (IPCC) report on climate change found that humanity is basically stuffed unless we quickly get our act together and switch to clean energy as soon as possible.
234 scientists from 66 countries took three years to bash out this report AND an accompanying summary for policy makers. It was approved by delegates from 195 countries; so it's official — everyone agrees.
The document is "a code red for humanity," said Antonio Guterres, secretary-general of the United Nations.
We think this report will finally create coordination of giant pools of capital (private and public) combined with supportive government policy to fast track clean energy projects like PRL's.
These events have seen global oil majors move fast into clean energy, desperate to put their fat balance sheets to work in switching their business models to fit the IPCC recommendations. PRLs proposed development partner, Total, is leading the charge.
Even coal-loving Scomo's federal government has promised to spend an extra $539.2M on new clean energy projects, including $275.5M towards developing four more hydrogen production hubs in regional areas.
We think these macro global events are what has kicked up PRL's share price this week, and welcome the timing of PRL's operational update this morning.
PRL project update quick take — here are the things that instantly got our attention:
Offtake Discussions - this is new. Investors love an offtake agreement because it proves the company can sell the product in advance and derisks future development funding from banks and institutional investors.
Scoping study progress - PRL says data collection and modelling is progressing as anticipated (our view on the scoping study due date below).
Government / community buy in - this is the HUGE value that PRL and their WA team is adding to the project that development partner Total can't do themselves.
Key appointments - building the team to get government and community support.
MoU with export/shipping solution - already thinking ahead on how to ship the green hydrogen to overseas markets.
Before we get into more analysis, here are the milestones PRL has progressed with today's operational update: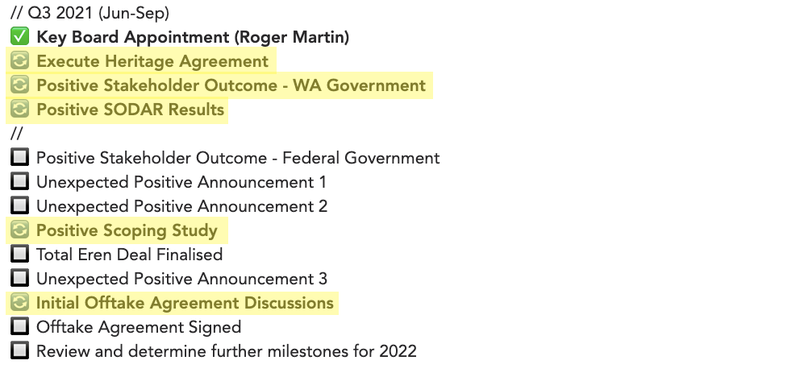 PRL Scoping Study update: What everyone has been waiting for...
Obviously everyone is really keen to get an update on PRL's scoping study.
Back in April, PRL announced that it had entered into an MoU with global energy Major Total (via clean energy subsidiary Total Eren) to fund and develop the ENTIRE clean energy wind/solar project to power the green hydrogen production. PRL retains 50% of the green hydrogen part of the project.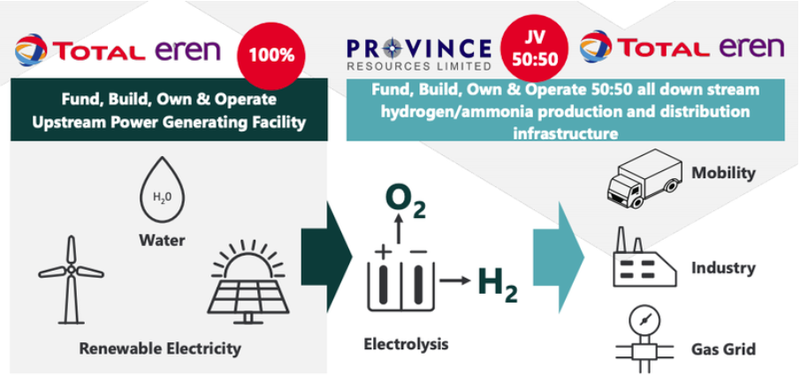 At the time, PRL indicated to the market that they were targeting the delivery of a scoping study and definitive agreement with Total in four months, but later clarified that the MoU does allow more time (a full 12 months) just in case the scoping study takes a bit longer.
In this video interview from last week (at 3m50s), PRL CEO Dave Frances says that:
"We are undertaking a scoping study at the moment and hopefully be winding that up in the next few months".
His comments today on the scoping study are:
The HyEnergy Partners MoU runs for a 12-month period from April of this year, however it is the Partners' intention to have a Scoping Study completed, Definitive Agreements executed and the Feasibility Studies advanced well within this time period.
The Scoping Study, which forms one of many activity streams currently being undertaken by the HyEnergy Partners, is proceeding extremely well because of the active collaboration between the HyEnergy Partners and their external consultants.
The Company looks forward to updating shareholders regularly with respect to the developments with Government and other stakeholders, the Scoping Study, Feasibility Studies and offtake discussions."
Our interpretation is that we can expect scoping study results and a decision to go binding on the project around October.
Let's break down the key points from the PRL announcement today:
PRL Update: Heritage, ecological, environmental, and geotechnical studies will commence shortly and be managed by external international consultant, ERM.
Our Takeaway: We are pleased to see a consultancy firm appointed to undertake these critical studies to the project. You may remember in June that plans for a $36 billion wind, solar and hydrogen project in the Pilbara region of WA was rejected on environmental concerns. This was a warning for PRL investors not to dismiss the importance of these studies as they pave the way for the necessary permits to commence and operate the project.
PRL Update: HyEnergy partners have been undertaking advanced modelling of the Phase 1 development stage in relation to expected green hydrogen market price and cost of production of various sized projects; the optimisation of this modelling is ongoing.
Our Takeaway: We suspect that Total has a group of highly intelligent number crunchers in a room working to predict the market size and value of future hydrogen demand. Since the mass adoption of hydrogen as an alternative fuel source remains unproven, it is challenging to model the future size and value of the hydrogen industry.
We believe that the global push to zero carbon will rapidly advance this emerging industry, but more important is what Total's modeling indicates in order to declare the project economically viable.
Our view is that green hydrogen demand will grow exponentially over the next 20 years (with early signals emerging this year) as countries look for cheap fuel alternatives to reduce their carbon emission in line with the IPCC report recommendations.
PRL Update: Collection of weather data... will be ongoing for the duration of the Feasibility Studies.
Our Takeaway: More data = more accurate information to evaluate the viability of the project and is a critical ingredient for the scoping study.
PRL Update: The HyEnergy Partners are closely engaged with and assisting multiple State Government Departments... [to] formulate a comprehensive legislative regime to fast track the new green hydrogen industry... This includes working closely with State Government to secure Lead Agency Status...
Our Takeaway: At the best of times, state governments can be slow. So it is encouraging that PRL's newly appointed board member, Roger Martin (former chief of staff to the WA treasurer), will provide a direct channel for PRL to assist and lobby state governments in the challenging task of enacting legislative reform for the emerging hydrogen industry.
We will also be waiting to see if PRL can secure Lead Agency Status to assist in the environmental and permitting process for their project.
PRL Update: At the local government level, the HyEnergy Partners have secured the support of the Shire of Carnarvon...
Our Takeaway: Positive news, we covered PRL's MoU with the Shire of Carnarvon in May.
PRL Update: Discussions have commenced with a number of potential domestic off takers including the transport and utility sectors. The HyEnergy Partners will shortly be expanding these discussions to include potential international off takers.
Our Takeaway: Even if Total funds the entire cost of the renewable power plant to provide clean electricity to produce green hydrogen, PRL still needs to find funding for 50% of the cost of the hydrogen plant. Securing offtakes early de-risks the project in the eyes of future funders by proving there is advanced demand for the product if they finance development.
PRL Update: the partners are exploring various export options including... [export] of green hydrogen from the HyEnergy Project utilising GEV's compressed hydrogen marine supply chain.
Our Takeaway: We see it as an overall positive that PRL is exploring ways to service the future hydrogen demand in Asian markets, however GEV's project is still at the early stages of development: read the full analysis provided by Wise-Owl.
PRL project partner Total is super keen to go green
The world's largest oil companies are bidding up prices for renewable energy projects, paying top dollar for clean energy assets as they transition away from fossil fuels.
Earlier this year an activist shareholder won its bid to install climate-friendly directors on Exxon Mobil's board.
BloombergNEF says a record US$174B was spent by big oil on solar, offshore wind and other green technologies and companies in the first half of the year.
French oil major Total is leading the charge to turn green and is reportedly the fastest mover of the European majors. Total recently rebranded to TotalEnergies to reflect this change.
We will be surprised if Total isn't pushing to lock in this deal with PRL from the highest levels within the company given the strategic and rapid shift to clean energy.
Green energy asset values are being pushed up by a rush of cashed up oil majors to secure them, and established assets are in high demand. After spending potentially hundreds of millions for a minority stake in an offshore wind farm (article below), getting a huge chunk of PRL's project at the ground level must sound pretty attractive to Total: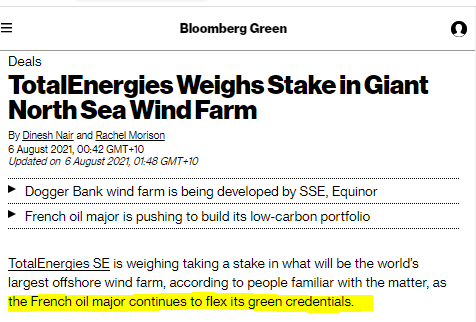 "Offshore wind farms have become coveted assets among investors and energy companies looking to buy into the transition away from fossil fuels.
TotalEnergies has had the fastest start in the race between Europe's oil supermajors to achieve net-zero carbon emissions, having acquired the most renewable electricity for its portfolio, Bloomberg News reported previously. Last year, it bought into another SSE offshore wind farm with a 70 million-pound investment in the Seagreen 1 in Scotland, a deal that marked its first significant foray into such assets.
Its rivals have made similar moves. BP Plc last year took a $1.1 billion stake in two development-stage wind farms in the U.S., while Royal Dutch Shell Plc won the rights alongside Eneco NV to develop a zero-subsidy project off the coast of the Netherlands.
Shares in TotalEnergies have risen 11.3% in the last 12 months, giving it a market value of about 99.5 billion euros ($118 billion).
PRL has the prime position and first mover advantage in WA and is building the right team to get the government approvals required on a project that will no doubt be coveted by oil supermajors like TotalEnergies who want to reform to clean energy asset owner-operators.
... this will only accelerate with the global IPCC climate change report
The latest Intergovernmental Panel on Climate Change's (IPCC) report — approved by 195 member states last Friday — says that global warming could push temperatures to 1.5oC above pre-industrial levels within a decade, and it calls on policymakers to take urgent action on climate change.
This is the starkest warning on climate change yet from the world's leading climate scientists. In response, the United Nations has referred to the situation as a "code red for humanity".
We expect the clean energy switch to further accelerate off the back of this report.
Scomo sparks interest into green energy
PM Scott Morrison indicated that the government may be on the cusp of upgrading Australia's Paris Agreement commitment to lower emissions by 26% to 28% on 2005 levels — a move that comes just in time for November's UN climate summit in Glasgow.
In what seems to be recognition that financial markets view Australia as moving too slowly to ramp up its emissions targets, Morrison this week said, "We are very aware of the risks that are set out in the IPCC report," adding, "I'm also very aware of the significant changes that are happening in the global economy. I mean, financiers are already making decisions regardless of governments about this."
Earlier this year the federal government had promised to spend an extra $539.2M on new clean energy projects. That included $275.5M towards developing four more hydrogen production hubs in regional areas.
Morrison explained that "commercialising low emissions technologies" is key to Australia hitting climate change targets and moving towards net zero emissions.
What's next for our investment in PRL
PRL is undertaking a very ambitious project, having secured a lot of prime land to build clean energy to potentially make a LOT of green hydrogen.
Essentially, PRL's job is to get a deal done with Total to build and fund the clean power side AND get all the government and community buy-in on the project.
For this they get to retain 50% of the hydrogen plant and the hydrogen created.
We would like to see PRL eventually farm down to a bigger player to be fully funded and keep a big chunk of the project for free.
This would make for a big win for shareholders if PRL can pull it off, and it certainly feels like the world is ready for a project like this... more than ever before.
Especially now that the massive balance sheets of big oil companies need to get set in green energy projects. It's an existential threat for them if they don't.
Here are our investment milestones for PRL:
We first invested in PRL back in August 2020 BEFORE it acquired the HyEnergy green hydrogen project, so the first part of our investment has now qualified for the CGT discount for holding for over 12 months (also well done if anyone out there who has also been holding since the SVD days):
We will look to complete free carry in a few months around the time of the scoping study release.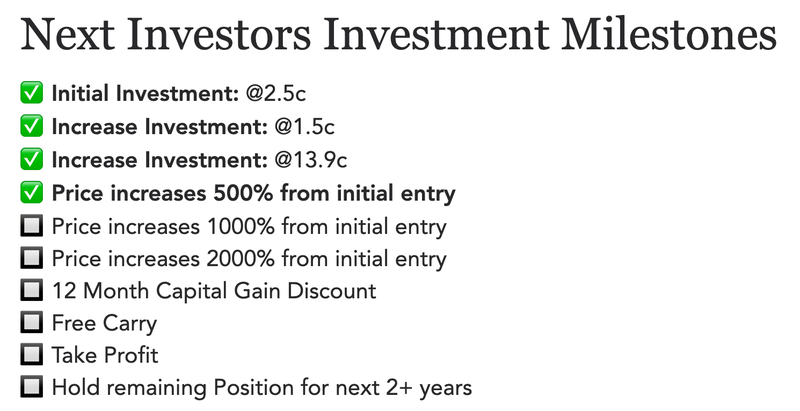 New to PRL? Here is our commentary on PRL's journey so far:
On 17 February, PRL announced the acquisition of its Zero Carbon Hydrogen project, the first of its kind in Australia.
Less than two weeks later, PRL initiated data collection for its feasibility study with the state of the art Fulcrum3D SODAR Machines collecting solar and wind data at the project.
After some digging, we noticed that Australia's Richest man Andrew "Twiggy" Forrest (mining magnate and self appointed green hydrogen ambassador) applied for land tenements right next to PRL's HyEnergy Project.
We highlighted PRL's new board hire, Ms Kylah Morrison, and provided commentary on PRL's doubling of its project land area.
After signing an MoU with Total Eren, a key milestone in the project, we announced PRL as our Small Cap Pick of the Year.
As the year progressed, PRL made significant headway with the Shire of Carnarvon.
Andrew "Twiggy" Forrest's FMG Resources proceeded to peg every single bit of land surrounding PRL's proposed green hydrogen project - and more beyond.
Then PRL strengthened its board adding an ex-chief of staff to the WA treasurer and VP of corporate affairs at Woodside who we reckon has all the key ministers on speed dial.
PRL then signed a non-binding MoU with GEV to commence a feasibility study into the use of compressed hydrogen shipping to reach Asian markets.
... and today, PRL provided a much anticipated update on their scoping study for the HyEnergy project.
Here is PRL's Environmental, Social and Governance (ESG) Quarterly disclosure report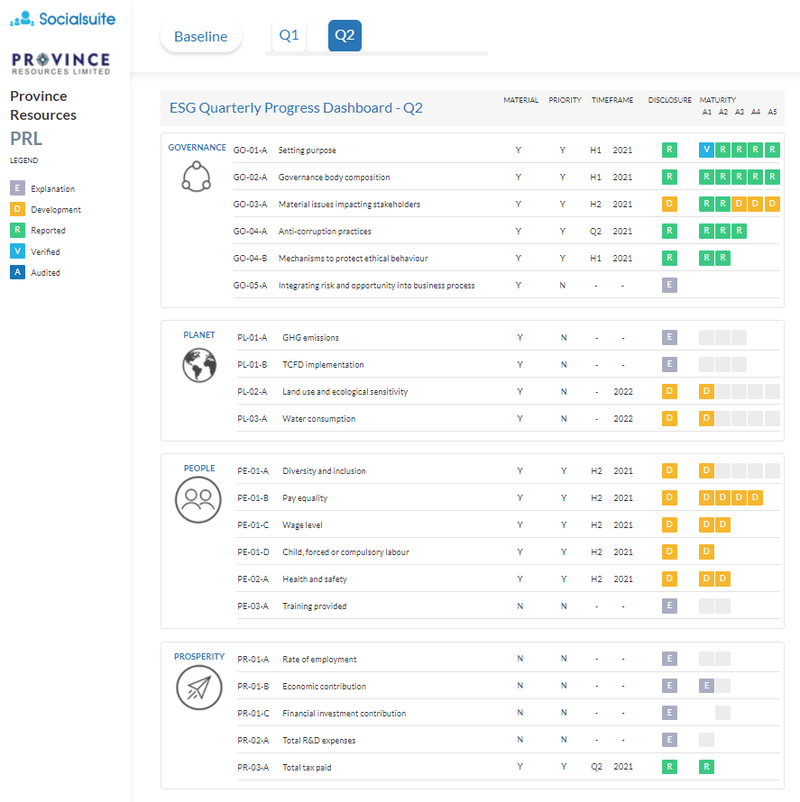 ---