Meeting management matters: In person catch ups with GAL, DXB and LRS
Published 17-SEP-2022 12:27 P.M.
This week we took the chance to attend in-person presentations from a few of our portfolio company CEOs that were in town.
Usually, we are stuck behind a keyboard all day reading ASX announcements, mainstream media, analyst reports and industry trend analysis to understand and write about what the day's events mean for our Investments.
This week was a good chance to experience some natural light, brush up on our social interaction skills and eyeball a few management teams from our Portfolio.
First we caught up with GAL managing director Brad Underwood, who was visiting Melbourne and Sydney meeting existing shareholders to run through GAL's new investor presentation.
In the last few months GAL has made a palladium and rhodium discovery AND raised $20M to drill around it to establish its size.
Key GAL takeaways:
Drill and assays (results) incoming for diamond and RC drilling, due over the coming weeks.
More Massive Sulphides? If GAL delivers further massive sulphide hits (which generally contain higher grade mineralisation) it could indicate potential high grade zones that will be a priority to mine first, significantly improving the economics of a potential mine.
Extension of shallow mineralisation? We already know that GAL's discovery is trending towards the surface to the west, so more positive drilling results closer to surface mean less digging to get to the valuable metals, meaning better project economics.
We are keenly awaiting for news on (2) or (3) where we hope positive results will give GAL the next leg up.
We haven't yet executed any sell down plan for GAL as we think there is a lot more to come - in fact we increased our position through the GAL placement at $1.20 back in July.
The new presentation was clearly well received over Thursday and Friday with GAL finishing strongly above the recent placement price of $1.20 after the usual post placement churn from July - GAL is fully funded for the next significant phase of exploration.
Here is a link to the new GAL preso: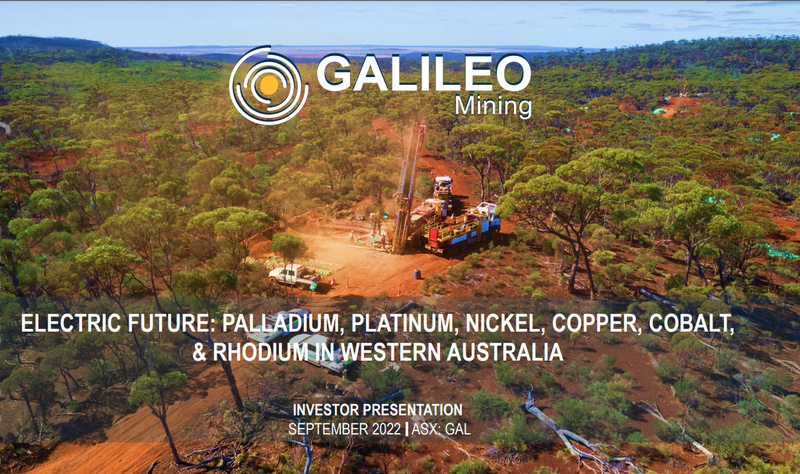 You can see that in addition to GAL's current discovery, the company headline now also includes potential for not only platinum group elements, but also many of the key critical minerals for electrification.
So in summary, palladium, platinum, rhodium AND nickel, copper, cobalt.
To fit all of those metals into a 15 minute speaking slot at investor conferences we imagine Brad might need to speed up his introduction, perhaps to sound something like this....
We also attended an LRS investor lunch hosted by managing director Chris Gale who provided an update on their Salinas Lithium Project in Brazil.
Chris is always a great presenter and has been in the lithium game since way before it was everyone's favourite commodity, so he knows his stuff.
Our key takeaways from the LRS presentation include:
JORC Resource - LRS is focused on getting a maiden JORC resource defined by the end of the year.
More Exploration - there is still a lot of untested exploration upside that could make LRS's project even bigger in the years to come.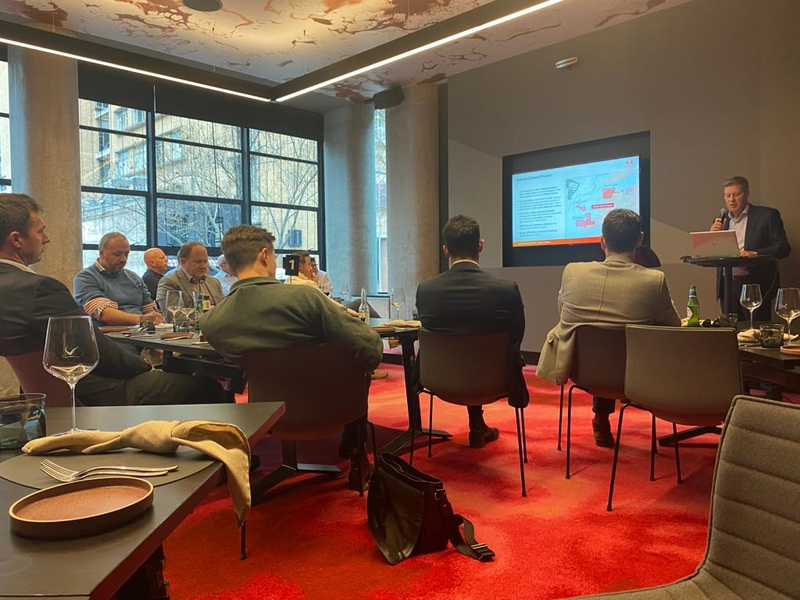 Here is our summary of the LRS investor lunch.
Also at the LRS lunch presentation was a session on the general lithium market delivered by Dr. Cameron Perks from battery metals think tank Benchmark Minerals Intelligence.
Last week Benchmark released their analysis of global battery metals demand, forecasting that "At least 384 new mines for graphite, lithium, nickel and cobalt are required to meet demand by 2035."
After years of investing in exploration companies, we know how long it takes to go from explorer to building a mine (that is if a mine even happens at all).
It should be a very interesting decade as explorers rush to move through discovery, development and eventually production.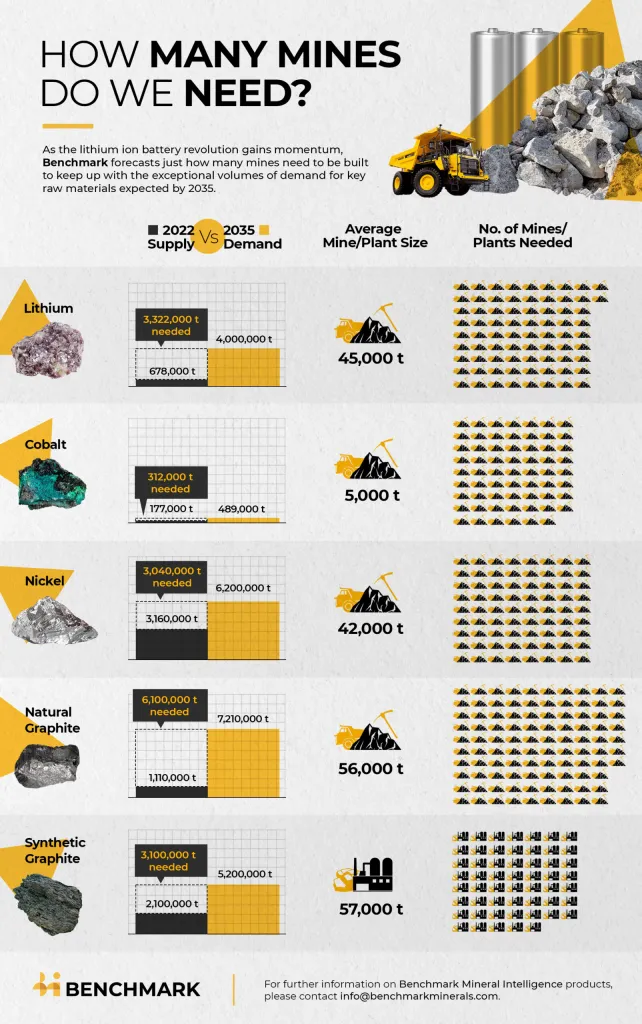 Here is our summary of the benchmark battery metals demand report.
We also attended the DXB investor lunch hosted by managing director Nina Webster and Chief Medical Officer Ash Soman.
DXB is progressing its phase 3 trials on a treatment for kidney inflammation (FSGS), and we hope that a positive phase 3 trial result will re-rate the share price.
Our key takeaways from the DXB session:
Patient recruitment update - DXB is more than 35% through recruitment and anticipates that it will be complete for the first 72 patients (required for interim analysis) by Q4 this year.
Significant market interest in kidney disease is leading to major transactions in the space (source)
If DXB can replicate phase 2 results for FSGS this would be a major success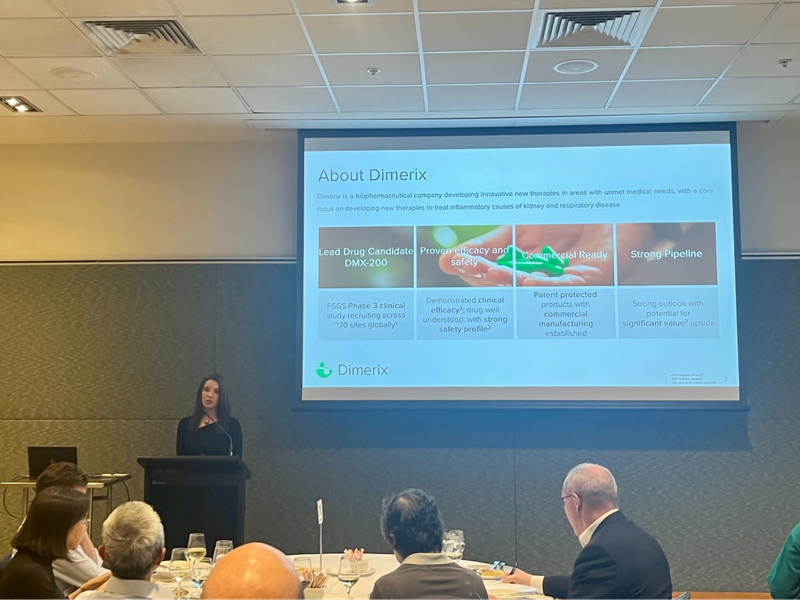 Here is our summary of the DXB Investor Lunch
While not a face-to-face meeting, we did also sit in on an online investor briefing from ONE covering their H2 results and forecasts, and later spoke to ONE Managing Director James Fitter.
While the ONE share price has suffered a bit after some key deals were delayed into 2023, we are still bullish on ONE in the long term and will be releasing an update on ONE and our Investment Memo soon.
We still hold ~80% of our Total Holdings in ONE, including our most recent Investment in ONE in the last placement at 27c - hopefully the recent share price weakness is just temporary until the delayed deals start coming in.
Here is the latest ONE presentation.
Have a great weekend.
🗣️ Quick Takes
Here are this week's Quick Takes:
NHE: NHE increases its landholdings by 59%
TG1: Gold discovery in first drill
TG1: $2M raised to fund copper drilling in WA
LCL: Los Cerros recognised for local ESG endeavours
GTR: Rig mobilised - drilling to start this week.
VUL: Zero Carbon Lithium Project update
VUL: Direct Lithium Extraction demo plant now being built
IRD: IRD launches Cape Hardy Green Hydrogen bid process
EXR: Gas production testing commenced
KNI: Four targets at Kuniko's nickel copper project
LRS: Melbourne lithium update - We attended
DXB: DXB's latest Investor Presentation
Battery metals - macro: Battery materials demand will need more than 300 new mines
Company Progress Trackers
When we are first Investing in a company, we put together an Investment Memo that outlines what the company does, the macro investing theme it sits in, why we like the company, what we expect them to achieve over the next 12 months, the near term risks and our investment plan.
To complement our Investment Memos, we have started using "progress trackers" to help digest CURRENT news within the context of previous announcements, all of which contribute to a singular long term objective the company is trying to achieve.
When a company releases a new announcement, our process is to check our Investment Memo again to see how the news ties into the long term goal or risks, then do a scan of the progress tracker to see how it fits into the long term Investment goal.
Regular readers may have seen some of these trackers already, but here is a list of the trackers we have shared so far and some of the new ones we put together this week.
New trackers released this week:
GTI Energy (ASX: GTR) - GTR is doing 100,000 feet (~30,000m) of drilling at its ISR uranium project in Wyoming, USA with the ultimate aim of putting together a maiden JORC uranium resource.
Click here for our GTR Progress Tracker
Existing trackers:
Elixir Energy (ASX:EXR) - EXR is working to build out a clean-energy producing hub consisting of Coal Seam Gas and Green Hydrogen in southern Mongolia, bordering China.
Click here for our EXR Progress Tracker
Tyranna Resources (ASX: TYX) - TYX is planning a drilling program to prove that outcropping pegmatites at its project extend undercover enough to confirm a lithium discovery.
Click here for our TYX Progress Tracker
Evolution Energy Minerals (ASX:EV1) - EV1is working to achieve the world's most sustainably produced graphite by early 2024 (including value adding processing), coinciding with the onset of a long-term supply shortage in the graphite market.
Click here for our EV1 Progress Tracker
Province Resources (ASX: PRL) - PRL together with its now 50:50 joint venture partner Total Eren is looking to develop a large scale green hydrogen project in WA.
Click here for our PRL Progress Tracker
Noble Helium (ASX: NHE) - NHE is chasing a helium resource that has the potential to be the third largest helium reserve in the world. NHE plans to drill test its project in 2023.
Click here for our NHE Progress Tracker
Dimerix (ASX:DXB) - DXB is an early stage biotech research company that is developing an anti-inflammatory drug to treat respiratory and kidney diseases, with potential applications to treat COVID.
Click here for our DXB Progress Tracker
88 Energy (ASX: 88E) - 88E will be looking to replicate the success of its $1.9BN neighbour on the north slope of Alaska - the home to the biggest oil discovery ever made in the US (Prudhoe Bay). 88E is gearing up for a 2023 drilling program to test the same reservoir units its neighbour has had success drilling into.
Click here for our 88E Progress Tracker
Invictus Energy (ASX: IVZ) - IVZ is gearing up to drill Africa's largest untested conventional gas prospect in Zimbabwe. Drilling is expected to commence in the coming weeks.
Click here for our IVZ Progress Tracker
Sarytogan Graphite (ASX: SGA) - SGA only recently IPO'd and is still relatively early in proving out a giant graphite resource. SGA's project has the highest grade graphite on the ASX, and has the second highest contained graphite of any ASX listed company.
Click here for our SGA Progress Tracker
Galileo Mining (ASX:GAL) - After 18 months of drilling, GAL made a PGE discovery at its Norseman project, off the back of the discovery GAL raised $20M and is now looking to grow the size and scale of its new discovery. Below is our progress tracker for GAL's PGE discovery.
Click here to see our GAL Progress Tracker
Tempus Resources (ASX: TMR) - TMR is trying to make new gold discoveries at its Canadian gold project, which has produced some ~230k ounces of gold in the past. With processing infrastructure already in place, we are holding TMR to see it make new discoveries that it can then feed through its mill.
Click here to see our TMR Progress Tracker
Lanthanein Resources (ASX: LNR) - LNR is preparing to drill its rare earth project which borders Hastings Technology Metals (capped at $430M) Yagibanna deposit and is only ~30km away from Dreadnought Resources (capped at $320M) new rare earths discovery.
Click here to see our LNR Progress Tracker
⏲️ Upcoming potential share price catalysts list
Results expected in the near term:
This week in our Portfolios 🧬 🦉 🏹
Next Investors
GTI Energy (ASX: GTR)
Our US based uranium exploration Investment GTI Energy (ASX: GTR), just started drilling its in-situ recovery Uranium projects in Wyoming - the uranium capital of the USA.
Our big bet for GTR is to see it prove out a large resource base in the "uranium capital" of the USA, and generate offtake or acquisition interest as the USA moves to secure local uranium supply.
NOTE: The above is what we think the ultimate success scenario looks like for this particular Investment over the long term (3+ years). There is a lot of work to be done by the company to get to this outcome and obvious risks that need to be considered, some of which we list in our GTR Investment Memo.
📰 Read our full Note: The US is desperately seeking more domestic uranium supplies - GTR drilling now
🏹 Catalyst Hunter
Tyranna Resources (ASX: TYX)
Our 2022 Catalyst Hunter Pick Of The Year - Angolan lithium explorer Tyranna Resources (ASX: TYX) recently confirmed the drilling plan for the first ever lithium focused exploration program at its project.
Our big bet for TYX is to see the company discover and define a large, simple to process, lithium resource - that is on par with world class multi-billion dollar ASX peers such as Pilbara Minerals, Core Exploration, Liontown Resources, AVZ Minerals and Sayona Mining.
NOTE: This is what we HOPE the ultimate success scenario looks like for this particular Investment over the long term (3+ years). There is a lot of work to be done by the company to get to this outcome and obvious risks that need to be considered, some of which we list in our TYX Investment memo.
📰 Read our full Note: Potential giant lithium project: First ever drilling within weeks
Lanthanein Resources (ASX: LNR)
Earlier this week our rare earths exploration Investment Lanthanein Resources (ASX: LNR) has started drilling some of the hottest rare earths property in Australia.
LNR is 2.5km from $490M capped Hastings Technology Metals' rare earths deposit and 32km from $365M capped Dreadnought Resources' discovery. LNR on the other hand is capped at just $52M.
Our Big Bet for LNR is to see the company discover and prove a rare earths deposit significant enough to become an acquisition target for one of its bigger neighbours Dreadnought or Hastings - or LNR becomes part of a consolidation play for all three companies.
NOTE: The above is what we think the ultimate success scenario looks like for this particular Investment over the long term (3+ years). There is a lot of work to be done by the company to get to this outcome and obvious risks which need to be considered, some of which we list in our LNR Investment Memo.
📰 Read our full Note: LNR Now Drilling Australia's Hottest Rare Earths Province
Have a great weekend,
Next Investors
---