The US is desperately seeking more domestic uranium supplies - GTR drilling now
Disclosure: S3 Consortium Pty Ltd (the Company) and Associated Entities own 16,662,000 GTR shares at the time of publishing this article. The Company has been engaged by GTR to share our commentary on the progress of our Investment in GTR over time.
How do you solve an energy crisis in the midst of a transition away from fossil fuels?
With green energy tech that has both a low carbon footprint and high utility rates - one of the most obvious technologies is nuclear power.
Uranium, being the primary fuel source for nuclear power, is now a critical mineral for a green, energy independent future.
The US is responding by committing over US$10BN to the nuclear industry including buying US$1.5BN of local US uranium over the next 10 years.
The market seems to be taking notice of all of this with the uranium price trading near decade highs at US$52 per pound.
Enter our US-based uranium exploration Investment GTI Energy (ASX:GTR), which is looking to prove up a uranium resource base in the uranium capital of USA - Wyoming, where 80% of domestic supply is produced.
Our Big Bet:
Our big bet for GTR is to see it prove out a large resource base in the "uranium capital" of the USA, and generate offtake or acquisition interest as the USA moves to secure local uranium supply.
NOTE: The above is what we think the ultimate success scenario looks like for this particular Investment over the long term (3+ years). There is a lot of work to be done by the company to get to this outcome and obvious risks which need to be considered, some of which we list in our GTR Investment Memo.
Today, GTR commenced its 2022 drilling program, looking to extend its discovery made earlier in the year.
GTR will be doing 100,000 feet (30,000m) of drilling across five targets over the coming months.
There's a lot going on in Wyoming when it comes to uranium - it's the same place Bill Gates and Warren Buffet are spending US$4 billion on a next-gen nuclear reactor. Rio Tinto also has a uranium mill here.
With capital pouring into uranium projects, heavily backed by US Federal policies, we think Wyoming will continue to maintain its position as the uranium capital of the US.
In summary, Wyoming is an excellent place to be hunting for new uranium discoveries, which is exactly what GTR is doing now.
GTR has drilled here before, with ~15,000m of drilling done in 2021 leading to a maiden discovery being confirmed in early 2022.
The ultimate aim of GTR's drilling program is to either put out a maiden uranium resource estimate or, at the very least, an achievable exploration target to base future exploration programs.
We will measure the success of GTR's drilling program against the following expectations: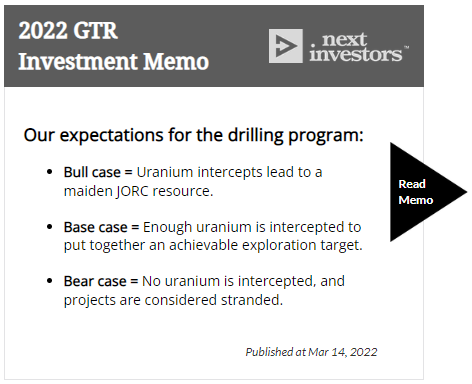 As we hinted at above, GTR has picked the perfect time to try and prove out an in-ground resource base for its uranium exploration project.
Governments worldwide are scrambling to ensure energy sovereignty and it feels like the necessity of nuclear power in a stable energy grid is finally starting to make sense to policy makers.
We think the conversation around nuclear power and the uranium that fuels it is starting to change - with many countries increasingly aware of the role the green energy source can play in the energy transition.
For some context here's a list of things going on in the uranium industry around the world:
USA - The US government is proposing over US$10 billion in support for the domestic nuclear industry.
United Kingdom - The UK government put out a plan to build eight new nuclear plants with a view of increasing nuclear power generation from 15% of its energy mix to 25% by 2050.
European Union - The EU parliament voted to include nuclear power projects in its list of sustainable forms of energy.
France - The French recently announced plans to build 14 new nuclear reactors.
Belgium - The Belgian government announced that it would reverse its decision to phase out nuclear power and that it would continue operating nuclear power plants for at least the next 10 years.
Japan - The Japanese restarted a commitment to target 22% of all electricity generation from nuclear by 2030.
South Korea - South Korea elected a pro-nuclear president who stated the intention to reverse a phase out and to reset its energy mix with nuclear to make up at least 30% of all electricity generation.
The change in sentiment in the European Union is the most noticeable standout, with the continent experiencing a full blown energy crisis.
When push comes to shove and a pathway to energy independence needs to be worked out whilst also trying to balance decarbonisation goals, nuclear takes centre stage.
With a recommitment to phasing back in and expanding nuclear generation, the world will need more uranium and the US will need the most (being the world's largest producer of nuclear power).
With US domestic uranium production declining we think projects like GTR's could become of strategic importance IF the company can go out and prove an economic JORC uranium resource.
These strengthening macro tailwinds are a large part of the reason we hold GTR in our Portfolio.
We will be tracking GTR's progress from project acquisition to where the company is at today in our GTR Progress Tracker. This is an internal document we will be updating as the company makes progress with its Wyoming projects.
Click here to see our GTR Wyoming Progress Tracker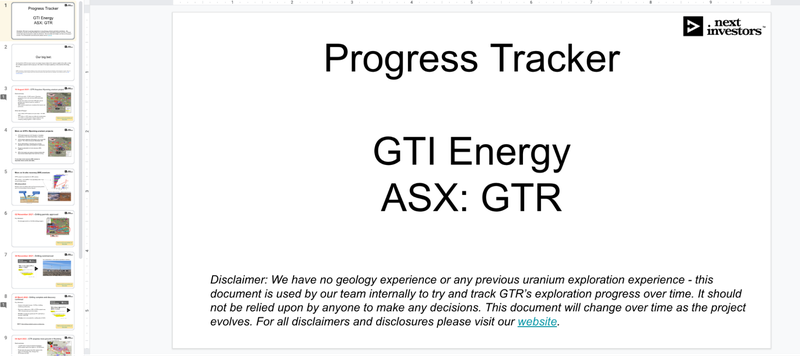 More on GTR's drilling program
GTR's drilling program is a follow up to the drilling completed late last year and the discovery confirmed earlier in 2022.
With the first round of drilling largely testing historical information, GTR is now kicking off its 2022 exploration program looking to expand on its knowledge base and hopefully put together a maiden JORC resource for its project.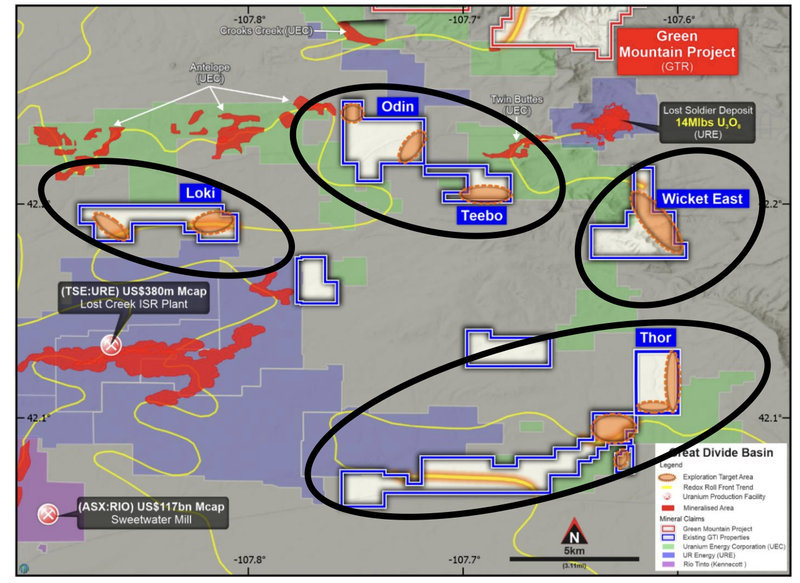 The key targets, GTR is drilling are as follows
Thor project - This is where GTR drilled late last year, following up on historical drilling data. GTR confirmed uranium mineralisation over a ~3km strike zone and will now be drilling for extensions to this area.
Wicket East Project - Here GTR will be testing for extension to its neighbour UR-Energy's Lost Soldier deposit.
Odin, Loki and Teebo projects - Here GTR is targeting over ~8km of strike where historical drilling data has intersected uranium.
The approach looks like it is to take all of the existing drilling data, plan the drilling programs to confirm and extend the mineralisation and ultimately put all of this into a maiden resource.
Below is some more detail on the drilling targets:
Thor project:
Thor is GTR's most advanced project area and sits right next door to Canadian listed Ur-Energy's (capped at ~CAD$398M) 18Mlb Lost Creek uranium deposit/processing plant.
Here GTR will be drilling a total of 40,000 feet (~12,000 metres) over 70 holes.
The aim: To extend the already discovered ~3km mineralised zone to the north east section of the project.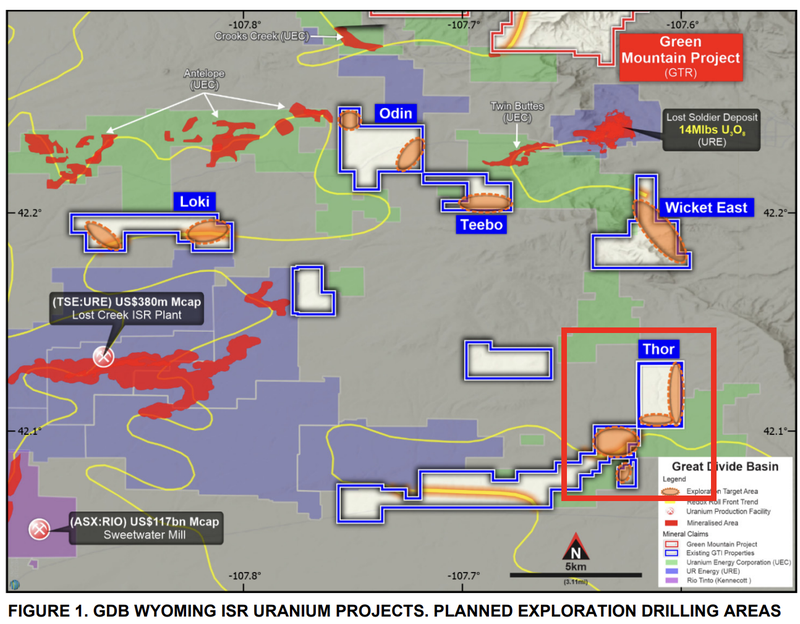 Wicket East Project:
This sits right on the southern boundary of UR-Energy's Lost Soldier deposit, which hosts a 14 Mlb uranium resource.
Here GTR will be drilling a total of 20 holes over 20,000 feet (~6,000m), testing for extensions to Ur-Energy's deposit.
The aim: To test for extensions of the ~5km mineralised zone from UR-Energy's project to see if they continue into GTR's ground.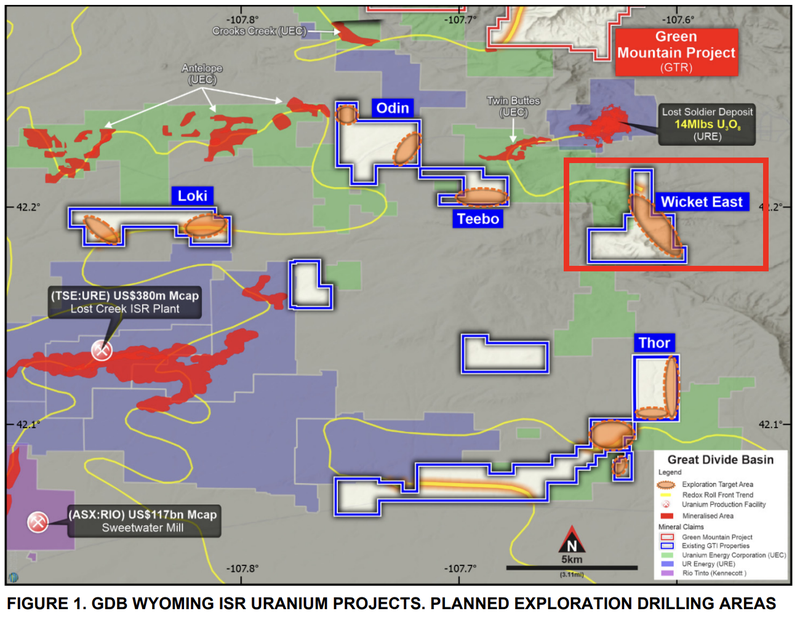 Odin, Loki and Teebo projects:
GTR's Odin and Teebo deposits are between Uranium Energy Corp's (UEC) Antelope Project and Ur-Energy's Lost Soldier deposit.
While its Loki project is wedged between UEC's Antelope and north of Ur-Energy's Lost Creek Project.
Here, GTR will be drilling up to 40 holes over a collective 40,000 feet (~12,000 metres) of drilling.
The aim: GTR will be looking to confirm and extend ~8km of previously intercepted uranium mineralisation.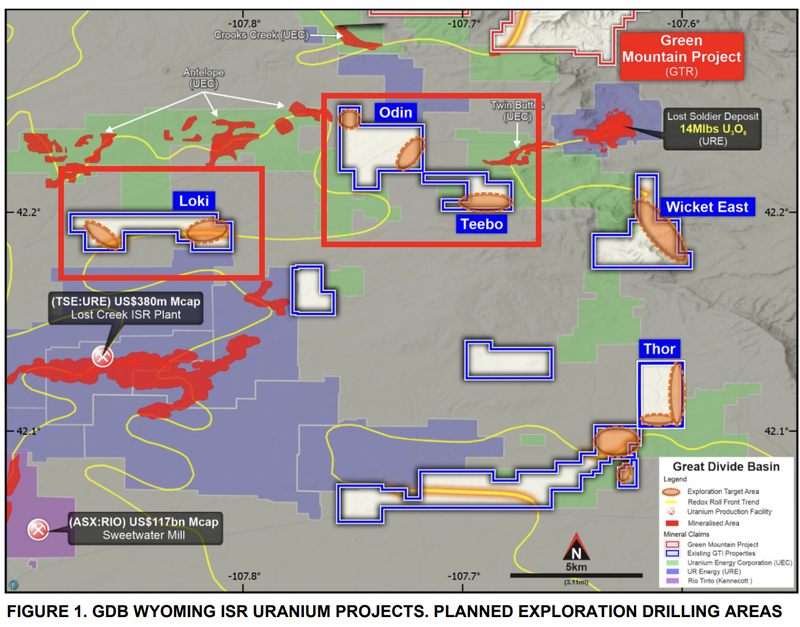 What's next?
Drilling results from the 100,000 ft exploration program 🔄
With drilling now underway, we have set some expectations for what we want to see from the drilling program as part of our 2022 GTR Investment Memo.
Our expectations are primarily based on the drilling intercepts at the nearby Lost Creek Project, using the general economic cut-off criteria for ISR uranium projects in this part of Wyoming.
The Lost Creek ISR uranium deposit has a 13Mlb (measured/indicated resource) at an average grade of 0.048% uranium with an average grade thickness (GT) of 0.2.
As a result, our focus for the drilling results will be on the "GT Measure" (grade x thickness), where we want to see:
10 ft intercepts grading >0.02% uranium (GT >0.2).
🎓 To see our deep dive on "grade thickness", check out our previous article here: GTR uranium drilling now - to confirm previous mineralisation.
Again, we will base the success of GTR's drilling program on the following expectations: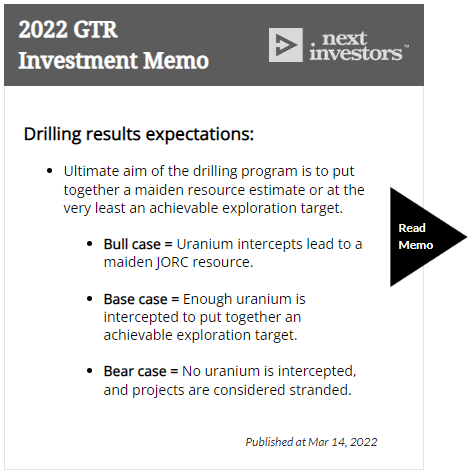 Target generation works at newly acquired ground 🔄
In mid June, GTR acquired an additional ~13,800 acres in ground next to its existing uranium projects in Wyoming.
This newly acquired ground sits against a border shared with Rio Tinto and is in close proximity to Energy Fuel's (capped at CAD$1.5BN) 30Mlb Sheep Mountain deposit.
It is still early days with this project but we want to see GTR detail a forward exploration program here, and start putting together high priority drilling targets.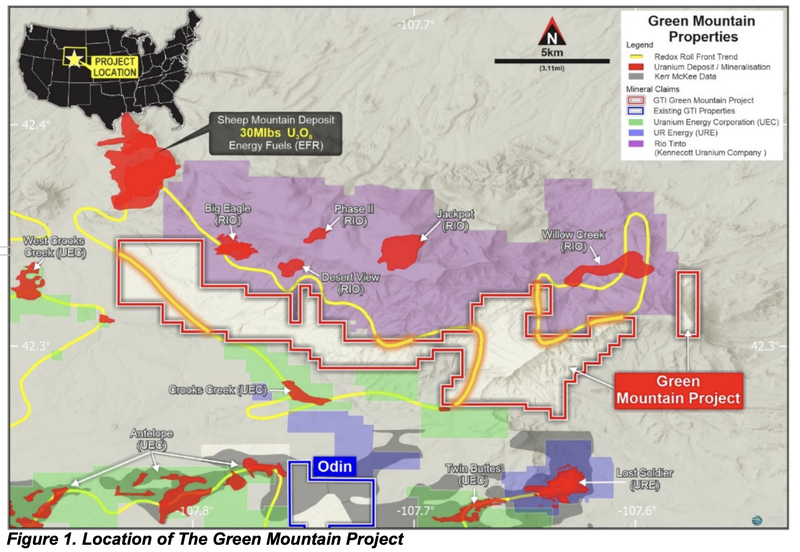 Our 2022 GTR Investment Memo:
Below is our 2022 Investment Memo for GTR, where you can find a short, high level summary of our reasons for investing.
The ultimate purpose of the memo is to record our current thinking as a benchmark to assess the company's performance against our expectations over a 12 month period.
In our GTR Investment Memo, you'll find:
Key objectives for GTR in 2022
Why we invested in GTR
What the key risks to our investment thesis are
Our investment plan

Disclosure: S3 Consortium Pty Ltd (the Company) and Associated Entities own 16,662,000 GTR shares at the time of publishing this article. The Company has been engaged by GTR to share our commentary on the progress of our Investment in GTR over time.
---