Bookmark it, a new Pick of the Year is coming next week
Published 14-AUG-2021 17:16 P.M.
The market definitely seems to be back this week with a sea of green in many small cap portfolios, adding to the general positive mood and attracting investors from the sidelines as they hear stories of paper profits.
A lot happened this week but it's only going to be a short update from us today as we are busy this weekend putting the finishing touches on our new portfolio addition.
We review over 400 investment opportunities each year and make just 10 investments on average. So far this year, we have introduced just three new investments in the Next Investors portfolio.
... and on Monday morning at around 10:00am we will be announcing our FOURTH INVESTMENT for 2021.
We don't often announce a new "Pick of the Year" but when we find a company that is our favourite long term investment in a specific sector we will give it that title.
Our past "Picks of the Year" in sectors like energy (EXR, IVZ), small cap (VUL, PRL) and tech (WHK, ONE) have performed well over time. You can see them and all our other holdings on our portfolio page - click any of our investments to read all our past commentary and see our investment strategy for that company.
This new investment will be just the fourth addition to our portfolio in 2021 and the 22nd addition since we introduced our investment portfolio in early 2019.
See you all on Monday morning.
📰 This week on Next Investors
Golden child Vulcan Energy (ASX:VUL) logged another strong week after it announced on Monday that it is preparing to list on the main German stock exchange. Given that its project is located in Germany at the heart of the EU electric vehicle market, this move makes sense and opens the company up to enormous pools of capital in Europe.
The largest funds in the world are all seeking companies with an Environmental, Social and Governance (ESG) angle and this listing will give them a clean channel to invest in VUL, which has top ESG credentials.
The investment bank working to list VUL on the main board in Germany is called Berenberg — the oldest merchant bank in the world, founded in the year 1590.
We still can't believe VUL is comfortably trading at ~$15 mark. And we wonder if the person that FOMO'd in at the all time high of $14.20 in January held on...
Occasionally stocks do deliver outrageous results like this which is why our strategy is to hold positions over the long term in stocks with good management and projects.
📰 Read more here: VUL Now Entering The Big Leagues
Results from the first two drill holes in the first round of drilling at Galileo Mining's (ASX:GAL) Delta Blues prospect in WA's Fraser Range have revealed massive sulphide mineralisation.
This is exactly what GAL were hoping to find and not a false positive indication like often happens in exploration. We now await the lab results to see if there is nickel in those sulphides.
GAL managing director Brad Underwood sounded optimistic and told us that the best parts of the EM conductor are deeper and still haven't been tested yet — this is the next part of the plan and coming in the near term.
The current drill program also continues, with the rig moving to drill a third hole at the DB2 target before moving on to the DB1 target, with the remaining drilling expected to be completed over the next week.
📰 You can find more details here: Sulphides intersected - First drill holes test top of GAL's Sirius-like EM conductor at Fraser Range
After the 2020 Canadian drilling season was disputed by COVID and permit delays, Tempus Resources (ASX:TMR) last month reported that geophysical surveys at its Elizabeth Gold Project had revealed the potential for a much larger scale gold system than previously thought.
TMR this week received assay results back from the lab for its first of 14 completed drill holes at Elizabeth. The main intersection was bonanza grade with 4 metres at 31.2g/t gold from 122m down-hole depth, including 1.50m at 52.1g/t and 0.50m at 72g/t gold.
This is a big result for the opening drill hole and sets the tone for the next five months of drilling, while management is confident that this program will continue to expand the resource envelope.
After a long boring phase the next 4 months are going to see lots of activity and results from TMR, all we need is a couple of big drill results...
📰 Read all about it here: TMR out of the blocks with Bonanza grade gold hit on new season's first hole. More expected next few days
The latest drillhole at Los Cerros' (ASX:LCL) Tesorito South prospect in Colombia has returned further broad zones of gold porphyry mineralisation, with results indicating that the deeper envelopes of gold mineralisation are still open and the system is much larger than previously thought. LCL also said it has secured a 4th diamond drill rig ahead of drilling in early September.
Yet we believe that LCL's value isn't yet appreciated by ASX investors. Much of that may be to do with the 50 million 16c LCL options that are expiring this Monday and we think should release the downward pressure on the share price.
The recent addition of two high profile North American gold funds, including the top tier investment company, Franklin Templeton's resources fund only adds to our conviction. The pair tipped in a total of $10M during its $20M cap raise last month.
📰 Hear more on what this means for LCL: Cashed up LCL delivers more results. 16c Option pressure on share price ends on Monday
Alexium International (ASX:AJX) appears to finally be ready for a strong year of revenue growth, market expansion and news flow. On Thursday, AJX announced "strong sales" over the past three months of its new environmentally friendly mattress cooling product, BioCoolTM... but didn't give much detail on exactly how strong which and the ASX didn't like vagueness (which is fair enough in our opinion, we want to see hard numbers to describe sales, not adjectives like "strong")
The stock jumped by as much as 39% on the news before entering a halt when the ASX asked for more information. The company released a (not very clarifying) clarifying statement the next day and the stock pulled back some 18% — probably a couple or traders that weren't planning to be stuck in a halt exiting suddenly when it reopened.
News of the growth in BioCoolTM sales comes just weeks after AJX released its June quarterly report. While cash receipts for the quarter were comparable with the prior reporting period, sales numbers saw a major boost, up significantly from the previous reporting period and the same period a year ago.
📰 Full story: AJX emerges from year-long quiet phase with first announcement in ages. More to come says CEO
Province Resources (ASX:PRL) has provided an update on its HyEnergy Zero Carbon HydrogenTM Project where it is aiming to develop Australia's first renewable energy powered "Green Hydrogen" project in a proposed partnership with global energy super major Total.
The update covered offtake discussions, scoping study progress, government / community buy-in, and key team appointments.
📰 Check out our deep dive analysis: PRL provides Green Hydrogen update as world realises sudden urgency to switch to clean energy
🗣️ Quick takes on key events in our portfolio this week:
Thompson Resources (ASX:TMZ)
Thompson Resources was busy this week and we expect strong newsflow as the silver mining junior moves out of it's quiet execution phase. The first piece of news was the signing of definitive agreements for acquisition of the Silver Spur Mine, and the second was the updated mineral resource estimate at Conrad.
With the flurry of other news this week we didn't get a chance to share our thoughts on TMZ but we are catching up with management next week to hear how the plan is going and will report back soon.
For now, here is the milestone that TMZ ticked off with their recent announcement (click on the image to track the full progress and planned milestones for TMZ).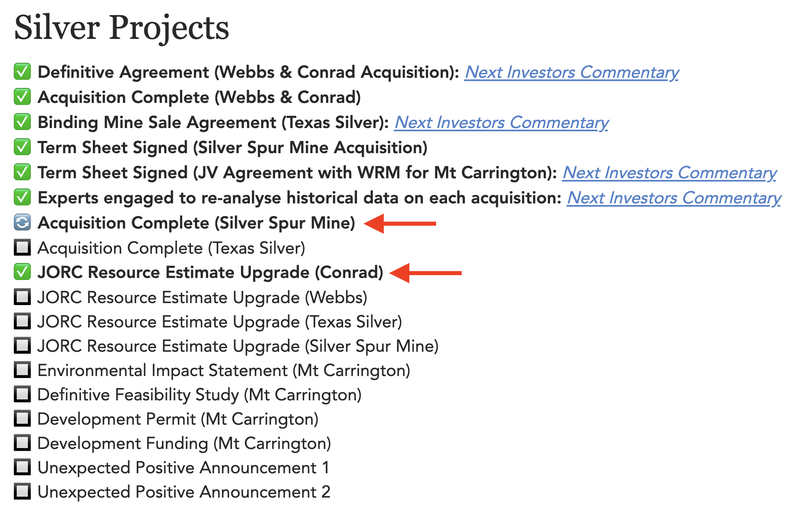 Vonex (ASX:VN8)
VN8 has completed its part acquisition of the Direct Business from MNF Group which sells cloud phone, internet and mobile services to SME and residential customers in Australia. VN8 paid $20M in cash upfront, funded by the well-supported capital raise.
The acquisition delivers VN8 a strong platform for organic growth in the Australian telecommunications market through cross-selling internet and mobility products to Direct Business customers.
The next stage for Vonex will be to incorporate the MNF Group's Direct Business and grow its annual recurring revenue for investors (and potential acquisitions by larger telcos).
We sat in on an investor call hosted by VN8 on Thursday and were happy to hear that it is all heading in the right direction.
Minbos Resources (ASX:MNB)
This week MNB secured a location for their granulation plant. Key points from the announcement that we liked:
The location has access to stable grid power, water and gas
The location is just 2 hours away from the Cácata phosphate deposit
The location is just 12km and 25km from the Caico and Cabinda ports respectively
The site is three times larger than what is needed for the granulation plant, leaving room for future construction of a blending plant and container storage
Key infrastructure proximity is important for any company looking to produce, and we think that this location bodes well for MNB's project.
Creso Pharma (ASX:CPH)
On Thursday, Creso reported that its wholly-owned subsidiary, Mernova Medicinal Inc, secured a medicinal cannabis sales licence and new purchase orders worth around A$240,000 - this is a good tick in the milestones.
The following day, CPH entered a trading halt "pending an announcement regarding the receipt of a material license from Health Canada". We'll be watching closely for the announcement and lift of the halt.
Over the last couple of months CPH had a habit of releasing "nothing announcements" and the sell side looked pretty heavily loaded so the share price didn't want to move anywhere (probably investors exiting who didn't like the proposed merger)
However the CPH share price looks like its ready to move now however hitting 13.5c last week before the halt, so we will be watching closely to see if CPHs next announcement is actually material.
🦉 In our other portfolios 🏹
🦉 Wise-Owl
Lithium development company European Metals Holdings (ASX:EMH) was a strong performer this week as investors sought underappreciated lithium companies amid the current boom.
We shared with readers a comprehensive video of EMH CEO Keith Coughlan discussing the company's partnerships with ČEZ, Germany's world class EPCM SMS Group, and the company's planned works over the coming 9-12 months to definitive feasibility study, final investment decision, and project financing.
The video is certainly worth a watch for EMH shareholders like us, or anyone considering an investment in EMH.
🦉 Find the video here: Lithium Boom: EMH offtake surely coming soon?
Wise-Owl also covered Province Resources' (ASX:PRL) news regarding a non-binding MoU signed with energy transport company Global Energy Ventures (ASX:GEV) on Monday. The MoU was to evaluate the commercial viability of exporting PRL's future hydrogen production to nominated countries in Asia.
🦉 Read the full analysis on the agreement: A New Market for PRL's Hydrogen
🏹 Catalyst Hunter
Latin Resources (ASX:LRS) provided an update on activities at its 100% owned Noombenberry Halloysite-Kaolin Project.
LRS is rapidly advancing its first defined area at the project, the Cloud Nine Deposit, where resource infill drilling to upgrade the current Inferred Mineral Resource Estimate to a JORC Indicated classification has now been completed. Systematic step-out drilling north of the existing Resource has also been completed, aiming to extend the known Kaolin-Halloysite resource a further four kilometres to the north.
LRS also reported that a further four tenements have been granted at the Noombenberry Project. The newly granted tenements add an additional 359km2 to the project area which now totals 566km2.
Long time holders will know that LRS actually has a couple of pretty interesting lithium projects in South America that have taken a back seat while they focussed on the Halloysite resource - lithium is in a roaring boom at the moment.
🏹 Read the analysis: Cloud Nine infill and stepout drilling points to Resource expansion for LRS at Noombenberry
🌎 Mainstream Media:
Hydrogen (PRL)
CNBC: BP says Australia is an ideal place to scale up green hydrogen production
Bloomberg: Big Oil Squeezes Renewable Energy Profits as Commodities Rally
PV Magazine: The weekend read: 'Hydrogen is the flagship of the energy transition'
Healthtech (AHI, ONE)
AFR: Telstra secures deal to buy GP software group MedicalDirector
Lithium (VUL)
AFR: Lithium miners charge into the top 100
ESG
AFR: How investors plan to punish climate laggards
Have a great weekend,
Next Investors
---