TMR out of the blocks with Bonanza grade gold hit on new seasons first hole. More expected next few days
Our long held investment Tempus Resources (ASX:TMR) has FINALLY started drilling for gold again now that the 2021 Canadian summer drilling season is here.
TMR has now completed 14 drill holes...
FOUR of these drill cores have been submitted to the assay lab for testing of gold grades...
This morning the results are back for the FIRST hole...
The main intersection of the first hole was bonanza grade with 4.00 metres at 31.2g/t gold from 122m down-hole depth, including 1.50m at 52.1g/t and 0.50m at 72g/t gold.
This is a big result for the opening drill hole to set the tone for the next five months of drilling. Now to see what the other 13 holes deliver...
Three other drill cores went to the assay lab at the same time, so we expect three FURTHER results from TMR over the next few days...
We understand that the metals exploration boom is slowing down assay labs that are swamped with cores to test, but we expect there to be a steady flow of more TMR results as their assay lab works through the other 13 drill cores.
After holding for a year and a half, now looks like it is finally go-time for TMR — initial assays of its 14 hole diamond drilling program are now in, returning bonanza grade gold mineralisation in its very first drill hole with plenty more to come.
We note in TMR's last quarterly the company says it has less than one quarter of operating cash remaining, so our prediction is that TMR hopefully deliver a couple more decent assay results, and leverage its recently announced geophysical survey work and metallurgy work to entice some institutional money to fund the rest of the drilling season.
If the next batch of results are good we would like to see TMR raise enough cash to increase the number of rigs on the ground and accelerate proving out a resource before winter sets in again.
TMR — the third ever addition to the Next Investors portfolio — has been a little slow getting off the blocks when compared to the returns to date of some of our big winners.
Yet there is good reason that we haven't sold a single share in TMR since adding it to the portfolio in February 2020 and have topped up our position on three occasions.
Just a month ago, TMR reported that geophysical surveys at its Elizabeth Gold Project had revealed the potential for a much larger scale gold system.
That news breathed life back into the share price which had languished over the prior six months after the 2020 Canadian drilling season was disputed by COVID and permit delays. (TMR drilled only 2,000 metres out of its planned 6,000m program at Elizabeth in 2020)
And thanks to the Canadian winter, TMR has just a finite window to drill each year at the Elizabeth Project.
However, it is in that window — which we are now in for the 2021 season — that share price activity picks up.
The price rose by more than 20% on last month's announcement and has continued to rise since. We expect more to come as anticipation of a positive drilling campaign continues to build and with only ~113 million shares on issue, TMR's share price can move quickly.
If drilling results then beat what the market is anticipating, we expect the share price would re-rate — hopefully to back above the last highs of around 40¢.
But so far, we've been happy to hold, having the chance to top up at a good price, while securing the 12 month capital gains discount on our initial investment.
First assays deliver Bonanza grade gold
TMR has completed 3,600m of drilling at its Elizabeth Gold Project since the program began 5 June 2021. This program consists of 14 diamond drill holes, with multiple assays pending.
And this morning the first assay results from 2021 drilling at TMR's in Southern BC, Canada arrived delivering 'bonanza' grade gold mineralisation.
Bonanza grade means a result above 34g of gold per tonne of rock/ore, which is extremely high grade. While anything above 5g/t is considered high grade, 34 g/t Bonanza grades are a whole other level.
The main intersection of TMR's first diamond drill hole (EZ-21-04) was 4.00 metres at 31.2g/t gold from 122.00 metres down-hole depth, including 1.50 metres at 52.1g/t gold from 123.00 and 0.50 metres at 72.0 g/t gold.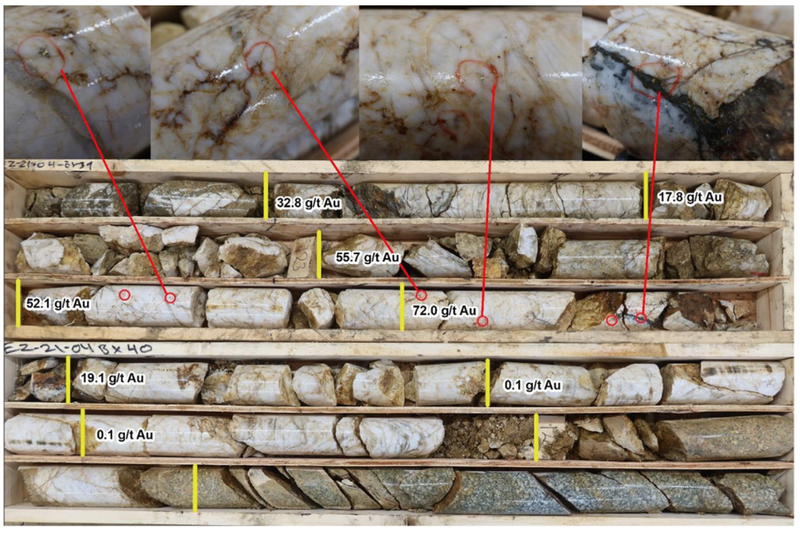 EZ-21-04 drill results
This drill hole is part of the group of the first four drill-holes of the 2021 program, which were designed to intersect the northern ore-shoot of the SW Vein at Elizabeth to test the consistency of grade and add to the confidence level for resource estimation.
Assay results from the remaining 13 drill holes at Elizabeth are pending, expected to be received soon. These include:
Assays for the remaining three of the first four drill-hole batch, expected imminently
Another four holes that were submitted to the lab in a second batch in July
An additional seven holes have been completed, with samples being prepared to be sent to the lab
The management team has expressed their confidence that this drilling program will continue to expand the Elizabeth resource envelope.
The 115km2 Elizabeth Gold Project, located in the Bralorne Gold District of southern British Columbia, is TMR's flagship project. It is a relatively underexplored high-grade mesothermal gold mineralisation project, presenting itself in relatively wide (typically ~1-5m wide) vein sets.
The high-grade quartz veins encountered here have close geological similarities to the nearby Bralorne mesothermal vein system, which was mined to a depth of approximately 2,000 metres and produced more than 4 million ounces of gold over a 50 year period.
This Elizabeth Gold Project already has a resource of over 200,000 ounces at 12.26 g/tonne (inferred), plus permitted mine infrastructure that could fast track it into production.
Again we note that the company currently has enough cash to fund around one quarter of operations ($1M in cash at 30 June). While not a factor that we are concerned about, the company will need to raise capital at some point soon.
We expect that funding to come from institutional investors. A previous Placement, in which TMR raised ~$4 million, was made to sophisticated and institutional investors, including Sprott Capital Partners, a prominent investor in the mining industry and an Asia-based specialist natural resources investment fund.
The company has also undertaken a fair amount of metallurgy test work to demonstrate that gold can be economically extracted from the specific rock/ore types on TMR's project.
This is the kind of news that serious and institutional investors want to see — large mineral systems that can be economically extracted.
Progress milestones ticked off today:
Drilling and assay results both set to "in progress"

---