Minbos secures site for Cabinda phosphate plant
ASX:MNB
Nov 10, 2022
Announcement
Investment Memo: MNB IM-2022
Objective 1: Plant Construction and first production

---
Today, our fertiliser and green ammonia/green hydrogen Investment Minbos Resources (ASX:MNB) executed the land acquisition contract for its fertiliser plant in Angola.
We're pleased with development as it gives added certainty to the project, and evidences MNB's extensive work on stakeholder relations in-country.
The selected site is located in an ideal spot, close to both the port at Cabinda and the mine at Cácata:
This Subantando site is different to Futila — the previous site that MNB was looking at, and which the DFS was based on — providing significant OPEX and production advantages.
Click here for our full rundown of the DFS.
With the new site secured, studies are underway to secure environmental and construction licenses.
We see this as good progress against Objective #2 from our MNB Investment Memo: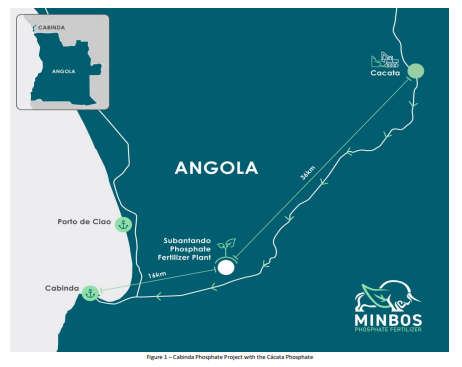 What's next for MNB? MNB to advance further along into the financing phase for its phosphate project as well as progress on offtakes, with a technical study is underway for the green ammonia project.
---