Sulphides intersected - First drill holes test top of GAL's Sirius-like EM conductor at Fraser Range

Share price when sent: $0.330
Back in April we wrote that nickel explorer Galileo Mining (ASX:GAL) had identified an EM conductor that showed similarities to Sirius' Nova-Bollinger EM conductor that led to a $1.8 billion nickel discovery.
Last week we wrote that GAL had started drilling it.
GAL has the same team that was behind Sirius. Nickel is a key electric battery metal.
Today, GAL announced that the first two drill holes to test it's Sirius-like EM conductor intersected massive sulphide mineralisation.
Galileo Mining
ASX:GAL
So what does this mean?
In the image below, the red blob (EM conductor) that GAL identified in April using electromagnetic surveying MIGHT be nickel... the plan was to drill the top of it to confirm what the big red blob ACTUALLY is.
We DON'T want it to be graphite, or water, or some other thing that sends back positive EM readings, creating deceptive blobs that disappoint investors when drilled...
We DO want it to be nickel bearing sulphides... and warrant further and deeper drilling.
TODAYS NEWS: GAL's drilling clipped the top of the big red blob as planned and the results are what we were hoping for — Sulphides!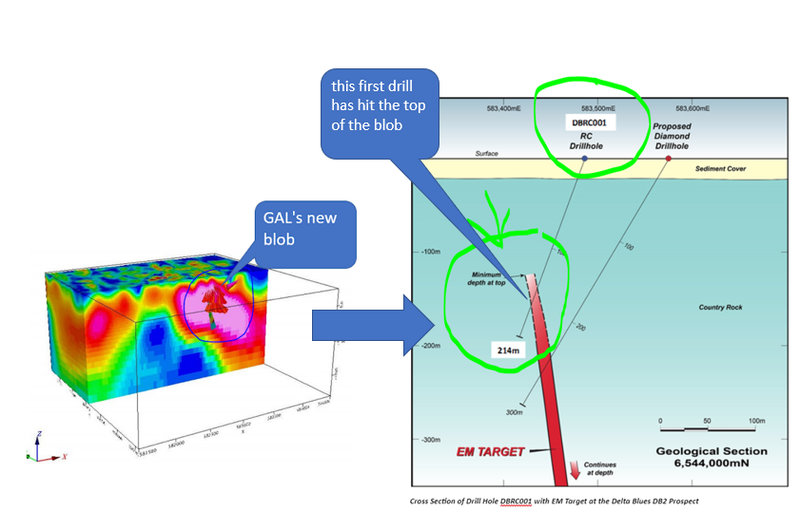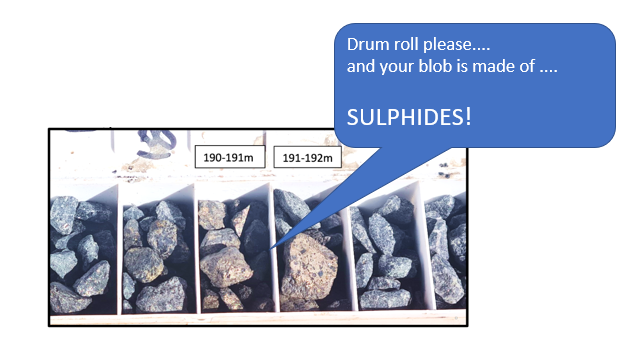 RC Drill chips with semi-massive sulphide from 190-192m (from hole DBRC001)
Step one confirmed. Now we wait for the lab results to see if there is nickel in those sulphides.
THEN we go and drill the deeper and chunkier part of the blob to see if we can discover economic nickel grades to build a mine.
From his comments in the announcement, Managing Director Brad Underwood sounds pretty happy with the intersection in these first two drill holes.
He said, "The geological results from the first round of drilling at our Delta Blues prospect have been highly encouraging with sulphides in both holes drilled to date. The mineralisation is related to both mafic and felsic intrusions which is unusual for the Fraser Range and possibly the first time this association has been identified in the region."
From our experience, Brad is a very measured and serious dude so we reckon this is him sounding pretty pumped.
We picked up the phone to Brad this morning to see what he thought of the results. His main point was that it's basically game on in that their EM conductor is what they were hoping to find and not a false positive indication like often happens in exploration.
He reminded us that in serious exploration, it takes time to drill and understand what a company is dealing with underground and GAL is successfully ticking off key steps with today's result that increase the chance of making a discovery with their next few drills.
Brad said the next few weeks of announcements will tell us more. Cores have been sent to the lab and we are awaiting results. He said GAL has now confirmed the sulphides PLUS the right geology that is the prerequisite for the next stage of success.
Brad also told us that the best parts of the EM conductor are deeper and still haven't been tested yet — this is the next part of the plan and coming in the near term.
It's certainly an exciting time to be following GAL and we are looking forward to more news next week.
The drill program is now continuing with the current rig moving to drill a third hole at the DB2 target before moving on to the DB1 target with the remaining drilling expected to be completed over the next week.
RC drilling continues to be in progress as shown in our milestones, and assay results from the drilling have now been marked as "in progress".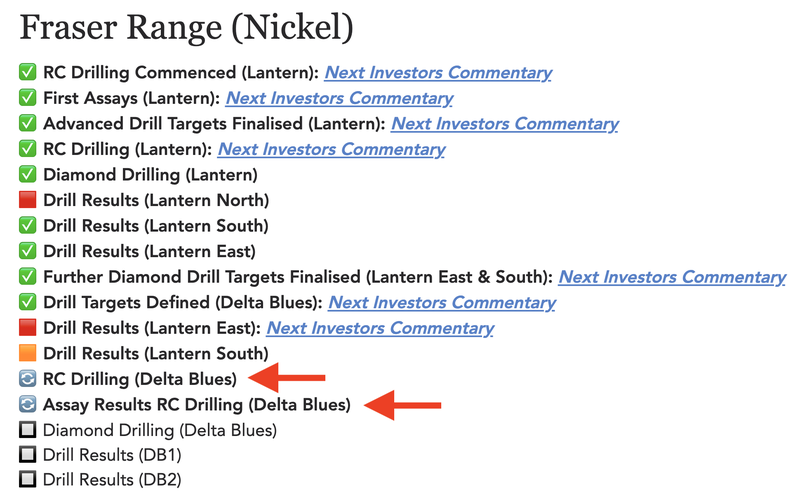 Reminder of what we wrote in April: Why we think the current EM conductor GAL is drilling looks like Sirius
Galileo Mining Ltd (ASX:GAL) is exploring for nickel in WA and identified a significant electromagnetic drill target in the Fraser Range.
We are long term holders in GAL having first invested in March 2020 and again a few months later and have unlocked the coveted 50% capital gains discount on our first batch of shares for holding GAL for over 12 months. Now hopefully GAL hits some major nickel....
We are holding GAL long term because we like GAL's team, location, management's track record and busy drilling schedule - and now we like the giant new electromagnetic, colourful blob they have just announced which will hopefully turn out to be nickel when they drill it...
We always love to see a significant drill target come in from Electromagnetic (EM) surveys and GAL's new EM target in the Fraser Range is near a different multi-billion dollar discovery...
Why is the Fraser Range a big deal for Nickel Exploration?
Back in the 1990's a prospector named Mark Creasy pegged some ground in the Fraser Range into a company called Sirius Resources.
In 2012, Sirius rocketed by ~10,000% after Creasy and his team discovered two giant nickel deposits.
Sirius was later purchased by Independence Group for $1.8 billion.
Creasy owned 35% of Sirius - nice pay day.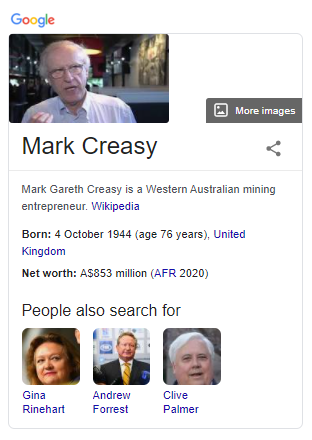 So what does this have to do with our investment in GAL?
Mark Creasy is the founder and major holder of GAL with ~26% of the company.
Independence Group (who bought Sirius for $1.8BN from Creasy) owns 5% of GAL.
Creasy is the god of discovering nickel - We like when successful teams try to repeat their past success.
How does GAL's new target compare to Sirius' Nova target back when it was announced?
We did some digging back in April on how Creasy and Sirius hit the $1.8BN Nova Nickel discovery - below is the April 2012 Sirius announcement where they released evidence of a 'strong EM conductor'.
This was Sirius' $1.8BN colourful blob: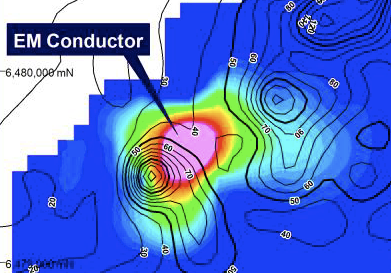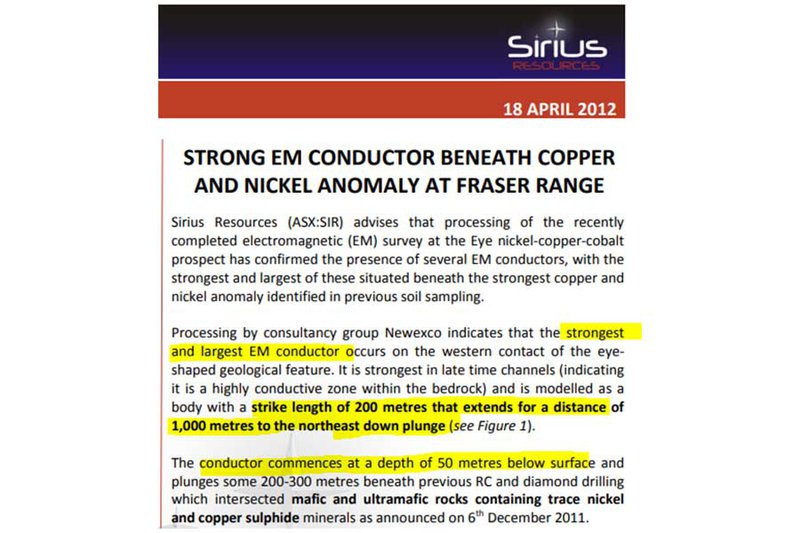 This strong EM conductor ultimately led to the discovery of the $1.8BN Nova nickel ore body.
The shallow EM target at Nova (50m depth) was related to mineralisation in soil samples and shallow drilling (a classic near surface discovery).
GAL's target at Delta Blues is undercover (it's a 'next generation' target) and with depth to top of surface between 125m and 185m.
GAL's EM target at Delta Blues is a similar size to that at Nova but slightly deeper.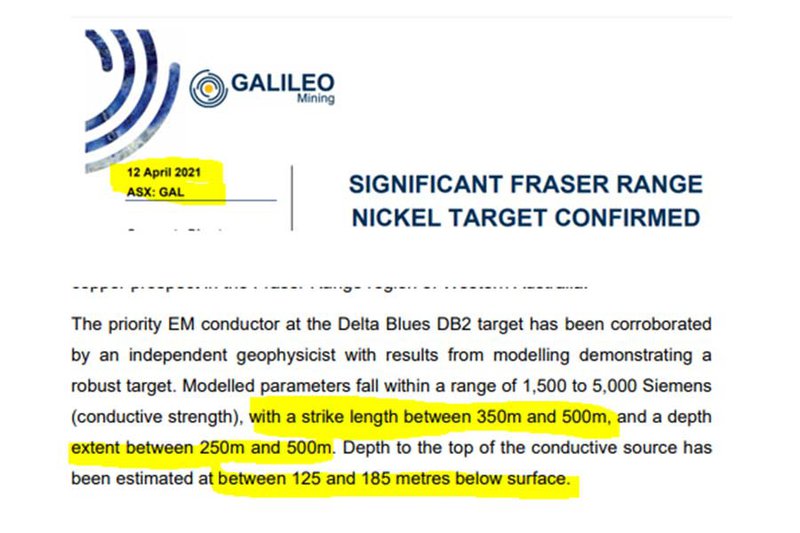 Magnetic, gravity and EM data all support GAL's Delta Blues target... but drilling is the only way to test for nickel content...
Now we certainly aren't saying GAL's target will be a repeat of Sirius' success, but as a start the conductors being the same size it's a good first step - drilling is the only way we will know.
And that's what GAL is doing now.
"Remember that even if a conductor looks good like GAL's does, it can still be revealed to NOT be nickel with drilling. This happens a lot."
☝️ this final sentence is what we wrote in April when GAL first shared news of this EM conductor. Today's news from GAL confirms that there are sulphides and we can progress to the next exciting phase to drill the deeper sections and test the results for Nickel content in the assay labs.
---