GAL Identifies Drill Ready Fraser Range Nickel Target
Galileo Mining Ltd (ASX:GAL) is exploring for nickel in WA and has just identified a significant electromagnetic drill target in the Fraser Range.
This truly excellent news comes just a few weeks after GAL's disappointing drill result - thanks GAL, we do enjoy a good rollercoaster ride, even if it's of the emotional variety.
We are long term holders in GAL having first invested in March 2020 and again a few months later - we have now unlocked the coveted 50% capital gains discount on our first batch of shares for holding GAL for over 12 months - now hopefully GAL hits some major nickel....
We are holding GAL long term because we like GAL's team, location, management's track record and busy drilling schedule - and now we like the giant new electromagnetic, colourful blob they have just announced which will hopefully turn out to be nickel when they drill it...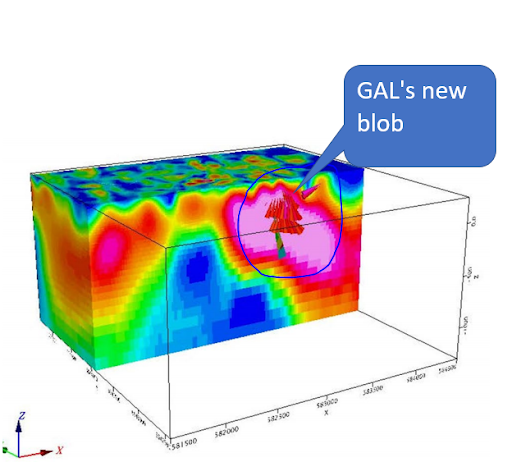 We always love to see a significant drill target come in from Electromagnetic (EM) surveys.
We saw what happened to our other investment in PUR when they announced their strong EM conductors - running up from 3.6c to above 9c over the last 8 weeks with investors clearly excited and speculating on what the drilling will reveal. Also PUR is next to Chalices $1.2BN discovery....
GAL's new EM target in the Fraser Range is near a different multi-billion dollar discovery... and GAL is now about to drill it in the coming weeks.
Why is the Fraser Range a big deal for Nickel Exploration?
Back in the 1990's a prospector named Mark Creasy pegged some ground in the Fraser Range into a company called Sirius Resources.
In 2012, Sirius rocketed by ~10,000% after Creasy and his team discovered two giant nickel deposits.
Sirius was later purchased by Independence Group for $1.8 billion.
Creasy owned 35% of Sirius - nice pay day.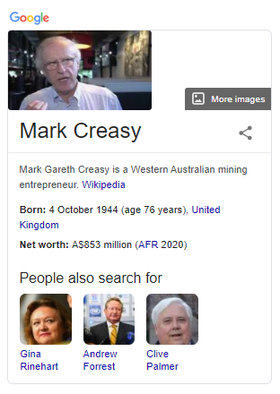 So what does this have to do with our investment in GAL?
Mark Creasy is the founder and major holder of GAL with 25% of the company.
Independence Group (who bought Sirius for $1.8BN from Creasy) owns 5% of GAL.
Creasy is the god of discovering nickel - We like when successful teams try to repeat their past success.
This is the macro theme of why we invested in GAL, so does today's news get us closer to a result?
How does GAL's new target compare to Sirius' Nova target back when it was announced?
We have recently been doing some digging on how Creasy and Sirius hit the $1.8BN Nova Nickel discovery - below is the the April 2012 Sirius announcement where they released evidence of a 'strong EM conductor'.
This was Sirius' $1.8BN colourful blob: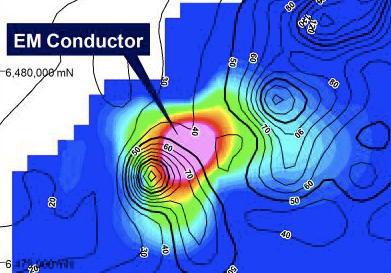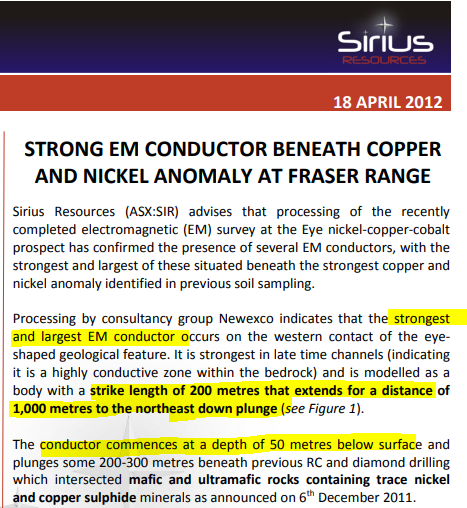 This strong EM conductor ultimately led to the discovery of the $1.8BN Nova nickel ore body.
The shallow EM target at Nova (50m depth) was related to mineralisation in soil samples and shallow drilling (a classic near surface discovery).
GAL's target at Delta Blues is undercover (it's a 'next generation' target) and with depth to top of surface between 125m and 185m.
GAL's EM target at Delta Blues is a similar size to that at Nova but slightly deeper.

Magnetic, gravity and EM data all support GAL's Delta Blues target... but drilling is the only way to test for nickel and copper content...
Now we certainly aren't saying GAL's target will be a repeat of Sirius' success, but as a start the conductors being the same size it's a good first step - drilling is the only way we will know.
And that's what GAL plan to do, as soon as permitting is finalised.
Remember that even if a conductor looks good like GAL's does, it can still be revealed to NOT be nickel with drilling - this happens a lot.
While the company has not outlined a specific timeline, our guess is the drilling could start within 4 to 6 weeks.
In the meantime, GAL continues to run regional EM surveys over large areas, with the aim of identifying additional drill targets.
---