GAL readies itself for next rounds of drilling

Share price when sent: $0.285
Our early stage exploration investment Galileo Mining (ASX:GAL) is chasing a large nickel discovery in WA's Fraser Range and is also pursuing palladium in WA.
Nickel is a key material in electric vehicle batteries, an emerging global thematic.
We think that success — the discovery of a giant nickel resource of economic grade — will see GAL's market cap multiply many times over. This is the reason we are investing in and holding GAL over a long period of time. These successes don't happen overnight.
Galileo Mining
ASX:GAL
The Fraser Range is a known hot spot for nickel discoveries, so GAL is looking in the right region.
In the past week, GAL has:
Found a new EM drill target less than 5km from previously drilled sulphides,
Identified more sulphides in drilling that extends the strike length at another target, and;
Released more information on some pretty compelling palladium drill targets in a separate project.
Metals exploration is hard, risky and there is no guarantee of success, however much of the reason why we invested in GAL was that the company's major shareholders, including Mark Creasy, have experience in making multi-billion dollar nickel discoveries in the same region.
A word of caution for less experienced investors or those new to our subscriber list: Please read the footer of this email to learn more about our investment strategy for high risk metals explorers.
With a pipeline of multiple highly promising drill targets, we are betting on GAL's team to find another discovery on its projects.
As well as nickel exploration, GAL also has some increasingly interesting palladium targets it is exploring in WA.
These are some of the best 'pre-drill' palladium targets we have seen before, based on the soil samples and EM targets. Palladium is a high value "green" metal that is used in auto manufacturing and is critical for pollution reduction as it helps reduce toxic emissions from vehicle exhaust.
GAL is capped at $40M right now and looks well funded for upcoming exploration, with $5.4M in the bank at 30 June.
Sellers drove GAL's share price down from 36¢ to as low as 25¢ earlier in the month, but thanks to its tight capital structure we have observed that it usually bounces back after the sellers finish. GAL's share price now looks to have established a floor of around 30¢ in this current quiet period between drilling events.
Our investment strategy for metals explorers is to invest in the quiet periods in between before speculation around the drilling result. We have been holding GAL since March 2020 and our average entry price is 24.7¢.
We typically see share prices run in the lead up to highly anticipated drilling events and GAL's price performance during drilling campaigns has followed this pattern.
GAL has at least two drilling events between now and the end of the year so we expect some increased interest in the stock over the coming months.
GAL's new nickel sulphide target
GAL's drilling at the Fraser Range earlier this year focussed on the Lantern Prospects where the identification of nickel-copper sulphides highlighted the potential for a nickel discovery.
Since then, GAL has been aggressively exploring the area with EM surveys designed to look for buried sulphides. However, drilling has taken a little longer than first planned due to high demand for drillers and rigs.
In the meantime, GAL's EM surveys have begun to yield results (an EM survey is basically shooting electromagnetic waves into the ground to identify high potential drilling targets).
GAL yesterday reported that it has identified a new nickel sulphide target along strike from its Lantern prospects in a similar geological setting.
This "Easterly Prospect" can be seen here 5km along strike from Lantern South: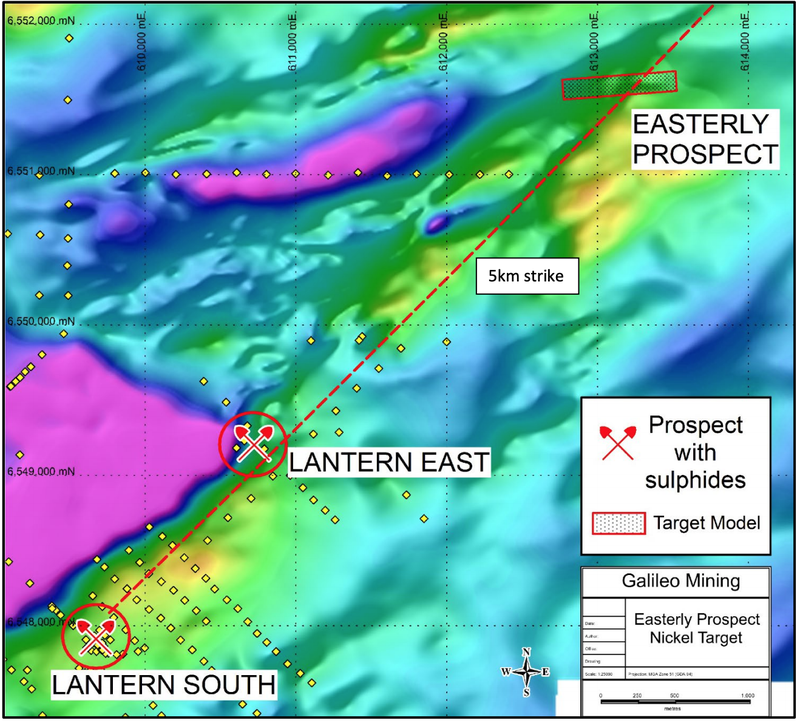 GAL will now undertake infill EM surveying and modelling to refine this new target prior to drill testing. Here is the new progress ticked off on on our list of expect GAL milestones:
➡️ ✅ [NEW] New Drill Targets Identified (Easterly Prospect)
➡️ 🔲 [NEW] Drill Target Refined (Easterly Prospect)
🔲 [NEW] Drill Testing Commenced (Easterly Prospect)
🔲 [NEW] Assay Results (Easterly Prospect)
Delta Blues prospects
Progress is also being made over at GAL's Delta Blues prospects, where recent RC drilling has expanded the mineralised strike length to a minimum of 210 metres.
This now completed RC drilling was designed to intercept the very top of the EM model, calculated to be between 175 and 255 metres below surface.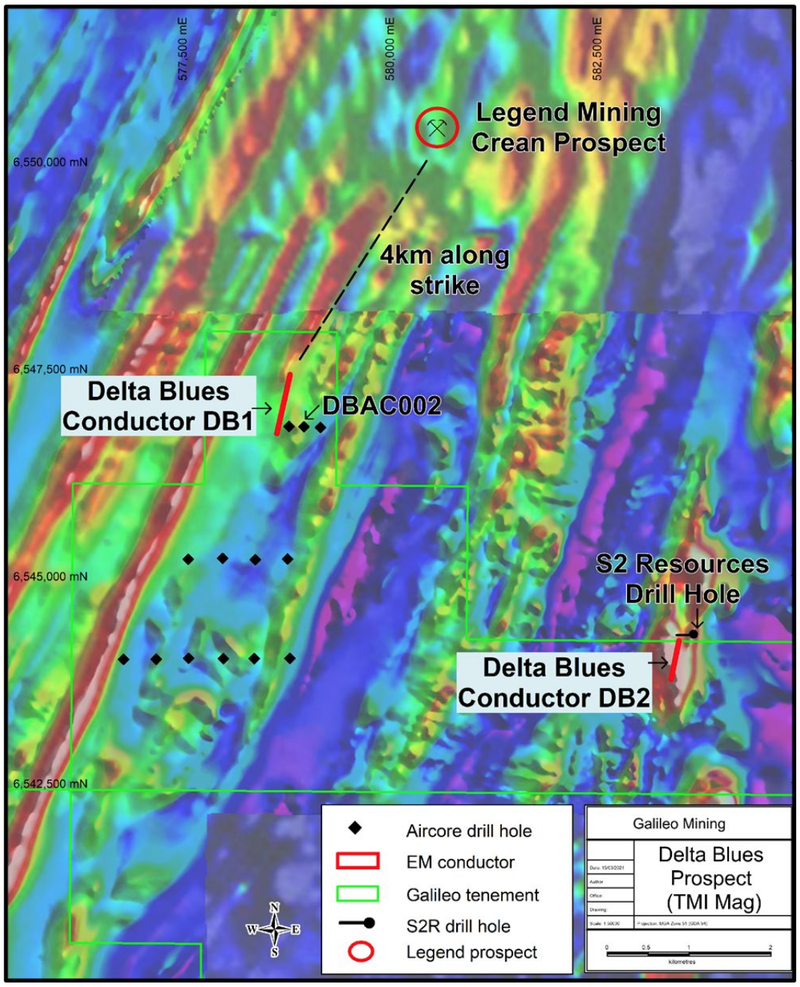 Delta Blues Conductors with Aircore Drilling and Neighbouring Prospects (TMI Magnetics)
It is very uncommon to come across sulphide mineralisation of the scale at the DB2 target. While the economic potential of the mineralisation will need to be further assessed via deeper diamond drilling, the results to date here are also highly encouraging for the prospectivity of GAL's drill targets in the area.
We now await assay results and the results of additional geophysical surveying. These will help define the deeper targets for diamond drill testing later in the year.
This diamond drilling is the event that we are really looking forward to as it will test the deeper mineralisation.
➡️ ✅ RC Drilling Complete (Delta Blues)
➡️ 🔄 Assay Results RC Drilling (Delta Blues)
🔲 Diamond Drilling (Delta Blues)
🔲 Drill Results (DB1)
🔲 Drill Results (DB2)
In the video below, GAL managing director Brad Underwood speaks to Samso on August 18, prior to the most recent announcements. He provides an update on exploration as of that date, and provides a good explanation of the geology and mineralisation in the Fraser Range and across GAL's targets.
New priority palladium drilling targets
In addition to exploring its Fraser Range nickel targets, GAL is also busy progressing its palladium project.
GAL last week reported that soil sampling has defined two priority palladium targets at its Norseman project.
These further confirm the strong potential for mineralisation in the area. Looking at the grades, we suspect that these could be some of the best 'pre drill' palladium targets in Western Australia.
Past soil samples returned highly anomalous values up to 0.31 g/t palladium, but these latest samples have delivered even better results of up to 0.81 g/t, while almost 10% of the samples analysed were greater than 0.1 g/t.
Two priority zones with extensive strike lengths of approximately 400m and 800m respectively have been defined. The high value anomalous zones of strong palladium and platinum potential are ready for first pass aircore drilling.
These targets add to the list of targets for initial drill testing in the next drill program.
Planning is now underway for a 10,000m aircore drilling program. GAL signed a drilling contract in July and this is expected to begin in September or October. The exact start date will depend on the availability of the drilling rig, as strong demand for drilling services continues in WA.
This will be followed by RC and/or diamond drilling to follow up on any anomalies and will also test down dip and along strike of GAL's existing mineralised drill results within the project area.
Norseman (Palladium)
✅ Soil Sampling
✅ Promising Palladium Results from Soil Sampling
➡️ ✅ Assay results from soil sampling
➡️ 🔲 Aircore drilling at Norseman
🔲 More drill target generation work
🔲 New Milestones Added
Mission Sill & Jimberlana Prospects at Norseman with Soil Sampling Location (TMI mag)
---