GAL Ready for Fraser Range Drilling - Starts in Coming Weeks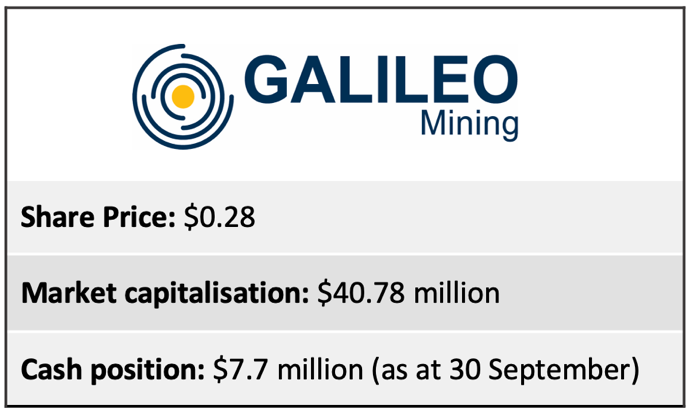 Next Investors seeks out undervalued micro-cap stocks that have potential for outsized returns.
We have recently increased our holdings in Galileo Mining (ASX: GAL) - a company that has been in our portfolio for a while.
We increased our holdings ahead of a period of high newsflow, relating to a 1,200m nickel drilling campaign in the Fraser Range starting mid-February.
We are anticipating the share price to run in the lead up to this event, and the nickel price advancing to over US$18,000/tonne is certainly helping.
However we have not just invested for a small spike in the share price ahead of drilling.
We are long term holders of GAL as we back the management team, like the capital structure, and want exposure to a game changing WA nickel discovery.
GAL is a company with very few shares on issue, it could run very hard on news of a major nickel discovery.
We are seeking a return of many multiples of our original investment, and understand it can take some time and a few attempts to make a large discovery.
Interest in the cashed-up junior miner has been picking up in recent weeks in anticipation of the company's mid-February RC drilling program and we anticipate this will build over the coming weeks.
GAL is looking to drill priority nickel targets in the highly prospective Fraser Range nickel belt in WA.
Having added GAL to our long term investment portfolio in March 2020 as our choice of "pure play" Fraser Range nickel explorers, we have high expectations for what it's near term drilling could discover.
The company has undertaken 13 drilling programs in the 2.5 years since it listed and has four to five drilling programs planned for the coming year, and is methodically edging closer to a discovery.
The company will continue to execute its strategy of rapidly exploring its highly-prospective nickel targets, forging ahead with a growing pipeline of drilling targets.
This is a highly prospective nickel belt that has so far, seen explorers only scratch the surface of its potential.
The Fraser Range first came to the market's attention in 2012 when Sirius Resources' discovered the Nova nickel deposit — a 14.4Mt at 2.3% nickel, 0.9% copper resource. That discovery led to Independence Group's (ASX: IGO) acquisition of Sirius and the Nova Nickel-Copper Project in a $1.8 billion takeover deal.
The Fraser Range's second significant nickel-copper-cobalt discovery to date was the Silver Knight nickel-copper deposit in 2018, which belongs to the privately-owned Creasy Group.
Notably, GAL's exploration team helped discover the Silver Knight deposit.
More recently, in late 2019, GAL's Fraser Range neighbour, Legend Mining Ltd (ASX: LEG) unearthed a massive nickel sulphide-copper discovery at its Rockford Project's Mawson Prospect. Diamond drill results led to a doubling of the share price, sending its market capitalisation above $200 million, along with talk of it being the "next Nova discovery".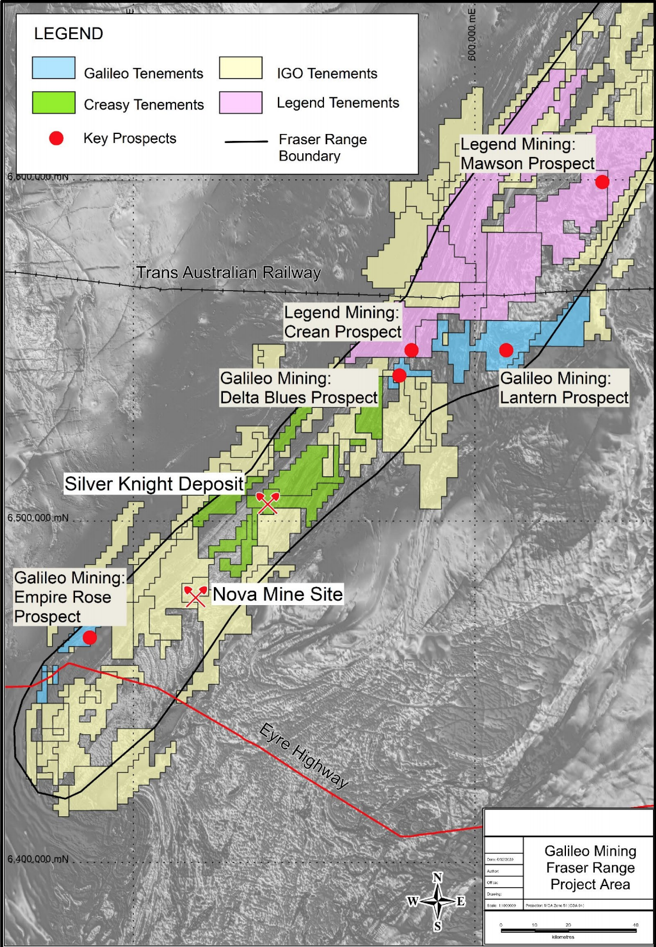 What each of these Fraser Range discoveries have in common is famed prospector, Mark Creasy, who was integral to each of these discoveries.
Today, Creasy is a major shareholder of Galileo which he also founded, and his Creasy Group is a major shareholder of Legend Mining.
Both GAL and LEG acquired their Fraser Range tenements from the Creasy Group.
With plenty of cash to fund activities ($7.7M at 30 Sept), GAL has a pipeline of drill targets, and continues to generate new targets from exploration activities.
The company is also undertaking exploration activities at its Norseman Project, south of Kalgoorlie, in the prolific Norseman-Wiluna greenstone belt that is prospective for nickel, cobalt, copper, lithium, and gold.
Like the Fraser Range Project, Norseman, boasts impressive nearology — other prominent nickel deposits at Cassini, Mariners and Wannaway are approximately 50 kilometres away.
The Norseman-Wiluna greenstone belt is a particularly prospective part of the world, having produced most of Western Australia's nickel over the past 50 years, and there is believed to be plenty more to still be discovered.
Heading into 2021, GAL has already locked-in drilling and field programs at both the Fraser Range and Norseman Projects, pointing to positive early news flow from such activities in the early months of the year.
Also supporting our (recently increased) investment in GAL is an encouraging macro environment for nickel producers. Nickel is said to be in increasing demand from rising stainless steel production in China, and rising demand from the fast growing battery and electric vehicle boom as the world transitions to green energy sources.
Fraser Range Project
Having explored the Fraser Range for over 10 years, Managing Director Brad Underwood and his team have established a successful exploration methodology, and with cash in the bank they are rapidly progressing exploration across its prospects here.
The Fraser Range project spans 602km2 of prospective ground across two zones:
- Lantern and Delta Blues nickel prospects: Northern Fraser Range, 15km from the Trans-Australia Railway
- Empire Rose nickel and gold prospect: Southern Fraser Range, 10km from the Eyre Highway
Underwood is confident that the exploration methodology works, explaining that if there is a large discovery to be made, ground-based EM surveying will provide a conductive response signalling its location.
Having raised $5 million during the COVID —19 lockdown last year — which speaks to the positive results to date and the strong support of investors — the company is well funded to progress its plans.
Galileo has spent recent years undertaking EM surveys and preliminary drilling programs, including the first diamond drill program ever conducted at its northern Fraser Range project, and the first ever to be undertaken looking for nickel in the project area.
GAL now has the most advanced targets that it has ever had in the Fraser Range.
Previous EM surveying on GAL's exploration ground uncovered a large and strong conductor approximately six kilometres from the Lantern Prospect where sulphides have been intersected.
The occurrence of high-grade nickel-copper primary massive sulphide within Galileo's tenements greatly increased the prospectivity of its ground and demonstrated the potential within the area.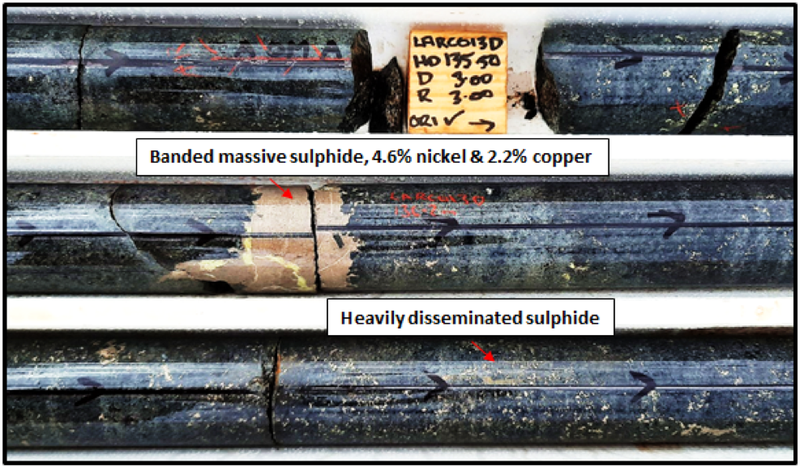 Disseminated, blebby and banded sulphide mineralisation.
This was a major finding for GAL, as nickel-copper sulphide mineralisation of this type is very rare within the Fraser Range. It is found in just a few other known locations...
Including at the Nova mine, the Silver Knight deposit, and LEG's Mawson Prospect.
Upcoming drilling will involve seeking the source of a previously identified conductor, as conductive targets often associated with new nickel discoveries.
Galileo has quality EM targets, confirmed sulphide mineralisation, and is actively exploring for further discoveries.
The upcoming drilling program is on track for a mid-February start, targeting EM conductors at the Lantern East prospect with approximately 1,200 metres of drilling, and looking for deeper mineralisation at the Lantern South prospect.
Initial drilling at Lantern East was unable to determine the source of the conductive anomaly, but subsequent EM surveying provided additional data to remodel the targets, which can be seen relative to the magnetic field below. Proposed drill holes through the conductive models are also shown on the map.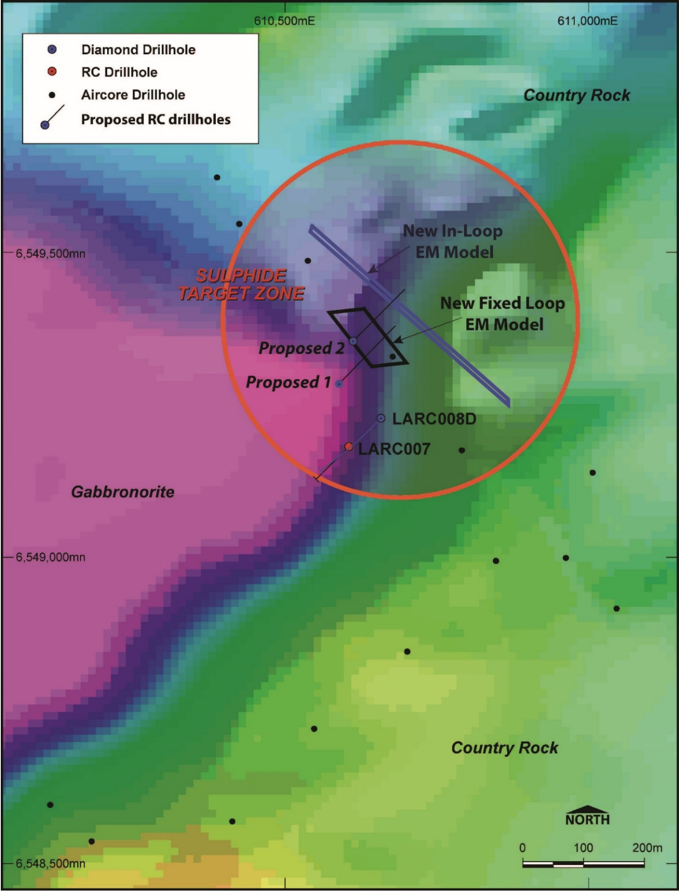 EM Models at the Lantern East Prospect with Initial Drillholes (LARC007 and LARC008D) and Proposed RC Drillholes over Magnetic Background (TMI Image).
The previous activities were conducted to identify targets, rather than delivering discoveries.
But at the Lantern East target, the upcoming drilling program will be do-or-die for this particular prospect, and presents real potential for a major nickel sulphide discovery.
We will be looking for a giant nickel sulphides discovery — a result that would no doubt deliver outsized returns to investors.
For Lantern South, upcoming drilling will build up the understanding of the mineralisation that it already has and looking for pockets of high grade mineralisation in the area.
The drilling is planned to follow up on the previously intercepted sulphide mineralisation with drill holes planned to the south of LARC012 to expand the known area of mineralisation along the margin of the ultramafic intrusion (below).
Previous intercepts at this prospect include 41 metres @ 0.19% nickel and 0.14% copper from 55m in LARC012.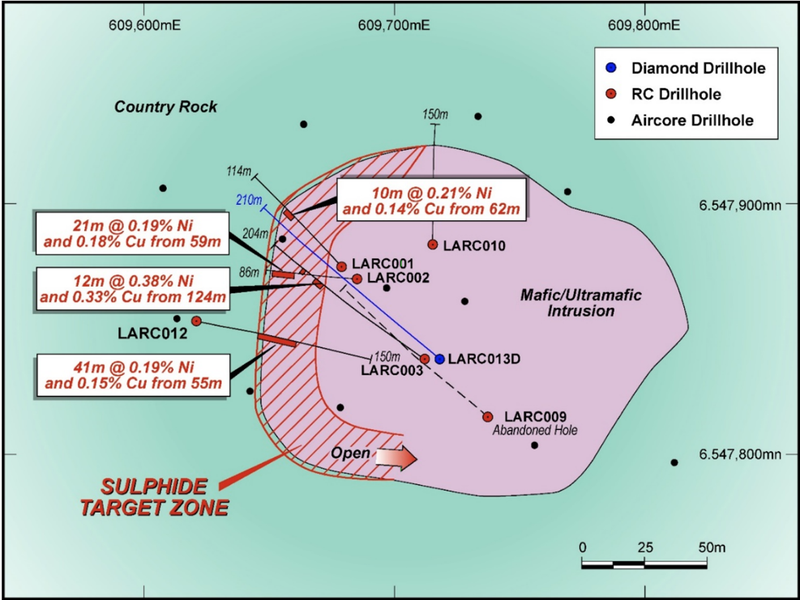 Lantern South Prospect Plan View of RC Drilling showing Sulphide Target Zone.
The goal is that drilling at one of these targets will result in a giant nickel sulphide discovery, but if not, the company will continue with its methodical exploration, building up targets and undertaking drilling programs across its prospective 602km2 of prospective ground.
As announced today, EM surveying is now re-starting at the Fraser Range project and GAL anticipate a large number of targets to come through over the next 3-6 months.
The company will then be cycling through the targets and drill testing them.
Large areas of prospective ground have yet to be covered and surveying is designed to continue until at least the end of March with the expectation that new conductive targets will be generated for drill testing.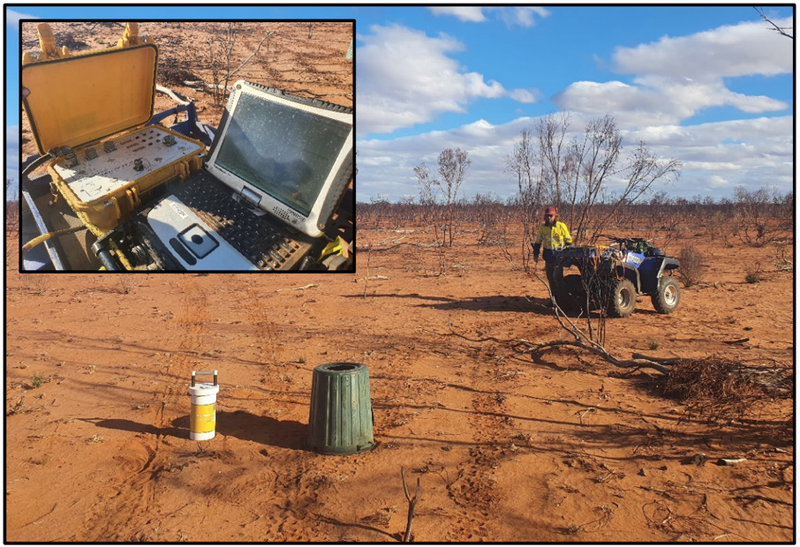 Ongoing EM Surveying in the Lantern Area of the Fraser Range.
We are looking forward to seeing what kind of targets the surveying can pick up.
Norseman Project
As for its Norseman Project, Galileo owns 100% of two exploration licenses, 18 prospecting licenses and one mining lease, covering 278km2 of ground prospective for nickel, cobalt, copper, lithium, and gold.
The project is located in a premier location, at the southern end of the prolific Norseman-Wiluna greenstone belt. It is 10km from the town of Norseman and the historic 5 Million oz Norseman gold mine, while there are numerous nickel, gold, and lithium mines in the region.
The closest significant nickel occurrences are 40 to 50km along strike to the north where the Cassini, Mariners, and Wannaway deposits are located.
The project is adjacent to the sealed Coolgardie-Esperance highway, is 80km from the deep-water Port of Esperance, and has ready access to gas, water and rail infrastructure.
The map below indicates the location of selected mine sites and the large amount of existing infrastructure in the region.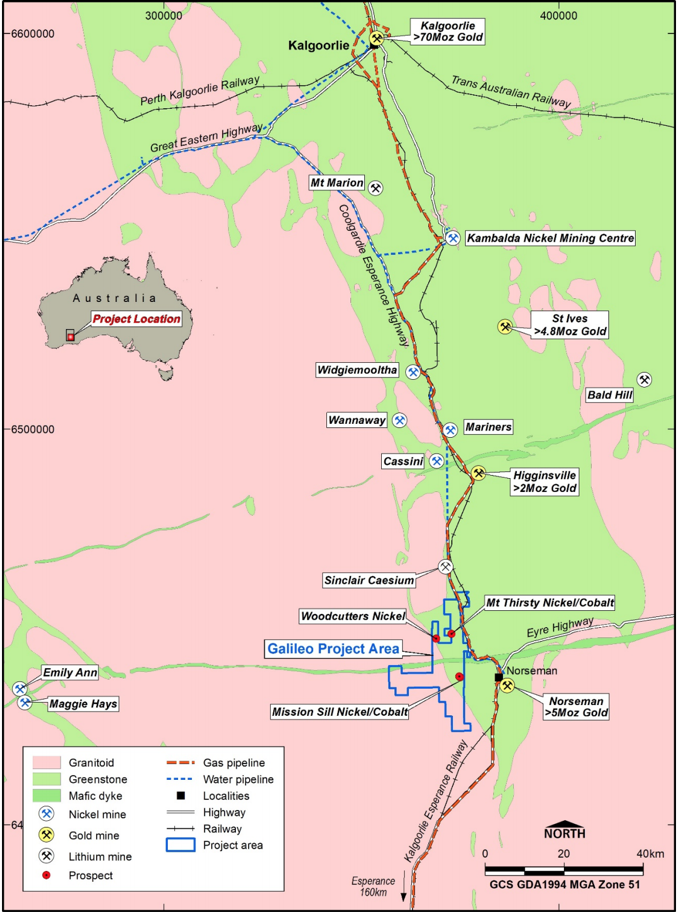 Norseman Project Location Map with Selection of Regional Mines and Infrastructure.
While GAL is undertaking active nickel, cobalt, and gold exploration at Norseman, the project also has an existing nickel-cobalt resource base — a JORC-compliant 25Mt nickel-cobalt laterite Resource.
Exploration underway at Norseman
GAL last week provided an update regarding exploration at its Norseman Project, including a summary of assay data received from nickel and gold soil sampling programs that were designed to build up targets for drilling.
The soil sampling at Norseman was primarily undertaken to identify areas prospective for nickel sulphide mineralisation.
The company reports that the nickel sulphide exploration is progressing well with multi-element assays received from 1,620 unique sample locations (1,726 assays in total).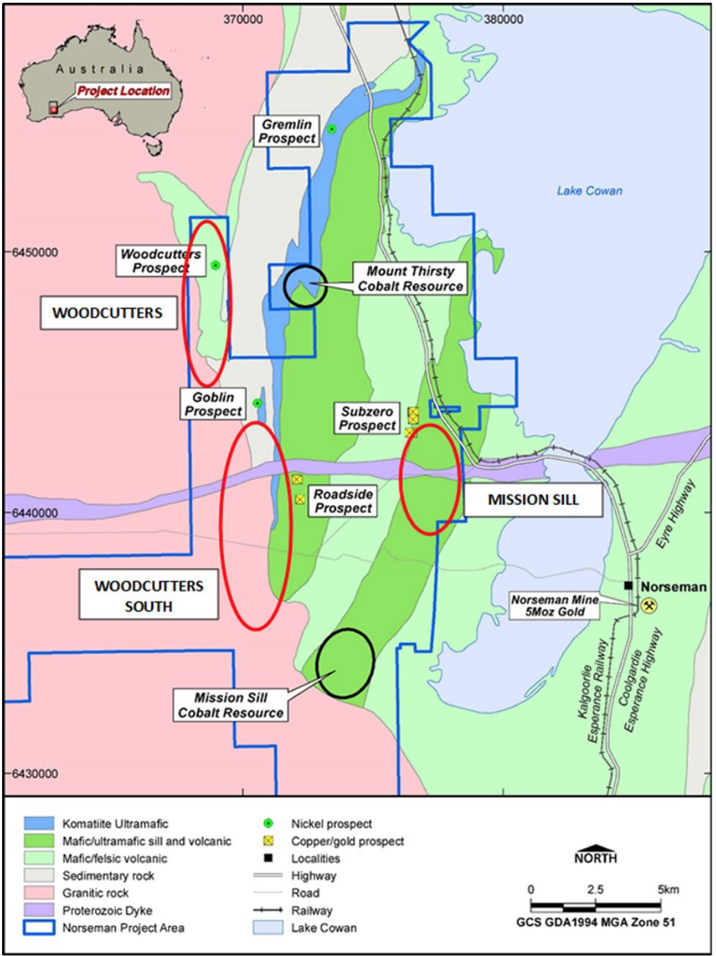 Soil Sampling Locations at the Norseman Project. Red Ellipses Show Outline of Soil Sampling Programs.
Interpretation and evaluation of results is ongoing with a 52 element, raw geochemical data set for each sample.
The key deliverable from the process is a mineral prospectivity map highlighting zones within the project area with the greatest potential for mineralisation.
GAL will now undertake integration of soil sampling data with geophysical data, hyperspectral data, geological data, topographical data, and satellite imagery to give the sample assays context and meaning.
A specialist remote sensing company has been contracted to collect hyperspectral data and to integrate the new mineral mapping information with existing data sets, including the recently received soil assays.
The initial phase of this contract has been completed with the collection of the airborne data. Data interpretation utilising machine learning and Artificial Intelligence (AI) software is ongoing. These modern techniques are providing new insights for drill target development that were not previously available.
GAL will devise a follow up exploration program upon the completion of all data integration and analysis. This is expected to occur in late February with the results to be utilised in the planning of drill programs scheduled for Q2 2021.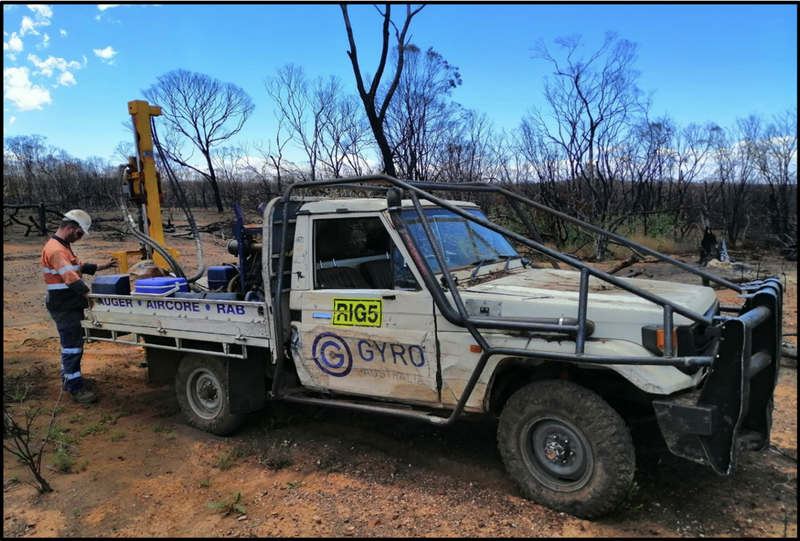 Soil Sampling for Nickel at Galileo's Norseman Project.
Nickel prices tipped to head higher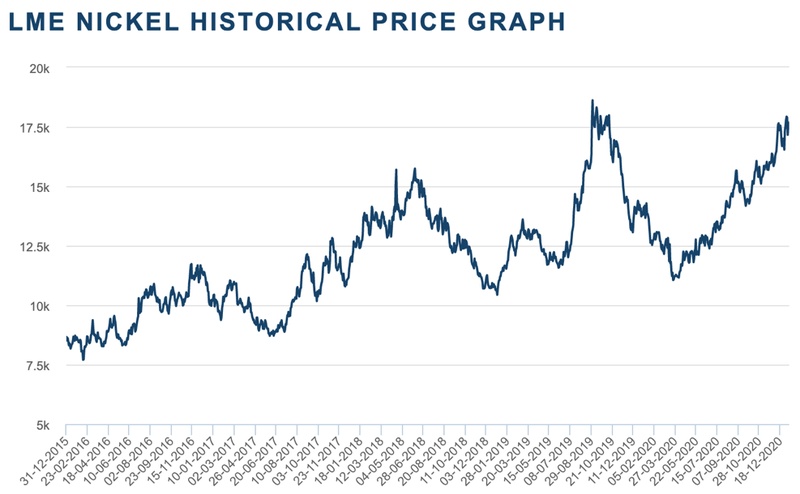 5-year nickel chart, LME.
After dropping to US$11,000/t in mid-March, the price of nickel of on the LME is now just over US$18,000/t.
This comes amid fears over raw material shortages, combined with rising stainless steel production in China.
The positive long-term outlook for nickel demand is also helping to fuel market speculation, thanks to its use in manufacturing lithium-ion batteries for use in electric vehicles.
As the world continues its transition towards carbon neutrality, commodities including nickel that are used in the production of Li-ion batteries and electric vehicles, will see continued support.
This has been seen for two other companies in the Next Investors portfolio:
- Vulcan Energy (ASX: VUL | FRA: 6KO) which is seeking to produce battery quality lithium hydroxide at zero carbon cost, and
- Euro Manganese Inc (ASX:EMN) which intends to produce battery grade manganese from waste material
Each of these stocks has gained >1,000% as investors begin recognising the opportunities in batteries metals and an electric vehicle future.
Benchmark Mineral Intelligence analyst Greg Miller said that nickel outperformed expectations in 2020 and that "the substantial growth in European EV sales in particular has surprised many, helping buoy expectations of nickel demand from the battery industry heading into 2021".
"Looking ahead, we believe that nickel demand from the battery sector will accelerate next year, stimulated by EV-focused policies introduced as part of 'green' recovery plans in Europe, strengthening demand from the EV industry in China and the changing political landscape in the US."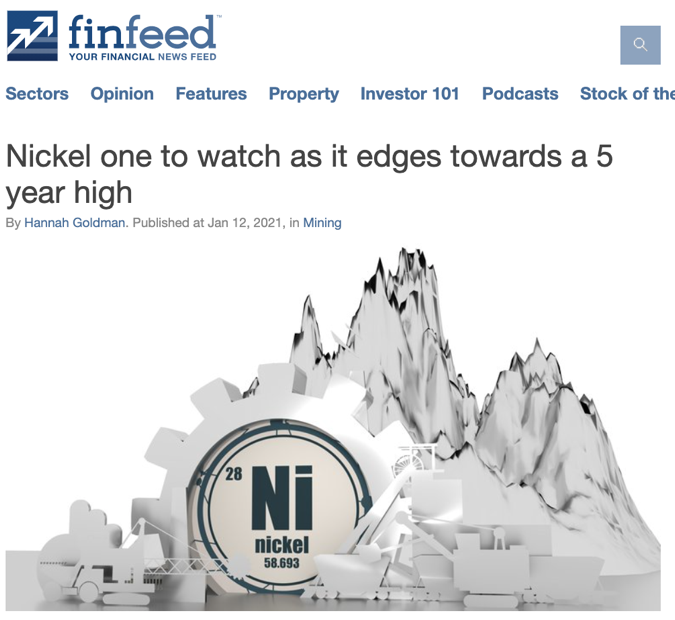 A final word
As long term investors, Next Investors has invested for the large potential upside on genuine exploration success with GAL.
The latest round of drilling at Fraser Range is nearly upon us, and we expect anticipation to continue to build in the lead up.
GAL also anticipates drill testing its Norseman Project for nickel sulphides in the June quarter of 2021.
We are confident of the management team's capabilities, project prospectivity, the supportive macro environment, and the fact that the company is well funded to advance its exploration plans.
As the company prepares for a highly active 2021 exploration programme, we are looking forward to seeing what it can deliver.

---