GAL Reveals Promising Palladium Drill Results
We are long term investors in Galileo Mining (ASX:GAL) - a small explorer chasing a big nickel discovery in the Fraser Range region of WA - home to the $1.8BN Nova-Bollinger discovery.
GAL's next nickel drilling event is starting in a few weeks, but something new has just popped up...
We are invested in GAL for its nickel discovery potential but certainly don't mind if a new, exciting, shiny (white) thing adds to the story.
And it doesn't get much shinier than palladium right now - the palladium price has risen six fold in the last five years, and this precious metal is currently worth more than gold.
Turns out that GAL owns a project that has promising palladium assay results from drilling that was done long before palladium was one of the hottest metals in town.
GAL has said today that it intends to conduct drilling at its palladium project, in addition to its nickel drilling happening in a few weeks.
Palladium - so hot right now
GAL has a number of strong assay results at its palladium and rhodium project.
This is good timing for GAL, as the prices of the last 12 months have seen the price of palladium and rhodium soar:

Now is a great time to be drilling for palladium, especially with drill ready targets that have already had a decent amount of work done on them.
What better time to spend a bit of money to see if there is something bigger with more drilling.
Palladium could be classified as a "green" metal as it is critical for pollution reduction - About 85% of mined palladium ends up in catalytic converters in car exhausts, where it helps turn toxic pollutants into less-harmful carbon dioxide and water vapor.
You can read more here about the palladium supply-demand crunch.
GAL has multiple drill ready palladium targets with over 15km of prospective strike length over two prospects.
Given the current buzz around palladium, its expected GAL will aggressively pursue exploration here.
Why we invested in GAL - for the nickel
Following the $1.8BN Nova-Bollinger nickel discovery, the Fraser Range is widely tipped to deliver the next major nickel discovery in Australia.
We are betting on GAL to be the company that does it. Whilst metals exploration is risky, GAL's success would deliver a return of many multiples of our original investment.
GAL will be drilling two high potential, highly conductive EM targets (drill approvals have been received), and 3 weeks after that we should get the results. You can read more about the targets here.
We like GAL's methodical approach to metals exploration, its $6M cash on hand (at March 31st), and tight capital structure - GAL has very few shares on issue so the price can move aggressively on positive news (or down on bad news).
Mark Creasy is the largest GAL shareholder, owning 26.1%. Mark Creasy discovered the first giant nickel discovery in the Fraser Range - Nova-Bollinger. We are willing to bet that he will have a role to play in the next Fraser Range nickel discovery. Hopefully it's via GAL.
The second largest holder of GAL shares is IGO Ltd (8.9%) - a $5.5BN company that purchased Nova-Bollinger for $1.8BN and now runs the nickel mine.
GAL's biggest shareholders have invested in GAL for the long term in order to hit another large nickel payday. We are happy to ride along with them here.
Our GAL Investment Strategy
We are long term holders of GAL. Unlocking a major metal discovery can take time, and multiple drill campaigns are required.
Exploration investing is risky and there is no guarantee of success.
GAL is currently well funded for a few more drilling campaigns to come.
We have observed the GAL share price can move pretty quickly (up OR down) in the lead up and anticipation of drilling and the subsequent results .
In a slight deferral from our usual strategy with explorers, we don't plan to sell any of our position for the next couple of drills - GAL is well funded for many drills and because of the tight shareholder base, the share price seems to handle negative results very well.
While we don't currently plan to sell any portion we may change this plan if GAL delivers a significant positive result. In this case we might take some profit. We have held our original position for over 12 months so get the CGT discount on this one.
So what's next for GAL
Fraser Range diamond drilling for nickel in mid-June.
This is the big one. In just a few weeks, GAL will start diamond drilling two high potential, highly conductive EM targets.
An initial 1,000m programme is planned, and will run for three weeks. We could get early indications of results at any time after that.
GAL's Palladium Exploration Plan:
Assaying pulps for platinum group metals and rhodium. GAL will begin assaying existing pulps to see what kind of platinum group metals and rhodium are present.
RC drilling at Norseman. GAL plans to conduct RC drilling into the known sulphide zones of the best prospects.
Aircore drilling at Norseman. GAL plans to aircore drill the prospective contact zone along strike of the sulphide zones.
More drill target generation work. GAL will continue to target nickel, copper and cobalt.
To see our past commentary on GAL: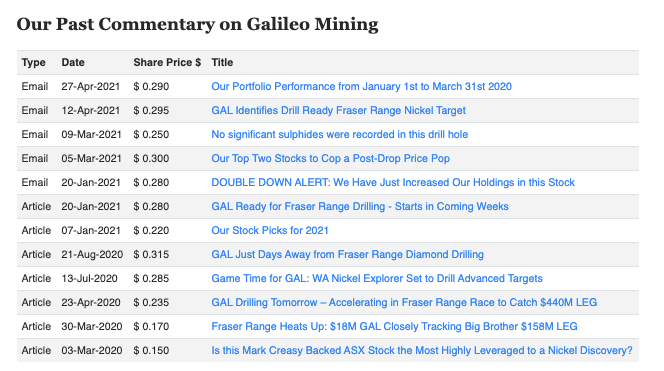 ---