GAL's Nickel Drilling Campaign has begun

Share price when sent: $0.315
As long term investors in Galileo Mining (ASX:GAL), we welcome today's news that nickel drilling is finally underway at its Fraser Range Project in WA.
GAL is one of the earliest investments in our portfolio and hasn't had a significant price run yet or delivered a spectacular drill result yet - despite a couple of attempts since we first invested...
We have been waiting a few months for this current drill event which we think will be well received by the market given the nickel price is surging.
Exploration is all about the number of "shots on goal" — the more exploration drills we are invested in, the more chance we have of a winner. GAL does a lot of drilling ... and its next shot is happening right now.
Galileo Mining
ASX:GAL
Drilling is an exciting time for any ASX explorer as it's an opportunity to make a game changing discovery. Obviously most of the time this doesn't happen but it's the reason we invest in small exploration stocks — the chance of making a discovery could deliver a large return on our original investment.
Another Fraser Range explorer Legend Mining rocketed to a $200M+ market cap after a discovery hole, and we are hoping ~$40M capped GAL can do something similar on a large nickel hit.
After some minor delays due to drill rig crew availability, GAL has finally kicked off RC drilling, targeting two EM conductors in the Fraser Range Nickel Belt, which we have been expecting in our upcoming milestones and now marked as 🔄 "in progress":

GAL's Initial Delta Blues drilling should take about 2 weeks, with assay results to follow soon after that.
We've been hearing that difficulty in getting drillers and rigs is due to the busy and buoyant exploration sector in WA, which is being reflected in the valuation of companies that are having successful exploration programs.
The Fraser Range is widely tipped to deliver the next major nickel discovery in Australia, and we think GAL is in the right place, with the right ground and the right team to hopefully deliver this discovery.
The Fraser Range was put on the map by the 2012 Nova-Bollinger nickel discovery by Mark Creasy and Sirius Resources. Sirius shares shot up ~10,000% after Creasy and his team discovered two giant nickel deposits, and Sirius was later purchased by Independence Group (now IGO) for $1.8 billion.
Both IGO and Creasy Group founder Mark Creasy are the biggest shareholders in GAL - holding ~ 35% of GAL's shares.
Leading to the Nova nickel ore body discovery was evidence of a large, strong EM conductor. The shallow EM target at Nova (50m depth) was related to mineralisation in soil samples and shallow drilling (a classic near surface discovery).
Interestingly, GAL's EM target at Delta Blues is a similar size to that at Nova but slightly deeper. The target is a 'next generation' target with depth to top of surface between 125m and 185m.
But while magnetic, gravity and EM data all support GAL's Delta Blues target, drilling is really the only way to test for nickel and copper content.
Galileo Mining
ASX:GAL
GAL's current RC drilling program consists of five drill holes for 1,000 metres of drilling designed to test the top of EM conductors at the Delta Blues conductor DB1 and Delta Blues conductor DB2 targets.
Back in April we wrote about GAL having discovered one of these EM conductors they are now drilling — we provided our commentary on GAL's EM conductor and its similarities to Sirius's EM conductor that was drilled to become the famous $1.8 Billion Nova Bollinger discovery. Read about it HERE.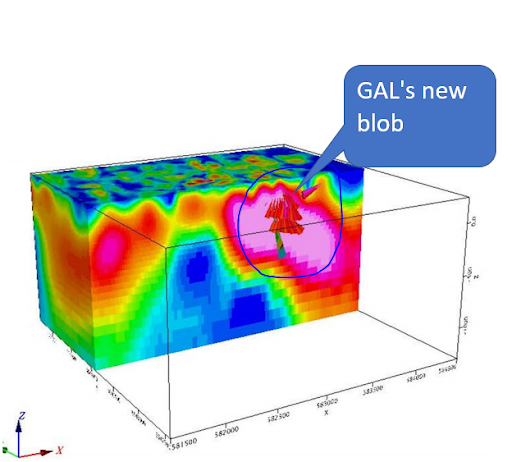 One of the two electromagnetic conductors being targeted at Delta Blues, a colourful blob
After this initial drilling is complete in approximately two weeks, we expect a market update and assay results to soon follow. From there, follow up diamond drilling is anticipated in order to test the deeper parts of the EM conductors with timing subject to rig availability.
Metals exploration is no doubt risky, but exploration success here would deliver a return of many multiples of our original investment.
With the company trading on a "pre-discovery valuation" at $42M, it remains highly leveraged to exploration success. Plus, the nickel price (futures) is back to levels not seen since September 2014, trading above $19,700 per tonne, buoyed by strong demand from stainless steel mills and electric vehicle battery makers, amid tight supply.
GAL has plenty of funds to continue exploration with $5.4M in the bank at June 30th, and the current RC drilling will provide critical information for the design of follow up diamond drilling that's expected to occur later in the year.
GAL's Managing Director Brad Underwood is usually pretty measured, and tends to under promise and over deliver - which is what we like to see from our portfolio stocks.
In this case he seems pretty pumped about Delta Blues' prospects, explaining, "We are very excited to have started the first deep drilling campaign at our Delta Blues prospect. The quality of the modelled EM conductors combined with the magnetic and gravity interpretations provide a strong case for potential sulphide mineralisation."
To get an idea of the potential near term upside we can look to GAL's Fraser Range neighbour, Legend Mining (ASX:LEG).
Back in December 2019, Legend saw its stock double immediately on their own Fraser Range nickel exploration drilling – once again ground connected to Mark Creasy and located just 50km along strike from GAL.
Like the Nova discovery, GAL and Legend have striking geological similarities and comparable ground in the Fraser Range.
While Legend's share price has since pulled back from its post-discovery peak of ~ $400M, it's $230M market cap today remains many multiples above GAL's pre-discovery valuation of $42M.
The current drilling program could change that and see a re-rate in the GAL's share price in line with its "post-discovery" peers.
Galileo Mining
ASX:GAL
IGO takes a stake in Creasy's privately held Silver Knight deposit
In what may be a sign that activity is heating up in the Fraser Range, $7 billion IGO Ltd (owner of the Nova-Bollinger deposit) has expanded its presence in the Fraser Range, last month securing a deal for the privately owned Silver Knight discovery from Creasy Group.
Here you can see GAL's Delta Blues prospect along strike from both the Silver Knight deposit and the Nova Mine site, along with LEG's Mawson prospect.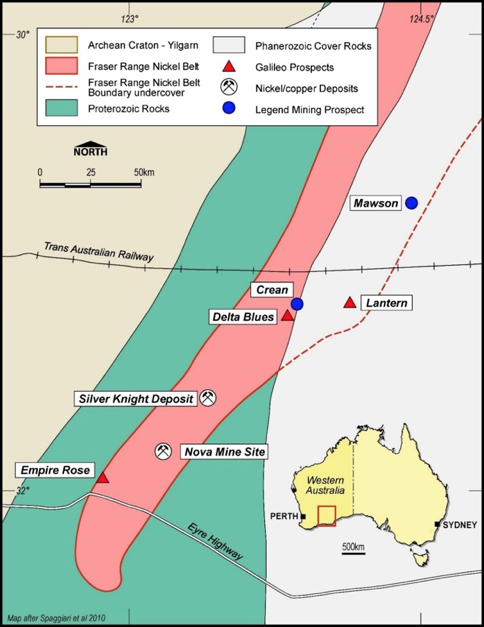 Reminder: More about GAL's current drill target
For more info, remember that back in April we wrote about GAL having discovered one of the EM conductors they are now drilling — we provided our commentary on GAL's EM conductor and its similarities to Sirius's EM conductor that was drilled to become the famous $1.8 Billion Nova Bollinger discovery - read about it here.
---