EMN Enters Joint Development Agreement with Battery Tech Developer Nano One
Our investment Euro Manganese (ASX:EMN) is developing a high purity manganese project in Europe (Czech Republic) through the recycling of tailings from a historical mine site.
EMN owns the mineral rights to the largest manganese resource in Europe, and is aiming to supply the electric vehicle (EV) batteries market - which is significant as Europe currently doesn't have ANY domestic supply of this key battery raw material.
In the last 12 months, all the now environmentally conscious major car makers have come out saying they plan to use manganese in their electric batteries to increase performance, ensure ethical supply chains AND save on material costs - now they just need high purity manganese supply and the right battery technology.
EMN is aiming to provide this manganese supply to Europe.
Today EMN announced a joint development agreement with Nano One®, a clean technology company. TSX-listed Nano One® has patented processes for the low-cost, low-environmental footprint production of high-performance cathode materials used in lithium-ion batteries.
The co-development will use EMN's manganese products with Nano One's battery cathode technology. If it works, then it is likely that EMN will be a preferred supplier of manganese to Nano One (and/or its research and development partners).
Nano One already has partnerships with Volkswagen, as well two other unnamed major automotive companies.
We have been talking about EMN and manganese for well over a year, and are now witnessing manganese become a hot topic that nearly all major car companies have now committed to.
Now it's time for the rubber to hit the road - or rather the high purity manganese to hit the cathode...
Car and battery makers can't just "sprinkle some manganese" into a battery and hope for the best... they need to develop battery technology OR to work with an existing battery technology provider that has perfected a process for improving batteries with new materials or new technologies.
Nano One is commercialising two battery types that use manganese - one that increases range, durability and energy density, and another that is fast charge and cobalt free. What is unique about Nano is that their cathode manufacturing process is far simpler, cleaner and greener than the conventional technology used today.
As investors, we are very interested to see if EMN can successfully prove that its manganese products are compatible with Nano One's innovative battery technology. We believe this would effectively give EMN access to sell into all of Nano One's research and development partners (Volkswagen, and a couple of big companies that Nano One can't publicly disclose.. one of them is rumoured to be Tesla) once Nano One's next-generation battery technology is successfully commercialised.
So if EMN can see some success in the joint development partnership then EMN can effectively become a preferred supplier, to some or all of Nano Ones existing and POTENTIAL clients.
(We are not 100% sure if EMN would sell directly to Nano One OR directly to the car companies or battery makers that license Nano One's intellectual property, we assume the latter.)
Key Points: Why today's news matters
Global car makers have all announced moves to batteries with high manganese content, including:

Tesla
Volkswagen
Stellantis
Renault

Nano One is developing battery technology where manganese is used to deliver desired benefits wanted by car makers
Nano One already has deals with major automakers, battery manufacturers, cathode producers and others to develop and prove up their tech
If successful the Nano One / EMN partnership opens door to multiple "offtakes" for EMN via Nano One's current and future customers/development partners
Today we are going to deep dive into the four points above.
Reminder: About EMN
EMN is expected to become Europe's only primary producer of battery grade manganese.
The project is based in Czech Republic and is sitting on the biggest manganese resource in Europe.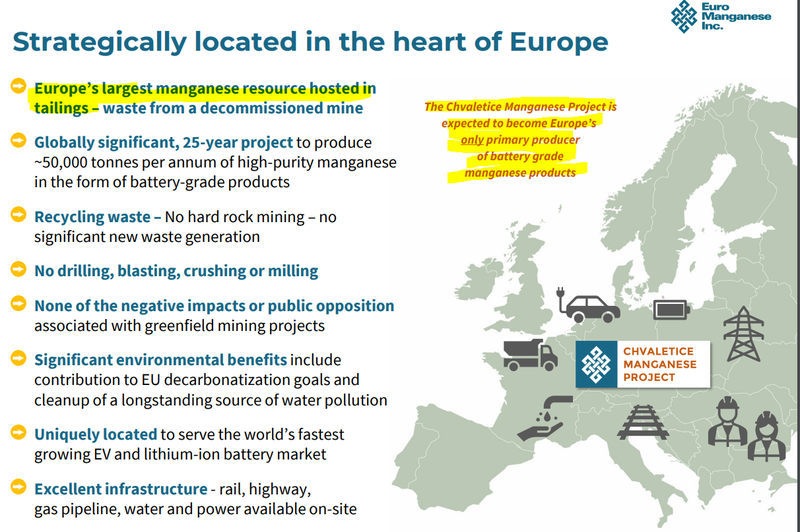 1. Major global car makers announce switch to high manganese batteries
Tesla
In September 2020 we sat through hours of compelling presentations by the Tesla team — saving you the hassle of having to, we pulled out the key sound bites from Elon Musk.
Having almost single handedly spurred the mainstream auto industry towards an electric powered future, Tesla's chief executive, Elon Musk, revealed that the company will soon begin using high purity manganese (HPM) to power its next generation of electric vehicles.
Musk said he was seeking high purity manganese as a primary raw material for battery manufacture. Elon said Tesla's new EV batteries will contain 1/3 manganese, 2/3 nickel and no cobalt. Here is the sound bite of where he says it:
Volkswagen
German based Volkswagen Group (VW) is by far the biggest automaker in Europe and the biggest in the world, manufacturing over 10 million cars per year.
6 months ago Volkswagen held its creatively named "Power Day" where its executive team announced its massive move into electric vehicles and batteries.
VW announced it will be standardising on one battery cell type for its mass market vehicles - using lithium and high manganese content - here is the sound bite for you:
Stellantis
Stellantis is a newly rebranded mutli-national conglomerate from the merger of Fiat Chrysler Automobiles and Peugeot-Citroen.
Stellantis has over 400,000 employees and owns 16 household name car brands.
Stellantis will be standardising on two main batteries - both use manganese, obviously great news for EMN.
Stellantis' key battery guy talked about these two battery types that will be rolled out by Stellantis across millions of vehicles over the next decade.
Both of the battery cathodes will use manganese: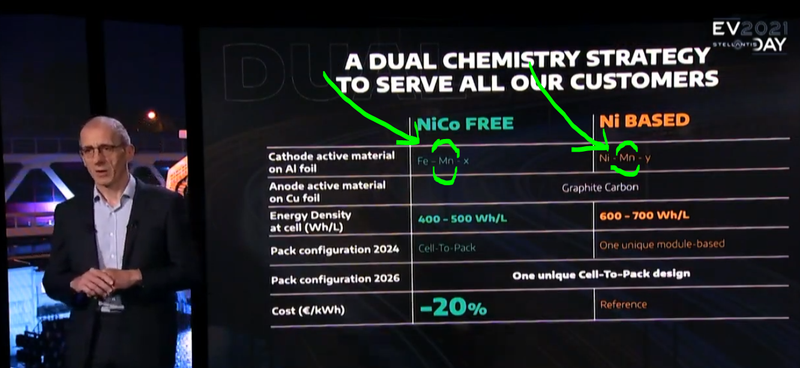 Quick chemistry lesson: Mn is the symbol for Manganese

Here is the key sound bite:
Renault
Renault is a French auto making giant that forms part of the "Renault–Nissan–Mitsubishi Alliance", a strategic French-Japanese alliance.
Below is a media release from Renault 3 months ago, showcasing yet another commitment to manganese from big automakers. The media release also announces plans for the alliance to produce 1 million batteries containing manganese.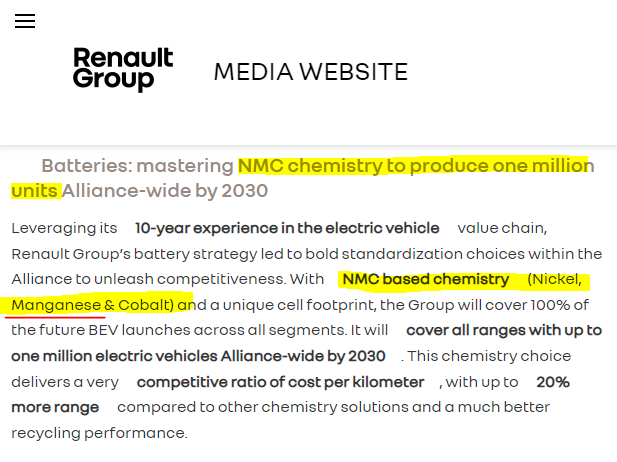 2. Nano One is commercialising two battery technologies where they will test EMN's manganese
Here are the two battery improvement technologies developed and owned by Nano One where EMN is designing high purity manganese products for use in their cathodes (the little green pie chart tells you the manganese content in each technology).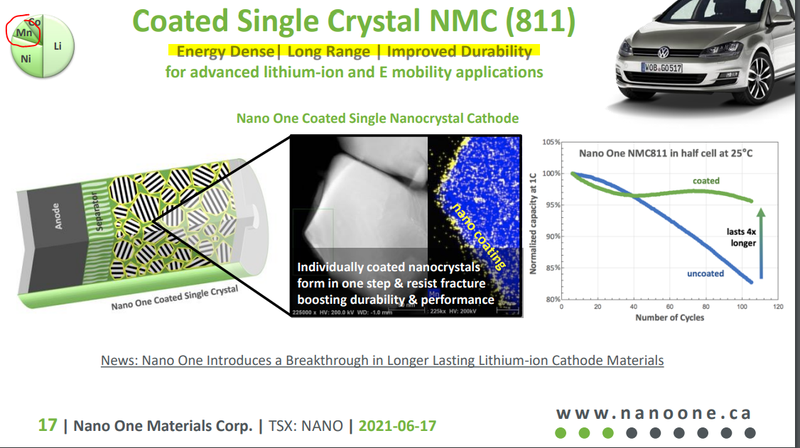 The second, LMNO, has begun limited commercialisation. What is unique about it is that it contains 75-80% manganese, uses no cobalt and only a little nickel, making it far cheaper.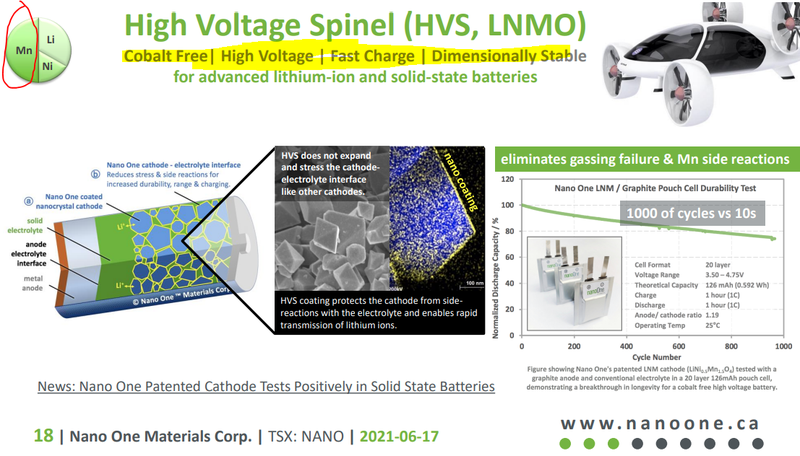 3. Nano One already has deals with major car makers AND battery makers to prove up their technology
Nano One already has relationships with VolksWagen... and TWO OTHER large automakers they aren't allowed to disclose AND an Asian cathode producer they aren't allowed to disclose.
As EMN investors our hope is that if early co-development work is successful that EMN's proven high purity manganese products will be used by Nano One's users: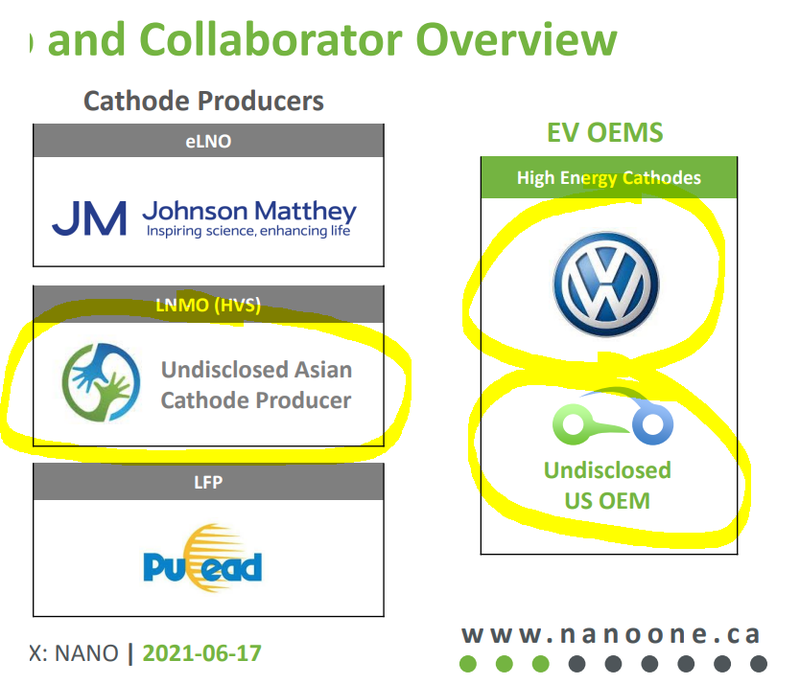 4. Success could open the door to multiple "offtakes" for EMN via Nano One
If EMN can successfully become the preferred supplier of manganese for Nano One's next-generation technology, our view is that Nano One's technology licensing deals will effectively become quasi - "offtake agreements" for EMN, given they will likely get the manganese supply deal for some or all of the Nano One deals for the relevant technologies.
Here are the companies that Nano One is targeting according to their presentation: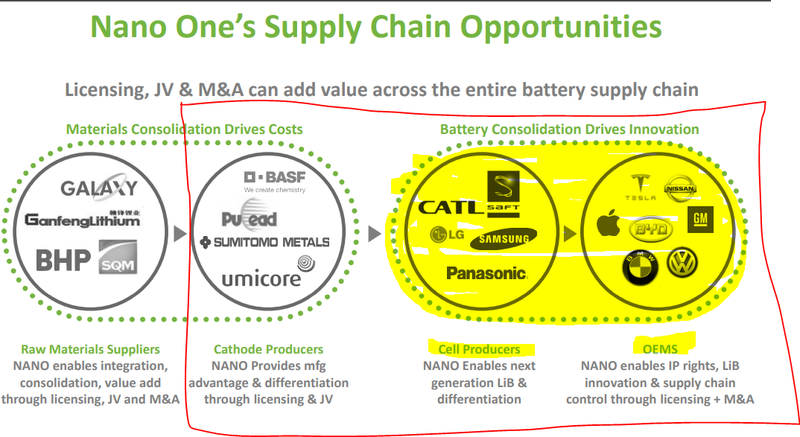 What happens next?
Based on today's news we will be watching for any further updates on the initial tests and co-development updates.
Other than that, EMN is busy working away with a number of milestones due in Q1 of 2022.
Here is what we can expect from EMN early next year - in the meantime, watch for progress updates between now and then:
Final Environmental and Social Impact Assessment: On track for completion Q1 of 2022.
Restart of pilot plant: The original pilot plant, which first operated in 2018 during process design studies, is being restarted to produce small samples of high purity manganese products this fall in advance of larger scale samples to come from the Demonstration Plant.
Demonstration Plant: The demo plant is a 7x scale up of the EMN's 2018 pilot plant, and is critical to the supply chain qualification of EMN's manganese for potential buyers. According to EMN's recent company newsletter the plant is currently being assembled in China, where it will be tested and then shipped in modules to the project site in the Czech Republic. Commissioning and operation of the plant to begin in Q1 of 2022.
Definitive Feasibility Study: The DFS will get us an updated look at EMN's project economics. On track for completion in Q1 of 2022.
EMN continues to have discussions with potential offtake buyers for the project's high purity manganese - again, the completion of the Demonstration Plant is going to be crucial to these negotiations.
55% of EMN's annual Demonstration Plant capacity has already been allocated to five major international High Purity Manganese prospective customers - which is a strong sign EMN's large-scale product samples will be in demand to feed into the all-important supply chain qualification process of other prospective offtakers.
Euro Manganese Company Milestones
✅ Next Investors Portfolio Initiation
🌏 Elon Musk Highlights Manganese on Tesla Battery Day
✅ Capital Raise $12M @20c
🌏 EU Regulations: Improving sustainable raw materials supply chain
✅ Preliminary EIA screening process|
✅ EIT InnoEnergy funding
✅ Capital Raise $30M @60c
🌏 China Tightens Grip on Processed Manganese Supply
🌏 VW Battery Day
🌏 Stellantis Battery Day (2)
🌎 Volkswagen's Strategy Day
🌎 EU Regulations: Reduce Carbon Emission 55% by 2030
🔄 Build and commission demonstration plant (2021)
🔲 Project Life Cycle Assessment (2021)
🔲 Offtake MOU (2021)
🔲 Detailed Engineering (2021)
✅ [UPA] JV Agreement with Nano One®
🔲 Unexpected Positive Announcement 2
🔲 Begin Operation of Demonstration Plant (2022)
🔲 Final EISA and permitting process (2022-23)
🔲 Land acquisition (2022-24)
🔲 Feasibility Study (2022)
🔲 Offtake Agreements (2022-24)
🔲 Secure Financing (2022-24)
🔲 Initiate Construction (2022-24)
🔲 Unexpected Positive Announcement 3
🔲 Start-up, commissioning and commercial production (late 2024/early 2025)
EMN Investment Milestones
✅ Initial Investment: @ 6.5c
✅ Increase Investment: @ 20c
✅ Increase Investment: @ 60c
✅ Price increases 500% from initial entry
✅ Price increases 1000% from initial entry
🔲 Price increases 2000% from initial entry
✅ 12 Month Capital Gain Discount (Sep 2021)
✅ Free Carry
🔲 Take Some Profit
🔲 Hold remaining Position for next 2+ years
---