EMN Update - We Have a Demo Plant. Now for Offtake Deals
Disclosure: S3 Consortium Pty Ltd (The Company) and Associated Entities own 1,490,000 EMN shares at the time of publishing this article. The Company has been engaged by EMN to share our commentary on the progress of our Investment in EMN over time.
How does a company become "the next Lynas"?
Back in the early 2000s, Lynas Rare Earths was a $150M capped junior - fast forward to today, and the rush to secure energy transition materials sees it now capped at $8BN.
That didn't happen by accident, and it took years of hard work.
Taking niche commodities "mainstream" takes a certain skill set and patience - and one Lynas alumni is looking to do it again with one of our very own Investments.
Euro Manganese (ASX:EMN) is one of our best performing Investments of the last two years.
EMN is developing Europe's largest manganese project in the Czech Republic.
In August, EMN delivered a Definitive Feasibility Study with an after-tax Net Present Value (NPV) for the project of US$1.34B ($1.98BN) — roughly 14x EMN's current market cap.
And if an "upside case" plays out - that NPV stretches out to ~$1.8BN - this is the scenario where High Purity Manganese demand really ramps up.
It will cost EMN US$757.3M (~A$1.1BN) to get its manganese plant built and with a payback period of 4.1 years, we think that's a fairly attractive investment for potential financiers.
Particularly considering EMN's project has a project life of 25 years.
Luckily, EMN's CEO Dr Matthew James has helped raise $1BN from markets and government before — as Vice President, Strategy & Corporate Communications at Lynas.
Getting over $1BN in capital in the door isn't easy and it requires James' type of business nous and relationships.
Since the August DFS was released, EMN has started to expand its reach to potential customers.
In a recent update on the commissioning of its demonstration plant it stated that its product is being sought out by:
"six companies from across the EV battery value chain ...
[and] a further six companies, including European and North American automotive OEMs, battery manufacturers, and cathode manufacturers."
This is part of why we think EMN is on the cusp of a major inflection point.
Ramped up product qualification by potential customers is tied to any future offtake deal - something which could be a big catalyst for EMN and potentially, the start of a series of offtakes deals being signed.
After a few logistical challenges, the demonstration plant modules are now assembled and this is what the installed modules look like, with commissioning underway: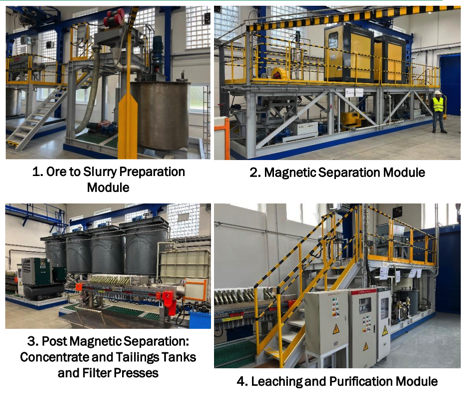 We've been waiting for many months to see the demonstration plant arrive, with the war in Ukraine forcing the plant modules to come via sea freight from China, and a strike at the German port of Hamburg delaying things.
So it's great to see EMN's efforts finally bearing fruit.
The demonstration plant is part of a comprehensive approach to show the market that EMN is capable of producing battery ready High Purity Manganese.
Aiding EMN's case are some of the most powerful macro tailwinds we've ever seen - the broader battery metals theme.
The appetite for battery metals is now motivating EMN to reach beyond Europe - EMN is looking at opening up shop in Quebec, where a scoping study is investigating how to bring High Purity Manganese processing to North America.
North America has no domestic High Purity Manganese production.
So as the dust settles from the latest global climate talks at COP27, we think EMN is a potential "sleeper hit" lurking in our Portfolio that plays on the decarbonisation theme.
Investors began to pay attention to manganese (specifically High Purity Manganese like EMN's) when Elon Musk dropped the word "manganese" in a 2020 Battery Day presentation.
The significance of high manganese battery chemistries is that they allow battery makers to strip out some of the costs associated with other battery metals like nickel and cobalt.
And with prices of all commodities increasing, car makers are looking for the best bang for buck when it comes to the battery chemistry make up.
All the major players in EVs have announced intentions to use more High Purity Manganese in their battery chemistry - VW, Tesla, GM, Mercedes and Stellantis: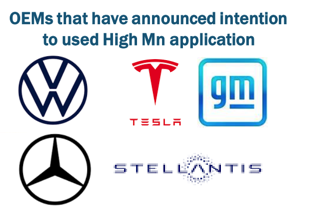 EMN's project is ambitious — big enough that it could help drive down the cost of batteries in the West.
It will also enable both Europe and North America to secure their own supply at a time when China supplies over 90% of the global High Purity Manganese market.
With all of the pieces starting to fall into place, EMN is gearing up for a big tilt at achieving a Final Investment Decision for its project in the coming year - formally announcing that it has the funds to build the project.
And that's what we think is needed to deliver a significant share price re-rate, while there's plenty of newsflow to come in the lead up to that moment.
In order to achieve this we think that EMN will need to secure three key things:
Project financing - money in the form of debt or a stake in EMN to build the project
Offtake agreement(s) - in parallel with project financing, a deal for future supply
Key permit - provides the license to extract manganese in the Czech Republic
With large-scale product samples being produced from the Demonstration Plant in Q1 2023, and the offtake tender process underway, we hope that an offtake agreement will be the next domino to fall for EMN.
We think that this will solidify EMN's place in the electric vehicle battery supply chain and the moment that we think the big funds will be forced to wake up to secure financing for the project.
With that major 'Lynas-like' re-rate firmly in mind, we've laid out our latest Big Bet:
Our EMN Big Bet:
"EMN significantly re-rates to a $1BN+ market cap on becoming a High Purity Manganese producer."
NOTE: our "Big Bet" is what we HOPE the ultimate success scenario looks like for this particular Investment over the long term (3+ years). There is a lot of work to be done, many risks involved, and it will require a significant amount of luck. There is no guarantee that it will ever come true. Some of these risks we list in our EMN Investment Memo.
To visualise what EMN has done since we Invested, check out our brand new Progress Tracker: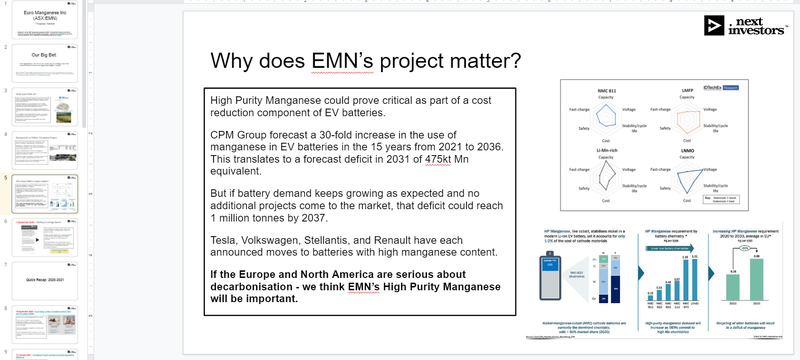 Quick reminder - what does EMN do exactly?
EMN is developing a High Purity Manganese project in the European Union (Czech Republic) through the recycling of a tailings resource from a historical mine site.
High Purity Manganese is an important part of new electric vehicle battery chemistries and we think EMN could play a key role in the battery supply chain of Europe and now potentially North America.
EMN has a dual-sided appeal - the company is cleaning up an old mine (great for ESG credentials) AND putting that mine's material to good use.
We see EMN as a processing oriented Investment - its resource is well established and the largest of its kind in Europe.
In other words, it has plenty of manganese - so the product just needs to be effectively processed to work for EV automakers.
EMN is the project developer and is seeking offtakes and a Final Investment Decision.
This is where EMN sits on the stages of the mining lifecycle: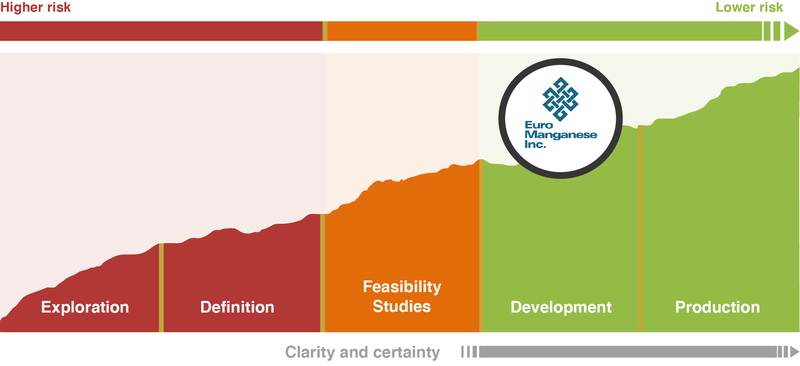 What has EMN done since our last note?
In short - quite a bit.
It's no easy task bringing a project of this scale into production, and we've been pleased to see EMN's CEO Dr Matthew James's progress since he took the helm.
Here's a quick rundown of what EMN has ticked off since the August DFS and why it matters:
✅ Arrival of Demonstration Plant
Despite delays due to the conflict in Ukraine and a strike at the German port of Hamburg, the Demonstration Plant modules finally got to the Czech Republic.
This enables EMN to scale up production of High Purity Manganese samples by 7x.
In turn, that should help build competitive tension around securing supply of EMN's products.
While EMN has samples available from its Pilot Plant to facilitate offtake discussions - we think getting the Demonstration Plant in the country is an important signal to the market that EMN is ready to start contributing to the European battery supply chain.
✅ MoU with Statkraft for the long-term supply of carbon-free renewable energy
This is important to improving the overall emissions profile of the project - and improves EMN's ESG credentials.
EV automakers are making a concerted effort to clean up their supply chains and source the raw materials for batteries in an environmentally friendly manner.
This move is consistent with EMN's membership in the Global Battery Alliance - a partnership of some of the world's leading forces in batteries.
The Global Battery Alliance is focussing on rolling out a "Battery Passport" which aims to ensure the traceability of battery materials and their environmental footprint.
So securing emissions free energy from Europe's largest renewable energy company for the project ahead of time is a smart move by EMN.
✅ EMN & Nano One validate manganese metal in M2CAM process
EMN and Nano One jointly demonstrated cathode materials made directly from EMN-sourced electrolytic manganese metal using Nano One's One-Pot Process.
Nano One is EMN's technology partner in Canada and has a relationship with Volkswagen, two other large automakers and an Asian cathode producer.
Nano One has patented processes for the low-cost, low-environmental footprint production of high-performance cathode materials used in lithium-ion batteries.
And in June, Rio Tinto made a US$10M strategic equity investment into Nano One which we believe is validation of Nano One's technology.
We said in October last year (read the article here):
"The [EMN + Nano One] co-development will use EMN's manganese products with Nano One's battery cathode technology. If it works, then it is likely that EMN will be a preferred supplier of manganese to Nano One (and/or its research and development partners)."
Well, EMN and Nano One have now shown that the tech works - and demonstrated cathode materials made directly from EMN sourced electrolytic manganese metal using Nano One's One-Pot Process.
Layman's terms - cheaper, more sustainable production of battery cathode material (a tech short-cut that strips out unnecessary and hard to dispose of byproducts).
This is good for EMN to have in the back pocket as it chases down offtake agreements.
✅ Commencement of Commissioning of the Demonstration Plant
After much anticipation, EMN's Demonstration Plant is ready to run.
Again, there's an interesting development out of the Demonstration Plant update as well...
EMN says: "six companies from across the EV battery value chain and the speciality alloy industry have requested Demonstration Plant samples."
AND:
"A further six companies, including European and North American automotive OEMs, battery manufacturers, and cathode manufacturers, who are currently testing Pilot Plant samples, are expected to request Demonstration Plant samples."
This is what we want to see.
✅ Scoping study for North American market
A scoping study is now underway to evaluate a site in Bécancour, Québec for production of high-purity manganese products following discussions with cathode and battery manufacturers, and automotive OEMs in North America.
Again, North America has no domestic High Purity Manganese processing capacity.
We see this as a significant opportunity for EMN to tap into another rapidly accelerating EV market.
The more interested offtake partners, the better — be they from North America OR Europe.
What's next for EMN?
EMN has clearly articulated to the market what it plans to accomplish in the next 12 months: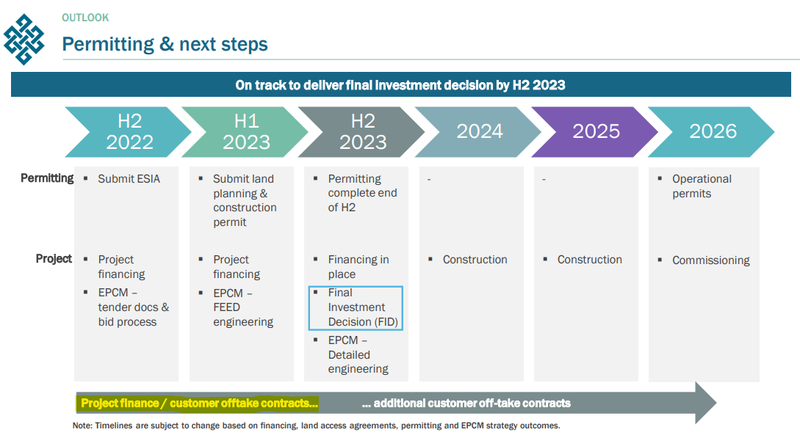 Customer Offtakes
We highlight an offtake agreement because this could give the EMN share price a jolt — an offtake being an important validation of market demand for its product.
EMN flagged in the company's latest presentation that it has "bids received from multiple parties across the value chain".
We are, however, patient about the timing of an offtake announcement - as EMN's current trajectory will be better served by steady execution rather than rushing into a deal.
For instance, EMN may want to build more competitive tension around its project to deliver maximum shareholder value. We note that EMN is in a relatively comfortable cash position with CAD$28M (A$30.6M) as of 30 June.
We think that's a strong hand to approach financing and offtake discussions with because it allows EMN to let the tension build for longer, if necessary.
EMN doesn't have to rush with this cash buffer.
We'll be looking for an update on EMN's cash balance as significant progress has been made since that quarterly was released.
Further progress on progress financing
With EMN targeting a Final Investment Decision in H2 2023 we think newsflow on financing could help EMN'a share price progressively re-rate in line with our Big Bet ambitions (a +$1BN market cap) at a time where the appetite for battery metals investments remains strong.
EMN is likely trying to figure out the exact mix of debt and equity financing needed to satisfy the project's CAPEX requirements as per the DFS.
We expect EMN's finance advisor, US financial services company Stifel (market cap ~US$6BN), to help with securing financing - particularly the debt component.
The equity financing (organisations taking a stake in EMN) could involve a range of different entities.
EMN is fielding a broad range of interest in financing the project with existing large shareholder European Bank for Reconstruction and Development (EBRD) interested in providing debt funding as well as the European Investment Bank as well.
This is the key slide from the latest EMN presentation: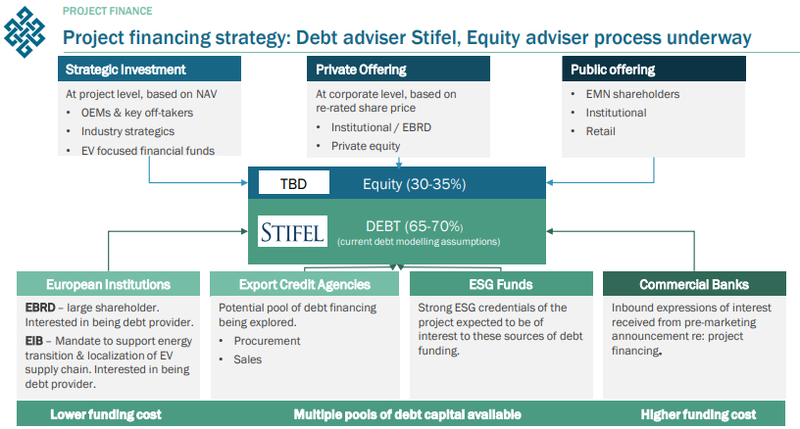 By our estimates a 30% equity component would mean that EMN has to roughly raise ~$300M for its ~$1.1BN capex from capital markets.
Delivery of North American Scoping Study
By 2031, North America is expected to require over 200Kt of High Purity Manganese annually, so it makes sense that EMN is pursuing opportunities in Quebec.
In addition to the expected demand from a quickly growing US EV market, the US recently passed the Inflation Reduction Act which builds in specific incentives for localisation of the battery supply chain.
If EMN decides to open a processing plant in Quebec, it could open the door for the use of these incentives, more government funding and hopefully down the track, greater interest from large US funds.
Permitting
Since July of last year EMN has had a Preliminary Mining Permit, which the Czech Ministry of Environment refers to as the "Prior Consent for the Establishment of a Mining Lease District," which is valid until May 31, 2026.
The Preliminary Mining Permit is an important permit as it moves EMN towards final permitting for the Project, covers the areas included in EMN's grounds, and secures EMN's exploration rights for the entire deposit.
We're looking for EMN to secure a "Final Mining Permit" the last bit of the puzzle for EMN to conduct any commercial extraction and processing activities at the Project.
We expect this to be largely a formality given EMN is rehabilitating an old mining deposit and cleaning it up is desirable - but European regulatory bodies can move slowly and this is an important step, especially for financiers.
Final Investment Decision
A formal announcement that EMN has secured the capital to build the project could be a big trigger for a share price re-rate.
We've seen development phase resource projects stumble and fail to reach this milestone before — securing funding is what really matters during this phase. It gives confidence to Investors that the project will become a reality.
What are the risks?
These are the two risks we see as most pertinent at the moment (see our EMN Investment Memo for the more risks):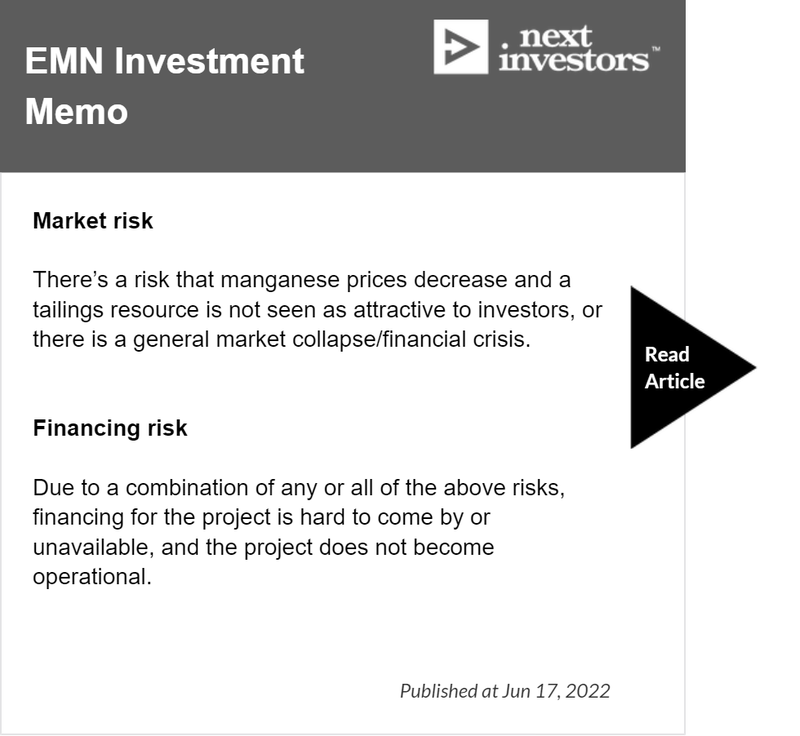 Our EMN Investment Memo
Click here for our EMN Investment Memo which includes:
Key objectives for EMN
Why we Invested in EMN
What the key risks to our Investment thesis for EMN
Our Investment plan
---