VUL and EMN: Key takeaways out of Europe this week
Published 16-JUL-2021 15:05 P.M.
Our European battery metals investments Vulcan Energy Resources (ASX:VUL) and Euro Manganese (ASX:EMN) both lifted off the back of the Stellantis EV 2021 Day last week.
Stellantis Group formed earlier this year from a mega merger between Fiat Chrysler Automobiles and Peugeot-Citroen to create the fourth largest automaker in the world, and are currently the largest automaker in Europe by volume.
VUL's continued upward momentum might be attributable to last weekend's unconfirmed reports from Reuters about an MoU for an offtake with Stellantis - VUL has not made any comment on this speculation but the share price traded above $10 this week for the first time since that huge spike back in January.
This time around it looks to be a more sustainable rise.
After Stallantis EV day we flagged two further events happening out of Europe this week which we followed closely for any news that could drive demand for VUL's Zero Carbon Lithium or EMN's recycled and sustainably sourced Manganese.
Here is the key info relevant to VUL and EMN:
Tuesday night: We watched VolksWagen's Strategy 2030 Day
What is it: VolksWagen announced its new group strategy dubbed: NEW AUTO - Mobility for Generations to Come. As the future is CO2-neutral and software-driven.
Why it matters: We were watching for any mention of decarbonisation, sustainability, geothermal lithium or high purity manganese that might be relevant for VUL and EMN.
Here's what happened: This has been one of the most widely covered events we've seen.
The messaging is clear: VW will transition from being a simple vehicle manufacturer to a leading, global software-driven "mobility provider" in an effort to develop sustainable, connected, safe and tailored mobility solutions for future generations.
Key takeaways for VUL and EMN
In his intro for the day we noted CEO Herbert Diess said "Volkswagen WILL be the market leader in Electric vehicles by 2025."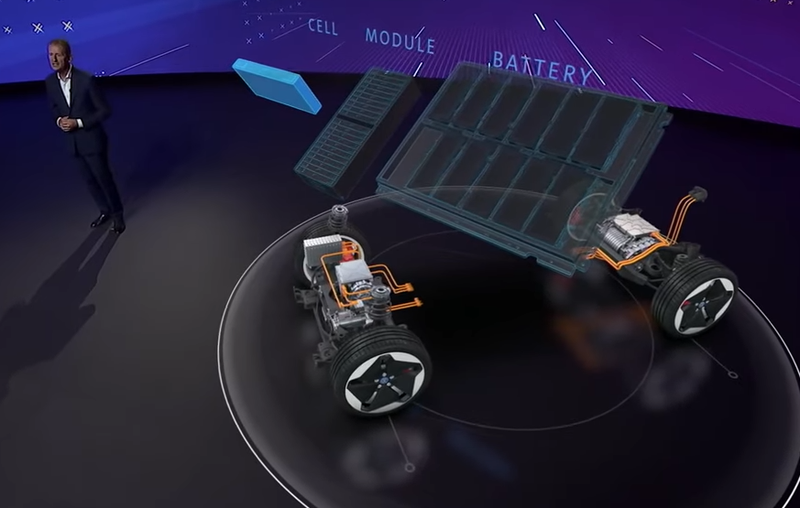 He also said "Volkswagen are aiming at keeping control of valuable raw material production".
The VW CEO also went on to say they are converting their existing plants to create EVs and are fully on track to meet CO2 compliance requirements in Europe (hello Vulcan's Zero Carbon Lithium).
The CEO then passes the microphone to four key executives that each take their turn to cover their specific topic area, including mechatronics, software, batteries and charging.
The full session is here - check out the first 15 minutes for the CEO keynote which gives a pretty exciting summary of the VW strategy for battery materials investors.
We also closely watched the presentation from the head of batteries and tech board member Thomas Schmall to see if he would reveal anything new about the battery chemistry or proposed supply chain (his section starts at 57m:35s - it goes for 7 minutes and is worth a watch):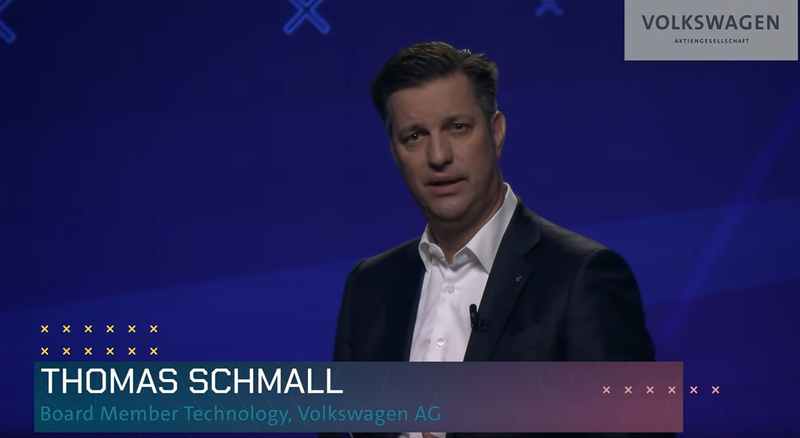 So 3 months after the VW Power Day where we first met Thomas - we get an update:
Thomas tells us at 59:32 that the highest volume battery that will be produced by Volkswagen will have a high manganese content (hello EMN) - and we already know that all three battery types will use sustainable lithium in line with EU policies according to the CEO.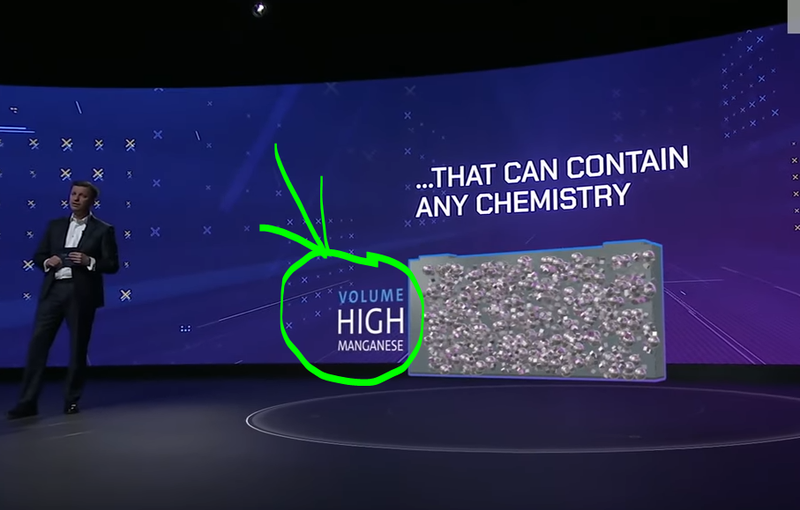 Thomas spoke about a "closed loop" method as the most sustainable way to build batteries: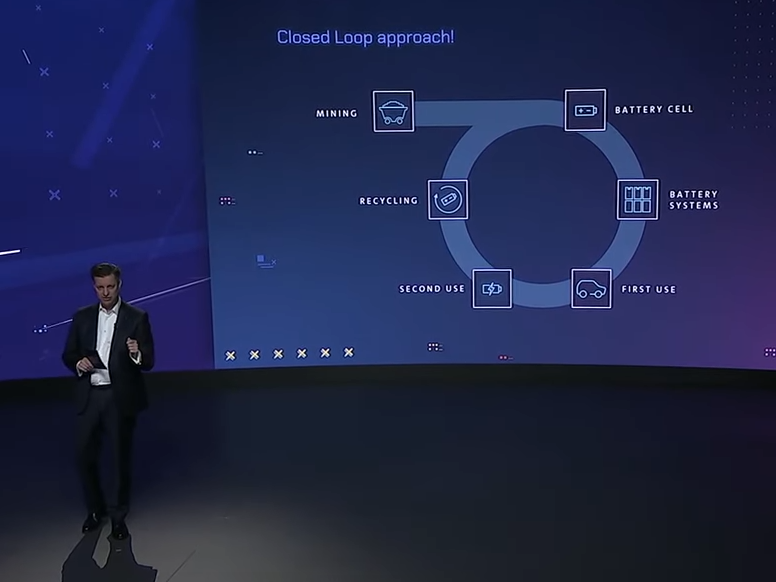 "The biggest cost in the cell is raw materials, Volkwagen will expand scope in the value chain seek to enter partnerships" - positive for VUL and EMN.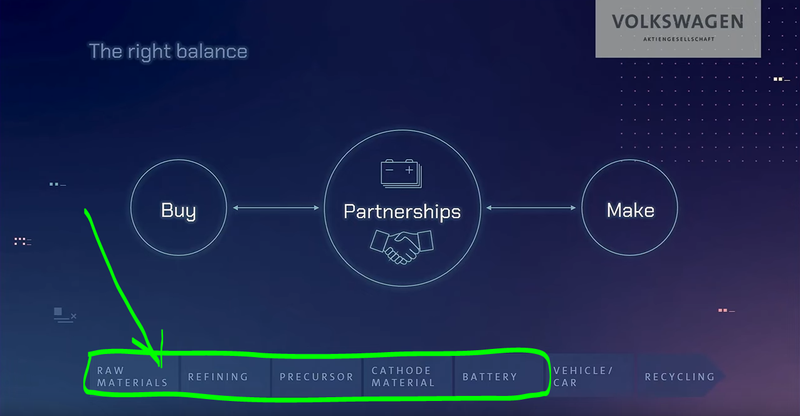 Thomas also gave an update on the 6 giga-factories VW said they are going to build in Europe - the third one has been announced for Spain. We have written elsewhere about rumours in the media on one being built in the Czech Republic - however that was not covered in any detail in this session.
Here is what the mainstream media said about the VolksWagen strategy 2030 day:
Mainstream media coverage: Check out these headlines:



Other takeaways:
Charging infrastructure and battery tech will be crucial for VW's success.
VW plans to create a controlled battery supply chain, stretching from raw materials all the way to battery recycling.
Battery production will happen at six giga factories in Europe by 2030 that will offer a total production capacity of 240 GWh.
The first gigafactory will be in Sweden. The second gigafactory will be built in Germany, right on VUL and EMN's doorsteps.
VW will increase battery-electric vehicle (BEV) share out of the total sales (globally) to 20% in 2025.
VW will increase BEVs to 50% in 2030.
VW will increase BEVs to nearly 100% by 2040 in all major markets.
VW's business strategy will now focus on software, autonomous tech and Mobility as a Service (MaaS).
A new SSP (Scalable Systems Platform) will consolidate three ICE platforms and two current EV platforms, starting in 2026.
VW expects to launch Level 4 autonomous shuttles in 2025, ahead of greater expansion of autonomous systems into its vehicles.
You can watch the full presentation here: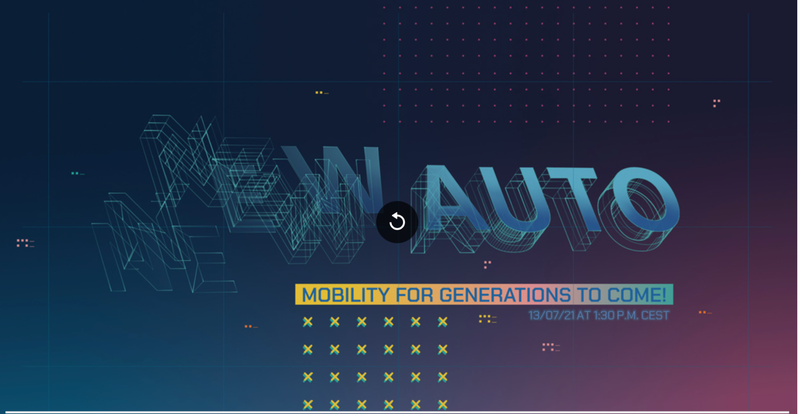 Wednesday Night - We followed European Commission announcements on their action plan to reduce carbon emissions by 55% by 2030
What is it: Dubbed the EU's "Fit for 55" package, on Wednesday EU leaders will lay out how Europe intends to achieve a raft of ambitious plans to drastically cut emissions by 55% over the next decade.
Why it matters: These announcements revealed Europe's ACTUAL action plans covering:
Emissions trading systems
Renewable energy targets
New green rules into the transport sector - which could be positive for EMN as they are recycling old mine tailings, and their manganese could be considered "recycled"
A new carbon border tax - which could be positive for VUL's Zero Carbon Lithium as it will place tariffs on importing lithium from high carbon overseas producers into Europe.
Here is a summary of what was announced with our opinion on key takeaways for VUL and EMN shown in yellow
Stricter CO2 standards for cars and vans – a boost for electric vehicles
The revision of the CO2 emissions standards for new cars and vans aims at further decarbonizing the mobility sector. Versus 2021, the regulation will require OEMs to cut average performance emissions of their new cars by 55 percent by 2030, and by 100 percent as of 2035. This means, that all cars put on the market from 2035 onwards need to be emission free.
The measure is widely regarded as putting an end to the era of the internal combustion engine and a strong push towards e-mobility. Accordingly, the demand for batteries and lithium as their key component is expected to strongly increase.
Even before the publication of the package, several OEMs had announced more ambitious vehicle emission targets and committed to pursuing decarbonization efforts across the entire value chain, including raw materials for batteries. With the new regulation, companies are likely to further diversify their sources of critical raw materials, e.g. lithium.
= increased demand for sustainable battery materials in Europe like VUL's lithium and EMN's recycled manganese
A carbon levy to tackle CO2 intensive imports into the EU
The proposal for a Carbon Border Adjustment Mechanism (CBAM) envisions a levy increasing prices of the import of emission intensive products from third countries that do not have regulations comparable to those of the EU in place. It seeks to address the risk of the EU's efforts to decrease CO2 emissions being undermined by carbon leakage, i.e. by market actors circumventing EU emission regulations by simply relocating abroad.
This levy currently covers the emission intensive sectors of aluminium, steel and iron, cement, electricity and fertilisers. However, the proposal mentions an extension of the scope in the following years to capture more sectors or products. A potential inclusion of lithium would further increase the attractiveness of local, CO2 neutral sources.
The mechanism will take effect from 2023 with importers required to pay financial adjustments as of 2026. To ensure a level playing field between domestic and imported products, the CBAM will apply the EU's carbon price to foreign products.
= increased cost (via import tariffs) of battery metals that are extracted with a high carbon footprint imported into Europe - excellent news for VUL and its Zero Carbon Lithium, which should be more economic for use in European battery factories with these tariffs
A CO2 threshold to make batteries more sustainable along the whole value chain
Flanking these new measures, the EU is already working on an update of the legislation regarding batteries. The revision seeks to ensure that the shift towards e-mobility is as green as possible, limiting the negative environmental impact of batteries.
The legislation envisions to establish CO2 emission thresholds for the production of batteries, which also take into account the extraction of raw materials. The measure will put further pressure on OEMs and companies active in the battery production field to look for ways to reduce emissions in their supply chain, including raw materials.
= limiting environmental impact of producing batteries is a huge positive for VUL's unique Zero Carbon Lithium and also for EMN's manganese - which is being produced sustainably from recycling old mine tailings
Here is what the mainstream media said about the new EU regulations: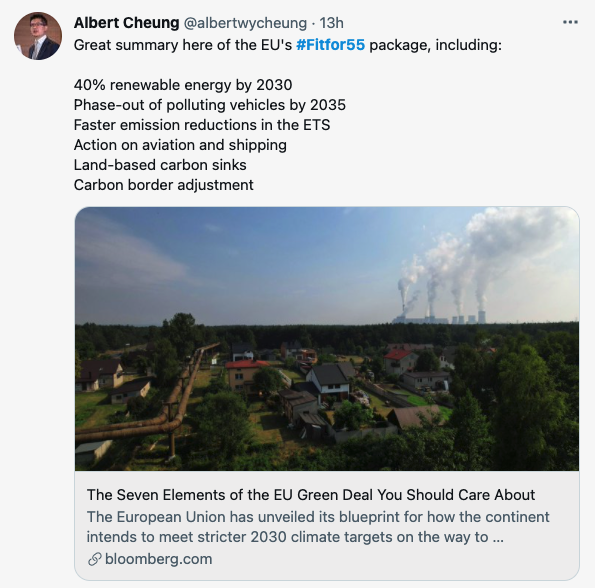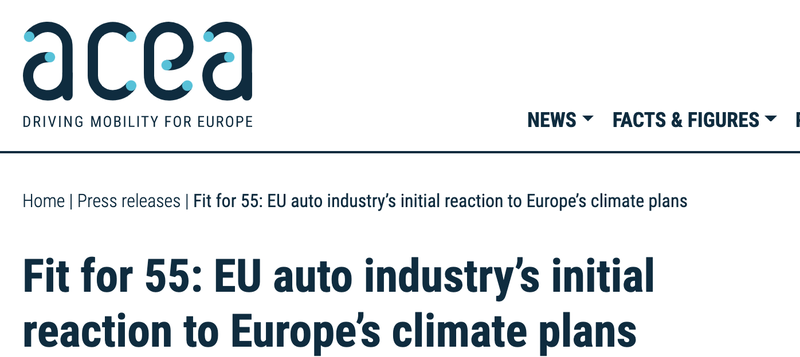 In Summary - what's next for EMN and VUL
As always you can see our full list of expected milestones and progress of our investment strategy for VUL and EMN on each respective company page (click the images below).
The European sustainable battery thematic is probably our favourite area to be invested in and we are holding long term positions in VUL and EMN - congrats to readers who have been on the journey with these two stocks since the start.
---