EMN Releases Operations Update as Global Manganese Supply Tightens
Euro Manganese Inc. (ASX:EMN) is developing a high purity manganese project in the Czech Republic. EMN has today released a solid update on progress of:
Its Demonstration Plant,
Definitive Feasibility Study,
Final Environmental and Social Impact Assessment, and
Discussions with potential off takers.
We invested in EMN at 6.5c, 20c and again at 60c in the most recent placement (we just transferred cash for the 60c placement tranche two last week).
We are strong believers in European battery metals to be one of the key investment thematics of this decade as every country rushes to switch to electric vehicles.
Simmering global geopolitical tensions have seen many countries rush to secure local supply of key battery metals, like manganese (EMN is aiming to be Europe's ONLY primary producer of high purity manganese).
Both Tesla and Volkswagen have stated high purity manganese is their preferred alternative to cobalt in electric vehicle batteries.
And now over the weekend there appears to be a new story developing with implications for EMN - 7,000km away in China.
The Wall Street Journal published this story on Friday night:

From the article:
China is tightening its grip on the global supply of processed manganese, rattling a range of companies world-wide that depend on the versatile metal—including the planet's biggest electric-vehicle makers.
[...]
The squeeze sent prices soaring in metal markets world-wide, snagging steelmakers and sharpening concern among car makers. China's metal industries already dominate the global processing of most raw materials for rechargeable batteries, including cobalt and nickel. Three-quarters of the world's lithium-ion batteries and half of its electric vehicles are made in China.
Read the full Wall Street Journal article here.
The Wall Street Journal article goes on to show the European Manganese price has almost doubled in the past few months, and continues to trend upwards: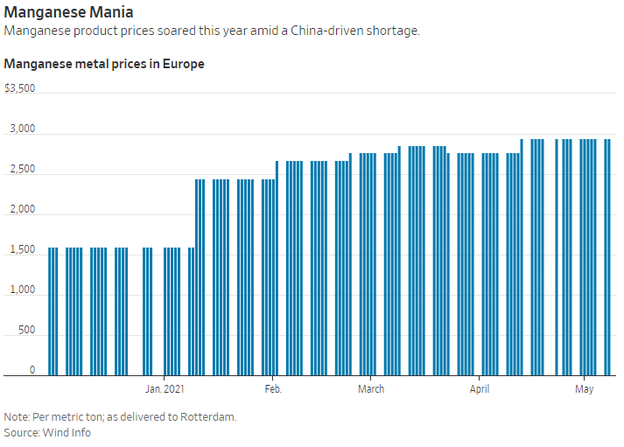 We are long term holders in EMN and have been covering key global themes that impact EMN since we invested in September 2020, including:
Every month the Electric Vehicle macro theme gets stronger and we are happy long term holders in our European battery metals investments.
We think the Wall Street Journal's story will be a positive for the multiple offtake agreement discussions that EMN reported in their announcement today.
Let's take a deeper look at today's EMN announcement.
Today EMN has announced an Operations Update just as global supply is tightening.
In summary, EMN is busy working away with a number of milestones due in Q1 of 2022.
Here is what we can expect from EMN early next year - in the meantime, watch for progress updates between now and then:
Final Environmental and Social Impact Assessment: On track for completion Q1 of 2022.
Demonstration Plant: The demo plant is a 7x scale up of the EMN's 2018 pilot plant, and is critical to the supply chain qualification of EMN's manganese for potential buyers. 97% of equipment has been procured. Operation of the plant to begin in Q1 of 2022.
Definitive Feasibility Study: The DFS will get us an updated look at EMN's project economics. On track for completion in Q1 of 2022.
EMN continues to have discussions with potential offtake buyers for the project's high purity manganese - again, the completion of the Demonstration Plant is going to be crucial to these negotiations.
55% of EMN's annual Demonstration Plant capacity has already been allocated to five major international High Purity Manganese customers - which is a strong sign EMN's product will be in demand.
Here is our past our commentary on EMN: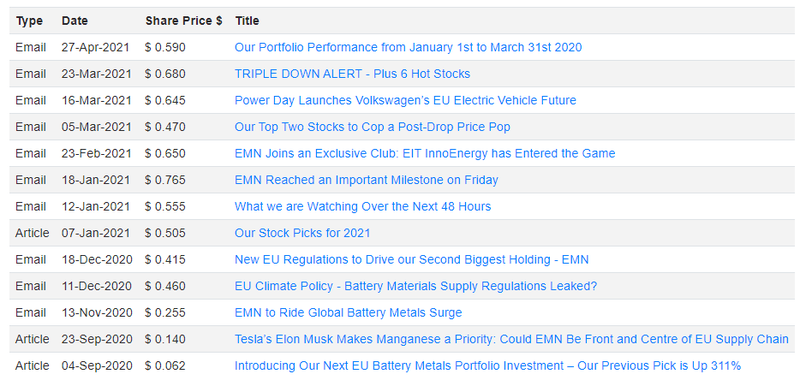 [NEW] Here are EMN's company milestones as we see them
This is a new feature we are working on and will soon be rolled out to all portfolio companies, please reply to this email with any feedback/suggestions.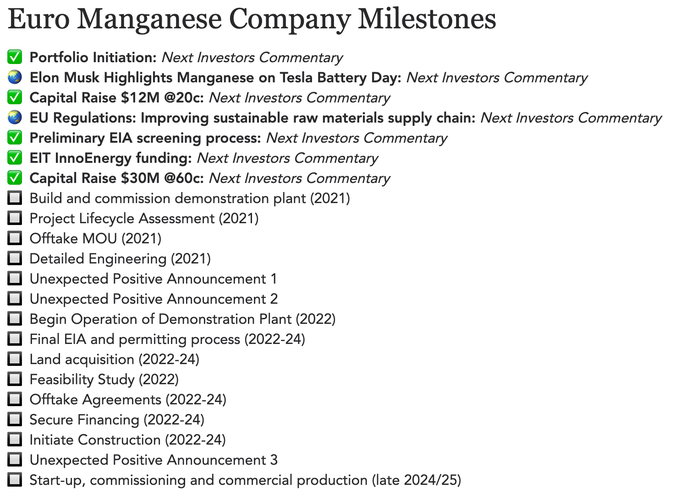 [NEW] Here is our investment strategy
Another new feature we will soon be rolling out to all portfolio company pages. Again, please reply to this email with any feedback/suggestions.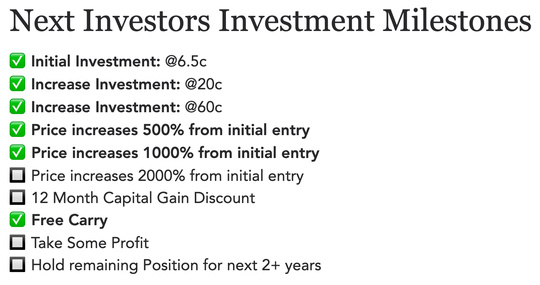 "Expected Company Milestones" are based on the company's publicly available execution plan and some assumptions made by our team on potential announcements that should de-risk the investment. "Our Investment Milestones" show our current long-term investment plan. Early stage investments are risky and there is no guarantee that the expected events will occur. The lists are not in sequential order.
Company Milestones and Investment Milestones are new features we are testing. Please provide feedback or suggestions by replying to this email.
---