Power Day Launches Volkswagen's EU Electric Vehicle Future
Published 16-MAR-2021 12:04 P.M.
Remember in September last year when Elon Musk's Tesla Battery Day announcements made VUL and EMN shares go up?
We do - it was awesome.
While not as cool as Tesla, German based Volkswagen Group (VW) is by far the biggest automaker in Europe and the biggest in the world, manufacturing over 10 million cars per year.
Last night Volkswagen held its very creatively named "Power Day" where its executive team announced its massive move into electric vehicles and batteries.
Many people don't realise just how many iconic car brands Volkswagen owns:

So when a monster, European car making conglomerate like Volkswagen starts announcing big moves into the electric vehicle battery space - it pays for investors like us to listen...
Especially given our large, long term positions in European battery metals stocks Vulcan Energy Resources (ASX:VUL) and Euro Manganese (ASX:EMN).
Here is a link to the two hour live stream recording - we have pulled out the key statements that are relevant to our investments in EMN and VUL:
We love that Volkswagen is moving into the sexy world of electric vehicles in a huge way and appreciate how hard it probably was for these fellas to lose the ties.
BUT - while Tesla may be more cool, Volkswagen makes WAY more cars ... and makes them in Europe too, which is very important for our investments in VUL and EMN.
Here is what Volkswagens Power Day announcements mean for VUL and EMN
Euro Manganese Inc. (ASX:EMN) is developing a high purity manganese project in the Czech Republic.
EMN should be absolutely chuffed with last night's announcements that Volkswagen wants to standardise on one type of battery cell, and that this "volume cell" will contain "high manganese content".
Volkswagen says that this "volume cell" is going to make up the majority of its production.
EMN obviously scores big on Volkswagen's required sustainability and local supply needs given its project is recycling old mine site tailings AND is located in Eastern Europe in the Czech Republic.
Speaking of being in the Czech Republic, it's very exciting that Volkswagen announced that their fourth EV factory will possibly be built in the Czech Republic (see video snippet where they say it here) - fingers crossed this will happen for EMN.
Vulcan Energy Resources (ASX:VUL) has developed the world's first and only Zero Carbon lithium process and plans to produce battery-grade lithium hydroxide from geothermal brines pumped from wells with a renewable geothermal energy by-product in Germany.
I almost spat out my chamomile tea last night when Volkswagen said they plan to build SIX Electric vehicle factories on the European content by 2030... which will eventually chew up 200,000 tonnes per year of lithium.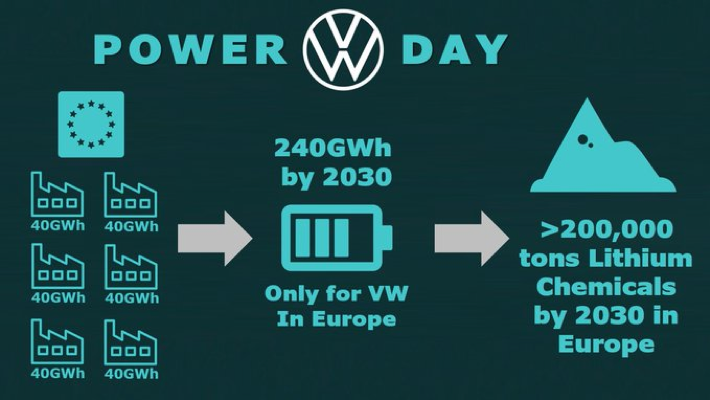 This was a huge bit of news for VUL, especially that it will be one of the few producers that can meet Volkswagen's commitment to sustainable development.
As if this news from overnight wasn't enough VUL just couldn't help itself and this morning announced a rock star board advisor appointment - Julia Poliscanova who has been instrumental in shaping policies around EU vehicle CO2 standards & sustainable batteries, heading T&E's vehicles programme since 2019.
Her other credentials include an MSc in Energy, is an expert in EU energy policy and has been at the forefront of climate related policy issues addressing air quality, renewable energy, energy efficiency, batteries and vehicle CO2 legislation for the past 10 years in the EU at T&E and as senior EU policy officer for the Mayor of London, and before that as an advisor in the European Parliament.
What's Next?
Regular readers will know we have been investing in the sustainable, local European battery metals thematic for a long time, and the Volkswagen Power Day news has been a great validation of the long term potential this investment thematic has.
We hold long term positions in booth VUL and EMN - for a summary check out the original eBook we launched for Tesla's battery day last year.
---