Stellantis EV Day: Mystery European Geothermal Lithium MoU & Manganese to be used in all batteries
Published 09-JUL-2021 11:02 A.M.
Last night major automaker Stellantis announced they have "an Offtake MoU with a geothermal lithium partner in Europe" and also that manganese will be a key ingredient in their electric vehicle batteries.
Stellantis Group formed earlier this year from a mega merger between Fiat Chrysler Automobiles and Peugeot-Citroen to create the fourth largest automaker in the world, and are currently the largest automaker in Europe by volume.
They also announced their plans to target 70% of European sales to be Electric Vehicles by 2030 and invest more than €30 billion through 2025 to build 3 giga-factories in Europe.
We watched the full presentation last night because we are long term shareholders in European battery metals stocks Vulcan Energy Resources (ASX:VUL) and Euro Manganese (ASX:EMN) and keenly follow any news that will increase the demand for battery metals in Europe.
Here is a link to the recording - all the interesting electric battery talk starts at after about 60 minutes, we have the key sound bites for you later in this note:
We have collected the key take-aways for VUL and EMN investors:
Stellantis said "lithium supply is critical" and "Two MoUs for new direct offtake of lithium with lithium geothermal partners in North America and Europe" - they didn't say with who... but no matter what this is a huge positive for the industry and VUL.
Stallantis will be standardising on two main batteries - both use Manganese, obviously great news for EMN.
Get 70% EV sales in Europe by 2030
Plans to invest more than €30 billion through 2025 and building 5 giga factories - 3 in Europe.
Before we get to the key sound bites it's helpful to understand who Stellanis is and why they matter in terms of the sheer scale of the manganese and lithium demand they are planning to generate over the next 10 years:
Who is Stellantis and why do they matter?
Stellantis is the biggest Automaker you have never heard of.
Stellantis is a newly rebranded mutli-national conglomerate from the merger of Fiat Chrysler Automobiles and Peugeot-Citroen.
Stellantis has over 400,000 employees and owns 16 household name car brands: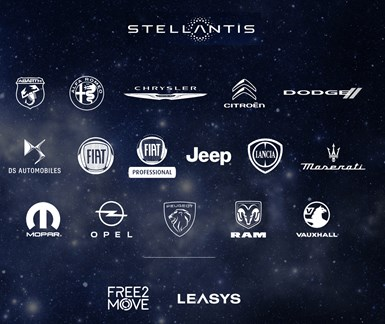 Since the merger Stellantis has beaten worlds biggest car maker VolksWagen in auto sales in Europe over the first two months of 2021, making it the largest automaker in Europe.
So when Stellantis say they are aggressively converting their business to electric vehicle sales, VUL and EMN shareholders should take note - as this will materially drive up lithium and manganese demand in Europe.
They definitely seem committed to going electric and green across all their brands - here are the newly announced mission statements from last nights press release for each car brand.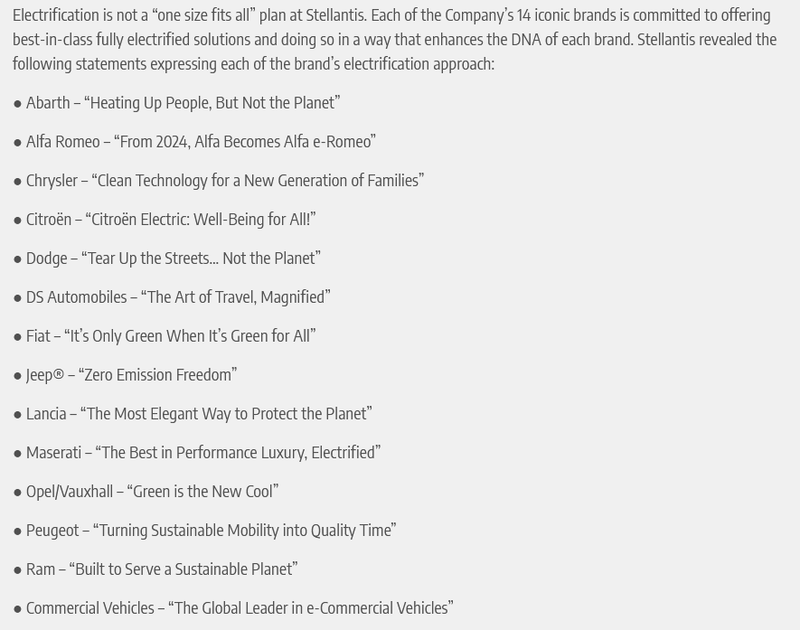 So we can see that Stellantis is a huge player in the auto space and they are now firmly committed to going electric, so what are the key take-aways from last night's session.
1. Geothermal Lithium offtake: "Two MoUs for new direct offtake of lithium with lithium geothermal partners in North America and Europe"
This was very interesting - specifically because there aren't many geothermal lithium extraction projects that we know of in Europe besides VUL, and a handful of others at an early stage.
On a quick scan, none of them has announced an MoU with Stellantis yet, but whichever European geothermal Lithium aspirant it turns out to be, this is a HUGE net positive for geothermal lithium extraction projects in general, following on from General motors announcement of the first geothermal lithium offtake in the US last week.
Here is the key sound bite:
Also from Stellantis Press release: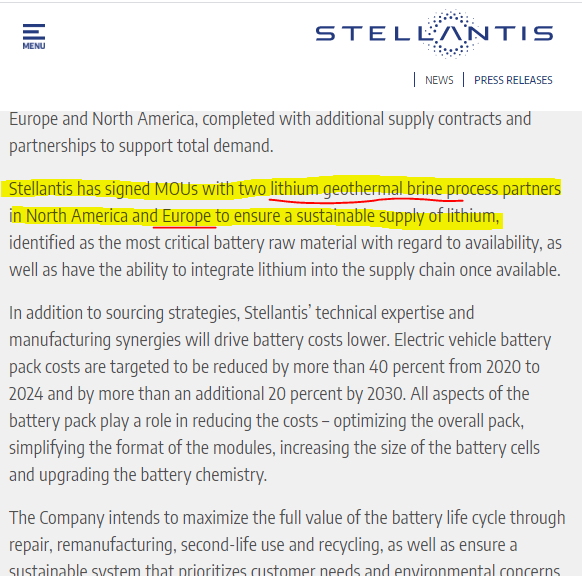 2. Manganese is key ingredient in both future Stallantis batteries
Stellantis' key battery guy talked about the two battery types that will be rolled out by Stellantis across millions of vehicles over the next decade.
Both of the battery cathodes will use manganese (congrats to EMN - they must be very happy with this news):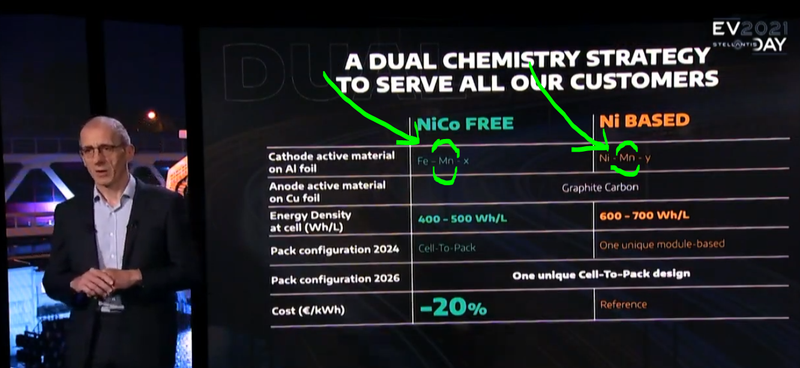 Quick chemistry lesson: Mn is the symbol for Manganese

Here is the key sound bite:
3. 70% of Stellantis sales in Europe to be electric
4. Building five giga factories - three of them in Europe
In conclusion...
Overall there was some great developments for VUL and EMN as the world's fourth largest automaker fast-tracks their conversion to electric vehicles.
The switch to electric cars now seems inevitable as all major car makers follow Tesla's original lead and go electric, which is going to spike demand for key materials like lithium and manganese, especially from sustainable sources like VUL and EMN.
Here's another reminder of key car makers announcements from last the 12 months that impact VUL and EMN:
Tesla Battery Day - September 2020
We sat through hours of compelling presentations by the Tesla team — saving you the hassle of having to, we pulled out the key sound bites from Elon Musk.
The key messages from Elon Musk were:
Tesla is going to be making a lot more electric vehicles (EV) and a lot of batteries... a LOT.
Tesla Gigafactories will now DIRECTLY purchase battery metals like Lithium.
Tesla demands that these battery metals need to be in close proximity to Gigafactories.
A new Gigafactory is being built outside of Berlin, Germany.
The metals that feed battery production need to be sourced without damaging the environment.
Read our full commentary and analysis on Tesla Battery Day here
European Union Climate Policy Announcements - December 2020
We stayed up to 3am to watch the European Union announce key policy changes that would likely increase the battery metal demand in Europe and commented on how this would affect VUL and EMN, including:
New regulations around responsible sourcing of battery metals;
New rules to force EV battery supply chains to be carbon neutral;
New initiatives to accelerate and localise the EV industry in the EU.
Read our full commentary and analysis on EU climate policy impact on EV demand here
Volkswagen Power Day - March 2021
While not as cool as Tesla, German based Volkswagen Group (VW) is by far the biggest automaker in Europe and the biggest in the world, manufacturing over 10 million cars per year.
VW will be standardising on one battery cell type - using lithium and high manganese content.
Six new factories on the European continent - first in Germany and fourth one possibly in the Czech Republic - using 200,000 tonnes lithium per year.
Commitment to sustainable and local supply
Vertical integration - VW will explore investment and partnerships in supply chain
Volkswagen makes WAY more cars than Tesla ... and makes them in Europe too, which is very important for our investments in VUL and EMN.
Read what we think Volkswagens Power Day announcements mean for VUL and EMN
G7 Summit and Volkswagen Announcements - June 2021
VW announced it wants to secure battery metals directly from miners (like VUL and EMN for example)...
We saw a lot of mainstream media about European automakers and their big moves into electric vehicles - we speculated they were timing their key media releases to coincide with the attention on the climate goals of the G7 summit.
And it all bodes well for the two investments in our portfolio we are probably most excited about over the next few months and years....
Read our comments on how the G7 summit impact VUL and EMN here
---