Tesla Unveils Strategic Battery Plans: What This Means for Our Pick of the Year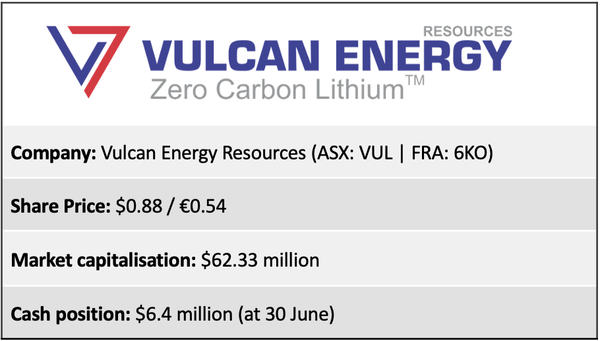 Tesla's Battery Day was held yesterday, a showcase for Elon Musk to show off Tesla's latest battery improvements.
We sat through hours of compelling presentations by the Tesla team — saving you the hassle of having to.
The key messages from Elon Musk were:
Tesla is going to be making a lot more electric vehicles (EV) and a lot of batteries... a LOT.
Tesla Gigafactories will now DIRECTLY purchase battery metals like Lithium.
Tesla demands that these battery metals need to be in close proximity to Gigafactories.
A new Gigafactory is being built outside of Berlin, Germany.
The metals that feed battery production need to sourced without damaging the environment.
These strategic announcements from Tesla couldn't possibly be better for our 2020 Pick of the Year, Vulcan Energy Resources (ASX:VUL | FRA:6KO).
After Elon Musk's announcements today, VUL is now officially in the right place, at the right time, with the right project.
Vulcan aims to develop Europe's biggest Lithium resource using a world first, IP protected "Zero Carbon LithiumTM" extraction process.
Vulcan's lithium project just happens to be roughly 600km from Tesla's soon to be completed Berlin Gigafactory.
In fact, aside from Tesla, we counted no less than 18 battery factories dotted around Vulcan's project in Europe, at a negligible distance for supply chains.
Our 2020 Pick of the Year ticks all of the boxes announced by Tesla today – it's no wonder that German research house Alster has a $2.45 price target for VUL. VUL is currently trading around 88¢ – just a fraction of that.
As well as Alster, we see considerable upside ahead for VUL investors, with a number of share price catalysts ahead in the coming months.
Yesterday, Tesla held their annual shareholder meeting, dubbed "Battery Day".
This is the day that Elon announces key strategies that Tesla (now worth over US$350 billion) will be focusing on over the next decade. Remember, we are playing the long game here – that's how building entirely new industries works and the associated wealth creation works.
So, what did we learn from Tesla's Battery Day, and how does it impact VUL?
Well let's hear it directly from the man himself, Elon Musk...
Tesla is going to be making a lot more electric vehicles (EV) and a lot of batteries... a LOT:
Tesla demands that these battery metals need to be in close proximity to the Gigafactory:
A new Gigafactory is being made in Berlin, Germany:
The battery metals need to extracted without damaging the environment":
Tesla's global lithium demand by 2030 is going to dwarf today's entire global lithium demand: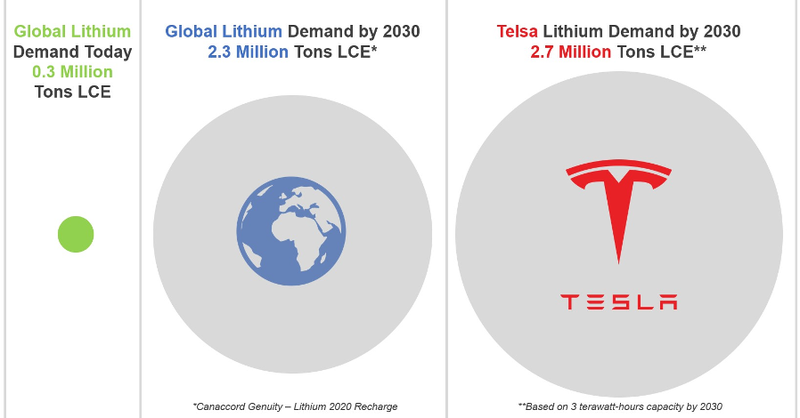 Much of this activity will take place at the company's (now under construction) Gigafactory Berlin-Brandenburg in Germany, which will be the most advanced high-volume electric vehicle production plant in the world.
This will be Tesla's fourth electric car factory, and the most advanced high-volume electric vehicle production plant in the world. Musk may hire four times the staff currently employed at the Fremont in the US, with eight Giga Presses stamping out parts for the Model Y vehicle.
Starting in the European summer of 2021, Tesla plans to produce 500,000 electric vehicles at the Grünheide site in Brandenburg.
This is a strategic move with Musk well aware that Europe is the world's fastest growing lithium-ion battery (LIB) and EV market... and is great news for VUL shareholders.
Europe is the fastest growing lithium market in the world – with zero local supply
The surge in the adoption and manufacture of electric vehicles in Europe is unlike anywhere else. That's because, while customers want to drive clean cars that have a transparent and sustainable supply chain, European automakers are facing harsh penalties on carbon emissions.
While those penalties only target vehicle emissions currently, they will soon apply to EV's and LIBs manufacturing supply chains, including Tesla's batteries, vehicles and Gigafactory.
As reported by the Financial Times, "the EU's over-reliance on imports of critical raw materials threatens to undermine crucial industries and expose the bloc to supply squeezes by China and other resource-rich countries".
Having committed to climate-neutrality by 2050, the EU will need up to 18 times more lithium by 2030 than today, and to 60 times more lithium by 2050.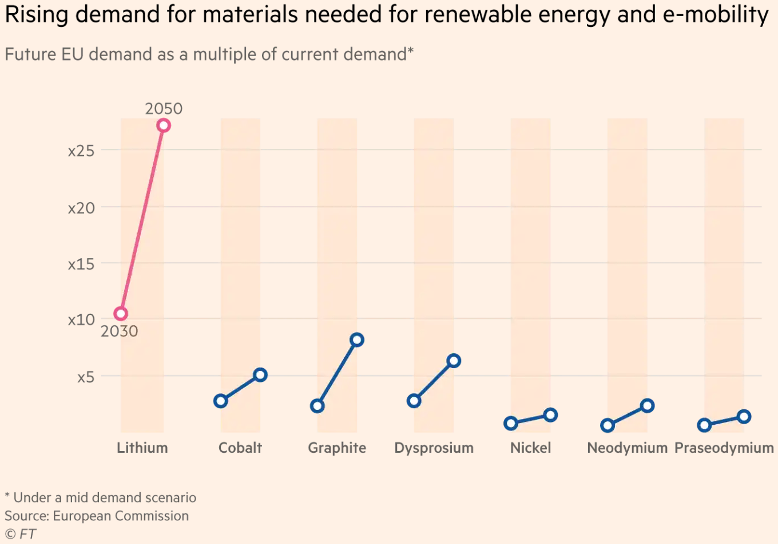 That demand growth, combined with tightening government environmental regulations, points to Europe being in critical need of a secure and sustainable supply of raw materials.
Yet Europe hasn't yet been able to secure its own local supply chain of raw materials to go into each and every battery.
Located in the Germany's Upper Rhine Valley, the heart of the European Battery industry, Vulcan Energy Resources (ASX:VUL |FRA:6KO) aims to become the world's first producer of a premium battery-quality, net Zero Carbon LithiumTM hydroxide product.
VUL plans to co-produce battery-grade lithium hydroxide and renewable, geothermal energy from the same geothermal brine.
Alongside this world first Zero Carbon LithiumTM product, Vulcan also boasts Europe's largest JORC lithium resource — a globally significant 15.37 Mt contained lithium carbonate equivalent (LCE). Of this, 95% is in the Inferred category.
On a global basis, VUL's contained lithium resource dwarves that of companies such as Galaxy Resources (ASX: GXY, capped at over $500M), and Pilbara Minerals Ltd (ASX: PLS, now capped at $767M).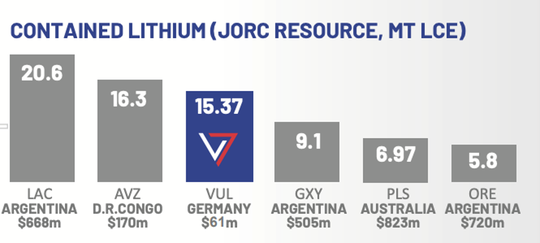 Note: these market caps are correct as of 10 September 2020, and may have moved since
Along with supplying a net zero carbon lithium battery quality lithium product, sourcing VUL's Zero Carbon LithiumTM means automakers can offset CO2 penalties.
The zero carbon, or CO2-neutral, development of Europe's lithium deposits is crucial for a sustainable and strong European battery industry and will bring the EU significantly closer to meeting its 2030 climate goals.
This is an urgent issue. Consider that in the UK, a ban on new fossil fuel vehicles is being brought forward by ten year to 2030, rapidly accelerating the rollout of electric vehicles across Britain.
Vulcan: The Next Small Cap's Pick of the Year
We first added Vulcan to our portfolio in August 2019 and recently doubled the size of our position in anticipation of the upcoming completion of the Pre-Feasibility Study, and the longer term opportunity for VUL to supply Europe with a world first Zero Carbon LithiumTM product.
Vulcan is our 2020 Pick of the Year and is the largest single holding in our investment portfolio.
Given the stature of VUL's project, we are confident of further upside in both the near and long term.
With a successful scoping study under its belt, VUL is working towards completion of its pre-feasibility study by the year's end.
This will be followed by construction of pilot plant, then a DFS in 2021, and bringing Europe's first commercial lithium production to Europe in 2023.
At this point in time, we would expect VUL to be trading at many multiples higher than where it currently is today.
The Next Investors team has three requirements that must be met when investing in companies leveraged to the European electric vehicle (EV) and lithium-ion battery (LIB) industries. It must be the biggest Resource in Europe for that commodity, have a highly ethical and green focus, and have operations in close proximity to Europe's battery and EV hubs.
Meeting these requirements — and also capitalising on the once in a generation shift to electric vehicles — is battery metals developer Euro Manganese Inc. (ASX: EMN | TSX-V: EMN) — that intend to produce battery grade manganese by reprocessing tailings at its Chvaletice Manganese Project (CMP).
EMN has the largest manganese resource in Europe and its location in the Czech Republic positions it right on the doorsteps of multiple battery makers' European factories in world's fastest growing battery and EV market.
We added EMN to our long term portfolio earlier this month and it is already up 200%.
Vulcan Energy Resources (ASX:VUL | FRA: 6KO) — the biggest single holding in our portfolio — also meets all three:
Biggest Resource in Europe for that commodity: Vulcan has Europe's largest lithium resource.
Highly ethical and green focus: Vulcan is targeting production of Zero Carbon Lithium — a world first CO2-negative geothermal and lithium brines operation.
Proximity to Europe's battery and EV hubs: Vulcan is located in Germany's Upper Rhine Valley, at the heart of the European auto and lithium-ion battery manufacturing industry.
VUL has recently bolstered its team with a number of key hires.
VUL recuits lithium expert Vincent Ledoux-Pedailles
As announced on 1 September, lithium industry expert Vincent Ledoux-Pedailles joined VUL as Vice President Business Development based in the company's European offices.
Mr Ledoux-Pedailles was appointed as a Lithium Expert by the European Commission and is a regular speaker at various industry events across the world presenting at chemical, mining, and energy related conferences.
He was previously Executive Director Corporate Strategy at Infinity Lithium Corporation (ASX: INF) where he led the project to become the first to secure EU funding.
Prior to that he worked at IHS Markit where he led the lithium and battery materials research team covering the entire industry's supply chain from raw materials to E-mobility. Earlier in his career, he worked for Talison Lithium in Perth, tracking the lithium industry in China and Europe. He also worked for Roskill, an international metals and minerals research and consulting company.
In the following article, Mr Ledoux-Pedailles explains that "as the world positions for a more sustainable future, mining of lithium will continue to rapidly grow, and so too will investor demand for greener processing practices".
He says, that "Europe is a frontrunner in the decarbonisation and sustainability effort and Vulcan Energy is leading the way".

The recent hire of Mr Ledoux-Pedailles add to Vulcan's impressive team, which has been vastly strengthen this year with numerous expert hires.
These hires are further examples of VUL leveraging the experience of its in-house team and external consultants.
Earlier this year, VUL strengthened its team with the addition to the team of lithium chemistry expert Dr Katharina Gerber; strategic communications and ESG investment expert Ranya Alkadamani; and engineering experts Dr Thomas Aicher and Stefan Trummer.
It also appointed a highly credentialed technical team for the project PFS. The team combines world-class expertise and a proven record of success in lithium plant engineering, direct lithium extraction, geothermal surface and sub-surface engineering, brine chemistry treatment and geological modelling.
I detailed the technical team for the PFS here:

Looking ahead to PFS completion
The completion of the fully funded PFS is not far off, with the DFS to follow ahead of first commercial scale production targeted for 2023 to supply the booming European EV supply chain.
VUL has partnered with EU-backed EIT InnoEnergy to help VUL obtain and fast-track licences, develop relationships with lithium off-takers in Europe's automotive and battery industries, and secure project funding.
The group has also committed to making staged cash investments into Vulcan to accelerate the momentum of Vulcan's Zero Carbon LithiumTM Project and assist in completing the Pre-Feasibility Study (PFS) program.
Additionally, London-based Natural Resources Global Capital Partners Ltd (NRG) will provide strategic and financial advice in connection with the project.
Also accelerating the PFS and pilot plant development is a significantly oversubscribed $4.8 million Placement, that brought in Australian and European institutional investors and was strongly supported by the Environmental, Social, Governance (ESG) sector.
More on Zero Carbon LithiumTM
VUL has developed the world's first and only Zero Carbon LithiumTM process where the co-generation of geothermal energy from production wells will power lithium extraction at zero net carbon.
Unlike current lithium extraction processes, Zero Carbon LithiumTM will incur virtually zero disruption to communities or the environment.
This means no large open pit mines, no large, unsightly and water-hungry evaporation ponds, or process plants running on fossil fuels.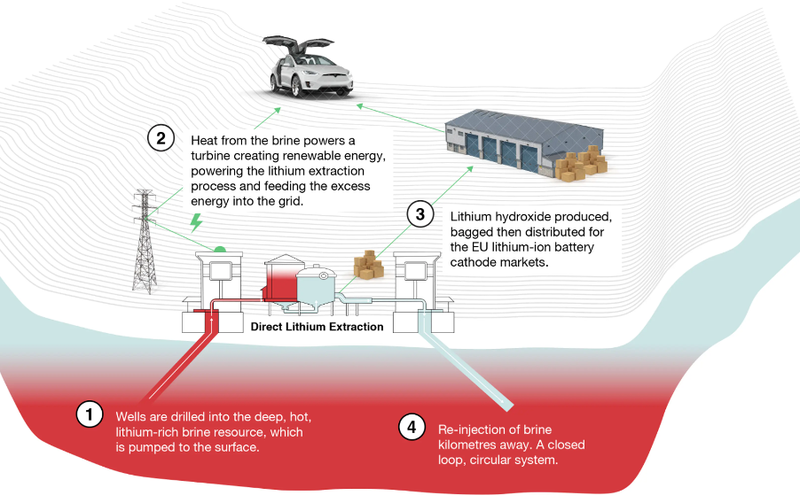 Excellent lithium recoveries from Upper Rhine Valley brine
VUL is well underway in successfully proving that geothermal brines in Europe can be both a major source of lithium hydroxide for batteries, as well as providing the renewable energy to power the extraction process.
This was highlighted in August, when VUL completed initial bench-scale test work on Upper Rhine Valley geothermal brine, using adsorbent-type direct lithium extraction (DLE) technology.
Using real brine at ambient pressure from the Upper Rhine Valley, VUL produced lithium chloride (LiCl) concentrates, to be converted to battery-quality lithium hydroxide, using techniques similar to existing commercial lithium brine projects.
This initial test work campaign was performed on the 10L scale and showed greater than 90% lithium recovery.
From a LiCl concentrate, VUL will be able to use reverse osmosis and mechanical evaporation to increase the concentration of the LiCl using renewable geothermal energy which the project will co-produce alongside lithium chemicals.
From this VUL will produce lithium hydroxide, with a focus on zero CO2 intensity processing and minimal physical footprints.
The results of the testwork will be applied in the upcoming Pre-Feasibility Study.
In tandem with acquisition and interpretation of exploration data, the results will also go towards upgrading confidence categories of Vulcan's JORC lithium resource and will be applied in the upcoming Pre-Feasibility Study.
VUL will carry out further testwork, both at bench-scale, and in a 'live' pilot study, which will include optimisation of controlling parameters such as pressure and brine chemistry.
More on this testwork was reported in my last article, below, and the following finfeed.com article...


It's all falling into place for VUL
VUL has Europe's largest lithium resource, a central position close to EV markets in Germany, lowest CO2 intensity and water usage of all projects, and a proven lithium extraction process.
While Vulcan's share price has increased substantially over the past year — the stock is now up more than 400% for the year, we see plenty of upside potential ahead.
Earlier this year, German research house, Alster Research placed a BUY recommendation and a A$2.45, or €1.45, per share price target on Vulcan.
Alster predicted an "equity valuation of at least US$125 million (A$192M / €110.6M) on the capital markets" when the Pre-Feasibility Study is presented (scheduled for the end of 2020).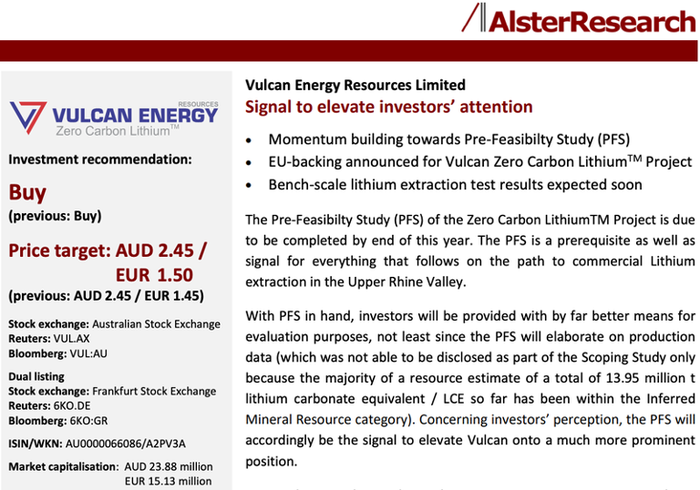 There have since been many encouraging updates on the project and the Vulcan team, including VUL's lithium extraction process having been shown to work at the geothermal brine, and numerous expert additions to the Vulcan team.
We are now looking ahead to the completion of the PFS, that remains on track for the year's end. This will provide a much better understanding of the project's economics and move towards first commercial production.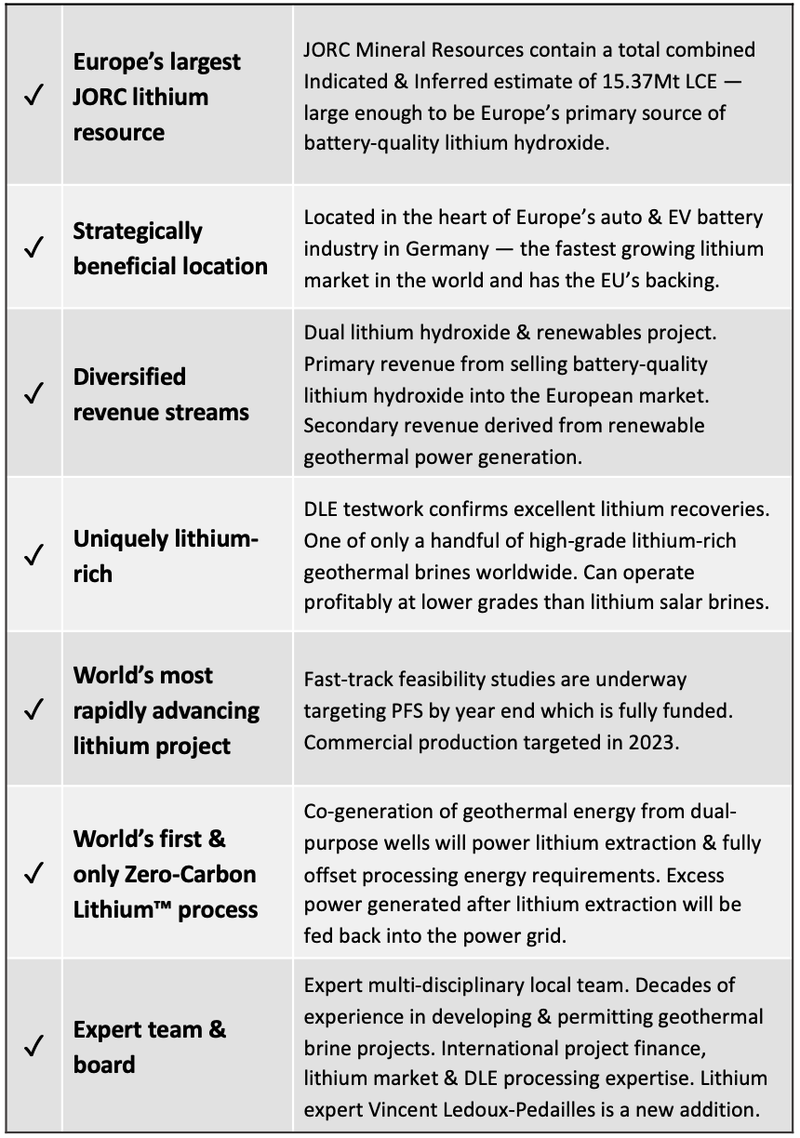 ---