Vul ASX Hits Milestone: Reports 90%+ Lithium Recoveries from Geothermal Brines
Electric vehicles are set to be deployed on a massive scale in the 2020s as we transition away from fossil fuels. This will create a boom in the manufacturing of lithium-ion batteries (LIB), and a rapid increase in demand for battery quality lithium chemicals.
This shift is taking place on a major scale in Germany, at the heart of the world's fastest growing electric vehicle (EV) and LIB industries in Europe.
Located in Germany's Upper Rhine Valley, Vulcan Energy Resources (ASX:VUL | FWB: 6KO) has now reached a major milestone, bringing its goal of supplying Europe with Zero Carbon LithiumTM a step closer.
Testwork at VUL's Upper Rhine Valley project has demonstrated >90% lithium recoveries via its lithium extraction process at its geothermal brines.
This bench-scale Direct Lithium Extraction (DLE) testwork has proved the commercially mature technology's effectiveness for Vulcan's Upper Rhine Valley geothermal brines, significantly de-risking the project.
While confident this would be the case, VUL management is glad to confirm the results after announcing to investors in March that initial laboratory testwork would begin.
Of course, while the findings don't entirely de-risk the project, this is a major step in proving that VUL's geothermal brines can be a major source of lithium hydroxide for Europe's LIB production sector — all while emitting net zero carbon.
This comes as the European Union work on building an environmentally sustainable European LIB supply chain ahead of the anticipated surge in demand for electric vehicles (EV).
The company's first Zero Carbon LithiumTM process extracts battery-grade lithium from geothermal brines, a process which also provides a renewable energy source to power the extraction process.
The zero carbon, or CO2-neutral, development of Europe's lithium deposits is crucial for a sustainable and strong European battery industry and will bring the EU significantly closer to meeting its 2030 climate goals.
Europe has more than adequate regional resources to cover its forecast lithium demand and now that the lithium extraction technology has been shown to work on VUL's brines, Europe is all the more closer to seeing its first local battery grade Zero Carbon LithiumTM supply.
VUL is a company that has Europe's largest lithium resource and the technology to deliver a Zero Carbon LithiumTM product, yet it has a market capitalisation of just $30 million.
We have picked Vulcan as our 2020 top pick of the year, and while the company is still flying under the radar of most ASX investors, this is likely to soon change.
The company is also central to our investment portfolio. We hold a large, long term position in the stock, first becoming shareholders in August 2019 and recently doubling the size of our position in anticipation of the upcoming completion of the Pre-Feasibility Study.
VUL has Europe's largest lithium resource, a central position close to EV markets in Germany, the lowest CO2 intensity and water usage of all projects globally, and now, a lithium extraction process that's now been proven to work on its geothermal brine.
The company is now working on further optimising the lithium extraction process, completing its Pre-Feasibility Study by year end, and bringing Europe's first commercial lithium production to Europe in 2023.

Market Capitalisation: A$30 million
Share Price: A$0.445 / €0.25
Cash: $6.4 million (at 30 June)
Here's what I like about Vulcan Energy Resources: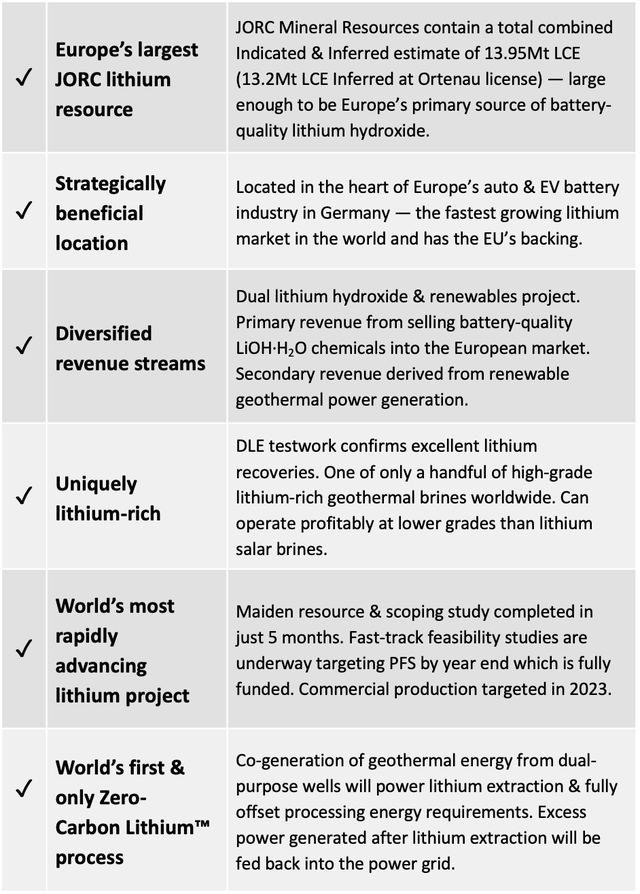 Vulcan is advancing its projects in Germany's Upper Rhine Valley with the aim to become the world's first producer of a premium battery-quality, net Zero Carbon LithiumTM hydroxide product, by co-producing lithium hydroxide and renewable, geothermal energy from the same geothermal brine.
The Vulcan Zero Carbon LithiumTM Project is Europe's largest JORC lithium resource — a globally significant 13.95 Mt contained lithium carbonate equivalent (LCE) at two of its six licences. Of this, 13.2 Mt LCE is in the JORC Inferred category on its 100%-owned Ortenau license.
The lithium product will supply the growing European lithium battery market, linked predominantly to the electric vehicle market.
Excellent lithium recoveries from Upper Rhine Valley brine
Vulcan has now completed successful initial bench-scale test work on Upper Rhine Valley geothermal brine, using adsorbent-type direct lithium extraction (DLE) technology.
Using real brine at ambient pressure from the Upper Rhine Valley, VUL has produced lithium chloride (LiCl) concentrates using techniques similar to other commercial and near-commercial lithium brine projects.
LiCl concentrate is an industry standard product that is commonly used for conversion into battery-quality lithium hydroxide using conventional, off the shelf processes.
This initial test work campaign was performed on the 10L scale and showed greater than 90% lithium recovery.
From a LiCl concentrate, VUL will be able to use reverse osmosis and mechanical evaporation to increase the concentration of the LiCl using renewable geothermal energy which the project will co-produce alongside lithium chemicals.
Different, industry-standard downstream process flowsheets are then available to produce lithium hydroxide for the Vulcan project, with a focus on zero CO2 intensity processing and minimal physical footprints.
Vulcan will use the results of this testwork in its Pre-Feasibility Study. The results will also be used — in tandem with acquisition and interpretation of exploration data — towards upgrading confidence categories of Vulcan's JORC lithium resource.
Further testwork is to be carried out, both at bench-scale, and in a 'live' pilot study, which will include optimisation of controlling parameters such as pressure and brine chemistry.
Vulcan Managing Director, Dr Francis Wedin commented on the results, "With process development we are already working on further optimising the performance of the lithium extraction and will continue to do so throughout our feasibility studies.
"We are successfully proving that geothermal brines in Europe can be both a major source of lithium hydroxide for batteries, as well as providing the renewable energy to power the extraction process. This marks another milestone achieved towards our goal of producing Zero Carbon LithiumTM hydroxide for the European electric vehicle markets."
VUL was able to quickly identify the best DLE technology options for the Upper Rhine Valley brine by leveraging the experiences of its in-house team and external consultants, who have worked on multiple geothermal lithium projects with multiple DLE technologies.
The VUL team has been recently strengthened with a number of new hires bringing impressive expertise to the company, including lithium chemistry expert Dr Katharina Gerber, strategic communications and ESG investment expert Ranya Alkadamani, and engineering experts Dr Thomas Aicher and Stefan Trummer.
It also appointed an international team of expert firms to support the PFS, as detailed in the following article.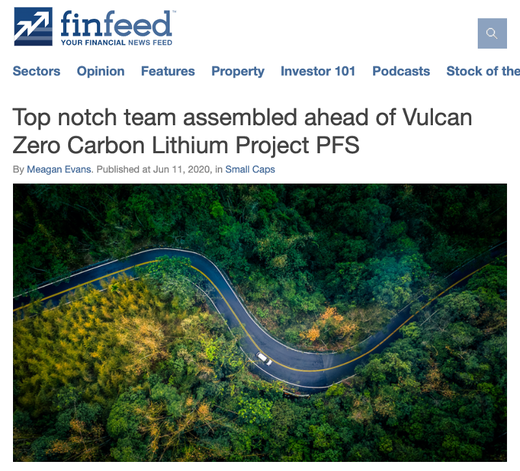 DLE: a proven commercial method
While VUL is the first to bring this technology to Europe and Upper Rhine Valley brines specifically, lithium has been extracted using Direct lithium extraction (DLE) at commercial scale for decades in Argentina.
It has been proven to operate economically by a major lithium producer, but this is not widely known.
DLE is a more preferred, even ethical, way to produce lithium from brines than from evaporation ponds which have negative impacts on water resources.
DLE technologies use physical or chemical selective processes to remove lithium from brines while leaving other components in the brine.
The fact that these projects already exist and produce meaningful quantities of lithium chemicals demonstrates that DLE technologies are commercially mature.
One of these projects, The Fénix Project, is Livent's main source of lithium in Argentina. This project has a long history of stable operation and production of high-quality lithium chemicals.
Zero Carbon Lithium
VUL has developed the world's first and only Zero Carbon LithiumTM process where the co-generation of geothermal energy from production wells will power lithium extraction at zero net carbon.
The CO2 intensity of VUL's project in Germany is in fact the lowest compared to any lithium project worldwide: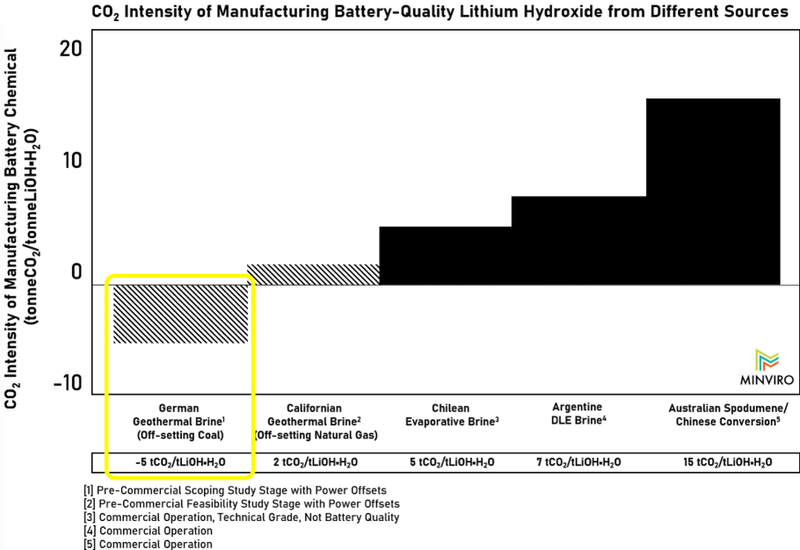 VUL: the lowest carbon footprint of any lithium project in the world
Via an advanced and now proven direct lithium extraction (DLE) process, paired with low-carbon power/heat from geothermal energy production, VUL will extract lithium from geothermal brines to produce premium, battery quality Zero Carbon LithiumTM hydroxide using readily available heat and power.
This is a closed system where brine is reinjected into the reservoir with no evaporation losses: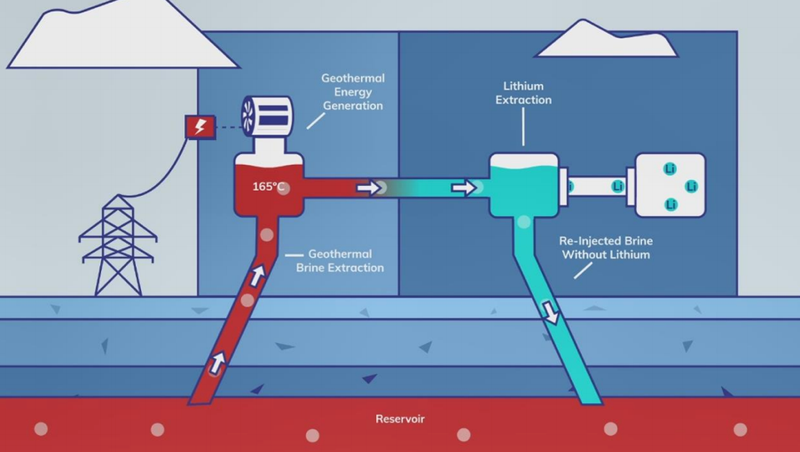 Schematic of Zero Carbon Lithium Process - producing lithium and power from geothermal heat
European EV battery industry
The European Union is working on building an environmentally sustainable European LIB supply chain. It has the fastest growing LIB production sector and the fastest growing demand for lithium globally.
The rapid pace of growth in Europe's EV and LIB markets, supported by government, is a similar to that in China in the 2010s.
In both China and Europe, LIB supply chain activity is underpinned by a large and growing EV market, suggesting that Europe's LIB supply chain may evolve similarly to how China's has.
In China, cathode manufacturers imported lithium chemicals or concentrates for the first decade of their rapid development. Then, as its LIB supply chain matured, Chinese production of lithium chemicals from unconventional domestic brine resources increased.
Europe, via Vulcan, is now embarking on its own domestic natural resource development strategy with a sharp focus on low CO2 emissions and water impact mitigation.
As you can see below, in the ten years between 2019 and 2029, European LIB cell production will see massive growth, with VUL well positioned to capitalise.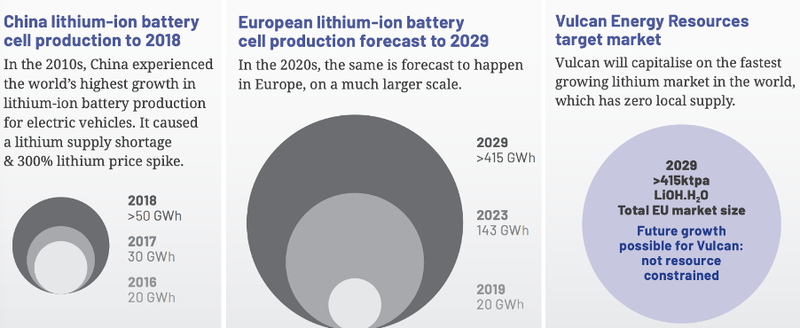 European LIB cell production: the fastest growing lithium market in the world
German lithium-ion battery supply chain
The lithium-ion battery supply can be split in six distinct stages: lithium deposit to concentrate, lithium processing to battery chemical, cathode manufacture, lithium-ion cell manufacture, battery pack and EV manufacturing, and the EV end market.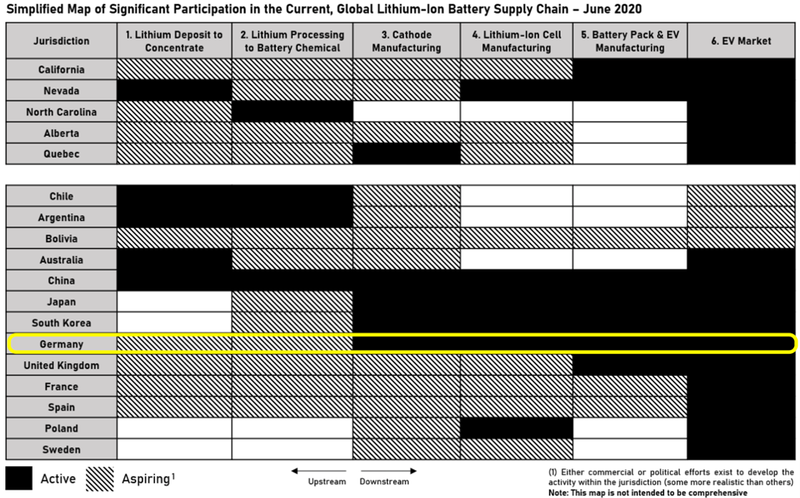 The Payne Institute for Public Policy
Germany is well advanced in the latter stages from cathode manufacture through to the EV market, as seen in the table above.
The Germany government has earmarked €2 billion to encourage the build of new battery factories, while it already has numerous battery factories in operation or under construction to supply the needs of its domestic auto industry.
BASF is building a new factory in Brandenburg, not far from the new Tesla factory, while CATL is constructing its first European factory in Erfurt.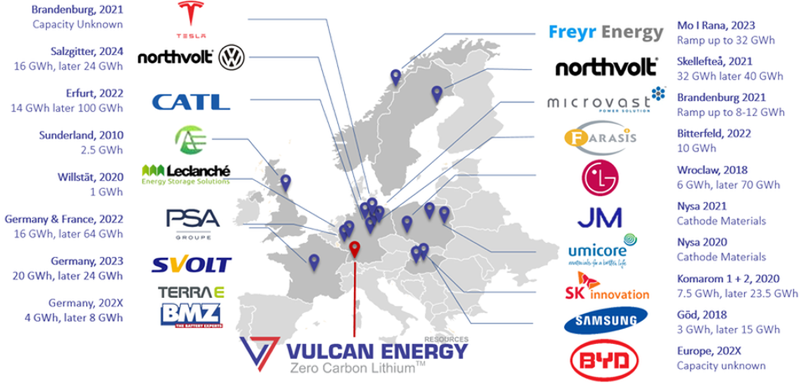 However, Europe currently has no local supply of battery quality lithium hydroxide to meet this growing demand.
Developing a local supply is an important step forward in avoiding supply issues and the environmental and carbon costs of importing lithium from overseas salar-type brines or hard rock sources.
This is where Vulcan steps in.
VUL has Europe's largest lithium resource, a central position close to EV markets in Germany, lowest CO2 intensity and water usage of all projects, and a proven lithium extraction process.
Vertical integration of LIB supply chains
The vertical integration of the LIB supply chain is another trend in the LIB sector that will benefit VUL as LIB and EV production accelerates in Europe.
Tesla's Elon Musk has said for years that he plans to vertically integrate Tesla's supply chain.
In 2014, he offered to purchase a lithium extraction technology company so that Tesla could secure lithium chemicals from California's Salton Sea geothermal lithium brine resource, but the deal was never completed.
There has since been speculation that lithium resources in California and Nevada would be attractive acquisition targets for Tesla in order to supply it Nevada Gigafactory.
Owning a resource and chemical manufacturing plant would allow Tesla — and other manufacturers — to better control its supply chain, while cutting costs of raw materials.
Tesla has now been granted a permit for groundworks to begin on its German Gigafactory facility where construction work is expected to continue until March next year, ahead of the planned production of the Model Y at the plant by July 2021.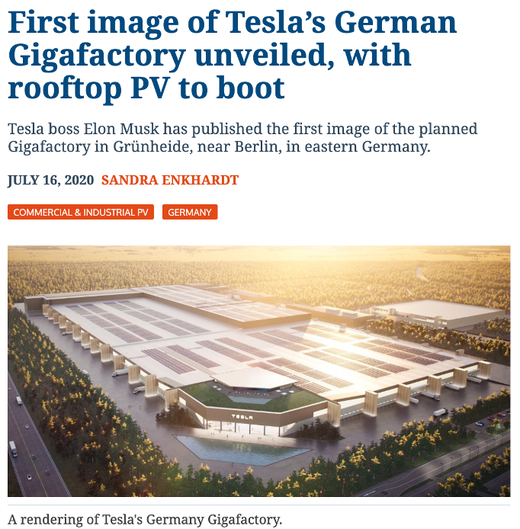 Musk revealed that "there will be local cell production, and that will serve the needs of the Berlin factory". Yet, at this stage, there is no local lithium supply to meet that battery cell production.
Now that VUL has confirmed that lithium concentrate has been successfully produced from Upper Rhine Valley geothermal brine during its bench-scale DLE test, this looks to be the obvious lithium supply solution.
Musk has recognised the potential of DLE technology:
This has a lot of potential. Lithium is pretty much everywhere.

— Elon Musk (@elonmusk) July 27, 2020
And while it's true that "lithium is pretty much everywhere", there are only a handful of high-grade lithium-rich geothermal brines worldwide.
Further, Zero Carbon LithiumTM production is possible using only modern extraction methods and requires a deep geothermal brine reservoir that has renewable heat, high lithium grades, and high brine flow rate.
This can only be done in two places. California's Salton Sea is one. Germany's Upper Rhine Valley — the location of Vulcan — is another.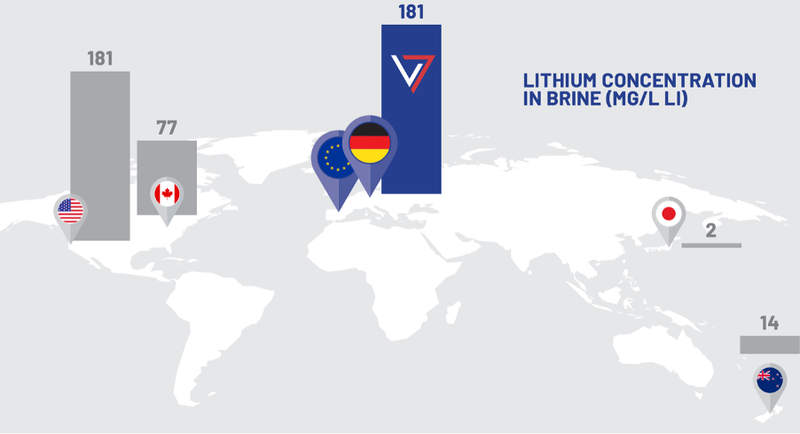 Scientists from Germany's Karlsruhe Institute of Technology say geothermal brine in the Upper Rhine Valley have up to 200 milligrams per litre Li concentration, plus it is lower in impurities than other geothermal brines.
VUL taking steps towards PFS, DFS completion
As announced last week, VUL has appointed London-based Natural Resources Global Capital Partners Limited (NRG) to provide strategic and financial advice in connection with the Vulcan's Zero Carbon LithiumTM Project.
NRG is an independent advisory firm and merchant bank focused on the global metals and energy industries and is led by Julian Vickers, ex-Global Co-Head of Natural Resources Investment Banking for Barclays.
NRG will assist Vulcan with financial advice related to potential future transactions surrounding funding for its Definitive Feasibility Study (DFS) and first commercial lithium hydroxide production plant.
This announcement follows news that VUL has partnered with EU-backed EIT InnoEnergy to help VUL obtain and fast-track licences, develop relationships with lithium off-takers in Europe's automotive and battery industries, and secure project funding.
EIT InnoEnergy is the innovation engine for sustainable energy across the European Union, which includes accelerating innovation and commercialisation along the entire battery value chain.
The group has also committed to making staged cash investments into Vulcan to accelerate the momentum of Vulcan's Zero Carbon LithiumTM Project and assist in completing the Pre-Feasibility Study (PFS) program.
Also helping to accelerate the PFS and pilot plant development is the recently completed, significantly oversubscribed $4.8 million Placement, that brought in Australian and European institutional investors and was strongly supported by the Environmental, Social, Governance (ESG) sector.
PFS on track for year-end completion
Now that VUL has completed bench-scale processing testwork, with positive results, the completion of the fully funded PFS is not far off, with the DFS to follow ahead of first commercial scale production targeted for 2023 to supply the booming European EV supply chain.

Prior to these initial lithium testwork results of >90% Lithium recoveries, German research house, Alster Research placed a BUY recommendation and a A$2.45, or €1.45, per share price target on Vulcan. It assumed an "equity valuation of at least US$125 million (A$192M / €110.6M) on the capital markets" when the Pre-Feasibility Study is presented (scheduled for the end of 2020).
Like Aster, we did a rough calculation of the project economics back in February...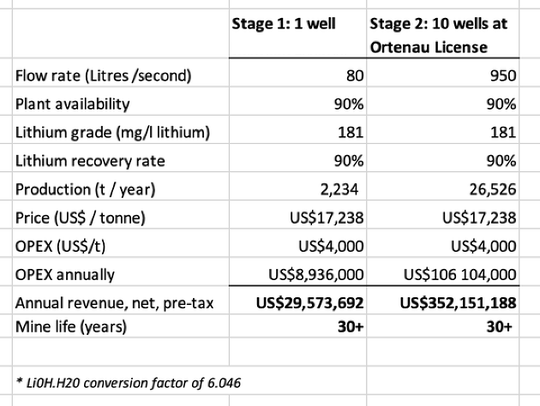 There have since been many encouraging updates on the project and the Vulcan team, including today's major win in demonstrating that VUL's lithium extraction process has been proven to work on at the geothermal brine.
With a market capitalisation of just $30 million, with $6.4 million in cash, there is clearly upside potential on offer here and with every update we come a step closer to realising it.
We're already into August so it won't be long until the PFS is finalised, from which we will gain a much better understanding of the project's economics and move towards first commercial production.
---