EMN Joins an Exclusive Club: EIT InnoEnergy has Entered the Game
This morning one of our portfolio superstars Euro Manganese Inc (ASX:EMN) just announced that European Union government backed entity EIT InnoEnergy will invest €250,000 to fast track EMNs project AND also help EMN secure up to €362M to develop their project.
This is big news for EMN. This is the exact same EU backed group that invested in Vulcan Energy Resources at 51c in May last year.
EMN stands to become the only primary producer of battery grade manganese products in Europe, with the potential to provide up to 50% of projected 2025 European demand for these products, and 28% of its anticipated 2030 requirements.
EIT InnoEnergy's potential funding sources include Europe-wide and regional grant programs as well as European project finance and economic development banks.
EIT InnoEnergy will further assist EMN in securing offtake agreements with consumers of high-purity manganese products, including European electric vehicle, battery and cathode manufacturers.
Aside from our portfolio company EMN, EIT InnoEnergy has previously invested and is supporting rising stars such as:
Vulcan Energy
European Metals Holdings
Infinity Lithium
NorthVolt ( Huge European battery supplier )
A recent example of the support InnoEnergy can provide is where they led the Battchain consortium submission for €1.2BN of Coronavirus Recovery Funds - Infinity lithium is in line for a €256M capital injection if the InnoEnergy led bid is successful.
With these impressive peers it is a massive validation of EMN's project, and the critical need for a local source of manganese in the EU.
We invested multiple times in EMN for the same reason we invested in Vulcan Energy:
The European Union's Green New Deal - which is a multi-trillion euro, once in a hundred years shift to decarbonisation and electrification to make Europe climate neutral by 2050.
High purity manganese is critical to electric vehicles and EMN has the only sizeable manganese resource in the European Union, with the potential to provide up to 50% of projected 2025 European demand - with environmental and social benefits.
Similar to Vulcan's Zero Carbon Lithium project, EMN's high purity Manganese project is:
An environmentally and socially conscious European Electric Vehicle (EV) Battery Metal project.
Located in the heart of Europe near all the car and battery makers.
Has the largest resource in Europe.
[NEW] Has investment and support from EU government backed EIT InnoEnergy.
EIT InnoEnergy is the innovation engine for sustainable energy across the European Union, including accelerating innovation and commercialisation along the entire battery value chain.
It is supported by the European Institute of Innovation and Technology, a body of the EU and is part of the Business Investment Platform of the European Commission's European Battery Alliance initiative.
As long term EMN holders we are delighted that EIT InnoEnergy will invest €250,000 into EMN and help secure up to €362M to develop EMN's project.
EIT InnoEnergy knows all the key players in Europe, including funds, development banks, battery metal offtakers - you name it.
Diego Pavia, CEO of EIT InnoEnergy has this to say about their investment and support of EMN:
"Euro Manganese's proposed development is the only sizeable and economically recoverable manganese resource on the European continent. It represents a unique opportunity for Europe to secure a measure of self-sufficiency in manganese, which is a critical battery raw material."
EIT InnoEnergy also invested in Vulcan at 51c back in May 2020 - that's a pretty good return for them so far with Vulcan trading at around $7 lately (we are long term holders in Vulcan in case you didn't know).
Back in 2020 we picked two stocks to invest in to ride the socially and environmentally responsible EU green new deal (EMN and Vulcan) - you can read about it in our "Up and Coming ASX battery metals Juniors" ebook from last year.
We have been invested in EMN since September 2020 and are holding long term as the EU green deal plays out...
Here is the backstory of our investment in EMN:
September 2020 - Why we invested in EMN
We first invested in EMN in September because of the similarities to Vulcan - here is our comprehensive first analysis on why we invested in EMN Introducing Our Next EU Battery Metals Portfolio Investment – Our Previous Pick is Up 311%.
A few weeks later Musk says "Manganese"
A few weeks later, we were stoked that founder and CEO of Tesla Elon Musk himself used his famous Telsa battery day to announce that managanse will be used to make electric battery cathodes - Tesla's Elon Musk Makes Manganese a Priority: Could EMN Be Front and Centre of EU Supply Chain.
We've even cut out the key video snippet of the video where Elon says manganese - If you are too busy to watch our entire 68 second snippet, fast forward to 48 second mark...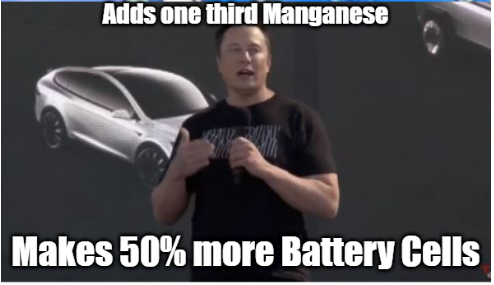 (SPOILER ALERT:) Elon says when referring to making battery production more efficient " It's pretty straightforward to do a cathode that is two thirds nickel, ONE THIRD MANGANESE, which would allow us to make 50% more cell volume, with the same amount of Nickel."
So by adding one third Manganese to a Cathode, Elon reckons battery makers can make 50% more EV Battery cells, using the same amount of Nickel.
Let's take a look at the Nickel price over the last 12 months: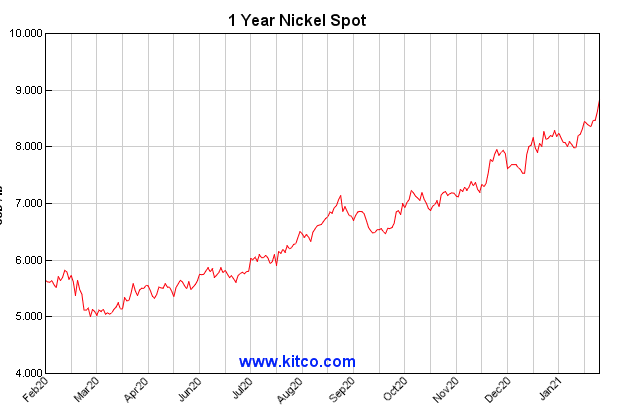 Nickel is up 50% since March 2020 and rising.
Hmmm... probably going to want to add one third managenese to those cathodes there, Elon - otherwise the cost of producing the 20 million Tesla's per year you want to ship by 2030 is going to blow out.
Important to note that Tesla has commenced building a Gigafactory near Berlin... alongside the dozens of other European car makers who are scrambling to go electric and should all be starting to feel the nickel crunch too.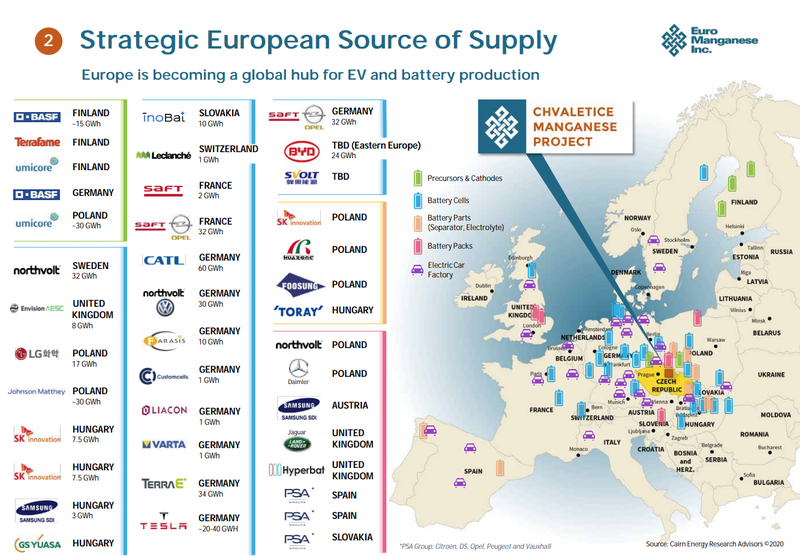 If the nickel price keeps rising, it's logical to assume that all these automakers are going to want to muscle out Musk to mix manganese into their cells.
Who's got the Manganese? In Europe?
EMN does. Here's a quick reminder from EMN's newly announced investors EIT InnoEnergy:
"Euro Manganese's (EMN) proposed development is the only sizeable and economically recoverable manganese resource on the European continent. It represents a unique opportunity for Europe to secure a measure of self-sufficiency in manganese, which is a critical battery raw material." Diego Pavia, CEO of EIT InnoEnergy.
This is a great segway into...
Two months ago - New EU Battery and Electric Vehicle Regulations Leaked.
Back in December we followed a suspected leak of proposed EU regulations that would be a big win for environmentally and socially responsible battery metal suppliers that are located within Europe (like EMN and Vulcan).
We stayed up till 3am to watch the new EU regulations be announced to see if the leak was true... turns out it was.
The EU announced new regulations to unify and harmonise the rules across all EU countries, with the key purpose to reduce the environmental and social footprint of batteries sold in Europe.
The EU's New Battery Regulations will mandate the following:
CO2 footprint transparency requirements.
Sustainable and ethical sourcing will be required.
The EU will seek to achieve self-sufficiency in sustainably produced batteries and battery raw materials.
As regulations tighten up, EV and battery makers are scrambling to secure all important supply chain materials that are in line with the new regulations - EMN's green, European manganese source ticks all the boxes.
You can read our full commentary on the new regulation and how they positively impact EMN.
New EU Regulations to Drive our Second Biggest Holding - EMN
---