Why do small-caps take so long to execute?
Published 08-AUG-2022 09:31 A.M.
Why does everything take so long?
Anyone who has worked in a company OR run a business will know just how long everything takes to do.
Turning anything from concept to reality takes time and hits unexpected hurdles.
And it pretty much always takes longer than first expected.
Even seemingly simple business tasks like launching a new website, creating a new policy, making a new hire or releasing a new product always seem to get delayed.
Making things happen in business isn't easy - the same applies to management teams executing business plans in small cap stocks.
Except small cap stocks are dealing with more significant and uncontrollable delay risks compared to the average business - such as foreign governments, community stakeholders, regulation and capital markets risk.
Whereas a small business run by a sole director can make decisions daily without consultation, small cap CEO's need to consult the board of directors and weigh up every single decision to ensure they are doing what is in the best interest of shareholders.
When investing in a new company, people often expect the management team to quickly and elegantly deliver their key milestones, assuming no problems or delays at all.
...then hope that the share price quickly re-rates to reflect the progress made.
But small caps stocks are generally trying to achieve ambitious objectives, in complex environments, with multiple unaligned external stakeholders.
All under the ticking timer of their cash running out.
Things ARE going to go wrong, timelines will be delayed, and unexpected problems will arise.
Sometimes companies need longer than expected to execute their plans.
This is where short term holders and traders usually get bored and move on to the next stock, and the company's share price moves sideways or trends downwards.
This doesn't mean the management team isn't busy in the background solving problems to progress their plan.
Barring any extreme circumstances, small cap stocks that have been quiet for a while should EVENTUALLY emerge with some long awaited news.
And usually at a point where the share price has been under selling pressure from impatient holders for months or even years.
This week we saw two of our Investments release interesting news after lengthy quiet periods:
Euro Manganese (ASX:EMN) finally released a long awaited Definitive Feasibility Study (DFS) for its sustainable, high purity manganese project in Europe, showing a nearly $2B Net Present Value.
We first Invested in EMN back in 2020 after our success in the European battery metals space with Vulcan Energy Resources.
Vulcan delivered many milestones during the bull market of 2020 and 2021, leading to a sustained material re-rate in its share price.
EMN, however, was slow to deliver material progress during the bull market and sort of "missed the window" after investors became impatient and the share price drifted down... then the broader market corrected this year.
But with a new CEO at the helm since the start of 2022, DFS now released, and positive market sentiment returning, we are looking forward to EMN living up to its potential over the next 12 months and beyond.
After a few quiet months Vonex (ASX:VN8) has announced completion of its final payment related to an acquisition it made back in 2021 - freeing up significant cashflow of around $10M annually for further acquisitions and growth opportunities that could interest the market.
VN8 is a small cap telco that provides cloud-based telecommunication solutions to small and medium enterprises (SME).
VN8's strategy has been to acquire and integrate smaller telco businesses and use cross-selling and economies of scale to generate more revenue.
Mergers and acquisitions are complex, time consuming affairs but VN8's experience just goes to show how "quiet execution mode" can yield results if a business has a sound strategy.
It's a good bit of news after a period which saw the share price slide in a broader market sell off.
Read the full VN8 update here.
Other Investments that we have been waiting for ages to hear from include WHK, EMH, AJX, FYI, IRD and TTM.
Our small cap Investing strategy is to maintain a diverse portfolio with many different holdings in the hope of hitting a couple of outsized winners to offset the losers.
Aside from spreading risk, holding positions in a number of different small cap stocks is also good when a basket of your stocks are in "quiet execution mode" (i.e., generally boring).
With a diversified portfolio of holdings, chances are there will most likely be a few stocks that are on the cusp of delivering long awaited material results and might be interesting in the near term.
Like this list below:
⏲️ Upcoming potential share price catalysts list
Results expected in the near term:
GGE is drilling its maiden helium well in Utah, USA (memo).

IN PROGRESS: GGE has confirmed a new helium discovery and is planning a follow up flow testing program in Q3 2022.
Update: This week, GGE confirmed that the workover rig had been scheduled for the end of this month/early September. Click here for our QT on this news.

PRL signing a Joint Development Agreement (JDA) with partner, Total Eren, to materially de-risk its WA Green Hydrogen Project (memo)

IN PROGRESS: The signing of the JDA with Total Eren. PRL's deadline to sign the JDA is now 10 August 2022.
Update: No progress this week.

IVZ to drill its giant gas prospect in Zimbabwe - we have been waiting two years for this event (memo).

IN PROGRESS: Drilling is now scheduled for August. IVZ says it is considering three separate farm-in offers.
Update: No progress this week.

KNI is drilling its cobalt targets in Norway (memo).

IN PROGRESS: KNI has completed its first cobalt drilling program in Norway, hitting visible cobalt in 7 out of the eight holes at their highest priority target as part of its expanded 11 diamond drillhole campaign.
Update: No progress this week.

BPM has completed drilling at its lead/zinc prospect in the Earaheedy Basin, close to Rumble Resources' recent discovery (memo)

IN PROGRESS: ~3,740m of AC/RC drilling completed along strike from Rumble's discovery. Assays are now pending.
Update: No progress this week.

PFE is drilling its polymetallic (Hellcat) project (memo)

IN PROGRESS: PFE is doing 1,700m of diamond drilling across four EM targets at its Hellcat project targeting base/precious metals.
Update: No progress this week.

LNR is commencing drilling for rare earths along strike from Hastings Technology Metals. (memo)

IN PROGRESS: LNR is still in the process of getting approvals, so we are not sure exactly when drilling will occur. It may be later than most on the above list, but we are keeping an eye on progress.
Update: No progress this week.

[NEW] GAL commenced its latest round of drilling at its Callisto PGE discovery in WA.

IN PROGRESS: We have added this drilling program to our catalyst list because it will be testing for extensions to GAL's discovery to the north. The 10,000m, 50-hole RC drilling program started this week.
SIDE NOTE on GAL:
After taking out the 'High Growth Award' at the Diggers and Dealers conference (previously won by Liontown Resources and Chalice Mining), GAL delivered some more good news, with the latest batch of assays contributing to an increase in the size and scale of the discovery.
Now that GAL has released assays and drill results in multiple directions across a 50m by 50m matrix (not just a straight line to the east of the discovery), we can start to imagine what a 3D model of the sulphide body that sits underground looks like.
Before you look - please remember we are NOT geologists.
Click the image below for our play by play visualisation of the GAL discovery, how it has grown over time, and what we are expecting next: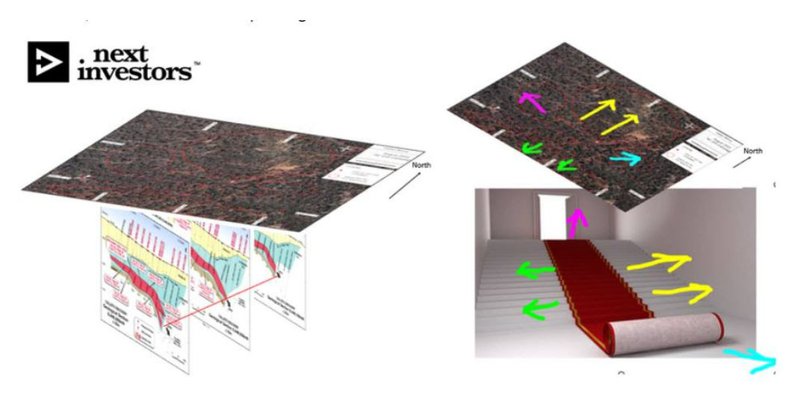 The mineralised system appears to be like a thick "blanket" plunging to the east, and currently, it looks like it could extend in all directions, with the purple arrow to the northwest looking very interesting.
For a detailed explainer of the above image and how this discovery has evolved in recent months, see our internal workings here.
🗣️ Quick Takes
Here are this week's Quick Takes:
88E: 88E's $1.55 billion neighbour strikes oil
EV1: Project development and downstream update webinar
GAL: Further rhodium mineralisation at Callisto
GAL: RC drilling aims to unveil an even larger mineralised system
GGE: Second helium well now planned for Q3-4 2022
GGE: Workover rig scheduled to conduct helium flow test
GGE: CHIPS Bill Almost Signed and Semiconductors Need Helium
IVZ: Invictus Awarded Three Carbon Offset Projects in Zimbabwe
MNB: Russian gas cuts threatening world ammonia & fertiliser supply
NHE: Widespread elevated helium, gradiometry next
PFE: High grade manganese confirmed ahead of first drilling
TMR: $1.05M raised, entitlement offer launched to raise $3.9M
VN8: Greater financial flexibility following final MNF repayment
📰 This week on Next Investors
Galileo Mining (ASX:GAL)
It was a busy week of announcements for Galileo Mining (ASX:GAL), with plenty of newsflow out of the company's Callisto PGE discovery at its Norseman Project in WA.
On Tuesday, GAL outlined its current 50-hole RC drilling program, followed by PGE assay results on Wednesday and rhodium assays on Thursday.
GAL has now commenced its second round of RC drilling at Callisto — a 10,000m, 50-hole program that will test the bounds of the discovery in all directions, targeting known mineralised zones while trying to extend the deposit to the north where the deposit could extend over a ~1km strike.
Wednesday's latest batch of assays have contributed to an increase in the size and scale of the discovery —our key takeaways were:
GAL's discovery continues to get bigger - with drilling at the fringes of the discovery consistently delivering thick, high grade assays.
Mineralisation to the northwest is getting shallower - this is an early sign that the deposit may be getting closer to the surface, which would make it a lot easier to mine if developed.
Discovery is open in all directions - with all drilling completed to date hitting mineralisation.
The discovery currently sits over a ~300m x 200m grid, with drilling towards the northern section continuing to hit PGE grades greater than 1g/t PGE and mineralisation coming closer to the surface.
📰 Read our GAL Note from Wednesday, which covers the PGE assays and upcoming drilling program:GAL's discovery drilling timeline, visualising the sulphide body and what's next
The rhodium assays on Thursday returned consistent rhodium grades over the previously reported mineralised intervals. With rhodium trading at ~US$14,700 per ounce, even a small amount of rhodium could add a lot of value to the discovery.
📰You can read more on the rhodium assays in our Quick Take here.
Euro Manganese (ASX:EMN)
Our European battery metals Investment Euro Manganese (ASX:EMN) released its long awaited Definitive Feasibility Study (DFS) last week, giving us an in-depth look at the metrics behind the company's high purity manganese project in the Czech Republic.
To give you a sense of the scale of the project, its after-tax Net Present Value (NPV) sits at US$1.34B ($1.92B) — more than 16 times EMN's current market cap (~$118M).
EMN's progress over the last two years has been a stop-start affair, with a lack of consistent newsflow, difficulties with Demonstration Plant procurement, and a change of leadership all playing a role.
EMN's financial metrics are now out in the market, AND its new CEO is eight months into the role.
This should help the company pick up the pace in the coming months, which is great timing with positive sentiment now seeping back into the market.
📰Read our full Note: EMN DFS delivers US$1.34 billion post-tax Net Present Value
Our telco Investment Vonex Ltd (ASX:VN8) is following the well trodden telco growth pathway of Acquire → Integrate → Achieve Economies of Scale.
This week we drew comparisons between VN8 and another Aussie telco, Uniti Group. Uniti grew from a $32M small cap at its 2019 IPO into a $3.6BN takeover in just three years.
It followed a similar strategy to that which VN8 is now walking — growing in value by acquiring smaller players. And just like Uniti Group, we could see VN8's growth path leading to it being acquired by a bigger player, ideally at many multiples of its current $25M market cap.
VN8 provides cloud-based telecommunication solutions to Australian small and medium enterprises. Over the past 24 months, it has been acquiring and integrating smaller telco businesses and using cross-selling and economies of scale to generate more revenue.
VN8's latest quarterly report revealed it has already grown its revenues 81% year-on-year and recorded its second straight quarter of record revenues via its acquisition strategy.
VN8 also announced this week that it had made its final $833,000 monthly payment related to its acquisition of MNF's Direct Business in July 2021 — unlocking significant cash flow going forward, to the tune of about $10M per annum.📰Read our full Note: VN8 following the telco playbook for growth.
---