GAL's discovery drilling timeline, visualising the sulphide body and what's next
Disclosure: S3 Consortium Pty Ltd (the Company) and Associated Entities own 2,161,544 GAL shares and the Company's staff own 14,000 GAL shares at the time of publication. S3 Consortium Pty Ltd has been engaged by GAL to share our commentary and opinion on the progress of our Investment in GAL over time.
It feels like yesterday when our long term exploration Investment Galileo Mining (ASX:GAL) hit its first discovery intercept at its shiny new Callisto PGE discovery.
Today, GAL delivered some more good news with the latest batch of assays contributing to an increase in the size and scale of the discovery.
Now that GAL has released assays and drill results in multiple directions across a 50m by 50m matrix (not just a straight line to the east of the discovery), we can start to imagine what a 3D model of the sulphide body that sits under ground looks like.
Before you look - please remember we are NOT geologists.
Click the image below for our play by play visualisation of the GAL discovery, how it has grown over time, and what we are expecting next: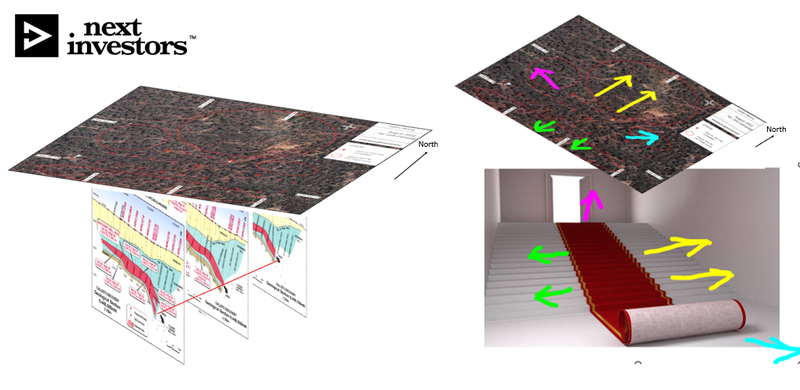 The mineralised system appears to be like a thick "blanket" that is plunging to the east, and currently it looks like it could extend in all directions, with the purple arrow to the north west looking very interesting.
For a detailed explainer of the above image and how this discovery has evolved in recent months, see our internal workings here.
Our three key takeaways from today's news is as follows:
GAL's discovery continues to get bigger - with drilling at the fringes of the discovery consistently delivering thick, high grade assays.
Mineralisation to the northwest is getting shallower - this is an early sign that the deposit may be getting closer to the surface, which would make it a lot easier to mine if developed.
Discovery is open in all directions - with all drilling completed to date hitting mineralisation.
All positive signs, especially given GAL's discovery sits on over 5km of prospective strike, where GAL can keep drilling into and continue to increase the size of its discovery.
On that front, GAL also confirmed that it has already started a 10,000m RC drilling program looking to target an initial ~1km extension to the discovery to the north.
GAL knows from regional magnetics and outcrop mapping that the ultramafic host rock continues to the north for over 5 kilometres. What we don't know yet is how far the mineralisation extends within the host rock, as the discovery does not outcrop.
According to the drill plan, it looks like GAL's 10,000m drilling is going to test the discovery in all directions (shown by the red circles in the plan on the maps above), including some drilling further away to see if the blanket actually extends much more than first thought.
With GAL making quick progress with its new discovery, we also noticed that the company received a 'High Growth Award' from the Deloitte WA Index Awards at the Diggers and Dealers conference in Kalgoorlie this week:
This follows last year's winners Liontown Resources (capped at $2.9 billion) and Chalice Mining (capped at $1.8 billion).
With GAL still trading at a fraction of the market cap of those companies (GAL is currently capped at $222M), we are hoping that Deloitte has picked another winner here and there is continued upside in GAL as it keeps expanding the size of its discovery.
The market reaction to the discovery in May was to take GAL's share price from ~18.5c per share to a high of just under $2 per share.
In order to extensively drill out the Castillo discovery and prove up its value, GAL locked away a $20.4M capital raise at $1.20 per share in July.
Since the discovery was made, we have seen mining exploration billionaire and GAL's biggest individual shareholder Mark Creasy top up his shareholding with ~$10.3M in share purchases both on market and via the placement.
He now holds 26.21% of the company, far above GAL's second biggest shareholder, ASX listed mining major IGO Ltd (capped at $8.2 billion) which holds ~8.4%.
Together GAL's two biggest shareholders hold ~34.61% of the company's shares on issue.
This means GAL's free float is limited, so if the company delivers excellent news (like we saw in May), there aren't many shares to go around for would-be buyers.
GAL still has assays pending from the last round of drilling, along with analysis ongoing to pick up rhodium content in the assays returned to date.
With rhodium fetching US$14,700 per ounce, any sniffs of rhodium mineralisation would enhance the value of GAL's discovery significantly.
With more drilling underway and assays to come, we are backing MD Brad Underwood and his team to try and replicate the previous success he had when working with the Creasy Group. One of those being the discovery and eventual sale of the Silver Knight nickel discovery in the Fraser Range to IGO.

More on today's news
Here are our key takeaways from today's announcement:
GAL's discovery continues to get bigger - With intercept thickness and PGE grades staying consistently above or around 1g/t PGE, GAL is continuing to prove out its discovery over what could be a ~5km prospective strike zone.
Mineralisation to the northwest is getting shallower - Drillholes 285 and 287 both intercepted PGE's from shallow depths of ~110m and show that the deposit may in fact, continue at these depths to the north. The shallow nature of the mineralisation found here is an early sign that the deposit could lend itself to a cheap open pit mining operation.
Discovery is open in all directions - After today's results, the discovery sits over a ~300m strike to the south and ~200m to the north, and more importantly, the intercepts are continuing to hit PGEs as GAL does more extensional drilling.
Let's unpack in more detail each of our key takeaways.
1- GAL's discovery continues to get bigger
Today's results confirmed a theme of continuing consistent mineralisation as GAL drills on the fringes of its discovery.
GAL's discovery intercept returned 33m @ 2.05g/t PGEs.
Today's results are showing continuity to the discovery with intercepts ranging between ~18m and 29m all with grades higher than ~1.2g/t PGEs.
GAL's discovery sits on over 5km of prospective strike, meaning the deposit could continue to get bigger the more GAL drills.
2 - Mineralisation to the northwest is getting shallower.
GAL's results from drillholes 285 and 287 to the northwest of its known mineralised zone both returned 25m-28m at ~1.2g/t PGE's.
More importantly, the mineralisation started from depths as shallow as ~118m and could be a sign that the deposit continues to extend in the north west in a shallow way.
The significance of the shallow depths is that when the time comes to mine the project, it can be mined with a low strip ratio which would improve the overall project economics.
In other words, this could end up being an open pit mine, which makes everything easier and cheaper.
3 - GAL's discovery is "open" in all directions
After today's results, GAL knows that its deposit extends over ~300m at its most southern point and by ~200m at its most northern point.
Most of the drilling to date has been targeting extensions to the deposit to the east and west where GAL has managed to prove out the current 200m-300m extensions.
This is the underlying reason for why we think the next round of drilling is so important.
WIth drilling primarily testing for extensions to the north, GAL will be looking to extend the deposit over its ~5km prospective strike zone, targeting an initial ~1km strike to the north.
Looking at 2D maps can get a bit confusing sometimes so trying to visualise what's happening is really important.
At this point is worth taking another look at our team's representation of where GAL is and what they are trying to achieve.
For a detailed explainer of the below image and how this discovery has evolved in recent months, see our internal workings here.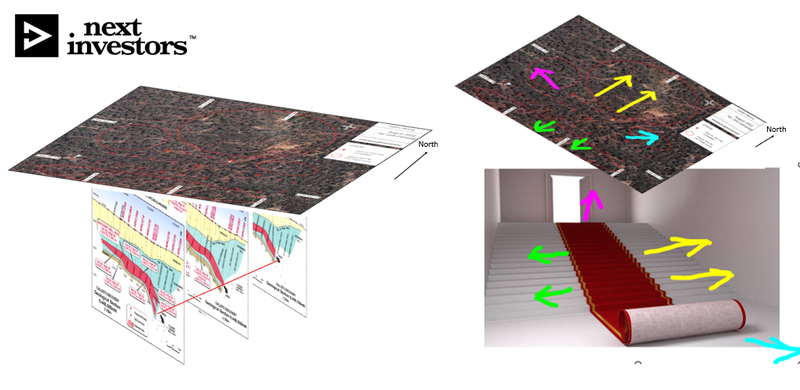 What's next?
10,000m RC drilling program 🔄
With $26.4M in cash in the bank at 21 July 2022 (following the recent capital raise), GAL is now pushing down hard on the drilling accelerator.
Yesterday GAL announced that a 10,000m RC drilling program is underway at the Callisto discovery.
As we flagged above, GAL's primary objective for the drilling program will be to target the known mineralised zones whilst trying to extend the deposit to the north where the deposit could extend over a ~1km strike.
At the moment, the discovery sits over a ~300m x 200m with drilling towards the northern section (NRC 289,285,290,291) continuing to hit PGE grades greater than 1g/t PGE and with mineralisation coming closer to the surface.
In fact, the mineralisation from the latest drillholes NRC 285 and NRC 287 are some of the shallowest intercepts made at the project to date.
As we noted above, the significance of this is that the shallower the mineralisation, the more likely an economic open-pit mine can be developed.
So if this deposit gets to production, it means GAL (or an eventual miner) can spend far less time stripping away waste rock, operating the project through an open pit mine and getting to the valuable minerals a lot quicker.
The 10,000m RC drilling program will be looking to extend the deposit to the north for up to ~1km.
A great outcome for GAL will be for the drilling to show consistent PGE grades and for the intercepts to get thicker as it extends north.
Remaining four assays from the last drilling program 🔄
We are still waiting on the final batch of assay results from the last four drillholes completed during the last round of RC drilling at the Callisto discovery.
We expect this to be the next bit of newsflow for GAL, with the assays being the precursor to the current drilling program.
Analysis to confirm rhodium content on the latest batch of drill results 🔄
Today, GAL put out the assay results from eight different drillholes completed with the last drilling program at the Callisto discovery.
In today's announcement, GAL confirmed that all of the assays reported today are now being analysed for rhodium content.
This comes after the first batch of assays from GAL's discovery returned rhodium grades of up to 0.094 g/t with average values across ~30m intervals of 0.05 g/t.
Even though it may seem like a low grade to be reporting on, the significance of rhodium content comes from its price.
With rhodium trading at ~US$14,700 per ounce, even a small amount of rhodium can add a lot of value to any new discovery.
We look forward to seeing how much rhodium could be in this deposit.
Stroll down memory lane for GAL's discovery
We Initially Invested in GAL at 24.7c per share and Initiated Coverage on the story in March 2020, near the market lows of that year.
One of the main reasons we liked GAL's prospects was the then 31% shareholding that mining billionaire Mark Creasy had in GAL.
However, after the Fraser Range results came through - the focus started to shift in May 2021 to palladium, with GAL announcing they had multiple drill ready targets over 15kms of prospective strike at Norseman.
August 2021 - GAL reveals very promising soil sampling results from Norseman with up to 0.81 g/t palladium, while almost 10% of the samples analysed were greater than 0.1 g/t.
Early November - after these promising results, GAL launched a six week 10,000m, aircore (AC) drilling programme on five targets. Needless to say, we were enthusiastic about a potential palladium discovery at Norseman.
Early March - Western sanctions on Russian exports pushed the palladium price up to an all time high of ~US$3,000 per ounce.
Also in March -assays came back from the AC drilling with results of:
12 metres @ 0.13% nickel, 0.01% cobalt and 0.12 g/t palladium from 8m
5 metres @ 0.15% nickel, 0.02% cobalt and 0.11 g/t palladium from 24m
April 2022 - GAL announces a 1,600m RC drilling program with assay results due in May.
Right on cue, on 4 May, GAL announced that all six RC drillholes on GAL's 'Mine Lease' prospect hit disseminated copper and nickel sulphides.
Regarding the imminent assays, we said we were looking for "1 g/tonne palladium to deem this an excellent result, as the palladium grades will be the driver of economic value here."
11 May 2022 - GAL's big palladium story began to unfold properly, and a new discovery was confirmed.
The assays were better than we hoped.
GAL returned a discovery intercept measuring 33 metres at 2.00 g/t PGE, which included a higher grade interval of 6m at 2.69g/t PGE and 1m grading 3.21g/t PGE.
Prior to the discovery, GAL was trading at ~18.5 cents and over the following weeks, the share price hit an all time high of just under $2 per share.
From there, the good results continued to flow - more sulphides in every hole.
GAL then moved to capitalise on the share price run, raising funds to continue to prove out its new discovery.
In our latest coverage, we noted that Mark Creasy increased his position in GAL in a $20M cap raise - we also increased our Position.
So there you have it - a detailed history of our position in GAL and this evolving palladium story.
Our GAL Investment Memo
Back in February of 2022 we put together our GAL Investment Memo - in that you'll find:
Key objectives for GAL in 2022
Why we continue to hold GAL
What the key risks to our investment thesis are
Our investment plan
The ultimate purpose of the memo is to track the progress of our portfolio companies using our Investment Memo as a benchmark, throughout 2022.
---