GAL hits sulphides, assays pending, what's to the east?
Disclosure: The authors of this article and owners of Next Investors, S3 Consortium Pty Ltd, and associated entities, own 1,935,000 GAL and the Company's staff own 14,000 GAL shares at the time of publication. S3 Consortium Pty Ltd has been engaged by GAL to share our commentary and opinion on the progress of our investment in GAL over time.
Today Galileo Mining (ASX:GAL) delivered promising preliminary results from its recent Nickel-Copper-Palladium RC drilling campaign.
There's all the hallmarks of a potential new WA palladium discovery here - sulphides are open in all directions and are getting thicker in one direction - but we won't know for sure until assay results come back in about 3 weeks.
All six RC drillholes on GAL's 'Mine Lease' prospect hit disseminated copper and nickel sulphides.
The next step will be finding out the palladium grades hit via assay results.
The copper and nickel intersects reported today were detected via analysis of portable XRF readings - a portable XRF device is a hand held device which gives you a quick early reading on whether there are minerals in a drill core while out on site. XRF readings are just a guide and assays are the proof.
The nickel and copper looks promising, and generally if we see copper, we can reasonably expect to get some palladium.
While nickel and copper have received the bulk of attention in the commodities supercycle, palladium is also worthy of attention as it is a green metal.
Palladium is crucial for reducing emissions from standard petrol cars, and hit an all time high in March of this year.
So while on site reading of copper and nickel are encouraging early signs, the true test on whether GAL has an economic discovery on its hands here will be the palladium grades we get back from the lab.
The lab assay results are where we will get a look at grades and widths of the metals intersected.
Ideally we are looking for assay results of around 1 g/tonne palladium to deem this an excellent result, as the palladium grades will be the driver of economic value here.
The first assay results are due in about 3 weeks time for the priority hole - and then more to come in the weeks after that.
GAL isn't waiting around for too long after the assay results though, today confirming it plans to drill another 2,000m worth of follow up drilling in the direction where the sulphides are increasing to the east.
Exact drilling locations will be determined with the help of the incoming assay results.
In this context, it's important to note that today's results seem to indicate that the mineralisation improves as it moves to the east of these initial six drillholes.
And what's more, the current mineralisation is on grounds for which GAL has a Mining Lease.
A Mining Lease is formal regulatory status for a tenement which effectively shortens the period between a discovery being made and actual mining operations commencing on the project.
So if GAL can make an economic discovery on its Mining Lease, it will be able to skip years of regulatory hurdles and expedite getting into production.
As long-term holders of GAL we like today's results, and are eager to see what those assays and the follow up campaign will throw up.
We think GAL is well-funded to do this as it has $8.1M in cash as of 31 March of this year. This is enough cash to deploy on multiple drilling campaigns, any one of which could result in a significant re-rate off the back of a new metals discovery.
Today's note is focussed on Key Objective #3 and Key Objective #4 from our GAL Investment Memo which can be found by clicking on the image below: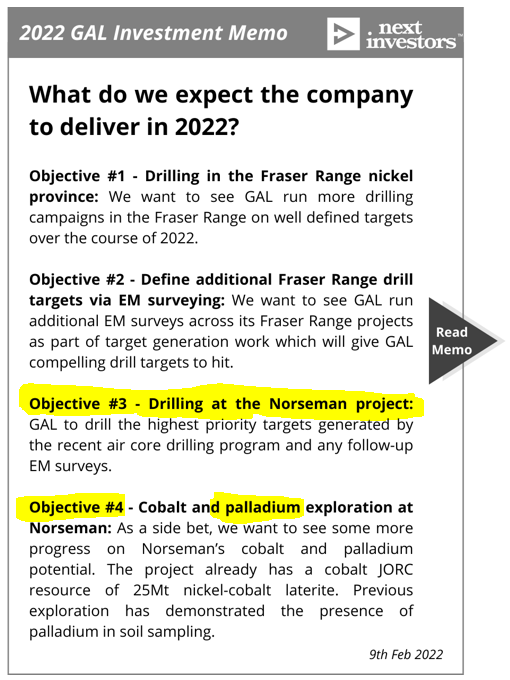 More on today's announcement
In our last GAL note we mentioned that the drilling program at its Norseman project would be focused on two key areas - the "Mine Lease Prospect" and the "Jimerblana Prospect" - the stars on the map below: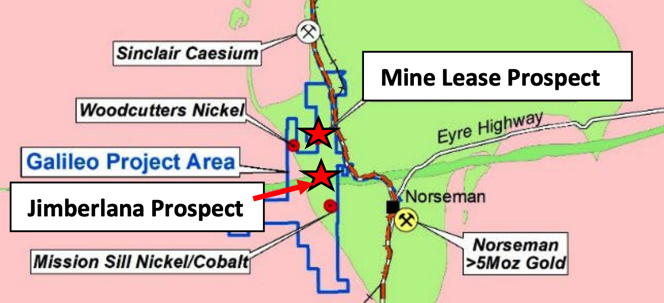 "Mining Lease" Prospect
The FIRST of these drill targets were around the previously discovered sulphide intercepts made just beneath the already established 25.1mt cobalt/nickel resource at the "Mt Thirsty prospect" - which has now been re-named the "Mine Lease" Prospect.
We suspect that the change in name comes from the fact that this prospect sits over GAL's only current mining lease at its Norseman project.
The advantages of this being that in the event a successful discovery is made, GAL can move the deposit straight into production, skipping the years of regulatory approvals work required to get to 'mining lease' status.
In case it comes up at a Pub Quiz night, the "M" in a licence name indicates it is a Mining Lease.

GAL's primary aim at the Mine Lease prospect was to target sulphide extensions to a relatively well understood prospect.
The bulk of GAL's current 25.1mt @ 0.11% Cobalt, 0.49% Nickel JORC resource sits right on top of these sulphide intercepts in the yellow "laterite" section of the image below.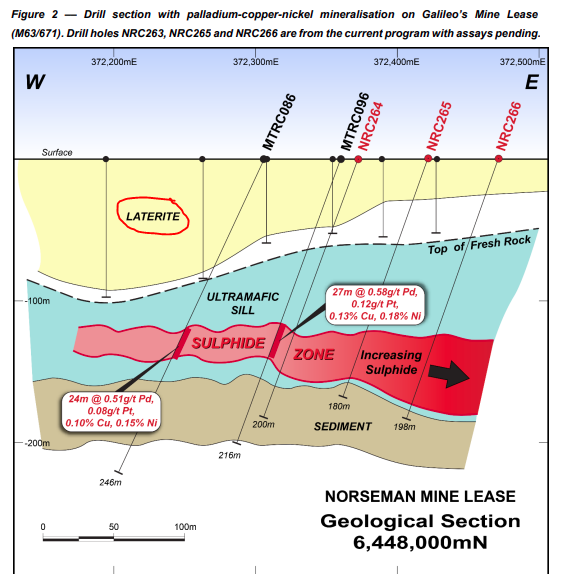 More interestingly though, beneath the JORC resource defined in previous drilling programs, GAL hit sulphides that contained palladium-nickel-copper and seemed to be increasing in grades towards the east.
The two highlight intercepts from previous drilling are the two shown in the image above, 24-27m with palladium grades >0.5g/t and copper/nickel grades above 0.1%.
Effectively GAL already had a relatively decent understanding of the area being drilled, and the current drilling program was more about targeting extensions to the east of the known mineralisation.
The goal was to test whether or not the structure gets bigger along strike and whether or not the grades increase enough for this prospect to be confirmed as an economically viable discovery.
Following 6 drillholes for a total of ~ 1,142m of drilling, GAL has now confirmed that the sulphide structure extends along strike and there are indications that the structure is getting larger.
In particular drillhole NRC266 which was drilled furthest to the east made the thickest sulphide intercepts to date along this structure measuring ~30 metres: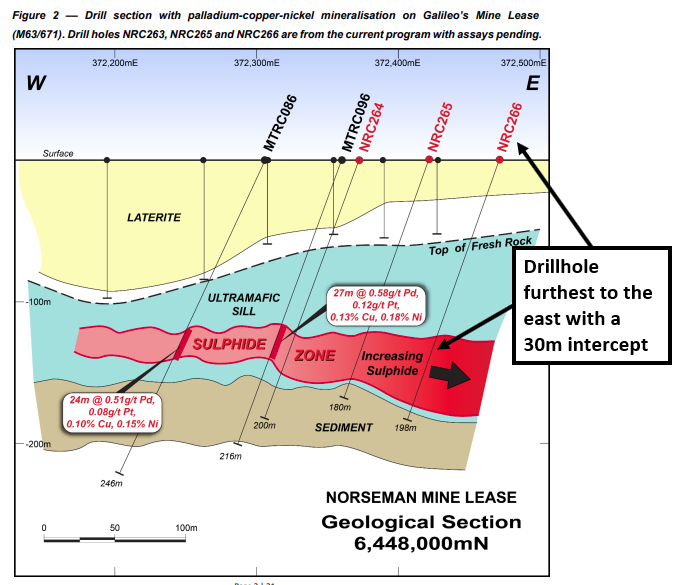 GAL has effectively proven that the sulphide structure does in fact extend along strike to the east.
All that is left now is for GAL to prove the second part of its theory that grades are also improving as the structure gets bigger to the east.
Here you can see the plan view of the drilling locations - the sulphide content increases to the east - and that 'Target Zone' is where we expect GAL will be drilling next: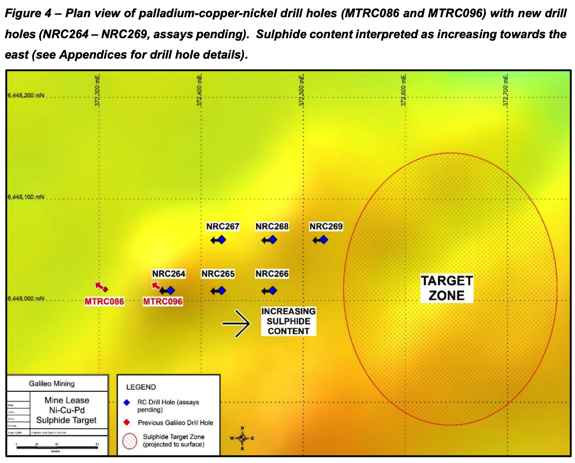 GAL confirmed in today's announcement that the assays from NRC266 (the thickest intercept) would be prioritised and is expected to come back in ~3 weeks, whereas all the other assays would take up to 8 weeks to come back from the labs.
Following the results of these assays, GAL has also confirmed it will go back in for another ~2,000m RC drilling program to try and further increase the deposit size.
To summarise:
The sulphide intercepts measuring up to ~30m now prove that the mineralised structure does in fact extend along strike to the east.
The significance of this being that GAL can quickly follow this up with more drilling to establish a JORC resource and depending on grades, put it into production because it all sits on an already granted mining lease.
The next step towards proving that a commercial discovery has been made will be determined by the assay results which are expected over the coming 3-8 weeks.
"Jimberlana" prospect
The SECOND area of drilling was at the recently identified "Jimberlana" prospect.
This is where GAL previously clipped the top of a massive sulphide structure during an aircore drilling program, and then found two overlapping EM conductors with some downhole EM surveys.
Here GAL was doing follow up drilling to try and see whether or not an RC rig could penetrate into the massive sulphide structure where GAL had returned an assay result of 1m at 0.24% nickel, 0.35% copper, 0.04% cobalt, and 0.25 g/t palladium.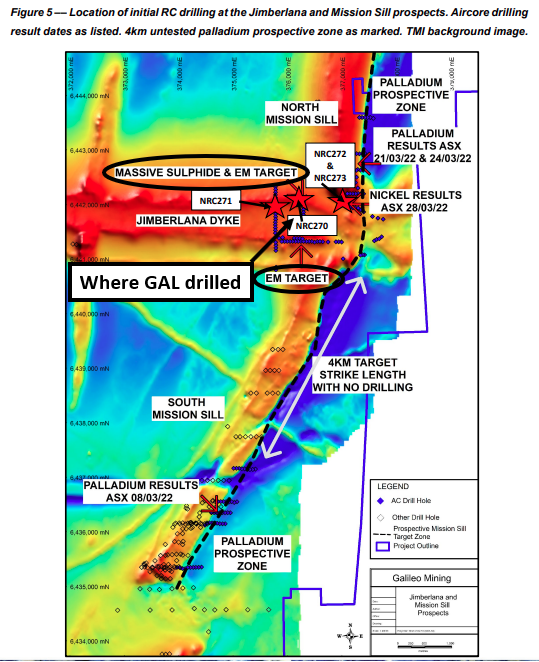 The significance of a continuation to the massive sulphide structure here would have been that this discovery would have been a completely new one.
Today GAL confirmed that after running ~426m of drilling across four holes in and around the Jimberlana/Mission Sill prospects, the company had managed to intersect a 60 metres of disseminated sulphides.
Unfortunately, GAL also confirmed that the portable XRF gun readings did not indicate any significant nickel or copper through this intercept.
GAL also confirmed that drillhole "NRC270", which was drilled to try and replicate that previous aircore intercept, couldn't explain where that previous massive sulphide intercept came from.
GAL mentioned in the announcement that this may have been as a result of the direction that the drilling rig was facing and that more downhole EM surveys would be run to see if there is merit in drilling these prospects again.
Although we would have liked to see some more massive sulphide intercepts and the announcement of a new discovery by GAL, we think that if the company can re analyse the data from this drilling program and fine tune a drilling plan we would want to see the company take another crack at these prospects.
What's next for GAL at the Norseman project?
Assay results from the current round of drilling 🔄
We are particularly interested in seeing the assay result for the NRC266 drillhole which was drilled to the far east of the sulphide structure at the "Mine Lease" prospect.
With that particular drillhole intersecting ~30m of sulphides, GAL has proven the first part of its theory that the mineralised structure increases in size along strike.
The assay results from this drillhole will look to prove the second part of the theory which is that grades are also increasing further to the east.
Noting that the previous two drill results returned ~0.5g/t palladium and ~0.1-0.2% copper/nickel grades, ideally we want to see these grades improve along strike to the east.
With the structure being relatively shallow at its lowest point reaching ~200m, we think that if GAL's grades can increase closer to the ~1g/t mark then this could mean the deposit becomes more economically viable.
GAL is prioritising the NRC266 assay and expects it to come back within ~3 weeks, with the assays from the remaining drillholes coming back over the next 8 weeks.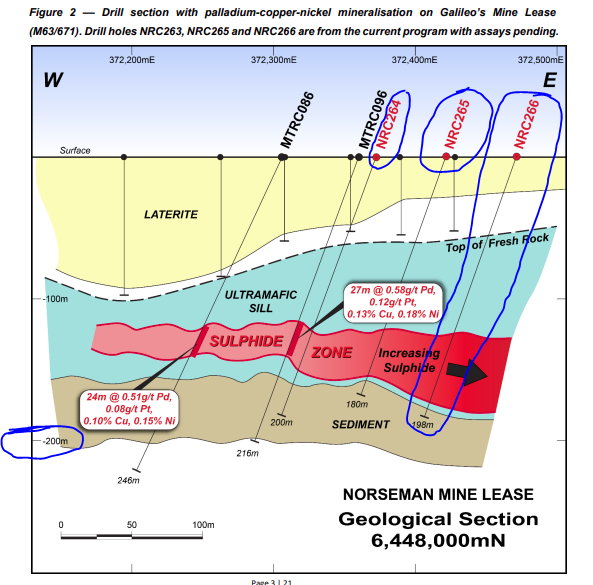 2,000m of RC drilling at the "Mine Lease" prospect 🔲
Following the assay results, GAL has already confirmed that it will do another 2,000m of RC drilling which we suspect would again look to test extensions along strike for the sulphide structure.
At this stage, GAL has said a decision on this would be made immediately after the assay results.
GAL provided a set of three scatter plots showing that as sulphur increased in the two drill cores for which they have assays, so did the occurrence of copper and palladium. Likewise as there's more copper there is also more palladium: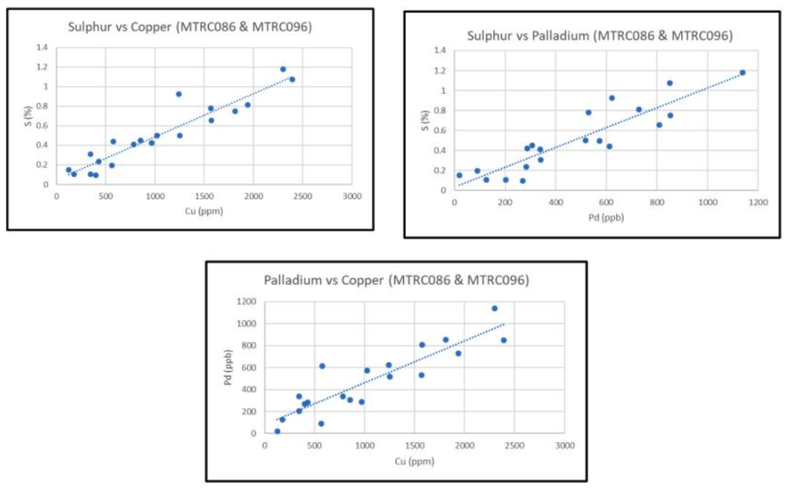 We think those are nice correlations and this gives us increased confidence that grades should improve on the "Mining Lease" prospect in the follow up campaign.
Below is the target zone that GAL's drilling campaign will cover (two assays received circled in blue, nearest term assay result in red):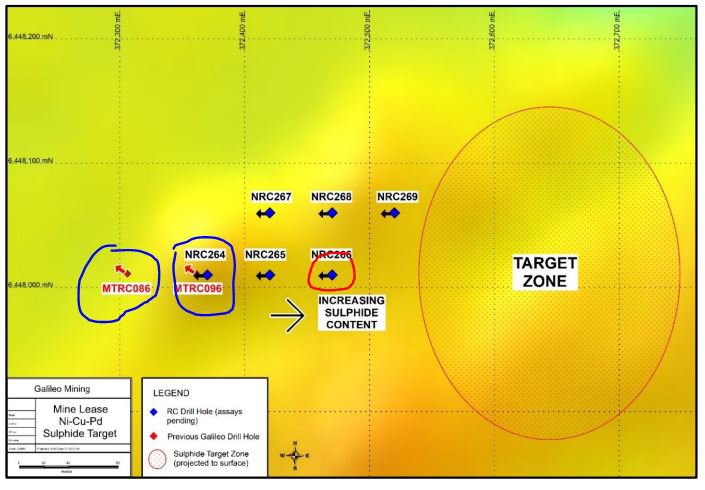 Again, we'll be looking for ideally >1g/t palladium from that assay circled in red, but as long as an improvement on the two existing assays, we'll be happy as it bodes well for drilling in the target zone for the upcoming campaign.
Importantly, as we covered above, GAL has a Mining Lease for this prospect which would allow it to truncate the process required to actually start a mining operation.
Downhole EM at the Jimberlana/Mission Sill prospects 🔄
Given that today's announcement has confirmed GAL still has no explanation for that massive sulphide structure that was clipped by its aircore rig last year, we suspect this won't be the last time GAL looks to drill these targets.
GAL has already confirmed that it would run some downhole EM surveys to further refine the EM targets around the Jimberlana prospect.
This will assist GAL in being able to better target this structure should the company look to go back and drill here.
We will be on the lookout for the downhole EM results from this, especially given that the source for the massive sulphides are still unexplained to us.
What's next for GAL in the Fraser Range?
In our previous note, we detailed what GAL was up to in the Fraser Range as well.
Effectively this could be boiled down into two different categories:
Drilling results from a ~1,000m RC drilling program 🔄
Here GAL would be specifically focused on two key target areas for its Fraser Range project.
The first of these areas was following up shallow aircore drilling GAL did in 2018. At the time GAL drilled ~51 aircore holes to an average depth of ~41m, with the best assay result from the program returning:
36 metres @ 0.2% nickel from 18m including a higher grade section of 3 metres @ 0.56 % nickel from 24m
The second batch of targets GAL drilled are three EM conductors that sit along strike from this previously tested area.
The three EM targets rank in size as follows: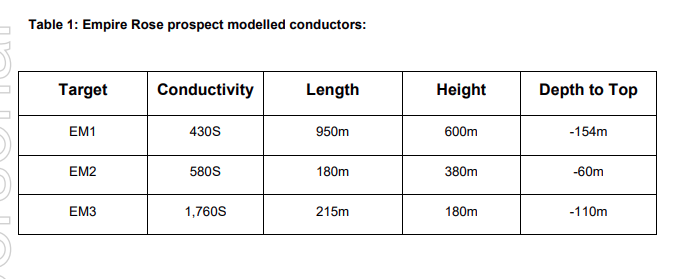 The largest of the three is EM1 which has an almost 1km length and 600m height and the deepest conductor starts from ~154m.
Assays from the drilling program are expected to come at some point this month.
Results from some downhole EM surveys being completed 🔄
At the same time, GAL had already started with follow up exploration work, to put together new targets that can be drilled in future drilling programs.
As part of the follow up exploration work, GAL has already started running some downhole EM surveys across the ~6 holes drilled.
Concurrently GAL is running EM surveys across several other prospects across its Fraser Range project area further to the north.
We expect to see the results from these surveys at around the same time as the assay results.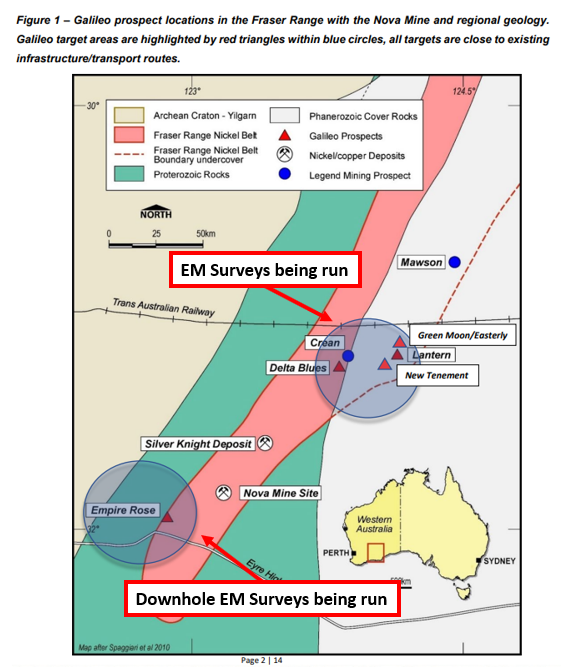 To see our detailed explanation of what's happening in the Fraser Range, check out our previous note here: What's next for GAL in the Fraser Range?
GAL has plenty of cash to keep exploring:
With the month of April behind us, we have also had a chance to take a look at all of our Portfolio companies' cash balances as all the quarterly reports were released at the back end of last week.
This is where we think GAL shines when compared to other junior exploration companies. With a cash balance of ~$8.5M, GAL has enough financial firepower to continue taking shots on goal at a new discovery.

For some context, for the 6 months ended 31st December 2021, GAL spent ~$1.8M on exploration works (as seen in the half yearly report).
This was a six month period where GAL ran several rounds of drilling across both its Norseman and Fraser Range projects, including both cheaper aircore drilling and more expensive RC and diamond drilling.

We think that having a strong cash balance is of particular importance in a time where there's softness in the small-cap market and sentiment threatens to turn negative. Typically in periods of market volatility or negative sentiment, investors are less willing to hand over cash to junior explorers because they are seen as risky.
We think GAL doesn't have to worry about raising capital for at least another few rounds of drilling - any of which could result in a large re-rating on a new metals discovery.
We think this healthy cash balance is a major positive for the company.
What are the risks?
Today's news is a step in the right direction by GAL with the extensions made to the sulphide structures at the "Mine Lease" prospect, but we are still waiting on assays to confirm the grades, meaning there are still inherent exploration risks here.
We still consider GAL a junior exploration company and no major commercial discovery has been announced as yet.
As a result we think the "Exploration Risk" we listed in our 2022 GAL Investment Memo is still warranted here. Below is a screenshot of the risks section from our Memo.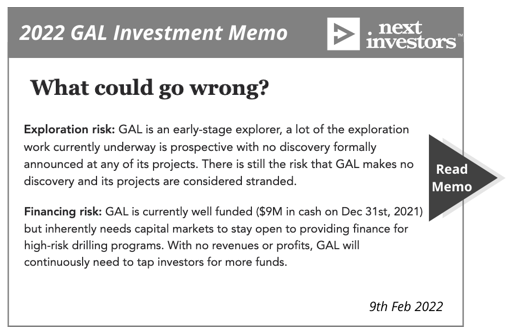 Our 2022 GAL Investment Memo
Below is our 2022 Investment Memo for GAL where you can find a short, high level summary of our reasons for investing.
The ultimate purpose of the memo is to track the progress of our portfolio companies using our Investment Memo as a benchmark, throughout 2022.
In our GAL Investment Memo you'll find:
Key objectives for GAL in 2022
Why we continue to hold GAL
What the key risks to our investment thesis are
Our investment plan

---