GAL has started RC drilling. We expect to see sulphides - but how much?
Disclosure: The authors of this article and owners of Next Investors, S3 Consortium Pty Ltd, and associated entities, own 1,935,000 GAL shares at the time of publication. S3 Consortium Pty Ltd has been engaged by GAL to share our commentary and opinion on the progress of our investment in GAL over time.
Prior to the Russia-Ukraine war, Russia accounted for ~40% of global palladium supply.
With western sanctions on Russian exports, the palladium price briefly touched an all time high of ~US$3,000 per ounce in early March of this year.
Since then the price has come back to around the ~US$2,400 per ounce mark. But with recent suspensions on two state owned Russian producers in the UK/US, the supply chain disruptions are only likely to worsen going forward.
We think the current macro environment is ideal to be actively exploring for new palladium discoveries.
Our long term exploration investment Galileo Mining (ASX:GAL) is doing just this, with the goal of delivering palladium and nickel discoveries at its Norseman project.
Yesterday GAL announced that it had commenced a 1,600m RC drilling program over high priority palladium-nickel targets identified during the last round of aircore drilling at its Norseman project.
GAL is targeting two prospects with the 1,600m RC drilling program:
The sulphide intercepts made just beneath the already established 25.1mt cobalt/nickel resource at the "Mt Thirsty prospect".
The NEWLY identified prospect where the aircore rig clipped the top of a massive sulphide structure and where GAL found two overlapping EM conductors.
GAL expects the drilling program to run for ~2 weeks with assays expected in late May/ early June.
We have been invested in GAL since March 2020, backing Mark Creasy and the GAL team to attempt to make a new discovery in the Fraser Range which is home to the $1.8 billion Nova-Bollinger nickel discovery.
GAL recently completed some drilling work in the Fraser Range and we are still primarily invested in GAL to see it make a large scale discovery there. But the targets generated from the aircore drilling at the Norseman project have really got us interested in the drilling programme taking place now.
Back in November 2021, GAL unexpectedly hit shallow massive sulphides that its air core (AC) drill rig could not penetrate at its Norseman Project.
Given AC drill rigs are generally lighter and used in first pass target generation drilling, the rig was unable to penetrate deeper into the massive sulphides.
Here's a quick rundown of the difference between air core and RC drilling.
The AC rig did however do what GAL wanted it to — throwing up some interesting RC drilling targets which could later be followed up with additional exploration work.
After that, GAL immediately ran some EM surveys directly beneath and around this area to try to get a better understanding of the geology in this area.
The results from the EM surveys were also promising with not one strong EM conductor identified but TWO.
Most importantly though, the EM surveys showed that the massive sulphide intercept sat right in the middle of where two large and highly conductive EM targets meet.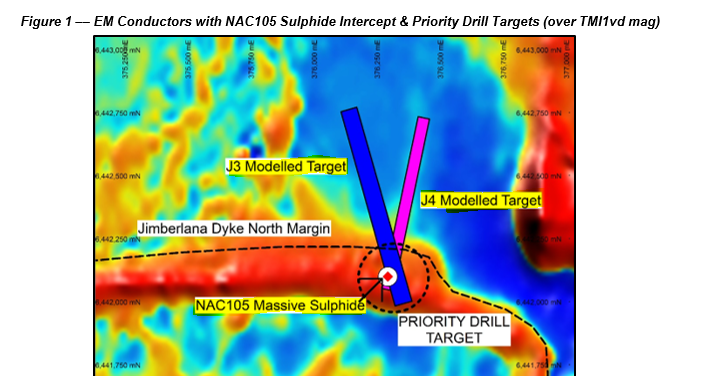 With GAL confirming that deeper RC drilling has commenced targeting that same area, we now get to see what is really below that massive sulphide intercept.
We are looking forward to GAL using an RC drilling rig into the EM target of interest - the RC drill rig will go deeper and pass through harder rock, which can be assayed.
High grade drill intercepts could mean GAL has made a discovery.
Yesterday's announcement directly speaks to key objectives #3 and #4 of our 2022 GAL Investment memo.
For a quick high-level summary of why we continue to hold GAL, our key objectives for 2022 and a list of the key risks to our investment thesis, Read our 2022 GAL investment memo here.
More on the targets GAL is drilling at the Norseman project:
It's only been ~3 weeks since the latest batch of assays were received from the first pass aircore drilling program at GAL's Norseman project, and the RC drill rigs have already been mobilised.
This round of RC drilling will be focused on two high priority targets where the first pass drilling hits sulphide/massive sulphides.
The first of these targets will be targeting an extension to an already well understood prospect.
GAL will be focused on the "Mt Thirsty" prospect which sits right underneath the already established 25.1mt cobalt/nickel resource.
In previous drilling programs, GAL hit sulphides that contained palladium-nickel-copper and seemed to be increasing in grades towards the east.
GAL will be targeting extensions to this side of the known mineralisation to test whether or not the structure gets bigger along strike and whether or not the grades increase enough for this prospect to be confirmed as an economically viable discovery.
The second target area GAL will be targeting is where the massive sulphide intercept was made and EM surveys pinpointed TWO EM conductors.
GAL clipped the top of a massive sulphide structure and will now be drilling with an RC rig to test whether or not that structure extends at depth and whether or not it contains economic mineralisation.
The reason this target looks so interesting isn't only because of the massive sulphides GAL intercepted.
The follow up EM surveys also pinpointed two EM conductors that almost intersect each other right where GAL clipped that massive sulphide.
These highly conductive EM targets can mean several different things, ranging from nickel-copper-cobalt-palladium mineralisation to non-economic sulphides; or non-economic graphite.
In GAL's case, the AC drill rig that accidentally intercepted massive sulphides (NAC105 in the image above) gave us a sneak peek of what to expect from these EM targets.
With an assay result of 1m at 0.24% nickel, 0.35% copper, 0.04% cobalt, and 0.25 g/t palladium we know that there is mineralisation there, it is more about seeing if the grades increase as you drill along the EM targets and into the massive sulphide structure.
Interestingly, the EM conductors start from ~70m below the surface, whereas GAL's aircore rig only managed to drill down to a depth of ~52m before being stopped by the massive sulphides.
This could mean that as GAL drill tests the structure at depth, the grades of the structure might also start to increase.
To summarise, GAL is targeting two prospects with the 1,600m RC drilling program:
The sulphide intercepts made just beneath the already established 25.1mt cobalt/nickel resource at the "Mt Thirsty prospect".
The NEWLY identified prospect where the aircore rig clipped the top of a massive sulphide structure and where GAL found two overlapping EM conductors.
Both prospects have the potential to generate some serious market interest but we think that the second prospect could be a lot more interesting given it is an entirely new target.
The ideal scenario here will be that GAL intersects thick massive sulphide columns which could be the first step toward GAL announcing a new discovery (of course whether or not it is an economic one will depend on the assays though).
For some context, ASX listed Tempest Resources recently intercepted between 8 and 18m of semi-massive sulphides.
Off the back of this discovery intercept, Tempest's share price went from 2c to a high of ~21.5c per share, adding almost $78M in market cap at its peak.
The caveat here is that Tempest was targeting a copper discovery, whereas GAL is looking for palladium-nickel & copper.
The move in the Tempest share price is more a barometer of how the market perceives entirely new discoveries, which GAL has a chance of making with this drilling program.
What's next at GAL's Norseman project?
Results from the 1,600m RC drilling program 🔄
GAL will now be drilling two high priority prospects across its Norseman project: the sulphide intercepts made just beneath the already established 25.1mt cobalt/nickel resource at Mt Thirsty, and the newly identified prospect where the aircore rig clipped the top of a massive sulphide structure and where GAL found two overlapping EM conductors.
We covered the results from that program in a previous note which you can read here.
GAL expects the results from this drilling program to be returned in late May/early June, but in the meantime, we are looking forward to seeing whether or not there is evidence of more massive sulphide mineralisation.
Specifically at the second prospect, where GAL previously clipped a massive sulphide structure with an aircore drilling program.
What's next for GAL in the Fraser Range?
Drilling results from the 1,000m RC drilling program 🔄
Towards the end of February, GAL started a ~1,000m RC drilling program, specifically focused on two key target areas for its Fraser Range project.
The first of these areas was following up shallow aircore drilling GAL did in 2018.
At the time GAL drilled ~51 aircore holes to an average depth of ~41m, with the best assay result from the program returning:
36 metres @ 0.2% nickel from 18m including a higher grade section of 3 metres @ 0.56 % nickel from 24m
At the time GAL mentioned that no significant sulphides had been intercepted, but this was to be expected especially given how shallow the drilling program was done.
So far the RC drilling seems to have intersected more of the same with GAL noting "More ultramafic rock was intersected", of course, it is far too early to judge the drilling results until the assays have come back though.
The second batch of targets GAL drilled are three EM conductors that sit along strike from this previously tested area.
The three EM targets rank in size as follows:
The largest of the three is EM1 which has an almost 1km length and 600m height and the deepest conductor starts from ~154m.
GAL's commentary on the EM conductors seems to be indicative of the EM conductors being graphite signatures, as opposed to nickel. GAL noted that the "conductive anomalies EM1, EM2, and EM3 were found to be related to an interpreted graphitic shear zone with disseminated sulphides"
Again we will need to wait and see how the assays look before forming an opinion on the drilling results, but so far there doesn't seem to be anything that is indicative of a major discovery at the Fraser Range project yet.
Below is an image of where GAL drilled, with the drill holes represented as FSRC001-006.
Drilling across these targets commenced on the 28th of February and was completed on the 14th of March.
Assays from the drilling program are expected to come in by the end of this month, or in early May.
To see our detailed coverage on what GAL was targeting in the Fraser Range, check out the following section from our last GAL note here: What about the Fraser Range drilling?
Downhole EM surveys 🔄
With the results from the drilling program so far not shooting the lights out, GAL has already started with follow up exploration works, to put together new targets that can be drilled in future drilling programs.
As part of the follow up exploration work GAL has already started running some downhole EM surveys across the ~6 holes drilled.
Concurrently GAL is running EM surveys across several other prospects across its Fraser Range project area further to the north.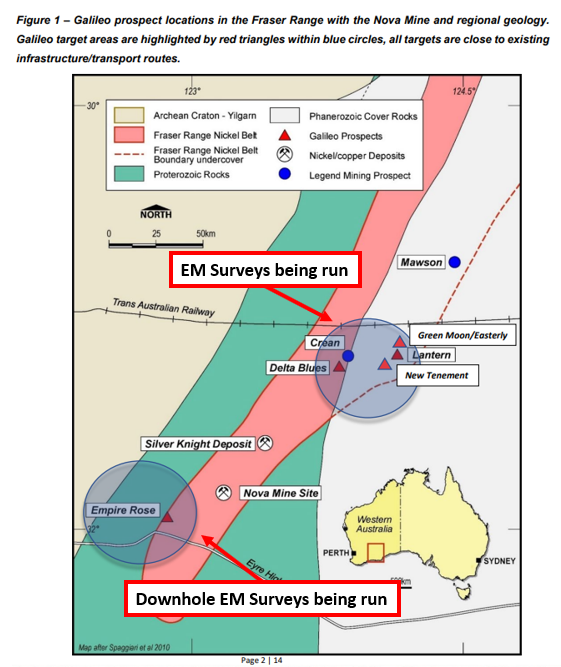 We expect to see the results from these surveys at around the same time as the assay results.
Our 2022 GAL Investment Memo
Below is our 2022 Investment Memo for GAL where you can find a short, high level summary of our reasons for investing.
The ultimate purpose of the memo is to track the progress of our portfolio companies using our Investment Memo as a benchmark, throughout 2022.
In our GAL Investment Memo you'll find:
Key objectives for GAL in 2022
Why we continue to hold GAL
What the key risks to our investment thesis are
Our investment plan
---