GAL Hits Sulphides on Every New Hole
Disclosure: The authors of this article and owners of Next Investors, S3 Consortium Pty Ltd, and Associated Entities, own 1,869,878 GAL shares and the Company's staff own 14,000 GAL shares at the time of publication. S3 Consortium Pty Ltd has been engaged by GAL to share our commentary and opinion on the progress of our Investment in GAL over time.
After announcing a palladium discovery on 11 May, Galileo Mining (ASX:GAL) launched straight into drilling out towards the east to test how far the mineralised body extends.
Today GAL has announced sulphide intersections on ALL FOUR newly drilled holes, each hole progressively stepping 50m further east of the discovery hole.
The sulphide thickness in each hole has continued around the same levels as the discovery hole.
Before this drilling, we set our expectations for bull, base, and bear cases for the next hole 50m to the east of the discovery hole.
Pending the assay results coming in late July to determine the grade (which is most important), not only is the first hole on track to potentially hit our bull case based on mineralisation width, but so are the other three holes: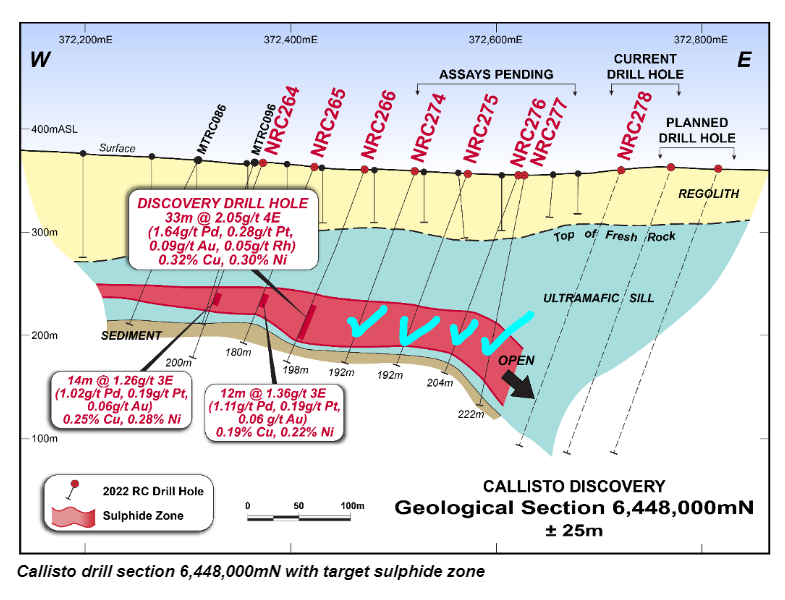 Now we just need to wait for the assays in July before we can really get excited given the grade will be key, but today's result is a better than expected starting point.
We expect the company to release more sulphide width results from the next few drill holes in the coming weeks before the first four assay results come in.
Basically we want to see that red thing in the image keep consistently extending to the east.
It's been an exciting run for GAL following the discovery in May, with its shares rising by as much as 875% over the following month.
After patiently holding for over two years, we are extremely pleased at GAL hitting a discovery.
Today GAL confirmed the consistent high grades at the discovery seem to be continuing — XRF readings have confirmed sulphides on the most recent four hole batch.
We wrote about positive XRF readings in early May when GAL was trading at around 20c and they ended up accurately forecasting significant assay results.
Based on today's news where all four holes intersected wide zones of disseminated nickel and copper sulphide mineralisation, we are relatively confident that this will occur again.
With another 16 holes still to be drilled in the 4,000m program, GAL is bringing in a second rig to increase drilling rates following a spate of rainfall that slowed down its drilling speed.
We previously set our expectations for the drilling program, outlining the following Bull case:

We also said a grade above 3.0g/t would be the Incredible case, while a Base case would be above 1.0 g/t.
Drill samples from these first four drill holes have been sent to the assay labs and results are expected in late July when we get to find out if the grades meet expectations.
The share price moved from $1.28 to as high as $1.95 since we last wrote about the discovery on 26 May, and was sitting at $1.54 at yesterday's close — with assay results due in around one month's time, there's potential for further upside here.
Before the discovery, GAL was sitting at around 20c, which is where it was for the majority of the last two years of our time holding it.
So despite all the doom and gloom out there, it appears that the market is supporting genuine discoveries such as GAL's.
Backed by its discovery and now with a near $275M market cap, GAL is also now on fundies acquisition radars according to the AFR, who also speculate that IGO — GAL's second largest shareholder, might make a play for the company.
As announced this morning, the good news continues with the first four holes of GAL's current 4,000m / 20-hole RC drilling program delivering positive early signs.
Each of the initial four drill holes have intersected wide zones of disseminated nickel and copper sulphide mineralisation.
These disseminated sulphide mineralisation intersections are geologically consistent with the first round of drilling and confirm the consistency of the geology over the target area.
That first round of drilling, which included the Callisto discovery hole, showed the sulphide layer at the base of the layered ultramafic sill to be associated with palladium, platinum, gold, rhodium, nickel and copper.
Using portable XRF analyses (which do not read Pd, Pt,or Au), GAL have confirmed the presence of nickel and copper sulphides in these holes.
(A portable XRF is a hand held device that gives a quick early reading on whether there are minerals in a drill core while out on site. XRF readings are just a guide and assays are the proof.)
This is encouraging as prior to the discovery being made, it was the portable XRF readings that first detected the copper and nickel intersections that went on to be confirmed by the assays.
That first round of RC drilling in April returned significant sulphide mineralisation across all six holes drilled, with drill assays confirming palladium-platinum-gold-copper-nickel intercepts over wide intervals.
The current ongoing drilling program will ultimately determine whether GAL's PGE discovery extends to the east and will show us just how big the deposit could be.
So far, all signs are looking positive with further confirmation today that the grade and width of mineralisation at Callisto is increasing to the east and the north, while the mineralised sulphide zone now interpreted to extend at least 250 metres across strike.
If you recall our last note, we discussed how the Target Zone (as shown below) — the target of the current 20 hole/ 4,000m drilling program — would reveal whether the mineralised sulphide zone extended further east.
Note the initial discovery drill hole NRC266:
Drilling since that discovery hole has continued to extend the known mineralisation to the east — note in this updated cross section image the four drill holes to the east of the discovery hole (NRC266):
Callisto drill section 6,448,000mN with target sulphide zone
Each of these four holes has successfully hit sulphide mineralisation consistent with the first round of drilling, so that the mineralised sulphide zone is now interpreted to extend at least 250 metres across strike.
However, we will know more once assays are back from the lab, as expected in late July.
For now, the drilling program remains ongoing — note the current drill hole (NRC278 above) and planned drill holes further to the east, which are all part of the remaining 16 holes of the current RC program.
By lining up these two drill sections, you can see the progress that has been made since the discovery drill hole (NRC266):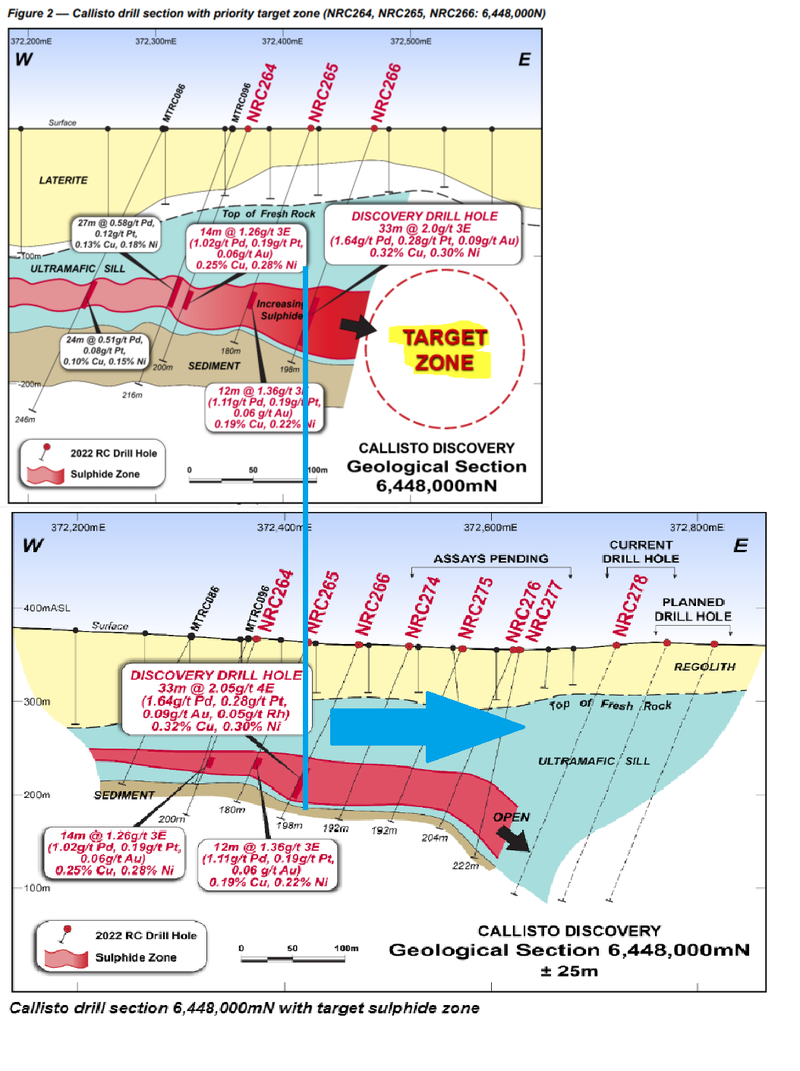 The plan map below also shows the latest drill holes (in red) to the east of the initial discovery hole (NRC266), each of which have intersected wide zones of disseminated nickel and copper sulphide mineralisation.
Plan map view of drilling completed to date and planned drilling for the current RC program
As we've mentioned previously, each drill hole is spaced on the 50m x 50m grid. This suggests that GAL isn't worried about cherry picking the best holes in order to report giant intercepts first, but can drill in grid format to move as quickly as possible in resource definition mode.
Two of the holes (NRC274 and NRC276), revealed disseminated sulphide zones of up to 28 metres drilled thickness, while disseminated sulphide zones of over 20 metres drilled thickness were found in every drill hole.

RC chips with disseminated sulphides (1% – 5%) in NRC274
So far, GAL has shown mineralisation occurs over 250 metres across strike and, with five kilometres of prospective strike to the north, we have a lot more drilling still to come.
As we previously outlined, we have set expectations for the drilling results. The best case will be an increased or maintained grade; metres of mineralisation is secondary.
Incredible Case: 40m at over 3.0 g/tonne — a real outlier case, and the lofty predictions of the "next Chalice" would start becoming reality.
Bull case: mineralisation keeps going, grade increasing to 2.5 g/tonne — the discovery keeps going, with a trending increase of grade to 2.5 g/t around the same mineralisation length (increased mineralisation metres would be a bonus).
Base Case: Grade above 1.0 g/tonne, 10m + intersection lengths — a continuation of grades above 1.0g/t, with about the same metres of mineralisation. This would mean the peak grade may have been hit in that first discovery hole.
We'll wait until assays arrive in July, but the XRF analysis and the sulphide hits in each of the first four drillholes as announced today can only be viewed as a positive.
The discovery drillhole in May returned palladium-platinum-gold-copper-nickel mineralisation over 33 metres grading 2.0 g/t 3E (palladium + platinum + gold).
Remember that prior to the discovery being made, it was the preliminary analysis of the portable XRF readings that first detected the copper and nickel intersections that went on to be confirmed by the assays.
GAL started its 4,000m RC drilling program at the Castillo discovery on 6 June and it was planned to run for approximately five weeks. Four holes are now complete, while a further 16 holes are planned over the next three to four weeks.
And while drilling has been impacted by high rainfall, GAL has mobilised a second rig to the site that should arrive on site tomorrow. The second rig will speed up drilling rates so that production rates have actually increased despite the rain.
Additional Program of Work applications are now awaiting approval with the Department of Mines which will allow further drilling along strike to the north.
Rhodium mineralisation confirmed
Since our last note in May following news of the Callisto discovery, more assays from the initial discovery hole made at GAL's PGE project have been reported, including the testing of the discovery intercept for rhodium mineralisation.
We've since received those results, with GAL reporting rhodium values up to 0.094 g/t with average values across the 33m interval of 0.05 g/t.
This may appear to be a low number at first glance, but considering that the rhodium price trades at ~US$15,450 per ounce, even a small amount of rhodium can add a lot of value to any new discovery.
Those high prices are a result of increasing demand for rhodium linked to its use in automotive pollution control systems.
To put that in context, the Platreef project in South Africa (which GAL has compared its discovery to) has rhodium grades measuring ~0.14g/t as part of its ore reserves, even as this is a much deeper underground deposit.
GAL has already delivered an average grade across its first intercept of 0.05g/t — a good start considering that there remains a lot of drilling still to be done to test for extensions to build on the new discovery.
GAL an acquisition target?
The following AFR article — published after GAL's began its current 4,000m RC drilling program on 6 June — reports that GAL "has landed on resources investors' radars, with [unnamed] fundies tipping it as acquisitive IGO's next potential target".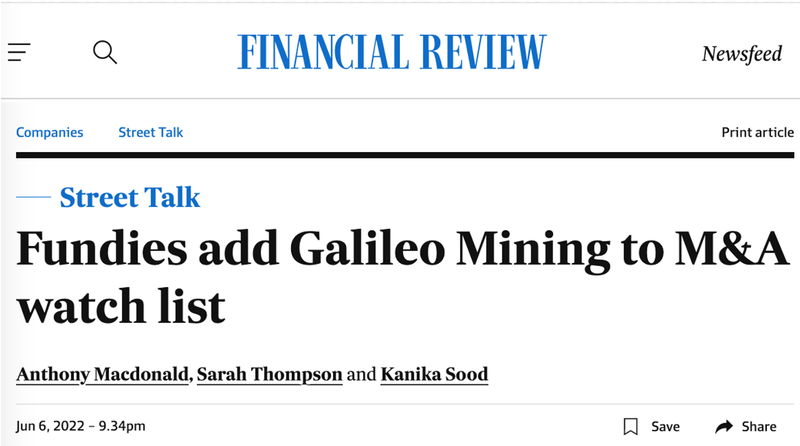 They also speculate that $7.8 billion capped IGO — GAL's second largest shareholder with a 8.4% stake — could be looking to acquire the company or one of its projects.
IGO already owns 8.4% of GAL and has previously purchased projects from Mark Creasy backed companies, including the Nova Mine and the Silver Knight discovery (which GAL CEO Brad Underwood also worked on).
Having just bought Western Areas for $1.26 billion, "fund managers" are now reported to be speculating that GAL, whose Fraser Range targets (nickel, copper and cobalt) are along strike from the Nova Mine, would be "right up IGO's alley", assuming that the Norseman Project (nickel, palladium and cobalt) turns up a sizeable deposit,
As GAL's largest shareholder with 24.82%, Creasy could be a factor in any takeover considerations by IGO, plus IGO, capped at $7.8B has the size and balance sheet to execute an attractive takeover of GAL.
Now with its PGE discovery at Norseman and a $275M market cap, GAL also becomes appealing to larger fund managers who wouldn't previously consider investing in the company due to its smaller size and higher risk profile.
Investment Memo
In our GAL Investment Memo you'll find:
Key objectives for GAL in 2022
Why we continue to hold GAL
What the key risks to our investment thesis are
Our investment plan
The ultimate purpose of the memo is to track the progress of our portfolio companies using our Investment Memo as a benchmark, throughout 2022.
---