Our new Investment. Battery materials bottom? Summary of the key media events this week.
Published 23-JUL-2022 10:28 A.M.
We're gonna say it - battery materials are back.
After a rough couple of months, it's been a very eventful 72 hours around the world for the battery materials and electric vehicles investing thematic.
On Thursday, Tesla surprised the market by beating revenue expectations and forecasting 50% sales growth for the coming year, triggering a run on battery materials stocks.
Last night Ford announced a barrage of deals for battery materials - agreements with companies for lithium, nickel, aluminium, copper and graphite.
Just a few hours ago, Volkswagen fired its CEO for slow progress on its electric vehicle push, assuring its investors it will accelerate its move to electric.
All underlined by a statement last week from US Energy Secretary Jennifer Granholm saying the US will back miners to stop China's "weaponisation" of battery materials.
The perfect backdrop for our latest Investment.
Yesterday, we announced our new Investment in the battery materials sector: Sarytogan Graphite Ltd (ASX: SGA).
Graphite makes up 28% of an EV lithium ion battery by weight.
It comprises 95% of a battery's anode and cannot be substituted.
As such, graphite demand is expected to be five times greater than current levels by 2050.
Such is its importance - graphite is on the strategic critical mineral list of the US, European Union, Japan, India and Australia.
SGA owns 100% of a giant graphite resource in central Kazakhstan.
Kazakhstan is strategically located right between EV making powers Europe and China.
SGA has the highest grade graphite resource and second largest graphite resource of any ASX-listed company.
As long term holders, our big bet is that we want to see SGA develop its giant graphite resource, which we believe has the potential to catch the interest of major miners and become a world-class graphite mining operation.
Here is our SGA Investment Memo - including why we Invested, the risks and our Investment plan.
We've been building our Portfolio around the battery materials theme since 2019 when battery materials were unloved.
We believe it will be a 10+ year thematic.
After a huge run in 2020 and 2021, it appears we have just lived through a short term blip on the long term battery materials journey (we hope... anything can happen in the current markets).
Global markets fell hard in May and June, with battery materials stocks falling harder than most after meteoric rises over the last two years.
It never was going to go up in a straight line forever, and we see this pullback after an extreme run as healthy.
Remember that the same happened after the first battery materials run in 2018 and the subsequent fall, leading to a "battery materials winter" for much of 2019.
The 2018 battery materials run was primarily early excitement for the sector, well before all the major car companies were scrambling to secure supply and making real investments in electrification.
Here's how our battery materials Investments have fared over the past couple of months.
With a bit of help from a slowly rebounding market, we think Tesla's results, combined with the Ford deals and the US government's public position, were enough to move the needle on the following six of our battery materials companies from their June lows.
Below are the share price changes between 23 June - 23 July close):
Vulcan Energy Resources (ASX: VUL) + ~37.1% - (memo)
Latin Resources (ASX: LRS) + ~39% (memo)
European Metals Holdings (ASX: EMH) + ~16.9% (memo)
Euro Manganese (ASX: EMN) + ~29.1% (memo)
Kuniko (ASX: KNI) + ~52.5% (memo)
Evolution Energy Minerals (ASX: EV1) + ~27.4% (memo)
This is encouraging to see after we vowed not to do any selling while the market was in "peak fear" back in June - long term investing in small cap stocks can be a white knuckle ride.
Granted, these stocks had been savagely sold off in the lead up to the new financial year, with tax loss selling, inflation, growth fears and war all playing a role.
And you can see just how bad the selling got in six of our portfolio companies between early June and the mid-June lows, with the bounce playing out through to the close of markets this Friday: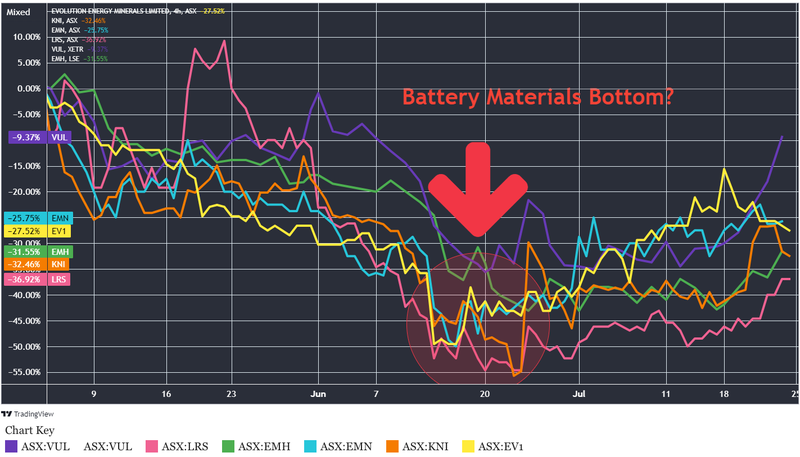 A complete list of our battery materials Investments is available on our Portfolio page.
And because of the factors covered today, and we're going out on a limb here, but we're going to say it anyway:
Is this the battery materials bottom?
Battery materials media review from the last week
Key takeaways:
Tesla reported dip in earnings but managed to top estimates
Tesla plans to increase vehicle deliveries by 50% on average annually over multiple years
Tesla posted adjusted earnings of $2.27 a share, besting the $1.83 a share average of analysts' estimates
Elon Musk said, "We have the potential for a record-breaking second half of the year...The past few years have been quite a few force majeures, and it's been kind of supply chain hell for several years"

Key takeaways:
On Thursday, Ford announced a series of deals to secure battery raw materials, inking deals with Chinese battery maker CATL, Rio Tinto and Ioneer.
Ford aims to increase global EV production to 600,000 vehicles by late 2023 and >2 million by the end of 2026.
Ford is very bullish on EV uptake - it expects a compound annual growth rate for EVs to top 90% through 2026, more than doubling the forecast industry growth rate.
Ford is adding lithium iron phosphate (LFP) cell chemistry for EV batteries to its portfolio, as well as the traditional nickel cobalt manganese (NCM) battery chemistry.
Agreements with companies include Ioneer (lithium), Vale (Nickel), China's Huayou Cobalt and BHP (nickel), Rio (aluminium, copper) and Syrah Resources (graphite)
Key takeaways:
Chief Executive Officer Herbert Diess will be succeeded by Oliver Blume, CEO of VW's sports-car maker Porsche AG
The removal of Diess came after "internal strife" over the group's slow progress in developing core software for the company's new generation of electric vehicles.
Car executives of big traditional automakers are under pressure to get ahead of new rivals, many from Silicon Valley, which have cash reserves and aren't held back by capital-intensive legacy gasoline-powered vehicles.
Key takeaways:
Nations have raised concerns over the global concentration of refining and production capacity for critical materials like lithium, rare earths and cobalt.
The US sees China's dominance over battery metals processing and manufacturing as a key threat to its national interest. As such, Joe Biden invoked the 1950 Defense Production Act to encourage domestic production of these materials.
The Department of Energy's loan program is already providing support to ASX listed battery materials producers with $107M loan provided to Syrah Resources (graphite, Mozambique)

Key takeaways:
Australia produces about half of all unprocessed lithium supplies. Australia accounts for just 7% of the refined lithium supply.
According to Tesla Inc. Chair Robyn Denholm, Australia needs to add capacity in refining and manufacturing to help the world meet the surging demand for batteries.
Nearly US$14 billion in lithium investment is needed to supply planned EV production capacity by 2025
EVs accounted for 2.4% of new passenger vehicle sales in Australia last year, compared to 4.5% in the U.S. and 20% in the European Union.
Key takeaways:
Joe Biden has signed an executive order requiring that half of all new vehicle sales be electric by 2030, and the EU is also seeking to have at least 30 million zero-emission vehicles by 2030
IEA believes mineral demand for use in EVs and battery storage must grow at least 30 times by 2040
Graphite is the largest component in lithium-ion batteries by weight (20-30%) however, due to losses in the manufacturing process, it takes 30 times more graphite than lithium to make EV batteries.
Graphite accounts for nearly 53.8% of the mineral demand in batteries - and EV contains more than 200 pounds (>90 kg) of coated spherical purified graphite (CSPG).
Last year, nearly 60% of the world's mined graphite production also came from China.
Key takeaways:
China dominates the entire graphite anode supply chain end-to-end.
Four companies are responsible for half of global anode material production. The top-six companies are all Chinese and account for two-thirds of global production capacity. The largest players include Ningbo Shanshan (China), BTR New Energy Materials (China), and Shanghai Putailai New Energy Technology (China).
In March 2022, the United States invoked the Defence Production Act to rapidly boost US production of critical minerals for EV and storage batteries, focussing on lithium, nickel, cobalt, graphite and manganese.
The United States plays a more minor role in the global EV battery supply chain, with only 10% of EV production and 7% of battery production capacity.
⏲️ Upcoming potential share price catalysts list
Results expected in the near term:
🗣️ Quick Takes
Here are this week's Quick Takes:
EMN: Euro Manganese Joins the Global Battery Alliance
EV1: 24% more yield from graphite? Elite purity?
EV1: EV1's battery cycling testwork - graphite is "super-premium"
GGE: Helium project ownership increases to 70%
LCL: More high grade gold hits for Los Cerros
MNB: First tranche of placement shares issued
MNB: World's biggest phosphate exporter considering quotas
MNB: BlackRock's Larry Fink worried about food supply
PRL: Australia - "the new Saudi Arabia of green energy and minerals"?
TEE: More domestic gas needed to fix the east coast crisis
TG1: Company presentation - Three drilling programs back to back
TTM: Managing Director increases shareholding
Macro (lithium): Tesla profit jumps, ASX lithium stocks jump
Macro (helium): Samsung may build US$200B of chip facilities in Texas
General: Noosa Mining Investor Conference round-up
📰 This week on Next Investors
⚠️NEW INVESTMENT ALERT⚠️
SGA: Our Latest Investment
On Friday, we announced the latest addition to the Next Investors Portfolio, Sarytogan Graphite Ltd (ASX: SGA).
SGA owns 100% of a giant graphite resource in central Kazakhstan, which has the highest grade graphite resource and second largest graphite resource of any ASX-listed company.
SGA began trading on the ASX on Monday, having raised $8.65M during its IPO. We participated in the IPO after having earlier invested during pre IPO seed raises.
As long term holders, our big bet is that we want to see SGA develop its giant graphite resource, which we believe has the potential to catch the interest of major miners and become a world-class graphite mining operation.
📰 Read our full Note: Our Latest Investment is...
KNI sees visible cobalt in first drill program
This week our European battery metals exploration investment Kuniko (ASX: KNI), has completed itsfirst cobalt drilling program at its Norwegian cobalt project.
The expanded 11 diamond drillhole campaign centred around three key targets identified using modern geophysics/geochemical surveying.
Interestingly KNI hit visible cobalt in seven of the eight holes drilled at its highest priority target, where historical drilling had completely missed the geophysical target.
KNI also hit visible cobalt mineralisation 280m along strike to the north of the high priority target in another drillhole which could signal an increase in the potential strike zone.
KNI has now defined a mineralised zone open to depth and along strike to the north.
We now await assay results, which are due in late September, at which point we should have a better grip on whether KNI has made an economic cobalt discovery.
📰 Read our full Note: KNI kept drilling after it kept seeing visible cobalt - assay results should get interesting
BPM Sees Lead-Zinc Along Strike From Rumble, Assay Results Next
Our micro cap exploration investment BPM Minerals (ASX: BPM), has completed its first ever drilling program at its lead-zinc project, 40km northwest along strike from Rumble Resources' lead-zinc discovery in WA.
Portable XRF readings confirmed lead-zinc mineralisation across five key areas of interest.
This was within the same rock formations (Frere/Yelma) and around the same depths where Rumble first made its discovery in April 2021.
Rumble's initial discovery intercept was from a depth of only 62m, while BPM's intercepts all sit within depths of 40m-100m.
We also noted that BPM fell short of the 7,500m of drilling it had initially planned, which marks a shift in exploration strategy - but we don't mind seeing this.
The decision to stop drilling early was not because BPM didn't hit anything of interest.
BPM's smaller drilling run will give it time to work out what it has found and maintain cash reserves to drill again armed with more information.
With current market sentiment for cash burning explorers low and capital harder to come by, by taking this approach, BPM can preserve capital and drill only the BEST targets based on a better understanding of its project.
As soon as the assays from this first round of drilling come in, the company plans to put together a set of key target areas and re-enter the project.
📰 Read our full Note: BPM Sees Lead-Zinc Along Strike From Rumble, Assay Results Next.
Have a great weekend,
Next Investors
---