BPM Sees Lead-Zinc Along Strike From Rumble, Assay Results Next
Disclosure: S3 Consortium Pty Ltd (The Company) and Associated Entities own 1,670,000 BPM shares and 850,000 BPM options at the time of publishing this article. The Company has been engaged by BPM to share our commentary on the progress of our Investment in BPM over time.
Our micro cap exploration Investment BPM Minerals (ASX:BPM) has just completed its first ever drilling program at its lead-zinc project, 40km northwest along strike from Rumble Resource's discovery.
Rumble's lead-zinc discovery saw its market cap reach a peak of $370M. It's now capped at $152M.
BPM is capped at just $9.1M. We are Invested to see if BPM can emulate some of Rumble's drilling success in the region and make a discovery of its own.
Today, BPM announced that portable XRF readings confirmed lead-zinc mineralisation across five key areas of interest from depths of only 40-100m.
This is significant because it is within the same rock formations ("Frere/Yelma") and around the same depths where Rumble made its discovery in April 2021.
Rumble's initial discovery intercept was from a depth of only 62m. BPM's intercepts all sit within depths of 40m-100m.
BPM's drilling was initially planned for a total of 7,500m. To date, it has completed around half of that with 38 drillholes over 3,740m.
BPM has opted to wait for the assay results to come back before fine tuning its drilling targets and going again.
The obvious caveat from today's announcement is that the mineralisation detected is from XRF readings, a tool that can measure the elements within rock samples on site. XRF readings provide good insight, but can sometimes be inaccurate - it is the ASSAY results that will determine just how much lead-zinc there is across BPM's project.
Drilling samples have been sent to the assay labs, and upon receipt of final assays, BPM expects to undertake follow-up exploration.
This should see BPM back on site and drilling after the assay results come in.
As with all of our junior exploration Investments, we look at maiden drilling programs as "information collecting" programs that provide a better understanding of a project's potential.
We don't Invest expecting an immediate discovery on a maiden drill programme - as that's very hard to do.
Instead, we Invest and patiently hold whilst our Portfolio companies de-risk their projects with several rounds of drilling.
As a result, we had set our expectations as follows:
🔄 Bullish case = BPM proves there is enough potential to warrant follow up drilling works over the project.
✅ Base case = Traces of lead-zinc mineralisation across the project area.
❌ Bearish case = No mineralisation and no planned follow up drilling programs.
With XRF readings confirming lead-zinc mineralisation across five different areas of interest, we know for sure there are traces of lead-zinc mineralisation - we just don't know how much yet.
We also know that BPM is ready to go back in and continue drilling, pending assay results, which tells us the company thinks there is enough potential to do follow up drilling work.
Both of these considered, we think the results from today's announcement sit firmly between our base case and bullish case expectations for this maiden drilling program.
If BPM can get high enough grades from its assay results, it will comfortably sit inside our bullish case or even exceed it.
We also note that BPM fell short of the 7,500m of drilling it had initially planned, which marks a shift in exploration strategy - we actually don't mind this.
BPM's smaller drilling run will give it time to work out what it has found and maintain cash reserves to drill again armed with more information.
With current market sentiment for cash burning explorers low and capital harder to come by, by taking this approach, BPM can preserve capital and drill only the BEST targets based on a better understanding of its project.
Having recently raised $3M to add to its $3.8M cash pile (as of 31 March 2022), we estimate BPM should have ~$6.8M in cash before accounting for any costs incurred in the June quarter. Noting that BPM has done some exploration work throughout the quarter, we expect this number to be lower than our estimate.
With quarterly reports due at the end of the month, we should get a better idea of BPM's exact cash position in a few weeks.
Regardless, BPM trades with a market cap of just $9.1M. Assuming a ~$6.8M cash balance (not accounting for the expenses incurred during the June quarter), the company has a tiny enterprise value of just $2.3M.
At this stage, we know BPM has hit lead-zinc mineralisation.
What we don't know is whether BPM has made a new commercial discovery. As with all exploration programs, this depends on the assay results.
New discoveries are rarely ever made in maiden drilling programs, but after each drilling program, a new piece of the puzzle is added.
For example, BPM's neighbour Rumble Resources had historical drilling data from ~64 RC drillholes and four diamond drillholes before its discovery.
We are now watching to see what comes from the assays before seeing BPM detail its forward exploration program.
More on the drilling results
This being BPM's maiden drilling program at its Hawkins Project, the initial plan was to do both aircore (shallower drilling) and RC drilling (deeper drilling) concurrently.
The combined program was initially planned for a total of 7,500m.
Today, BPM announced that the drilling program had ended after only 38 drillholes (over 3,740m), with 26 RC and 12 aircore drillholes complete.
The decision to stop drilling early was not because BPM didn't hit anything of interest. In fact, BPM confirmed that XRF readings of the drill cores did contain lead-zinc mineralisation.
More importantly, BPM confirmed that as soon as the assays from this first round of drilling come in, the company would put together a set of key target areas and re-enter the Hawkins Project.
For a maiden drill program, we think that today's announcement is a positive first step towards a potential lead-zinc discovery at Hawkins.
With the markets trading the way they are and investors less receptive to high rates of cash burn, we think BPM is taking a sensible approach to exploration.
Instead of doing a big drilling program with very little data, BPM is taking the slower approach - where the company drills, gathers data and then goes again.
There is always a chance that the assays come in well above our expectations. In that case, BPM can immediately focus its drilling in and around any new discovery intercept instead of pouring capital into uneconomic targets.
We are conscious though, of this being BPM's first ever drilling program and we rarely see new discoveries made after only one round of drilling.
This is never our base case when our junior exploration Investments start drilling fresh ground.
Today's news sits well above our base case expectation, which was for BPM to find traces of lead-zinc mineralisation, so we think the company is progressing well at its Hawkins Project.
🔄 Bullish case = BPM proves there is enough potential to warrant follow up drilling works over the project.
✅ Base case = Traces of lead-zinc mineralisation across the project area.
❌ Bearish case = No mineralisation and no planned follow up drilling programs.
We have two major takeaways from today's announcement:
1 - BPM has hit lead-zinc across parts of the Hawkins Project.
BPM confirmed the presence of lead-zinc mineralisation across FIVE key areas of interest after XRF readings of the drilling samples, as seen in the map below.
BPM also confirmed that these areas would form the basis of "phase-2 drilling targets", where the company would go back to drill test.
At this stage, we don't know the grades/concentrations of that mineralisation. But with assays pending, we shouldn't have to wait too long before finding out.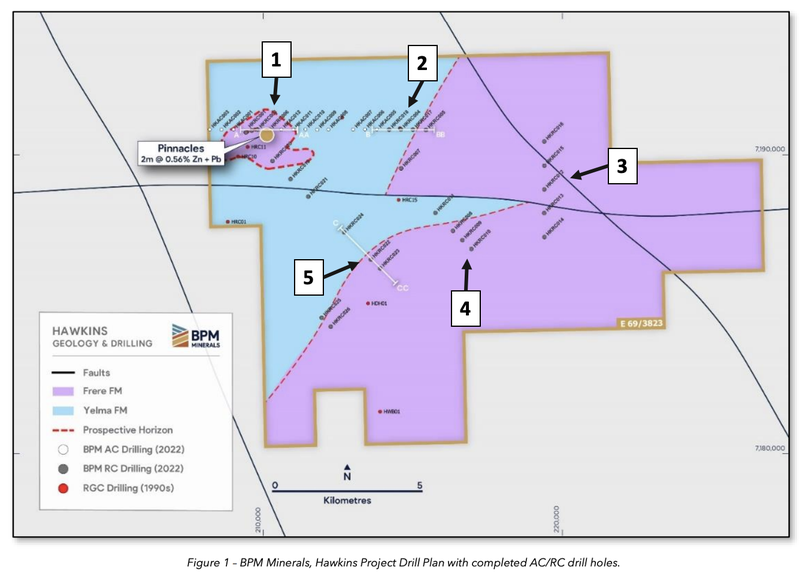 2 - BPM's intercepts were all made at shallow depths <100m.
Across all five key areas of interest, BPM drilled into the prospective "Frere-Yelma" rock formations at depths of only 40-100m below the surface.
For reference, Rumble's discovery intercept was made at 62m, and BPM's drilling intercepted lead-zinc even at shallow depths as low as 40m and as high as 100m.
BPM specifically targeted these two rock formations because it was the contact point between them where Rumble made its discovery.
As mentioned in our previous note, BPM's approach to this drilling program focused solely on geologic fundamentals and targeted the specific rock structures where Rumble succeeded.
BPM now has confirmation that its ground shares geological fundamentals with Rumble's.
Hawkins Project simplified geology, highlighting key prospective domains for Earaheedy lead-zinc projects
In summary, BPM has made enough progress to warrant further drilling across the Hawkins Project.
With assays pending, we will wait to see what comes of these before looking for BPM to detail its forward exploration plan.
BPM's also making progress at its side bets
Our 2022 BPM Investment Memo also listed drilling programs across BPM's side bet projects (this was our #2 Objective).
These projects are not the core reason for us Investing in BPM, but we recognised their potential to deliver an unexpected positive result when running through our due diligence process.
As a result, we included them in our 2022 BPM Investment Memo as projects where we would like to see BPM progress into drilling programs.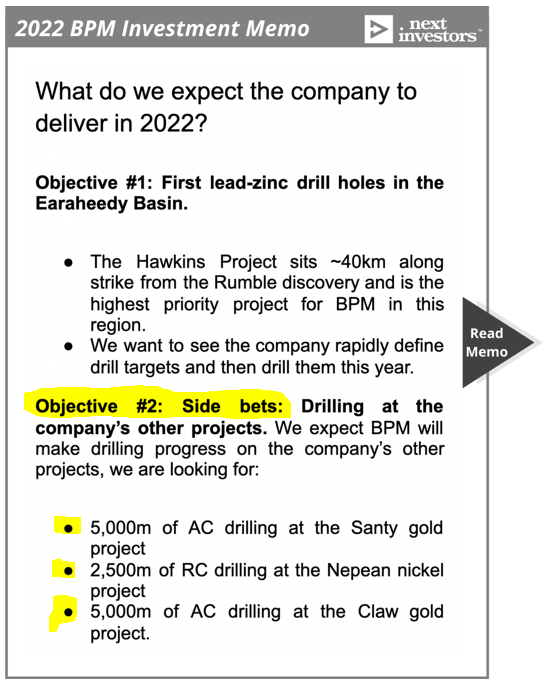 The three projects are as follows:
Claw Gold Project
BPM's ground sits over a total ~134km2 project area with ~33km of prospective strike directly to the south of ASX-listed Capricorn Metals' (capped at $1.2 billion) Mt Gibson Gold Mine in WA.
In July 2021, Capricorn paid $39.6M to purchase the project, which sits along strike from BPM's ground and is currently in the middle of a giant 81,000m resource definition drilling program.
BPM's project is less than 1km from the proposed open pit, and with two high-priority drill ready anomalies, it could become much more interesting later this year.
We also note that Capricorn's drilling program may deliver hits that bring BPM's ground into play, so we are monitoring their exploration program closely.
The two specific anomalies are right near the border of the BPM and Capricorn Metals project areas — the first covers a prospective area of ~1,000m x 500m and the second an area measuring 1,200m x 400m.
UPDATE 🔄
In today's announcement, BPM confirmed that the final land access agreement had been completed, with the tenement grant expected in early August.
Once granted, BPM anticipates commencing a geochemical sampling program immediately.
Santy Gold Project
BPM previously completed a round of aircore drilling at the project in WA, putting together a 2.2km long zone that it believes is anomalous for gold.
What was initially ~17 different priority gold, nickel-copper and base metal drill targets has now become a ~2.2km target area.
UPDATE 🔄
In today's announcement, BPM confirmed earthworks and heritage surveys had started.
BPM expects to do a 4,000m aircore/RC drilling program here in mid August.
Nepean nickel/PGE project
BPM holds ground nearby one of our Wise-Owl Investments (Auroch Minerals), which is prospective for nickel and PGEs.
BPM recently completed a 42-hole (~1,887m) aircore drilling program specifically designed to test 11 different EM targets with the ultimate aim of ranking these for future follow up RC/diamond drilling programs.
BPM received the assay results from this drilling program in early June.
As expected, BPM didn't make a new discovery, but it did confirm a western cluster of conductors that are interesting enough to warrant a follow up drilling program with heavier drill rigs.
UPDATE 🔄
BPM has completed one round of drilling at Nepean and successfully identified the Western Cluster of EM conductors as a priority for drill testing via RC/Diamond drilling.
But for now, we think BPM already has enough on its plate with its Hawkins, Santy and Claw projects.
We are comfortable seeing BPM return to this project after exploring its other assets, specifically its Hawkins project.
Our 2022 BPM Investment Memo
Check out our 2022 BPM Investment Memo to find a short, high level summary of our reasons for investing.
The memo's ultimate purpose is to track our portfolio companies' progress using our Investment Memo as a benchmark throughout 2022.
In our BPM Investment Memo, you'll find:
Key objectives for BPM in 2022
Why we continue to hold BPM
What the key risks to our investment thesis are
Our investment plan
---