BPM drilling restarted - tiny market cap leveraged to success
Disclosure: S3 Consortium Pty Ltd (The Company) and Associated Entities own 1,670,000 BPM shares and 850,000 BPM options at the time of publishing this article. The Company has been engaged by BPM to share our commentary on the progress of our Investment in BPM over time.
The strange, unseasonable, disruptive, wet weather in the Earaheedy Basin is over, the month of June 2022 is almost done with...
... and our exploration Investment BPM Minerals (ASX:BPM) has restarted drilling at its Hawkins Project.
BPM is currently capped at $7.8M, has plenty of cash (~$6.8M) and is trying to follow in the footsteps of $184M capped Rumble Resources, which it sits along strike from.
Rumble made a lead/zinc discovery in the Earaheedy Basin in 2021 that sent its share price from ~10c per share to ~80c per share, adding almost $370M to Rumble's market cap at the time.
Less than a month after that, we made our first Investment in BPM for exposure to its Hawkins Project, which BPM had pegged well before Rumble announced its discovery.
BPM's Hawkins project is ~40km northwest along strike from the Rumble's discovery sitting on similar geological fundamentals — meaning it sits on similar rock formations to the discovery.
After over a year of waiting, BPM is currently drilling at the Hawkins Project and we expect to start seeing some drilling results over the coming weeks.
As we pointed out above, BPM is getting busy at a time when it trades with a market cap of ~$7.8M.
Having recently raised $3M to add to its $3.8M cash pile (as at 31 March 2022), BPM has a tiny enterprise value of just ~$1 million.
Interestingly, Brendan Borg, the geologist who vended this asset into BPM, has been buying up BPM shares on market, and is now a substantial holder going into the drilling event with 7.13% of BPM shares.
As we mentioned earlier, Rumble's discovery drill intercept added almost $370M to its market cap.
Given BPM's current market cap, we see BPM as well positioned to re-rate off the back of any exploration success (of course this is no guarantee). Although the market is a bit more subdued than when Rumble made its discovery.
With BPM'S enterprise value being just $1M, we think any whiff of success should see it trade at multiples of where it is trading right now.
We initially hoped that BPM would drill this prospect in late 2021, but permitting delays meant the program began in May of this year.
Then BPM suffered another setback with unexpected unseasonal rainfall putting a temporary hold on any drilling activity.
Drilling officially restarted on 22 June, comprising a ~7,500m drilling program, which BPM expects to run for around three weeks.
Notably, BPM is using both an aircore rig and an RC rig to make up for lost time.
The aircore rig can be used to quickly map out any areas of mineralisation and provide a better understanding of the geology, while the RC rig can concurrently test any deeper high priority targets.
The usual process would be to do the aircore drilling, wait for the assay results, then go back in with an RC rig.
BPM is basically flexing what we have estimated as a $6.8M strong balance sheet, after raising $3M via a placement at 21c per share adding to its $3.8M in the bank at the end of the March quarter.
With a market cap almost at the level of its cash balance, leaving an enterprise value of just $1M, we are looking forward to seeing what comes of the drilling results.
The obvious caveat here is that this is BPM's first round of drilling ... and new discoveries are rarely ever made in maiden drilling programs.
Before making its discovery BPM's neighbour Rumble, for example, had historical drilling data from ~64 RC drillholes and 4 diamond drillholes plus multiple rounds of RC drilling.
Meanwhile, this will be BPM's first shot at a new discovery.
We think that the success case for this drilling program will be if BPM can identify enough targets that warrant follow-up drilling across the Hawkins Project.
With drilling now restarted, BPM is delivering on Objective #1 of our 2022 Investment Memo:
So what is BPM's drilling targeting?
Our last BPM note covered in detail the targets BPM is drilling.
A lot of this drilling is focused on the learnings made from watching Rumble Resources make the Chinook Lead/Zinc discovery which was focused solely on geological fundamentals.
As a result, BPM has designed its drilling program with two key aspects to their approach:
First, BPM will drill along the geological borders between the Frere Formation (the tan shading in the map below) and the Yelma Formation (blue shading).
Rumble's discovery was made along this part of its ground, so BPM is looking to test similar targets first.
Second, BPM will drill along the geological fault lines that run through the Earaheedy Basin.
Rumble's Chinook discovery sits right on top of a massive fault line that runs northwesterly, straight through BPM's Hawkins Project.
BPM's drilling program will test the intersection of these rock formations and the two fault lines that run through its grounds.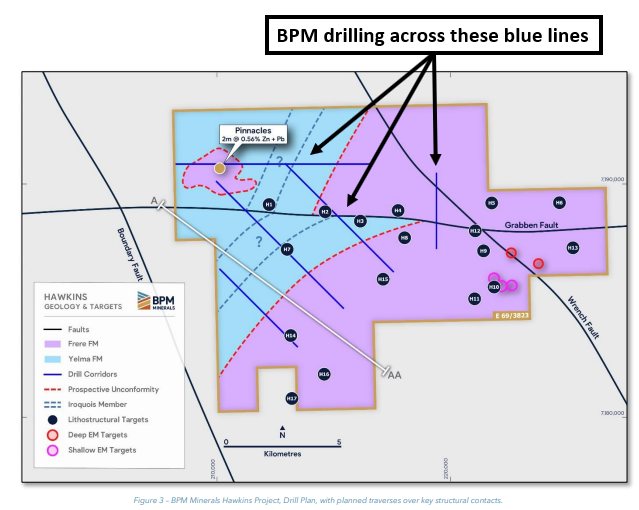 One of the more interesting targets will be drilling near the "Pinnacles Prospect'. Historic drill results included a peak intercept of 2 metres, grading 0.56% lead-zinc" with the intercept being made at just ~40m deep.
This historical drilling, by Rio Tinto, was solely focused on trying to make an iron ore discovery.
And most of the exploration work completed over the project area wasn't even assayed for lead/zinc so the project remains largely unexplored for lead-zinc potential.
We think this leaves plenty of exploration upside for BPM as it's goal is a lead-zinc discovery.
What do we expect from the drilling program?
We set our expectations for this round of drilling in our last BPM note, which you can read by clicking here.
Given this program is BPM's first ever round of drilling at the Hawkins Project, our base case expectation is for BPM to not make a new discovery.
As with all of our junior exploration Investments, we look at maiden drilling programs as scoping programs that provide a better understanding of the potential of the project.
As a result, we've set our expectations as follows:
Bullish case = BPM proving that there is enough potential to warrant follow up drilling works over the project.
Base case = Traces of lead/zinc mineralisation across the project area.
Bearish case = No mineralisation and no planned follow up drilling programs.
🎓 = To learn more about how we go about setting our expectations for drilling events check out our educational article here.
It's also worth noting that these aren't the only drilling targets available to BPM at the Hawkins Project.
While this round of drilling was mostly put together based on the regional understanding of the geological structures in the Earaheedy Basin, BPM is leaving some targets to be followed up with future drilling.
BPM also has a cluster of EM targets that sit on the eastern border of the Hawkins Project which could be targeted in future exploration programs.
Even if the bearish case scenario plays out in the current drilling campaign, we would still hold our Investment to see BPM drill these EM targets.
BPM's "side bets"
As part of our 2022 Investment Memo, we also listed drilling programs across BPM's side bet projects.
These projects are not central to our Investment thesis but we think they have potential to deliver an unexpected result.
BPM is planning exploration work across these projects throughout 2022 as per the image below:
The three projects are as follows:
Santy Gold Project: BPM previously completed a round of aircore drilling and put together a 2.2km long zone that it believes is anomalous for gold. This project is also located in WA.
Claw Gold Project: BPM's ground sits over a total ~134km2 project area with ~33km of prospective strike directly to the south of ASX-listed Capricorn Metals' Mt Gibson Gold Mine in WA.
Nepean nickel/PGE project: BPM holds ground nearby one of our Wise Owl Investments (Auroch Minerals), which is prospective for nickel and PGEs. We actually covered BPM's most recent drilling program at this project in a previous note which you can read by clicking here.
To see our most recent look at these projects read our last note here: What about BPM's side bets?
BPM's side bets also make up Objective #2 of our 2022 BPM Investment Memo.
Our 2022 BPM Investment Memo
Check out our 2022 BPM Investment Memo to find a short, high level summary of our reasons for investing.
The ultimate purpose of the memo is to track the progress of our portfolio companies using our Investment Memo as a benchmark, throughout 2022.
In our BPM Investment Memo you'll find:
Key objectives for BPM in 2022
Why we continue to hold BPM
What the key risks to our investment thesis are
Our investment plan
---