Diamond drilling program ongoing in Kazakhstan
ASX:SGA
Jul 25, 2022
Announcement
Investment Memo: SGA IM-2022
Objective 1: Complete metallurgical testwork
Objective 2: Increase confidence in the resource - upgrade JORC resource from inferred to indicated

---
The first piece of newsflow from our latest Portfolio addition came in this morning, with our graphite Investment Sarytogan Graphite (ASX: SGA), releasing an operations update on its current drilling program.
As of 22 July 2022, the company had completed ~25% of the ~4,000m of diamond drilling planned at its graphite project in Kazakhstan.
The drilling program has four main objectives:
Drilling inside the "central graphite zone" - This will expand on the 2021 drilling program, which was primarily focused on the "north graphite zone".


Test for extensions outside of its current JORC resource - Some of the current drilling will look to extend the size of SGA's deposit. This could potentially lead to an increase in the size of its JORC resource.


To use diamond drillcore samples for metallurgical testing - The goal is to obtain high quality drillcore samples so SGA can complete the processing testwork. (Objective #1 from our 2022 SGA Investment Memo).


To upgrade the JORC resource into the indicated classification - The aim is to increase the confidence level of SGA's giant 60mt contained graphite JORC resource. The more drilling data SGA gathers the more of its giant inferred resource can be upgraded into an indicated classification. (Objective #2 from our 2022 SGA Investment Memo).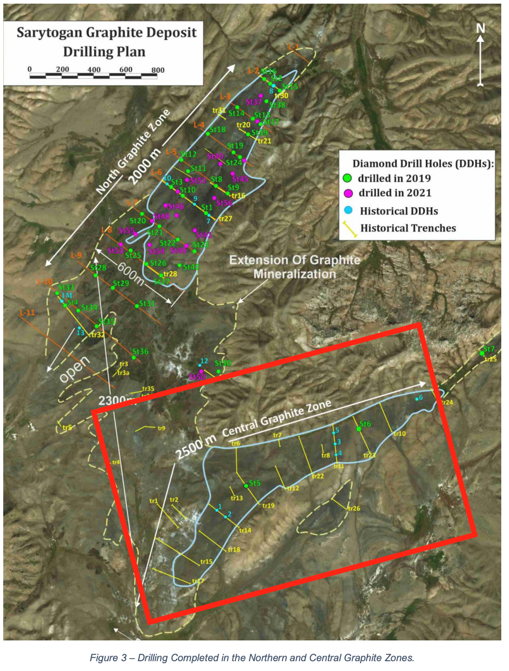 Next for this round of drilling:
SGA expects to release the drilling results progressively, with the first batch of results expected later this quarter.
Immediately after the resource update, we expect to see SGA put out an updated JORC resource. We want to see as much of the resource upgraded into the indicated classification as possible.
We also expect to see the company put out updates from its ongoing Metallurgical testwork.
---