ALA edging closer to clinical trials for "off the shelf" cell therapy cancer treatment
Disclosure: S3 Consortium Pty Ltd (the Company) and Associated Entities own 16,896,579 ALA shares and the Company's staff own 950,000 shares at the time of publishing this article. The Company has been engaged by ALA to share our commentary on the progress of our Investment in ALA over time.
Another month goes by, and yet another deal in the cancer cell therapy space.
Cell therapy is a new frontier of cancer treatment - it refers to placing new, healthy cells into the body to replace diseased or damaged ones.
Those healthy new cells are employed in the fight against cancer.
Billions of dollars are being invested in this space due to its potential to fight a range of cancers.
The latest deal was struck last month for a Phase Ib clinical trial stage treatment.
The total deal size was 'undisclosed', but we do know the upfront value was $245M (the deal was between Janssen Pharmaceuticals and a cell therapy company called CBMG).
That's the latest in a decent line of recent M&A deals in cell therapy.
Yet another piece of evidence that bigger companies are moving quickly to snap up some of the most promising cell therapy technology, at early preclinical and phase 1 clinical trial stages.
We Invested in Arovella Therapeutics (ASX:ALA) to see it develop and ultimately commercialise its own cell therapy cancer therapy treatment.
ALA is targeting both blood cancers and solid tumours.
ALA's treatment is unique because it uses iNKT Cells, a subpopulation of T-cells. iNKT cells are the body's strongest immune system cells and ALA thinks these cells could be crucial to treating a range of cancers.
Current cell therapies are costly (AU$600k per patient) and unique for every patient, as a patient's own cells are being used and modified. This also means the treatment is not as reliable.
ALA is looking to create an off-the-shelf version of this which is more cost effective, provides a better result and can potentially target more cancers.
Success here could prove to be extremely valuable - but it's also no guarantee.
ALA is still at a very early stage, with positive results in mice, but yet to prove its promising technology in humans.
We think ALA's current valuation reflects this early stage.
ALA is capped at ~$38M, and has circa $7.3M in the bank, counting the $3.2M cash at March 31st plus $4.1M that came in following a recent capital raise completed at 4.5c.
ALA is also in the process of raising a further $1M under a Share Purchase Plan (SPP) at the same 4.5c price as the recent capital raise. This offer is open to ALA investors who held shares on the Record Date of 6th June 2023.
After initially Investing in ALA at 3.5c, and then Investing again at 2c, we are also participating in the SPP at 4.5c.
So, ALA is seeking to develop an off-the-shelf cancer cell therapy treatment - part of the broader field of cancer immunotherapy.
ALA has explicitly stated its goal is to take its lead treatment into Phase 1 trials, and in doing so, we think this could be the basis for significant valuation uplift relative to its current price and relative to recent M&A transactions in the space - more on those below.
What do we want to see from ALA?
Over the coming 6-18 months, we are looking for ALA to do the following in the lead up to its Phase 1 clinical trials:
🔲 Phase 1 clinical trial for ALA-101
ALA-101 is ALA's most advanced treatment for blood cancers and could be a source of a potential re-rate.
After ALA completes the clinical manufacturing process, it will be all about getting its iNKT cell therapy into phase 1 clinical trials.
ALA has previously confirmed that it expects phase 1 human trials to occur in 2024.
These are the sub-milestones we are looking for from ALA to make that possible.
🔲 Further manufacturing milestones (optimisation, scale up and complete lentiviral vector)
ALA needs to improve the process, make enough of the therapy to enter a trial and the lentiviral vector can be thought of as the delivery system for the therapy internal to the body.
🔲 Finalise clinical trial plan for Phase 1 study
These are its plans for the Phase 1 study.
🔲 Take the therapy to a Phase 1 clinical trial - After all the pre-clinical data is gathered, ALA and Imugene can choose to progress the therapy into phase 1 clinical trials.
🔲 Phase 1 clinical trial for Solid Tumour Therapy (partnership with Imugene)
At this stage, the partnership is focused on completing proof of concept studies which can then be used to commence phase 1 clinical trials, the process usually follows this route:
✅ Prove its most promising treatment works in a test tube - ALA and Imugene have already done this - see our Quick Take on that news here: Arovella and Imugene therapy kills cancer in a test tube
🔄 Prove its most promising treatment works in mice - The next step after test tube studies, this will see how the treatment works and if it is safe in a living organism (in vivo - mice studies)
🔄 Bonus: Advance treatment #2 (ALA 104, DKK1-CAR-iNKT)
This is an additional treatment, but for now ALA's latest timeline seems to be prioritising ALA-101 and the Imugene partnership treatment for solid tumours.
🔄 NEW: Enter into definitive licensing agreement for "booster tech"
Yesterday, ALA revealed that new data from experiments indicate that its iNKT platform technology can be enhanced by another complementary technology (read more in our latest ALA Quick Take).
The data has come in looking positive, so now we will be looking to see if ALA enters into a definitive licence agreement to formalise ALA's IP position with this tech.
Below is the timeline that ALA is currently working with:

It's been a whirlwind period for ALA over the last few months.
After entering a partnership with the ~$570M capped Imugene, ALA then released promising data that showed its iNKT cells (ALA-101) could be expanded ~5,000 fold while retaining its functionality.
This ability to scale up the manufacturing process was a key milestone for the company.
iNKT cells are the body's strongest immune system cells and ALA thinks these cells could be crucial to treating a range of cancers.
This includes blood cancers and potentially solid tumours which make up ~90% of all cancers.
This manufacturing data culminated in ALA presenting at the pre-eminent annual cancer treatment gathering in the US (The American Association for Cancer Research) conference in April.
That data led to a re-rate which took ALA from a low of ~2 cents at the start of the year to a high of 10.5 cents in mid-April which represented a peak return of 176% for us (from Initial Entry Price). ALA is now hovering around 4.5c, the same price as the placement and the current Share Purchase Plan price.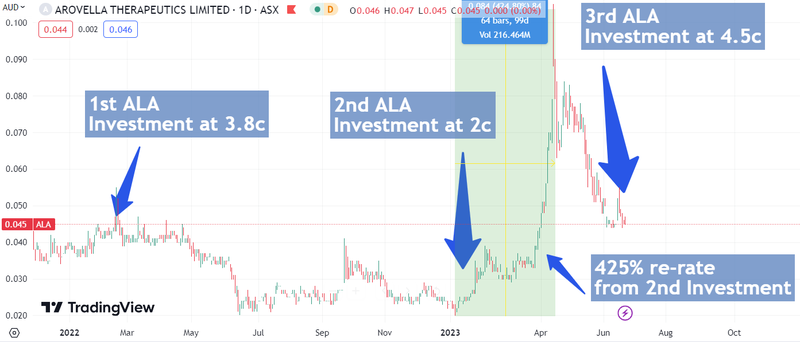 The past performance is not and should not be taken as an indication of future performance. Caution should be exercised in assessing past performance. This product, like all other financial products, is subject to market forces and unpredictable events that may adversely affect future performance.
We really like what ALA has been able to accomplish since we first Invested - we've got a quick summary of our previous coverage of ALA further below.
In our view, there's plenty to look forward to as well - mainly relating to advancing toward Phase 1 clinical trials, and progress on its Imugene partnership for solid tumours.
But firstly - a quick explainer on Share Purchase Plans, and why ALA is trading the way it is right now.
Share Purchase Plans - what we typically see
Since the recent placement and the 4.5c Share Purchase Plan (SPP) was announced, ALA has traded as low as 4.4c per share - which is typical of share price behaviour when an SPP is running.
Whenever companies launch SPP's we typically see:
Selling as soon as the offer gets announced: shareholders who hold shares as at the Record Date will typically look to sell at the higher market prices and then look to re-buy their same position at the lower SPP price.
Sideways trading near the offer price: while the offer runs in the background, buying on market slows, with some preferring to increase their positions through the offer (the same way we are).
Offer closes and then the share price starts moving higher again: after the SPP shares are allocated and some loose stock is sold on market, the share price starts moving higher again.
ALA's SPP closes this Thursday and the new shares start trading on the market next Thursday.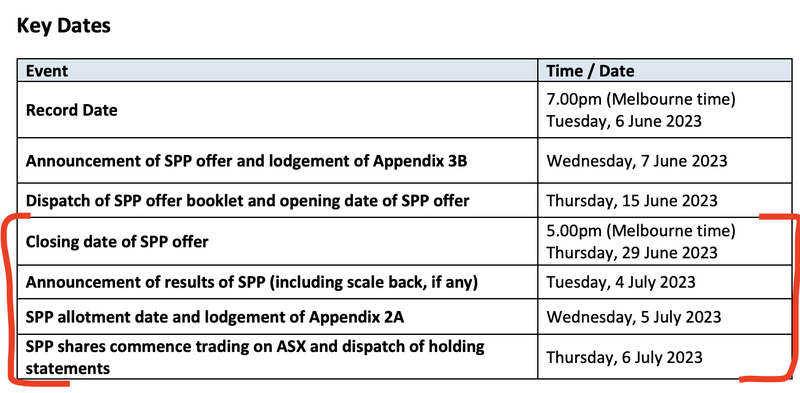 With cash in the bank from the placement and the SPP, we are looking forward to seeing ALA advance its cell therapy technologies toward clinical trials.
How are cell therapies valued at different clinical stages?
We think 2023 is the year of M&A for the biotech industry.
Larger pharma companies are looking to hoover up smaller, earlier stage biotechs that have invested in drug development but may be struggling to secure financing.
This industry consolidation has meant that promising technologies are being closely watched by the bigger players, and any clinical data, even at an early stage, is being valued as an acquisition target.
ALA licences its cancer fighting tech from elite institutions and then develops that tech to take it into a clinical setting.
We know large re-rates can happen for biotechs when tech is successfully moved from preclinical to Phase 1 studies or beyond into Phase 2 etc.
We're hoping ALA can achieve that "phase transition success", mindful that recent cell therapy companies have even been taken out and acquired before even entering clinical trials:
With a mean UPFRONT deal value of ~$116M for just preclinical cell therapy acquisitions/licensing deals in recent history, we think this helps form a benchmark for a valuation of ALA even at this early stage of its trajectory.
Of course, we should note that the above examples are just a sample of successful outcomes. Early stage biotech investing is risky and there are no guarantees that ALA will be successful in reaching clinical trials and/or that delivering a positive outcome for investors (see more in risks section below).
However, those valuations we mentioned above form the basis of our ALA Big Bet which is as follows:
Our Big Bet:
"ALA achieves a major breakthrough in cancer immunotherapy, and is acquired by a major pharmaceutical company for multiples of our Initial Entry Price"
NOTE: our "Big Bet" is what we HOPE the ultimate success scenario looks like for this particular Investment over the long term (3+ years). There is a lot of work to be done, many risks involved - just some of which we list in our ALA Investment Memo. Success will require a significant amount of luck. There is no guarantee that our Big Bet will ever come true.
To monitor ALA's progress since we first Invested and how the company is performing relative to our "Big Bet", we maintain the following ALA Progress Tracker: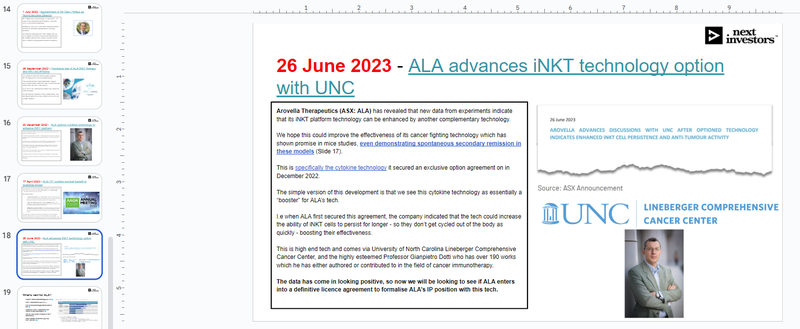 What has ALA done since we Invested? A quick re-cap
Below are all our articles on ALA since we first Invested. All of our quick takes on ALA can also be found our ALA Investment Memo page which gives a quick summary of why we Invested in ALA:
New Portfolio Addition: Arovella Therapeutics (Feb-2022)
We announce our new portfolio addition Arovella Therapeutic (ASX:ALA) and outline our Investment Memo for the company.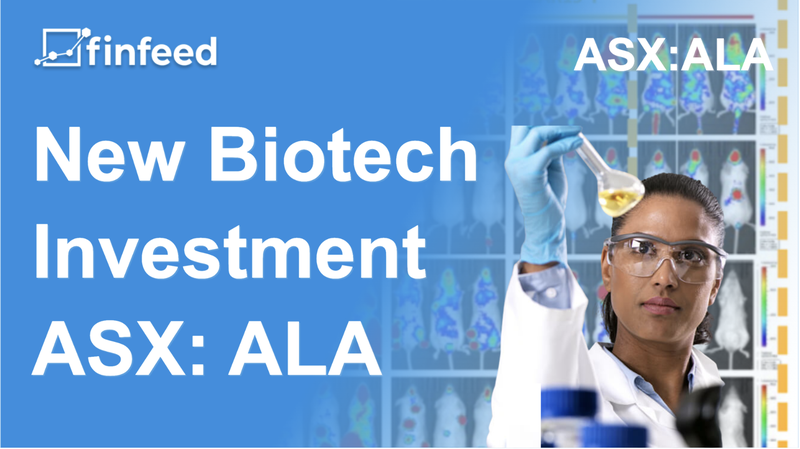 ALA on the Pathway to Phase I Clinical Trials (Apr-2022)
ALA ticked off a key milestone on the pathway to Phase I clinical trials selecting Q-Gen Cell Therapeutics as the manufacturer for its lead cancer treatment.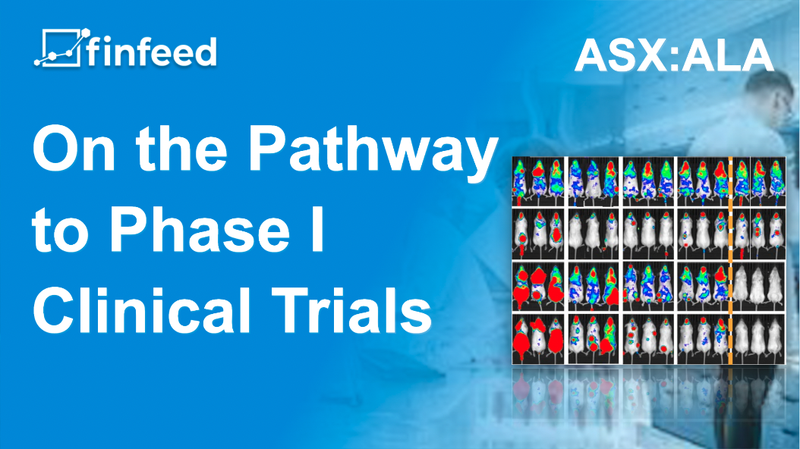 $23M capped ALA partners with $1.1BN Imugene - Now Targeting 90% of Cancers (Sep-2022)
ALA announced a partnership with $1.1BN capped Immune to develop its technology against solid tumour cancers.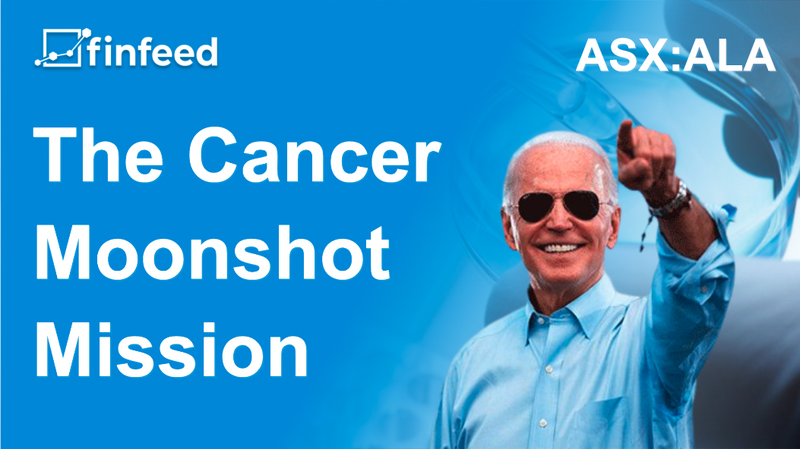 $1.5M annual cost savings allows ALA to focus on what really matters (Oct-2022)
ALA announced that it would phase out its legacy operations to fully focus on the iNKT Cell therapy platform.
We just increased our Investment in ALA - Here's why (Feb-2023)
We outline why we increased our investment in ALA, and what we think the future holds for biotech stocks in 2023.
ALA shows it can scale: Pathway towards an "off the shelf" cancer treatment (Apr-2023)
ALA presented new data at a key international conference to industry experts and opinion leaders in the cancer field.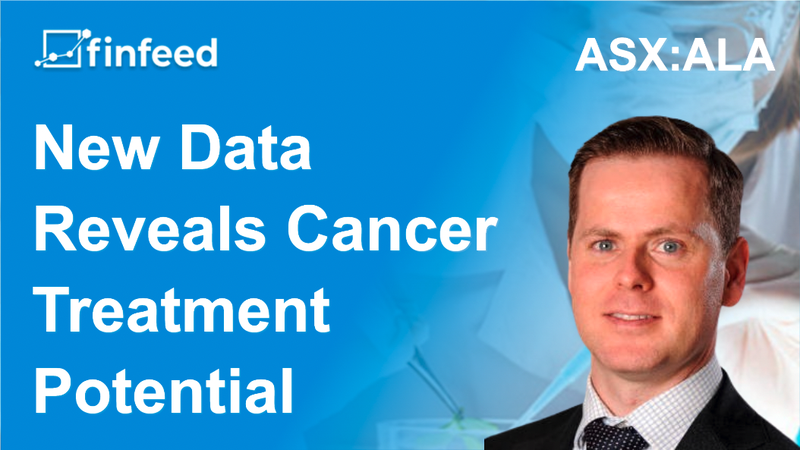 What could go wrong?
These are the risks we are most conscious of at the moment for ALA: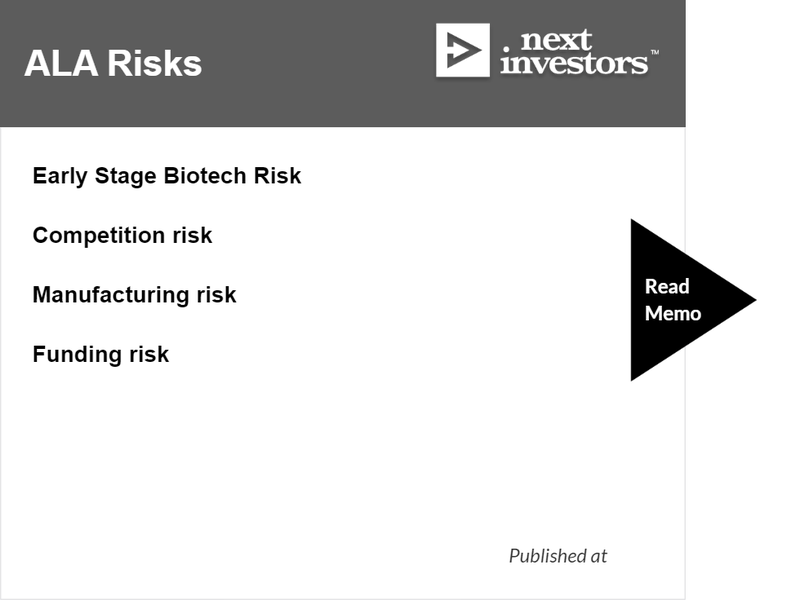 Early Stage Biotech Risk - As with many early stage biotechs, a lot can go wrong in developing technology, particularly as ALA has yet to enter a clinical setting.
There are some standard risks that are associated with early stage biotechs, although the treatment appears effective in mice, this might not translate to humans.
Key risks:
The treatment is ineffective
The treatment is not considered safe for human use
Patient recruitment is delayed
Ethics approval is delayed
Competition risk - while there are only a handful of iNKT cell therapy companies it is subject to competition risk - other companies could make a breakthrough before ALA and lessen or eliminate the need for ALA's therapy.
Manufacturing risk - ALA needs to complete manufacturing of the therapy in order to take it to a clinical trial.
Funding risk - ALA recently completed a $4.1M placement and has a $1M SPP happening right now, so the near to medium term funding risk is reduced. However there is always the risk with small caps that more funding is required prior to major catalysts which could cause additional dilution to current holders. Clinical trials are not cheap and ALA is not generating any material revenue.
We also realise we should have included market risk in this Investment Memo - biotechs have been out of favour for a long period and this likely impacted ALA's share price performance, and may impact it in the future. This market risk is linked to funding risk as capital markets for biotechs remain constrained. This market risk will be included in any future ALA memo.
Our ALA Investment Memo
In our ALA Investment Memo you'll find:
Key objectives for ALA
Why we continue to hold ALA
The key risks to our Investment thesis
Our Investment plan.
---