ALA shows it can scale: Pathway towards an "off the shelf" cancer treatment
Disclosure: S3 Consortium Pty Ltd (the Company) and Associated Entities own 18,956,579 ALA shares and the Company's staff own 1,450,000 shares at the time of publishing this article. The Company has been engaged by ALA to share our commentary on the progress of our Investment in ALA over time.
When it comes to treating cancer, cell therapy is seen by industry and researchers as one of humanity's most promising shots at ending cancer.
Cell therapy uses living cells as drugs to treat disease.
When used to treat cancer, cell therapy takes advantage of the immune system's intrinsic ability to seek out and destroy abnormal cells in the body.
Once a fringe area of cancer research, cell therapy has exploded over the last decade, and it's where billions of dollars of R&D capital are flowing to.
The perennial problem with cell therapy though has always been scale.
So when a pre-clinical cell therapy company shows its treatment is potentially scalable, heads start to turn.
This is what is happening to our biotech Investment, Arovella Therapeutics (ASX:ALA), which is getting noticed in all the right places.
ALA is an early stage biotech company focused on developing its cell therapy platform to treat blood cancers and solid tumours (90% of all cancers).
This morning ALA released new data indicating its treatment, ALA-101, has the potential to be a novel, 'off the shelf' cell therapy to treat leukemias and lymphomas.
After a whirlwind couple of weeks on the ASX, where ALA's share price has gone from 3.4 cents to trade at 7.8 cents at Friday's close, over the weekend, ALA presented at the American Association for Cancer Research (AACR) conference.
The American Association for Cancer Research (AACR) is the first and largest cancer research organisation dedicated to accelerating the conquest of cancer, established in 1907.
This was ALA's major international conference debut - and it presented new data to key industry experts, and opinion leaders in the field from clinicians to researchers.
Today's note will take a look at the news coming out of the conference, and also cover what kind of deals are getting done in the cell therapy space.
There are only a handful of iNKT cell therapy companies globally, one of which is ALA.
Amongst many cell therapy transactions, the only recent iNKT cell therapy transaction (Gilead + Appia Bio) delivered the largest recent deal size - US$875M.
That US$875M transaction was for a research collaboration on a treatment at a pre-clinical stage (the same stage ALA is at now...).
ALA is currently capped at A$59M.
Arovella Therapeutics
Back to today's ALA news
If there's two main takeaways from today's announcement it is this:
ALA is starting to show its lead treatment (ALA-101) can achieve scale.
This along with the rest of its research, means ALA is getting increasing traction in academic and industry circles (as evidenced by the company's presence at the preeminent cancer conference in the USA).
Data presented at the conference yesterday and released on the ASX this morning, demonstrated that the company's iNKT cells (ALA-101) could be expanded ~5,000 fold while retaining its functionality.
Why does this matter?
Expansion and scale-up for clinical trials - Clinical trials are expensive. If ALA can successfully reproduce the same cells from a single batch while retaining functionality it reduces the costs of the trial significantly.
Scale-up success is an indicator of an off-the-shelf product - Any 'off-the-shelf' product needs to be reproducible at scale. By scaling up ALA is showing the manufacturing process works.
Greater efficacy shown at scale - ALA said that the cells produced using this method displayed robust killing of multiple CD19- expressing tumour cell lines - including those that do not express CD19 in lymphoma patient sample.
Although the announcement was quite a technical read, the summary is that ALA's lead candidate, ALA-101, can be scaled up while retaining functionality (which provides the company with a consistent product for clinical trials) and the drug has shown efficacy in killing CD-19 tumour cells.
What's more, the "lentiviral vector" is a 3rd generation make, which is well understood by the FDA and more likely to clear regulatory hurdles.
All of this amounts to significant progress on ALA's ability to scale up and replicate its lead treatment - one of the key risks when it comes to manufacturing.
If ALA could not scale up the treatment, then it may not have enough cells to run a robust Phase 1 clinical trial.
However, with this risk mitigated, we think ALA is in a strong position to push forward with a Phase 1 trial on its treatment in 2024, and if successful, manufacture the treatment at scale without compromising on quality.
As we've said in previous ALA notes, ALA is going after blood cancers and solid tumours - which make up ~90% of all cancers.
Because it is "off the shelf", ALA's treatment could prove to be cheaper, more readily available, and more effective than existing cell therapy treatments.
We got a closer look at the finer points of ALA's tech in a recent "Explanatory Webinar" just two weeks ago, which we attended.
ALA does a good job of keeping investors abreast of its preclinical research progress and a the company will hold another webinar to present the data at 11 AM AEST on Wednesday, the 19th of April:
Click here to register for ALA's next webinar
Merchant buying up ALA - now holds 10.27%
We also note that the highly respected biotech fund, Merchant Group, continues to buy up shares in ALA and now holds 10.27% across various entities, as per this latest notice.
We like it when institutional money backs our Portfolio companies, as we see it as an endorsement of the company's potential.
We note that Merchant has had success in Investing in early stage biotech companies. Some of the most notable wins being:
Polynovo: $0.04 to $2.30 ($4.05 high) – 10,025% (return low to high)
BARD1 Life Sciences: $0.50 to $1.45 ($5.60 high) – 1,020% (return low to high)
Race Oncology: $0.14 to $3.35 ($4.20 high) – 2,900% (return low to high)
Recent cell therapy transactions - what might success look like for ALA?
The cell therapy space is highly active when it comes to deal making.
As investors it's useful to compare recent companies in the space and transactions to evaluate what potential prices could be achieved on successful results/outcomes.
Below is a list of recent cell therapy transactions, which demonstrates the speed with which transactions are concluded and the values associated with recent cell therapy deals: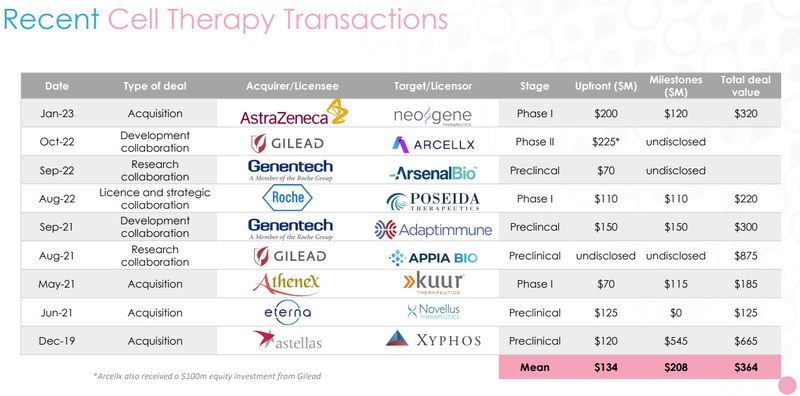 Quick takeaway: There's a lot of money flowing to the cell therapy space and many companies are taken out at the preclinical stage.
The only iNKT Cell therapy in this list (Gilead + Appia Bio) delivered the largest deal size (US$875M).
There are only a handful of iNKT cell therapy companies globally, one of which is ALA.
It is also important to note the above transactions are in US dollars. Given ALA's market cap of circa $59M AUD, we think that there could be significant upside as ALA moves toward Phase 1 clinical trials.
Something else that caught our eye was the deals getting done at the early stages of therapy development - nearly all the deals have been done at pre clinical stage (where ALA is now) or Phase 1 (where ALA is moving toward).
Interestingly, the US$875M deal for Appia Bio's iNKT cell therapy IP was done at the preclinical stage (where ALA is now).
Now that ALA has presented at its first major international conference, there's always a chance ALA gets snapped up prematurely too...
A potential takeover has always been central to our ALA Big Bet which is as follows:
Our Big Bet:
"ALA achieves a major breakthrough in cancer immunotherapy, and is acquired by a major pharmaceutical company for multiples of our Initial Entry Price"
NOTE: our "Big Bet" is what we HOPE the ultimate success scenario looks like for this particular Investment over the long term (3+ years). There is a lot of work to be done, many risks involved - just some of which we list in our ALA Investment Memo. Success will require a significant amount of luck. There is no guarantee that our Big Bet will ever come true.
To monitor ALA's progress since we first Invested and how the company is performing relative to our "Big Bet", we maintain the following ALA Progress Tracker: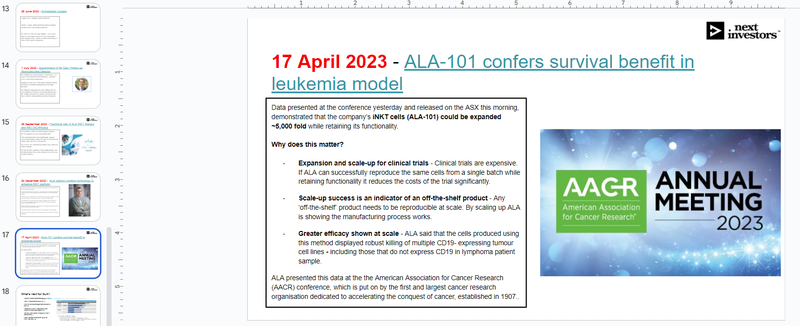 What's next for ALA?
Complete clinical manufacturing (ALA -101) 🔄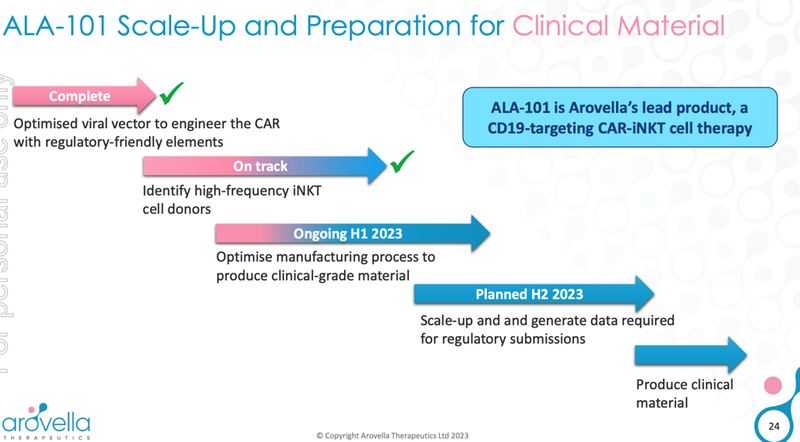 Today's news is a step in the right direction on the clinical manufacturing front.
The major competitive advantage ALA is building towards is the ability to produce an "off the shelf" ready to use procedure for patients.
Current cell therapies are based on taking cells from patients and creating a therapy using those cells - a long and expensive manufacturing process.
ALA is looking to take cells from healthy donors, scale it up to be able to produce multiple doses of ALA-101 and then make it readily available to patients.
The challenge is manufacturing this off the shelf product without losing efficacy - this is why the manufacturing process can take a long time.
With cell therapies the manufacturing process is almost make or break.
The next step in the manufacturing process would be to scale up, generate additional data and prepare for regulatory submissions.
Phase 1 clinical trial for ALA-101 🔲
After ALA completes the clinical manufacturing process, it will be all about getting its iNKT cell therapy into phase 1 clinical trials.
In today's announcement ALA confirmed that it expects phase 1 human trials to occur in 2024.
Phase 1 clinical trial for Solid Tumour Therapy (partnership with Imugene) 🔲
At this stage, the partnership is focused on completing proof of concept studies which can then be used to commence phase 1 clinical trials, the process usually follows this route:
Prove its most promising treatment works in a test tube ✅ - ALA and Imugene have already done this - see our Quick Take on that news here: Arovella and Imugene therapy kills cancer in a test tube
Prove its most promising treatment works in mice 🔄 - The next step after test tube studies, this will see how the treatment works and if it is safe in a living organism (In vitro - mice - studies)
Take the therapy to a Phase 1 clinical trial 🔲 - After all the pre-clinical data is gathered, ALA and Imugene can choose to progress the therapy into phase 1 clinical trials.
Bonus: Advance treatment #2 (ALA 104, DKK1-CAR-iNKT) 🔄
While Solid Tumour Therapy (with Imugene) is the big shiny target, we're also looking for ALA to advance this treatment for a range of less prominent, but still important, cancers.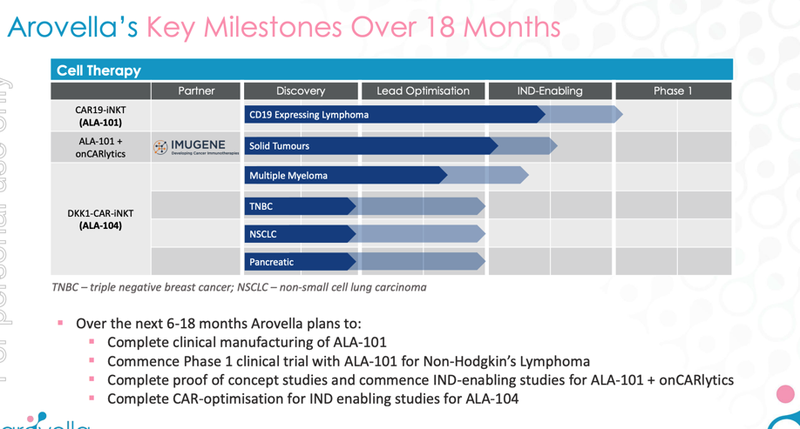 ALA is taking Environmental, Social and Governance (ESG) disclosures seriously
We Invest in companies that regularly disclose and improve ESG because they are better able to:
Access ESG funds in capital raisings – There is currently more ESG money than there are ESG investment ready opportunities.
More on market buying – from ESG conscious investors who screen new potential investments for ESG disclosures
Secure top tier customers – Top companies are conscious of ESG in their supply chain – think Merck, Pfizer, Roche, governments, etc.
Attract the most talented teams – Smart people do not want to work for non-ESG companies.
Positive community perception – Doing business at all levels is just easier when the community wants a company to exist.
Basically, from a share price point of view, ESG disclosures increase access to capital and opens a new pool of ESG conscious on-market buyers.
ALA has committed to ongoing ESG reporting and disclosures, which can be tracked in their quarterly ESG report here:
Our ALA Investment Memo:
In our ALA Investment Memo you'll find:
Key objectives we want to see ALA deliver
Why we continue to hold ALA
The key risks to our Investment thesis
Our Investment plan
---