New Deal: ALA can now target lung cancer, pancreatic cancer, gastric cancer
Our preclinical biotech Investment, Arovella Therapeutics (ASX:ALA) has just announced that its cancer fighting cell-therapy may now also be able to more effectively target:
Pancreatic cancer
Gastric cancer
Gastroesophageal junction cancers
Potentially even lung cancer
800,000 people per year die of gastric cancer alone.
These additional cancer types are on top of what ALA has already been working on with treating blood cancers.
ALA is developing an "off-the-shelf cell therapy" to treat cancer.
Compared to chemotherapy, which is a sledgehammer approach that blasts everything, cell therapies like ALA's have the potential to be much more efficient and safe for the patient by ONLY targeting and attacking cancer cells.
It's just a matter of being able to locate the specific cancer cells in order to fight them...
With the new tech acquisition today, ALA's potential market just got a lot bigger, with some pretty "big-name" cancer targets added to its arsenal.
But how can ALA now suddenly target these other types of cancer?
This comes through today's new global, exclusive licence for a technology that targets certain cancers.
ALA has licensed this technology to combine with and improve upon its own cancer killing platform.
This will allow ALA to better target and kill cancer, in particular those cancers that have a certain target, like pancreatic and gastric cancer.
Think of ALA's new technology as targeting a cell level "homing beacon" on a certain type of cancer cell.
The tech acquired today helps ALA's existing cancer-fighting tech find and destroy these additional types of cancer cells more effectively.
In our view, the market size and blue sky for ALA just got a whole lot bigger.
While the upside if ALA is successful is huge (its curing cancer after all), there is still a lot of risk as an early stage preclinical biotech.
There is still a lot of work to do on manufacturing its treatment and proving that it is safe and effective in a clinical setting.
We are hoping that as ALA continues to progress its manufacturing and early stage clinical trials it becomes a more attractive acquisition target for big pharma companies looking to grow a pipeline of promising cell therapy technologies.
Being acquired by a bigger pharma company is a common exit for early stage biotechs that can successfully progress a treatment.
For an explainer on today's technology be sure to watch the webinar recording from earlier today:
Click here and register to watch a recording of ALA's latest webinar
In the meantime, here is our distinctly less scientific explainer of today's news:
Today, ALA acquired a new technology to add to its cancer cell therapy platform.
We think of it like designing a character in a video game who will go on specific quests (in this case to find and kill certain types of cancer cells).
The iNKT cell therapy is the basic character, and with each new technology it unlocks power-ups and the ability of the character to find and defeat more powerful enemies.
This is how we see ALA's progression, starting with building out the character: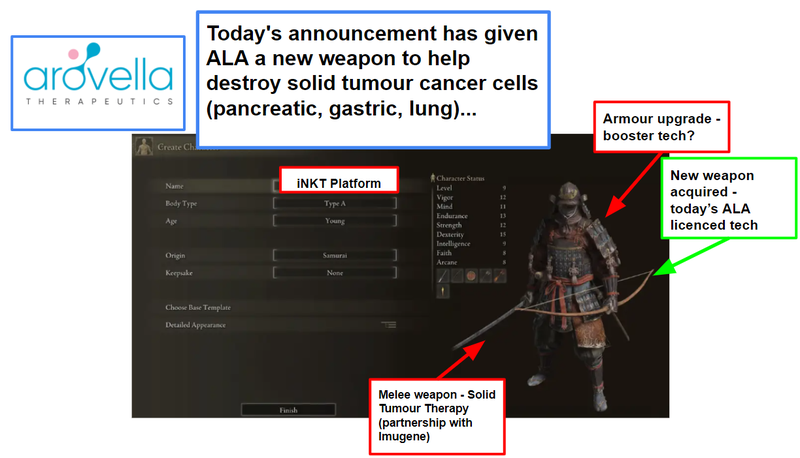 Then the character (ALA's iNKT cell therapy platform) needs to go find and kill the cancer cells: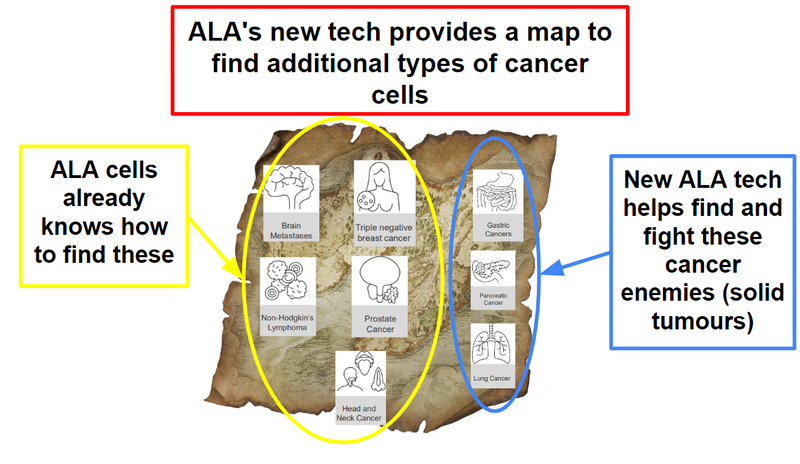 Coming up, is a big boss battle with solid tumours like pancreatic cancer and this boss battle is a Phase 1 trial:
Without the new technology that was announced today, ALA cells would not have been able to find and fight the specific cancer cells as effectively in lung cancer, pancreatic cancer and gastric cancer.
This in addition to the pre-existing cancer fighting weapons ALA had before today:
Solid Tumours Therapy (ALA + Imugene)
ALA-101 (for blood cancers)
ALA has made a lot of progress since we first invested: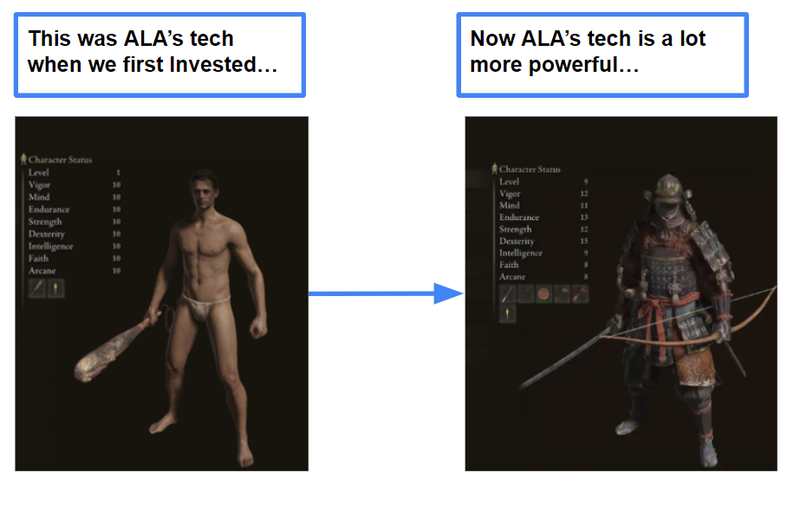 Unlike video games though, ALA's mission is very serious, and cancer is the biggest boss of them all.
It's a noble cause and we're proud to be Invested in ALA as it seeks to advance cancer immunotherapy - we've Invested in ALA three times over the course of the last two years.
We like the new presentation deck that ALA put out today as well, which provides a strong overview of what we will cover today:
Click here to see ALA's latest presentation deck (starts after announcement)
ALA - A quick reminder and overview:
What does ALA do?
ALA is a preclinical biotech targeting both blood cancers and solid tumours.
ALA's treatment is unique because it uses iNKT Cells, a subpopulation of T Cells. iNKT cells are the body's strongest immune system cells and ALA thinks these cells could be crucial to treating a range of cancers.
What does this deal mean?
Today's licensing agreement strategically expands ALA's ability to target solid tumours.
This could make it more attractive to large pharmaceutical companies seeking access to ALA's growing portfolio of preclinical research and IP.
Why does it matter?
When this new technology is added to ALA's already potent iNKT cell therapy platform, it could increase the effectiveness against certain types of solid tumour cancers (pancreatic and gastric cancers).
These are new indications for ALA and open up a much larger market of patients to evaluate with its treatment.
The therapy licensed today has shown promising signs of activity against these cancers, and is ready for Phase 1 trials.
The leading treatment in this field zolbetuximab which is forecasted to produce US$522M ($811M) in sales by 2028 and peak sales of up to US$1.3BN.
Who is ALA's new licence partner Sparx?
Sparx is a development-stage biopharmaceutical company which has operations in both Chicago, USA and a large commercial antibody facility in Yangzhou, China.
Dr. Victor Wroblewski is its biology chief - who helped ~US$550BN capped Eli Lilly develop successful antibody drugs. (Source)
What were the terms of ALA's deal announced today?
Below is our summary of the deal terms:
A modest upfront fee - $300K payable in ALA shares subject to 12-months escrow (~4M shares at a 5 day VWAP of 6.9c)
Low cash burn for ALA to do due diligence on the new tech - ALA said "proof-of-concept studies, complet[ing] the first milestone and confirming the viability of the program" should cost less than $500K over the next 12 months.
Another set of reasonable equity payments - remaining "contingent milestone equity payments" $900K" (at current VWAP as of announcement release)
Cash payments are a long way off (potentially 7 years) - the announcement notes "potential contingent cash milestone payments total US$14 million, US$12.5 million of which is payable on US FDA marketing approval"
All up, we see this as an excellent bang for buck deal by ALA given commercial upside potential from the treatment, with the cash component deferred a long way away from where ALA is now in its preclinical phase - a biotech's treatment can take more than 10 years to get FDA approval.
What is ALA's strategy?
When we first Invested in ALA it started out with a base iNKT cell therapy platform to kill blood cancers, and one upgrade to help it potentially kill solid tumours.
Since then it has acquired different technologies to help improve the ability of the cell therapy platform to find and kill cancer.
These technologies include:
Cytokine booster (option) - to help the iNKT cell replicate and create more of itself
Imugene's onCARlytics therapy - to help bring out targets in solid tumours
Spark's Monoclonal Antibody - to identify and target different types of cancers (this has been announced today)
What's Next?
Results from ALA's preclinical animal studies with Imugene and preparations for a Phase 1 clinical trial next year for blood cancers.
How does this acquisition fit into ALA's strategy
Today's announcement is well aligned with ALA's strategy of licensing the most promising technologies in the cancer immunotherapy space from the brightest minds in the business.
By making significant improvements to its cell therapy platform, it adds significant underlying value to its product - if it were to be bought out by a later-stage pharmaceutical company.
The technology in question today has been profiled in what is the most prestigious "Biochemistry & Molecular Biology" journal in the world, Nature Medicine: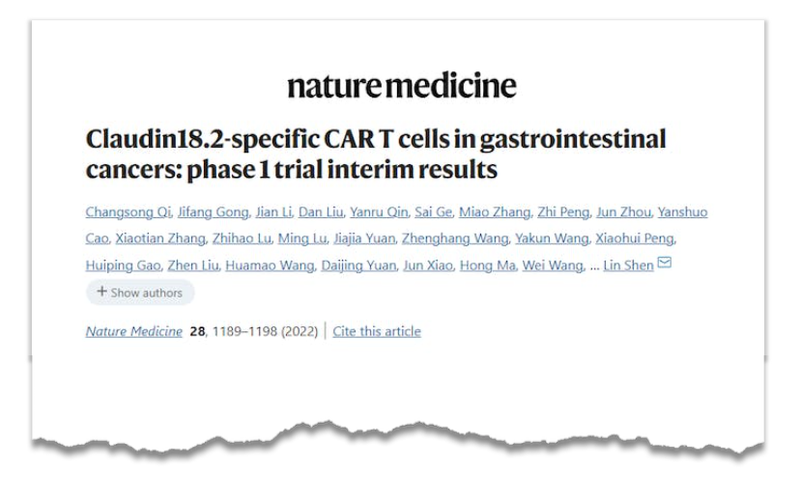 So for ALA to pull off this acquisition for what we see as a very modest upfront fee and standard commercial terms, we see as a major coup for the company.
However, today's licensing agreement expands ALA's repertoire as it prepares to advance to Phase 1 first-in-human clinical trials next year - and significantly underpins the value of the company's technology.
It's been ALA's expanding pipeline of pre-clinical work that has certainly got the market's attention - from an Initial Entry Price of 3.8c, ALA was sitting at 7.8c prior to today's announcement, capped at $70M: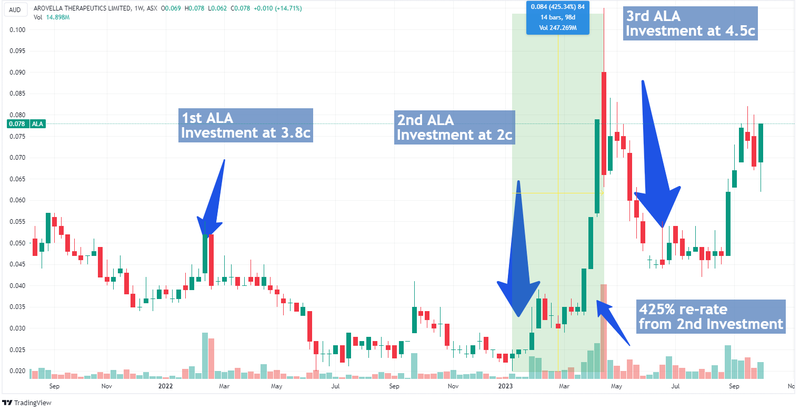 We think that's a fair valuation given the progress ALA has made since it decided to focus on a big, ambitious goal - to create a treatment for solid tumours which make up ~90% of all cancers.
With upside hopefully to come...
We note that two recent deals in the cell therapy space that made it to Phase 1 triggered upfront deals with values of $245M and $200M.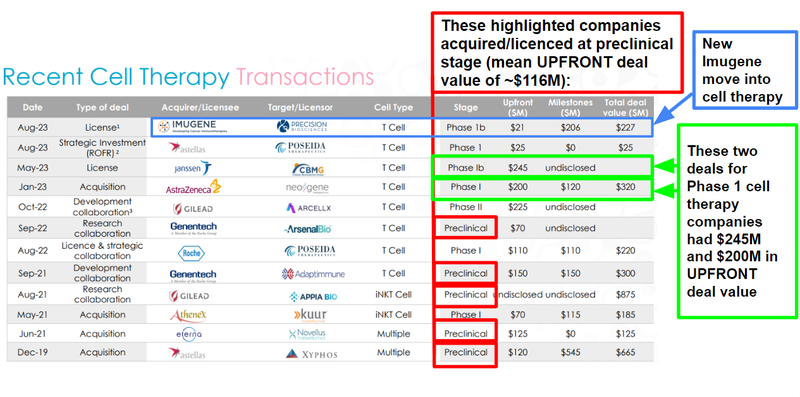 We think there's a significant opportunity for valuation uplift at these levels, noting that the $322M capped (and once capped at $3.5BN) Imugene recently moved into the cell therapy space just two months ago with its own licensing agreement.
We look forward to what the ALA and Imugene partnership can deliver in the future with newsflow expected on that by the end of the year - animal models will tell us more.
But for today, it's all about the Sparx licensing agreement and what it means for ALA.
If there is one key takeaway from today we think it's this...
Today's licensing agreement strategically expands ALA's ability to target solid tumours and this could make it more attractive to large pharmaceutical companies seeking access to ALA's growing portfolio of preclinical research and IP.
Which brings ALA one step closer to achieving our Big Bet:
Our Big Bet:
"ALA achieves a major breakthrough in cancer immunotherapy, and is acquired by a major pharmaceutical company for multiples of our Initial Entry Price"
NOTE: our "Big Bet" is what we HOPE the ultimate success scenario looks like for this particular Investment over the long term (3+ years). There is a lot of work to be done, many risks involved - just some of which we list in our ALA Investment Memo. Success will require a significant amount of luck. There is no guarantee that our Big Bet will ever come true.
Arovella Therapeutics
More details on ALA's new licence deal.
Today, ALA announced that it had licensed a new technology from Sparx Group to build a solid tumour targeting weapon.
Sparx has developed a monoclonal antibody that targets Claudin 18.2 (CLDN18.2).
CLDN18.2 targeting tech has an open Investigational New Drug (IND) application with the FDA, and is a well known target on a number of different cancers, including gastric cancer and pancreatic cancer.
The ability to licence technologies like this doesn't come around very often, and when it does it is usually snapped up quickly.
For ALA to identify and licence a technology like this one, adds to the blue sky potential of the company to develop a successful cancer treatment through clinical trials and hopefully be taken out by a larger pharma company in the future.
FDA approval is expected on the first ever CLDN18.2-targeting therapy, Zolbetuximab (owned by Astellas Pharma Inc), which is forecast annual sales of US$0.6M - $1.3BN.
The company acquired it as part of a pipeline of products from Ganymed Pharma in 2015 for €466 and the potential for €860 in extra milestones.
This shows the size and scale of the prize at the end of the tunnel for ALA.
According to ALA the licensed technology has "superior targeting affinity" when compared to Zolbetuximab.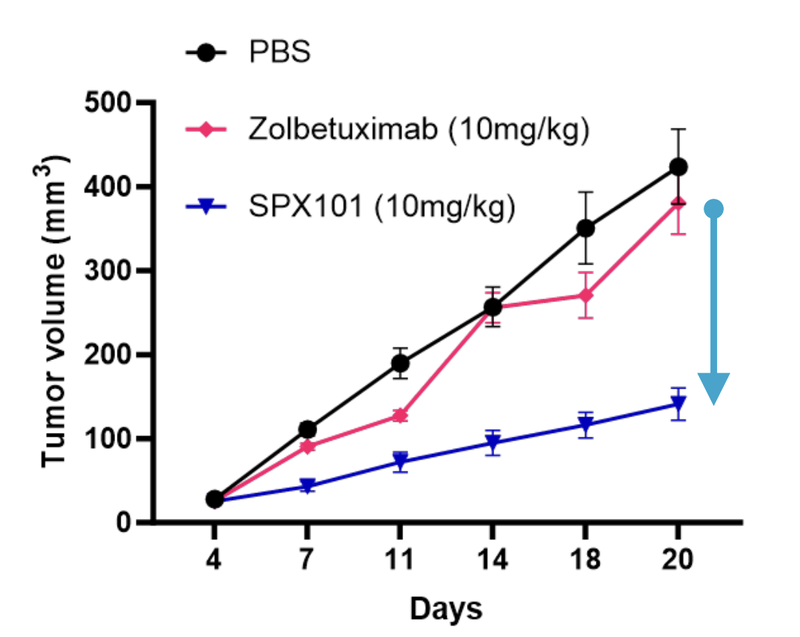 If ALA is able to prove this in its own clinical setting, we see it as a major catalyst for the company.
What's next for ALA?
This is a good quick summary of what ALA is expecting to deliver through to June 2024: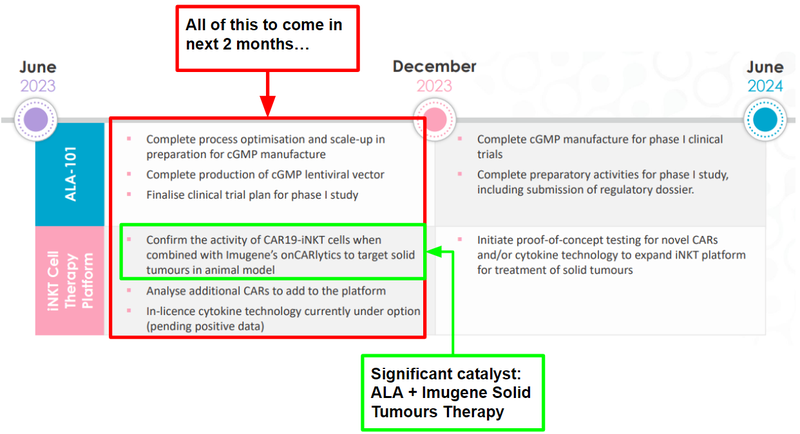 There's plenty to come over the next two months - with animal model data from the ALA + Imugene Solid Tumours Therapy the significant catalyst for us.
Below we've summarised ALA's work ahead and highlighted which parts of the timeline are due in the next two months.
Over the coming 6-18 months, we are looking for ALA to do the following in the lead up to its Phase 1 clinical trials:
🔲 Phase 1 clinical trial for ALA-101
ALA-101 is ALA's most advanced treatment for blood cancers and could be a source of a potential re-rate.
After ALA completes the clinical manufacturing process, it will be all about getting its iNKT cell therapy into phase 1 clinical trials.
ALA has previously confirmed that it expects phase 1 human trials to occur in 2024.
These are the sub-milestones we are looking for from ALA to make that possible.
🔲 Further manufacturing milestones (optimisation, scale up and complete lentiviral vector) - DUE IN NEXT TWO MONTHS
ALA needs to improve the process, make enough of the therapy to enter a trial and the lentiviral vector can be thought of as the delivery system for the therapy internal to the body.
🔲 Finalise clinical trial plan for Phase 1 study - DUE IN NEXT TWO MONTHS
These are its plans for the Phase 1 study.
🔲 Take the therapy to a Phase 1 clinical trial - After all the pre-clinical data is gathered, ALA and Imugene can choose to progress the therapy into phase 1 clinical trials.
🔲 Phase 1 clinical trial for Solid Tumour Therapy (partnership with Imugene)
At this stage, the partnership is focused on completing proof of concept studies which can then be used to commence phase 1 clinical trials, the process usually follows this route:
✅ Prove its most promising treatment works in a test tube - ALA and Imugene have already done this - see our Quick Take on that news here: Arovella and Imugene therapy kills cancer in a test tube
🔄 Prove its most promising treatment works in mice - DUE IN NEXT TWO MONTHS - The next step after test tube studies, this will see how the treatment works and if it is safe in a living organism (in vivo - mice studies)
🔄 Bonus: Advance treatment #2 (ALA 104, DKK1-CAR-iNKT)
This is an additional treatment, but for now ALA's latest timeline seems to be prioritising ALA-101 and the Imugene partnership treatment for solid tumours.
🔄 Enter into definitive licensing agreement for "booster tech"
In June, ALA revealed that new data from experiments indicate that its iNKT platform technology can be enhanced by another complementary technology (read more in our latest ALA Quick Take).
The data has come in looking positive, so now we will be looking to see if ALA enters into a definitive licence agreement to formalise ALA's IP position with this tech.
What could go wrong?
These are the risks we are most conscious of at the moment for ALA:
Early Stage Biotech Risk
As with many early stage biotechs, a lot can go wrong in developing technology, particularly as ALA has yet to enter a clinical setting.
The treatment is ineffective
The treatment is not considered safe for human use
Patient recruitment is delayed
Ethics approval is delayed
Manufacturing risk
With this new technology acquired ALA will need to work out how to manufacture, at scale, its iNKT cell therapy platform together with the new technology.
As new technologies are added, the manufacturing process may become more complex.
We expect that ALA did its due diligence on this front before acquiring the technology, however there is still a risk of manufacturing challenges when ALA looks to produce at scale.
Funding risk
There is always the risk with small caps that more funding is required prior to major catalysts which could cause additional dilution to current holders.
Clinical trials are not cheap and ALA is not generating any material revenue.
ALA had a cash position of $7.3M at 30 June 2023 and we'll know more about its cash position in the coming September quarterly.
[NEW] Market risk
We have added this risk to the ALA investment memo going forward.
Biotechs have been out of favour for a long period and this likely impacted ALA's share price performance, and may impact it in the future.
The market risks for ALA are linked directly to funding risk as capital markets for biotechs remain constrained.
---