$23M capped ALA partners with $1.1BN Imugene - Now Targeting 90% of Cancers
Disclosure: S3 Consortium Pty Ltd (the Company) and Associated Entities own 13,631,579 ALA shares at the time of publishing this article. The Company has been engaged by ALA to share our commentary on the progress of our Investment in ALA over time.
The US government is treating it like the 1969 moon mission.
Funding could reach into the billions.
The goal is clear:
To cut the number of cancer deaths in half over the next 25 years.
Literally called the "Cancer Moonshot", it's the US federal government's rallying cry to accelerate the rate of progress against cancer.
In our Portfolio, one tiny biotech company is doing its best to contribute. It's working on its very own cancer "moonshot" that, if successful, could meaningfully advance the fight against cancer.
Arovella Therapeutics (ASX:ALA) is an early stage biotech company that we Invested in back in February of this year.
ALA is seeking to develop a cancer cell therapy treatment, in the broader field of cancer immunotherapy.
This is cutting edge cancer fighting technology that uses the body's own immune system to locate AND kill cancer cells in a patient.
Previously, ALA's technology was only being used to attack blood cancers, however ALA has now partnered with the $1.1BN capped Imugene, which will see the companies combine their technologies to fight against solid tumours.
Solid tumours account for 90% of all cancers, so this has dramatically increased the potential market for ALA's for emerging technology.
This news significantly advances our Big Bet for ALA, which is our version of what the outsized success case looks like for our Investment in ALA:
Our Big Bet
ALA achieves a major breakthrough in cancer immunotherapy, and is acquired by a major pharmaceutical company for multiples of our Initial Entry Price.
NOTE: our "Big Bet" is what we HOPE the ultimate success scenario looks like for this particular Investment over the long term (3+ years). There is a lot of work to be done, many risks involved, and it will require a significant amount of luck. There is no guarantee that it will ever come true.
The original mission to the moon took nearly a decade of planning and preparation. That's roughly the same amount of time it takes for a biotech company to take a treatment to market after Phase 1 clinical trials. And just like the moon missions, the rewards for biotech development can be large.
ALA hasn't released much in the way of ASX news lately as it's been in what we call "quiet execution mode", preparing for Phase 1 clinical trials in 2023.
However yesterday, ALA emerged from this quiet period with an unexpected positive announcement - ALA has partnered with ASX biotech giant Imugene on a new preclinical trial.
This is big news for little ALA.
ALA currently has a market cap of $23.5M, meanwhile Imugene is one of the big success stories of ASX biotechs in recent years - at one stage it was valued at ~$3.5BN and is now sitting at around $1.1BN.
Imugene is the kind of company we hope ALA can one day grow into if it gets a few things right, and has some luck along the way.
There is one key person that has been involved in both companies — Imugene executive chairman Paul Hopper, who said he would retain his long-term shareholding in ALA when he left the ALA board in June.
Hopper's presence on the ALA board as chairman was one of the key reasons we Invested — he has a strong track record in delivering outsized success for his investors (there was also Viralytics that he sold for $500M in 2018).
Hopper's connections seem to have delivered a result for ALA in the form of the partnership announced yesterday.
This Imugene + ALA preclinical trial could significantly expand ALA's addressable markets from the already lucrative blood cancer treatment space (worth ~US$43BN), to take in solid tumours, which make up 90% of all cancers and is worth ~US$210B.
This is the type of "moonshot" we live for as Investors and it's hard to understate how significant this is — ALA is now going after a treatment for the vast majority of cancers.
There are only a handful of companies out there trying to make a difference in the iNKT cell therapy space (companies working with the most potent, naturally occurring immune cells), and we can't guarantee ALA wll be successful.
However, the rewards for early stage investors who invest in the riskiest stages (particularly in the preclinical phase) can be substantial, commensurate with the far higher risk associated with preclinical biotech companies such as our ALA Investment.
Just ask early stage Imugene investors who invested when that company was trading at similar valuations to where ALA is trading today, then rode it all the way up to a peak market cap of ~$3.5BN: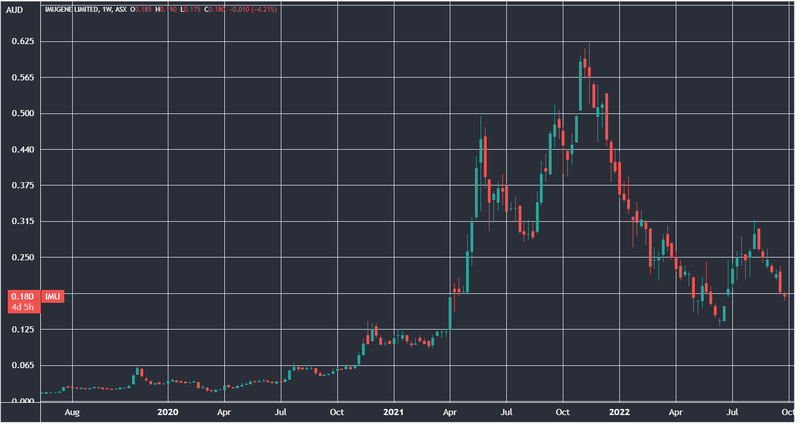 Obviously, there are no guarantees that ALA follows a similar trajectory to Imugene — ALA is at a far earlier stage and carries with it all the risk associated with that status.
That being said, Imugene started out in 2018 and 2019 licensing technology from well respected researchers and organisations, much like ALA has done with its tech.
We'll share a quick explainer of how the proposed combination of Imugene and ALA's tech could work and a rundown of the announcement in a moment.
To visualise what ALA has done since we Invested, we've compiled a brand new Progress Tracker for ALA: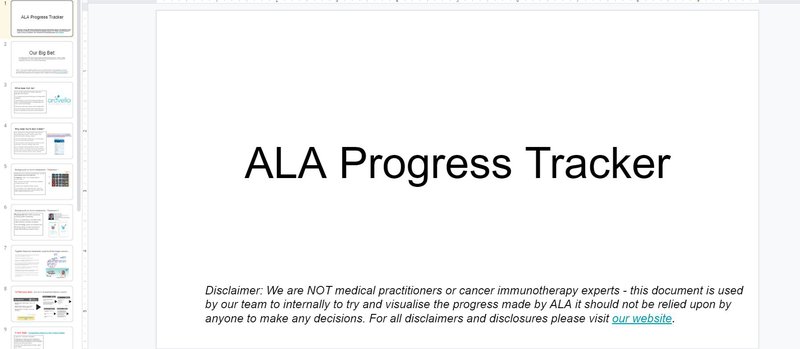 It takes just a few minutes to scroll the ALA Progress Tracker to get a quick helicopter summary of progress, which we find helpful to do before reading each new ALA announcement.
A quick scan of the Progress Tracker helps give context to how the new announcements contribute to our big bet and near term Investment Memo objectives for ALA.
More on yesterday's announcement
Yesterday ALA announced that it had partnered with $1.1BN capped Imugene to establish whether ALA's product in combination with Imugene's onCARlytics platform can destroy solid tumour cells.
Imugene is evaluating a range of therapies in combination with its onCARlytics platform and ALA's technology is one of multiple technologies that Imugene is testing.
Using the bow and arrow analogy that we have used in the past to describe ALA's technology - ALA is using its "arrow" in combination with Imugene's "bow" to test whether it can shoot and kill cancer tumour cells.
This test will be done first in vivo (test tube)and then in mice.
Imugene will be performing this test with multiple "arrows" (or technologies) to see which works best with its platform, and which technology, if any, to develop further into clinical trials on humans.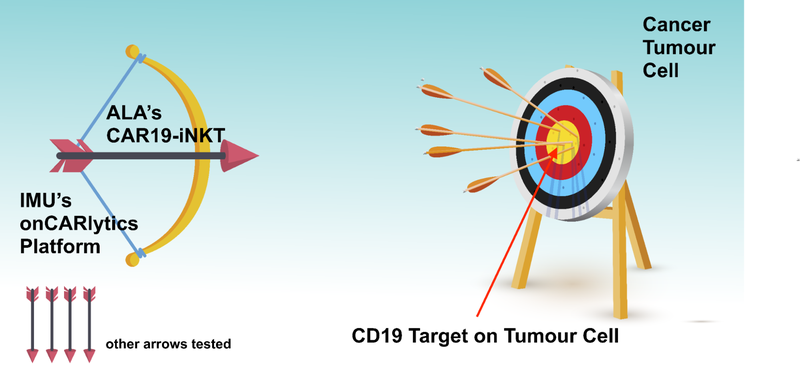 As we nodded to earlier in this article, what is really exciting about this development is that up until now, ALA's treatment was solely focused on attacking blood cancers.
If this preclinical trial can show that ALA's treatment is effective in attacking solid tumour cells, it unlocks a much wider range of opportunities for ALA's technology.
Solid tumours represent 90% of diagnosed cancer cases and as of 2021, and at that time the solid tumour treatment market was valued at US$210B.
The current inability for CAR-T Cell Therapies to effectively treat solid tumours is one of the major drawbacks in the technology.
If ALA can show some positive developments in this space, this would be a major positive for ALA. We think the market would also look favourably on any technical breakthroughs here.
The research collaboration agreement between Imugene and ALA is for an initial term of 12 months, and ALA will fund the preclinical studies from its planned research budget.
As of 30 June 2022, ALA had $6M in the bank, which we think should be enough money to fund this initial study. However, the September 30 cash balance "reveal" should arrive some time in October — this is when we will get a better gauge on ALA's cash burn and current balance.
What's next for ALA?
Yesterday ALA gave us a timeline on expected milestones over the next 12 months:
While scientific research doesn't proceed in a predictable and linear fashion as yesterday's announcement shows, it's good to have a grip on what to broadly expect.
The completion of the in vitro and in vivo studies (test tube and mouse) for the combination of ALA and Imugene's therapies promises to be a major catalyst looming in Q2 of next year.
New ALA Board Chair, Liz Stoner and new Director, Gary Phillips
Paul Hopper stepped down as ALA Non-Executive Chairman in June, and his involvement was one of the key reasons we Invested in ALA.
While it was a shame to see Mr Hopper depart the board, he did bring significant credibility and market attention to the critical work that ALA is doing in the field of cutting edge cancer treatments, and importantly still retains a decent shareholding.
This week's partnership between Imguene and ALA is testament to his continued interest in seeing ALA succeed.
In his place is an extremely capable replacement - Dr Elizabeth Stoner, who was appointed as interim chair.
Dr Stoner has decades of biotech experience via work at Merck Research Laboratories (Merck being one of the titans of the pharma industry), in addition to being executive partner at MPM Capital, a major biotech investment firm.
We like her addition to the team, and she can hopefully open some additional doors when it comes to partnerships and/or bigger funding rounds when the time is right for ALA.
ALA also added Gary Phillips as a board member in July, who is currently CEO of ASX-listed Pharmaxis.
Notably, he was also the CEO of Novartis' Pharmaceutical Division in Australia helping launch oncology products.
We think the appointment of Mr Phillips fills out ALA's ability to conduct commercial transactions. He will know the market well and will have contacts at big pharmaceutical companies.
Our ALA Investment Memo
Below is our 2022 Investment Memo for ALA, where you can find a short, high level summary of our reasons for Investing.
The ultimate purpose of the memo is to record our current thinking as a benchmark to assess the company's performance against our expectations for the following 12 months.
In our ALA Investment Memo, you'll find:
Key objectives for ALA for the coming year
Why we are Invested in ALA
What the key risks to our investment thesis are
Our investment plan

---