ALA on the Pathway to Phase I Clinical Trials
Disclosure: The authors of this article and owners of Next Investors, S3 Consortium Pty Ltd, and associated entities, own 13,631,579 ALA shares. S3 Consortium Pty Ltd has been engaged by ALA to share our commentary on the progress of our investment in ALA over time.
Our biotech investment, Arovella Therapeutics (ASX:ALA), is one of only a handful of companies in the world working on an iNKT cell therapy for cancer.
This is an 'off the shelf' treatment that, if successfully trialled and commercialised, would mark a major breakthrough for the company, patients, and the wider medical community.
Breakthrough technologies like this can deliver large returns for investors, however these investments come with higher risk.
ALA has a long way to go - its Phase I clinical trials are not expected to start until the first half of 2023.
We like to invest early in stocks like ALA as it can bring higher rewards, however that also brings higher risk.
This is reflected in the company's market cap of $27M - which we think is a relatively low valuation, especially compared to US peers in the space (MiNK US$80M market cap, Appia's strategic partnership with Kite for US$875M).
We expect that as ALA gets closer to its Phase I trials, there will be increased interest in the company.
With small cap biotech guru Paul Hopper (Imugene, Viralytics, Chimeric Therapeutics) as Chairman and Merchant Funds Management a significant holder, our ALA investment is as much about people as it is about its tech.
Yesterday ALA ticked off a key milestone on the path to Phase I clinical trials, selecting Q-Gen Cell Therapeutics as the manufacturer for its lead cancer treatment.
This is important, because it means the company has finally found the right partners to manufacture its highly specialised treatment for Phase I clinical trials.
With a long history of manufacturing similar products and accreditation with the Therapeutic Goods Administration, Q-Gen shapes up as the ideal partner for ALA.
When we launched our ALA initiation note, we drew attention to the fact that, to our knowledge, there are only three other public companies working on iNKT tech.
Together with ALA, these four companies are a subset of a subset - a miniscule niche of the broader field of the US$156B cancer therapy market.
Today, we do a deeper dive on one of these three other companies and explain why they are valued at multiples of the current ALA market cap.
We also look at what we think ALA needs to accomplish in order to re-rate and get on par with these companies.
Our analysis takes place against the backdrop of the CAR T cell therapy market which currently stands at a fraction of the overall cancer therapy market (~US$5B) and is forecast to grow at a 19.7% compound annual growth rate (CAGR) through 2027.
The CAR T cell therapy market is establishing itself at the forefront of immunotherapy innovation but is currently constrained by a variety of factors.
The main limitation of CAR T cell therapy is the need to pull blood from the patient suffering from cancer which comes with exorbitant costs, complications and reliability issues.
The CAR T treatment is not currently scalable, and although ALA's iNKT cell therapy is unproven, its technology could smash through the scalability problem.
Here's how we'll approach today's update note:
Summary of ALA's announcement from yesterday
Why is the CAR T cell therapy market so big, and what's holding it back?
How could iNKT cell therapy solve the CAR T cell therapy scalability problem?
What are the three other iNKT cell therapy companies?
Why are these three companies bigger than ALA?
Our ALA Investment Memo
More on yesterday's announcement:
With yesterday's announcement, ALA made progress towards Objective #1 in our ALA Investment Memo: Prepare for Phase-1 clinical trial.
To make the CAR19-iNKT cell therapy, ALA has selected Q-Gen Cell Therapeutics (Q-Gen), which is the cell therapy manufacturing arm of the QIMR Berghofer Medical Research Institute (QIMR Berghofer).
Based in Brisbane, Q-Gen has successfully produced cell therapy products for clinical trials and can produce cellular immunotherapies for patients in Australia, Asia, Europe and the US.
Streamlining the treatment's manufacturing is a critical step for ALA's Phase I clinical trial and Q-Gen is well regarded, having been established in 2002 and accredited by Australia's FDA equivalent the Therapeutic Goods Administration.
Q-Gen has been selected to manufacture the CD19-CAR therapy, the first of ALA's two treatments.
We've previously likened ALA's tech to a bow and arrow.
ALA has two 'arrows', CD19-CAR to target CD19 producing blood cancers, and DKK1-CAR/mAb to target different types of blood cancer and potentially solid tumours.
The bull's eye, in the analogy, is the biomarker, CD19 or DKK1, which sits on the outside of the cancer cell.
The idea is for ALA to put the arrow in the bow, and try to hit the bull's eye without taking out any innocent bystanders.
Those innocent bystanders would be other healthy human cells.
If the iNKT technology 'hits' the biomarker it can then go and kill the cancer cells.
Today, ALA has found an organisation that can make the first arrow:
Now that Q-Gen has been selected to manufacture the CAR19-iNKT cell therapy, ALA will progress towards completing the manufacturing of the cells.
This involves three different things, a plasmid, a lentivirus (to deliver the treatment) and the CAR-iNKT cells themselves.
Once the cells are manufactured, ALA can progress towards the design of the clinical trial and the necessary approvals required to commence Phase I trials.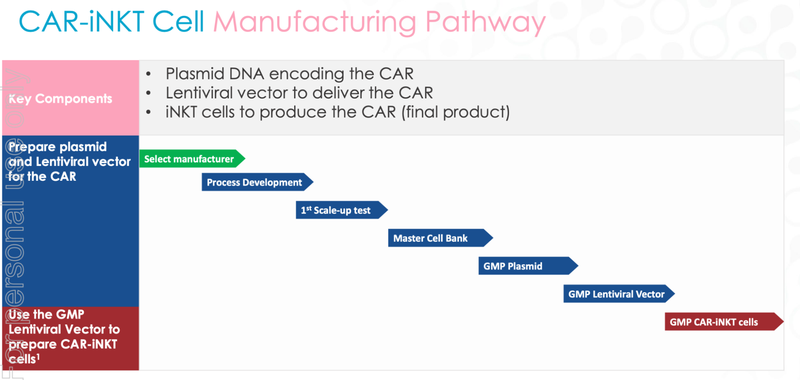 Why is the CAR T cell therapy market so big, and what's holding it back?
ALA is aiming to combine two technologies called DKK1-CAR/mAb and CAR19-iNKT to create a powerful cancer killing therapy.
CAR stands for chimeric antigen receptor and is a specially engineered receptor that can be added to T cells to help them target cancer.
T cells are part of the body's immune system and CAR T cell therapy is the application in cancer immunotherapy which uses this combination of tools.
iNKT cells on the other hand, or invariant Natural Killer T cells, are a stronger, more specialised part of the body's immune defences.
The significance of this difference will become important later, but for now consider the fact that the average price of CAR T cell therapy is around $450,000.
That's prohibitively high for most people. But given the overall cancer therapy market is worth US$156B a year, it's clear that any therapy that works will find a high dollar value attached to it.
Part of the reason it costs so much is that a very complex manufacturing process is required. Advanced training is needed for the practitioners administering it, and above all else, it needs blood drawn from the cancer patient themselves.
Here's how ALA's treatment fits into the subsets of the field of cancer treatment:
The CAR T Cell therapy field currently has over 250 companies working on products and since 2017, six CAR T cell therapies have been approved by the US Food and Drug Administration (FDA).
Any gap where a therapy is shown to work, naturally becomes lucrative for other companies to improve on existing technologies and solve for inefficiencies.
The amount of money and effort being put into CAR T Cell therapy is immense and it shows in the number of clinical trials. There are over 500 clinical trials ongoing in the world right now.
There are lots of horses in the race, but that is because the prize is big for any company that can successfully progress and develop cancer technologies.
The two companies leading the way in terms of number of CAR T Cell therapy products are Kite Pharma and Celgene, which are subsidiaries of Gilead Sciences (~US$75B market cap) and Bristol Myers Squibb (~US$153B) respectively.
Kite Pharma was bought by Gilead in 2017 for US$11.9B and Celgene was purchased for US$74B.
While Celgene had a variety of products, Kite Pharma is particularly focussed on a CAR T Cell therapy with its Yescarta product being the first therapy of this kind approved by the FDA.
But despite all the money, there's still a big catch.
You still need to draw the blood for the therapy from the cancer patient themselves in order to avoid a nasty and frequently fatal immune response called graft-versus-host disease (GVHD).
This is what stops CAR T cell therapy from reaching the masses, and where ALA might be able to contribute.
How could ALA's iNKT cell therapy solve the CAR T cell therapy scalability problem?
Here's a quick recap from our portfolio initiation note:
GvHD is a condition that sometimes occurs after a cell transplant, where the body rejects the donated cells leading to an immune response against the patient's tissues and organs.
This is where ALA's technology comes in.
iNKT cells, as opposed to T cells, are more safely imported from a donor, indeed they have been shown to naturally suppress GvHD.
By using iNKT cells instead of T cells, ALA aims to create an 'off-the-shelf' solution, drawing down the cost of the treatment and mitigating the risks associated with using the patient's own blood.
The risk of T cell therapy includes:
Unusable cells because the patient's cells are damaged (due to age or the cancer)
The delay between cell extraction, modification and treatment
The inability to target and kill solid tumours
iNKT Cell therapy is a very niche field, and given its recent emergence on the scene, there are only a few companies working on this type of cancer treatment.
What are the three other iNKT cell therapy companies?
We profiled three companies that we know of that are doing iNKT cell therapy in our ALA initiation note — Appia Bio, Kurr Therapeutics, and MiNK Therapeutics.
Appia Bio got US$875M in a strategic partnership with Kite, and Kurr also was bought out for US$70M in upfront cash payments and US$115M in milestone payments (by Athenex).
We want to hone in on MiNK Therapeutics, because unlike Appia Bio and Kurr, we think MiNK Therapeutics is the closest "look-a-like" to ALA.
That's because it doesn't use stem cells and it's going after some of the same diseases - solid tumours and multiple myeloma.
Multiple myeloma is a cancer that forms in a type of white blood cell called a plasma cell. With this disease, cancerous plasma cells grow in the bone marrow and crowd out healthy blood cells.
It has a relatively low before 5-year.
Given early investor enthusiasm and the pressing need for a treatment, at one stage MiNK Therapeutics went as high as a market cap of ~US$650M and now trades at a market cap of ~US$80M.
Remember, ALA has a $27M market cap.
We think part of the discrepancy between ALA and MiNK's market caps is likely down to MiNK being more advanced along towards Phase 1 clinical trial readouts.
If MiNK can re-rate on success, we think a similar thing could happen to ALA by simply getting to the Phase 1 trial stage.
It's a bit of a race, and indeed, MiNK acknowledges ALA's position as a competitor:
MiNK's product candidate is called Agent 797, and its Phase 1 clinical trial began in March 2021.
MiNK then presented early clinical signals at a conference called Society for Immunotherapy of Cancer (SITC) in November 2021.
Mink expects to report data from this trial in the Q4 2022, which we'll be watching for closely.
We dug into the early clinical signals and it seems like MiNK is making progress with Agent 797.
The MiNK CEO was quoted as saying the early clinical signals, 'highlight the potent anti-tumor activity and unique tumor homing abilities of iNKT cells, demonstrating their potential as an optimal cell therapy approach.'
The important thing for us though — this is not a winner take all environment.
Different treatments can work in different ways. MiNK is combining its iNKT Cell therapy with checkpoint inhibitors, while ALA is combining its iNKT Cell therapy with the DKK1-CAR/mAb (see chart from the start).
In other words, two companies can be successful at the same time because the technology is so new.
In fact, early success for MiNK could be a net benefit for ALA, as it would show that the iNKT cell therapy tech is viable.
ALA Investment Memo
In our ALA Investment Memo you'll find:
Key objectives for ALA in 2022
Why do we continue to hold ALA
The key risks our investment thesis
Our investment plan.
You can find our ALA intiatiation article here: New Portfolio Addition: Arovella Therapeutics.
---