$1.5M annual cost savings allows ALA to focus on what really matters
Disclosure: S3 Consortium Pty Ltd (the Company) and Associated Entities own 13,631,579 ALA shares at the time of publishing this article. The Company has been engaged by ALA to share our commentary on the progress of our Investment in ALA over time.
The market never really liked it.
And now that it's gone, the company is going full bore at a serious biotech breakthrough.
A breakthrough in cancer research that could both save lives and deliver a significant re-rate.
We initiated coverage on Arovella Therapeutics (ASX:ALA) in February of this year, and since then ALA has been busy transforming itself into a company that is on the cutting edge of cancer treatments.
To fully accomplish that mission, ALA had to phase out its legacy operations.
These legacy treatments were oral spray reformulations of existing treatments for insomnia and blood disorders.
When ALA was called Suda Pharmaceuticals, the company's struggles to derive revenue from this arm of its operations were well publicised.
So on Wednesday ALA ended this arm of their business for good.
It now has a clean slate to work with, and we're confident this is the right move.
ALA expects this move to deliver $1.5M in annual cost savings after a $300k one off restructuring cost.
ALA is a preclinical biotech with a current market cap of less than $20M, so the ability to make these kinds of reductions in cash burn can make or break the company.
The big upside here is that ALA will have more capital to deploy to its cancer research - which has been the core focus of ALA since it licensed two promising treatments from top research institutions.
That core focus is now pleasingly its sole focus, and it comes on the back of a very positive partnership announcement which drastically expanded ALA's addressable market.
Just four weeks ago, ALA confirmed that it has partnered with the $1.1BN ASX biotech, Imugene, to combine ALA's lead product (ALA 101) with Imugene's onCARlytics platform.
Our last note on ALA spelled out why this was a big deal - solid tumours make up 90% of cancers.
These are essentially the biggest, most rewarding cancers to target and make up the largest portion of the ~US$200BN cancer treatment market.
The other treatment could be just as promising, which like the ALA + Imugene treatment, could also prove effective against solid tumours along with multiple myeloma (a blood cancer).
Together these two treatments are about to undergo pre-clinical trials which make up four potential catalysts scheduled to arrive by Q2 2023.
if any of these catalysts are positive, it could move ALA closer to satisfying our Big Bet for the company...
Our Big Bet
"ALA achieves a major breakthrough in cancer immunotherapy, and is acquired by a major pharmaceutical company for multiples of our Initial Entry Price."
NOTE: our "Big Bet" is what we HOPE the ultimate success scenario looks like for this particular Investment over the long term (3+ years). There is a lot of work to be done, many risks involved, and it will require a significant amount of luck. There is no guarantee that it will ever come true. Some of these risks we list in our ALA Investment Memo.
To visualise what ALA has done since we Invested, check out our Progress Tracker for ALA:
It takes just a few minutes to scroll the ALA Progress Tracker to get a quick helicopter summary of progress, which we find helpful to do before reading each new ALA announcement.
A quick scan of the Progress Tracker helps give context to how the new announcements contribute to our Big Bet and near term Investment Memo objectives for ALA.
What did ALA announce? And why is it important?
ALA is now fully focussed on its iNKT cell therapy after deciding to discontinue its legacy OroMist based products.
As before, the benefit of not pursuing any further work on OroMist products comes in the form of $1.5M annual cost savings.
The move will incur a one off $300k restructuring cost, but we know how hard it is for small-caps to raise funds so long-term this makes sense.
We think it's a good strategic move for ALA to prioritise its core treatments.
ALA is currently sitting at 2.8 cents but the market liked the announcement on Wednesday when it came out, with ALA at one point trading as high as 3.5 cents and eventually settling at 3.1 cents on close.
We think that move up was driven by two key factors:
Material reduction in annual cash burn should give ALA more capital to put into its iNKT cell therapy
More importantly, we suspect the market never really liked the legacy OroMist treatments, so ALA effectively now has a clean slate
With this clean slate, ALA has to deliver positive preclinical studies in both test tubes and mice to show that its two licensed cancer treatments are effective.
As a quick reminder, ALA's technology has already been trialled on animals in a preclinical study with very promising results.
As you can see below, ALA's therapy on the far right hand side (CAR19-iNKT), killed the cancer faster (removed the coloured blobs) than other similar treatments: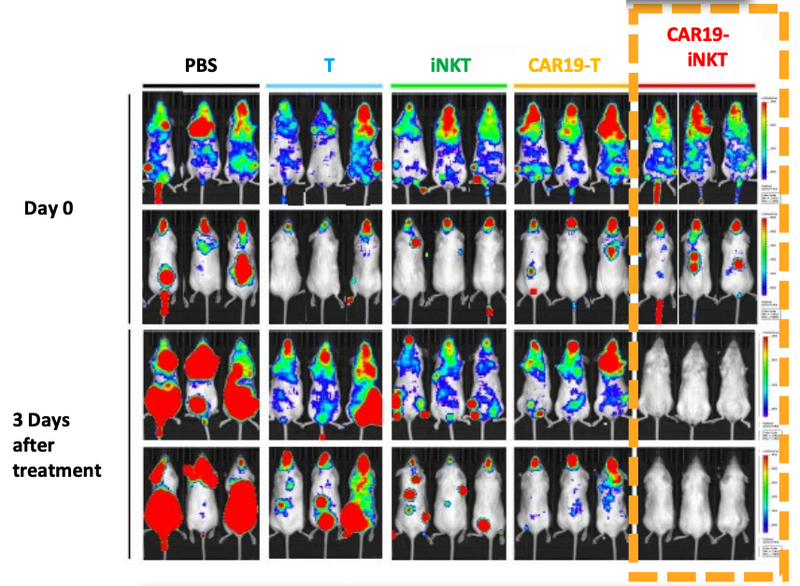 Given this data, we think there's a chance that the ALA+Imugene treatment is also effective at killing cancer, which if successful would prove highly valuable.
ALA is currently working on scaling up this treatment as a standalone therapy, while also pursuing the combination therapy.
Here are the catalysts we're looking for now that ALA is solely focussed on cancer treatments.
What's next for ALA?
ALA has a significant amount of important news flow in the pipeline.
There are four milestones we're most looking out for in the first half of next year: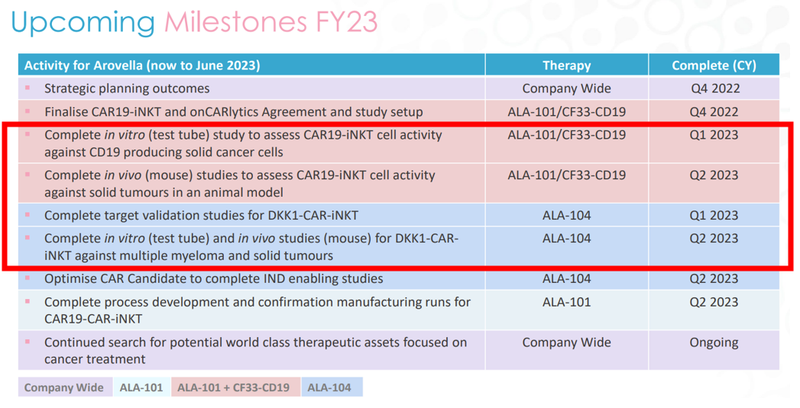 The first two catalysts in red are studies for ALA's lead iNKT product (ALA-101) that will be combined with the Imugene's onCARlytics platform.
This is a new initiative (the combination) and could be the key to unlocking a big value uplift for ALA.
Note that the targeted Q1/Q2 2023 dates are for completion of the studies, so we're expecting data in this timeframe that demonstrates the effectiveness of ALA's lead iNKT product.
So that's two catalysts to look out for, but what about ALA's second treatment?
Well, ALA says the same timeframe applies to its other iNKT product, the DKK1-CAR iNKT therapy.
Meaning that if the in vivo (test tube) studies go well AND the mice studies also go well (with good data to back it up) then ALA could be well on its way to carving out a position as one of the leading iNKT cell therapy companies in the world.
Together, this group of four catalysts give us a lot to look forward to as ALA shareholders.
Beyond that, we're also looking for ALA to complete the process development and confirmation manufacturing runs, also in Q2 2023: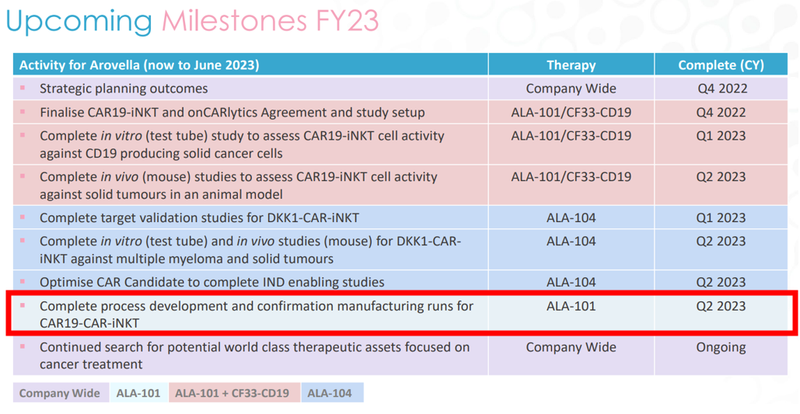 This milestone would mean that ALA is confident it can scale up the standalone CAR19-iNKT treatment, which would mark a big step forward to being able to carry out a Phase 1 trial.
This is Objective #1 from our ALA Investment Memo: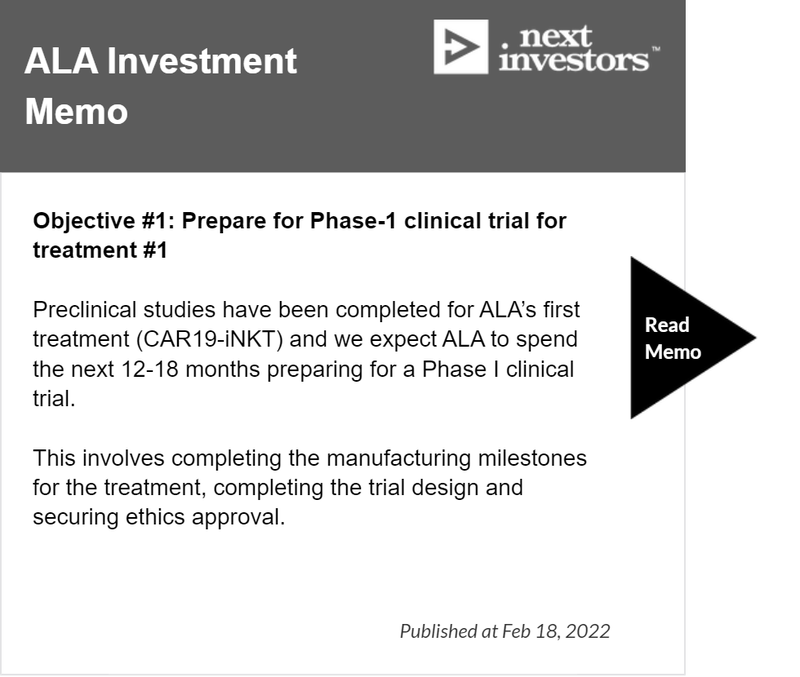 ---