IVZ is drilling now, 50 to 60 days of serotonin and cortisol incoming…
Disclosure: S3 Consortium Pty Ltd (the Company) and Associated Entities own 6,366,999 IVZ shares and 2,833,212 IVZ options and the Company's staff own 161,667 IVZ shares and 51,679 IVZ options at the time of publishing this article. The Company has been engaged by IVZ to share our commentary on the progress of our Investment in IVZ over time.
Mukuyu-2 has spudded.
Drilling has officially commenced at Invictus Energy (ASX:IVZ)'s long awaited second well (Mukuyu-2) in the Cabora Bassa basin.
Drilling will take around 50 to 60 days, where we are expecting regular updates from IVZ... and then the drill results.
IVZ is drilling through 6 stacked targets, targeting a prospective resource of 20 tcf gas plus 120 million barrels of oil - an enormous prize.
Of course - being frontier exploration, it's also high risk with no guarantee of success.
Today's IVZ spudding comes against a backdrop of a rapidly surging oil price.
Drilling and the lead up to drill results is always an exciting time in frontier oil & gas exploration.
We expect there to be some interesting share price activity over the next two months, and also likely some white knuckle moments.
Especially when the results are announced...
IVZ also just got a $15M cap raise (at 15c) out of the way, so hopefully no bucket of cold water on a pre-drill result share price run this time around (if one does happen). We participated in this raise.
After waiting almost a full year to get to this point (not counting the 2+ years waiting for Mukuyu-1 that was drilled in 2022), the drilling and lead up to results is our favourite part of frontier oil & gas exploration.
It's also the most nerve wracking...
As we noted above, investing in frontier exploration is high risk stuff, and there is a good chance the results won't go our way.
Last year IVZ drilled Mukuyu-1 and proved a working hydrocarbon system in the basin, with multiple hydrocarbon bearing reservoirs. This was a wildcat well and basin opener.
The IVZ share price action in the lead up to the result delivered spikes and falls.
On the current well, IVZ will be looking to declare an official hydrocarbon discovery (by successfully pulling up a fluid sample to surface).
Drilling is expected to take ~50-60 days to complete.
IVZ's plan is to drill to total depth (TD) of 3,750m and then test the well.
That means we should know whether or not IVZ has officially unlocked a new oil and gas basin in East Africa within the next 60 days.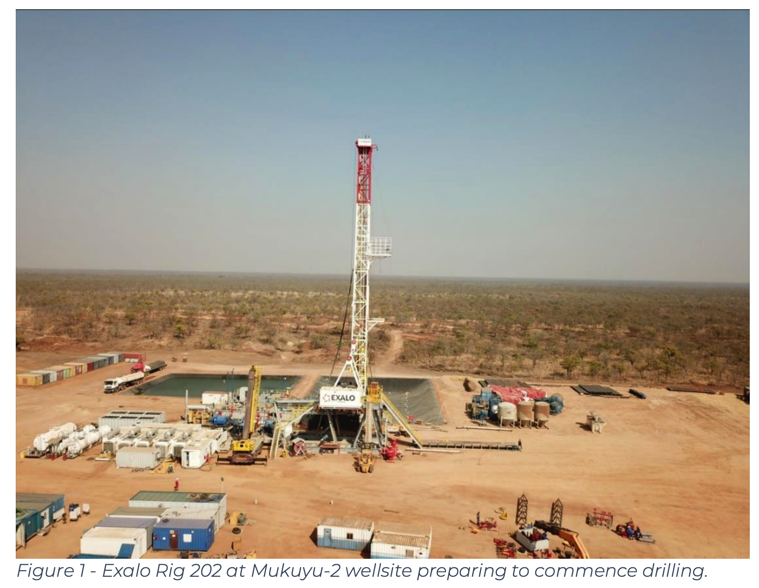 Prior to last year's drill we wrote about why our IVZ Investment had a sense of deja vu about it.
Around 10 years ago we were Invested in Africa Oil Corp, a TSX listed oil & gas explorer that successfully drilled a frontier basin opening discovery in Kenya.
Successful oil & gas discoveries that lead to sustained, material share price re-rates are rare.
Here is our detailed account of what happened in the lead up and during Africa Oil's drilling successful campaign and discovery:
Read: IVZ to drill any day now - What a past successful exploration campaign looks like
This was one of the first ever high impact oil and gas exploration Investments we wrote about.
Back in 2012, Africa Oil held ground in the Lokichar Basin in Kenya - a basin that had yet to see an oil and gas discovery in it.
Now ~11 years later, IVZ is in a similar position drilling one of the few remaining basins in the East African Rift System where an oil and gas discovery hasn't been made.
At the time, Africa Oil successfully drilled one of its basin margin targets and declared a discovery.
Off the back of that discovery Africa Oils share price went from $1.50 to ~$12.50 - a re-rate of over ~1,000%.
(Note: Africa Oil Corp's successful discovery and share price performance is NOT an indicator that IVZ will do the same).
The only way the two companies differ (aside from the obvious geographic/geological differences) is the approach the two took to unlock their respective basins.
While Africa Oil drilled its smaller but lower risk basin margin target first, IVZ is looking to unlock its basin with its much larger central fairway target.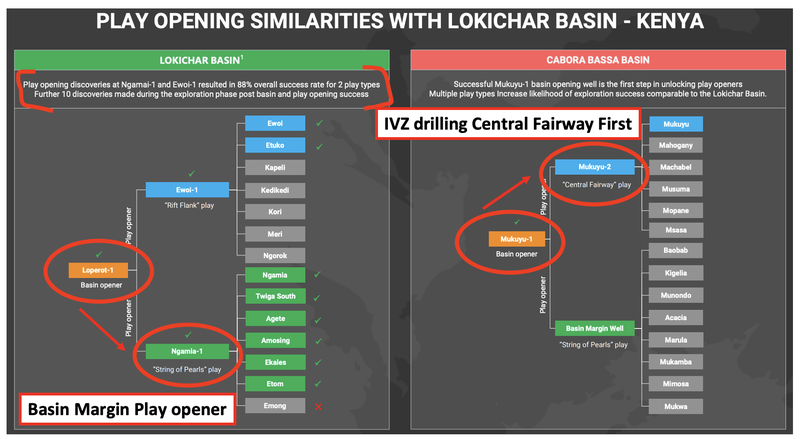 For some context on geological risk - The exploration success rate across the East African Rift System (EARS) was ~80% and across basin margin targets the success rate is ~100%.
Nearly 40 exploration wells proved more than 4 billion barrels of oil and gas in two EARS basins - the Albertine Graben Uganda and South Lokichar Basin, Kenya.
Basically IVZ is going for the riskier approach where success rates have ranged around ~80% instead of drilling its smaller basin margin targets first.
At the moment IVZ's 5.5 billion barrel oil equivalent resource is split ~80% across its central fairway prospects and ~20% across its basin margin targets.
It's a high risk high reward approach from IVZ BUT if a discovery is made then the rewards will hopefully all be worth it for shareholders.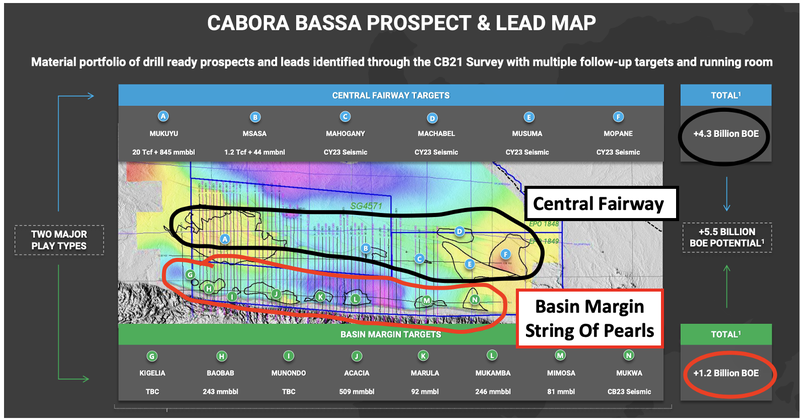 The key similarity between IVZ and Africa Oil is that with Mukuyu-2, IVZ could unlock a whole new oil and gas basin.
We think that was the key reason behind Africa Oil's 1,000%+ re-rate.
Now, 11 years later, IVZ finds itself in the same position in a basin that is yet to be "unlocked" so to speak.
IVZ has also managed to bring on board guys who have been there and done it all before in East Africa.
IVZ's Chairman is John Bentley - he built Energy Africa from the ground up and eventually sold the company to major oil and gas company Tullow for US$500M.
Non-executive director Robin Sutherland was also at Energy Africa before Tullow got involved. After the Tullow acquisition, Robin worked in Tullow Oil's exploration team drilling out multiple new discoveries.
IVZ has put itself in as strong a position as possible going into a potential company making catalyst.
Capital just raised ahead of drilling
IVZ just raised $15M at 15c per share - we participated in this placement.
The key advantage of fully funding the well and getting enough cash in the door to operate the company post drilling is that IVZ puts itself in a strong position no matter what the outcome from the drill program is.
In the event IVZ makes a discovery it will have enough cash to continue progressing the project and not be in a position where it has to add weight to any momentum that is in its share price.
This gives IVZ time to wait for the market to find a base valuation for its project AND/OR wait for majors to start approaching the company.
It is a strategy IVZ's Managing Director laid out relatively clearly on a recent episode of the Junior Resource Investing podcast, Skip to 1:36:36 to see Scott's comments on the strategy.
Scott mentions that instead of selling the project down pre-discovery he wants to declare a discovery, show that the project has moveable hydrocarbons and then do a deal when the project is "valued more appropriately".
We are holding a larger than normal position going into this drill program (again) and hope that IVZ can get it done with Mukuyu-2.
How we manage our position going into the drill program will ultimately depend on how the share price trades over the coming weeks.
If we see a move higher as excitement in the drill program increases, then we may look to Top Slice our position (obviously strictly in accordance with our Trading Policies).
IVZ is now firmly in the last stage of the excitement/investor interest chart we have been talking about for a few months now - now we are in the hands of the exploration gods: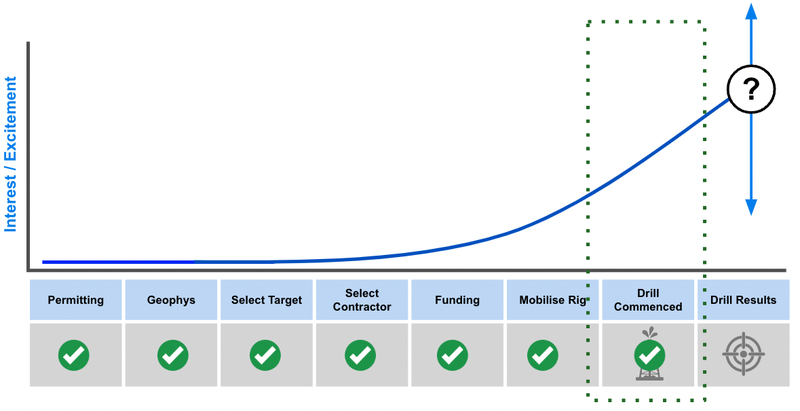 It's important to note that increased excitement/interest shown on this chart does NOT necessarily correlate to share price increases, which depends on many other factors and broader market conditions.
With a bit of luck IVZ can declare a discovery which we hope leads to a re-rate in the company's share price.
If it fails to improve on last year's drill program then it's likely the opposite will happen.
Whatever happens between now and the drill results, we are looking forward to the next few weeks - a high-risk / high-reward period for the company.
What do the next 50-60 days look like for IVZ?
IVZ will be following its plan to drill through six stacked reservoirs: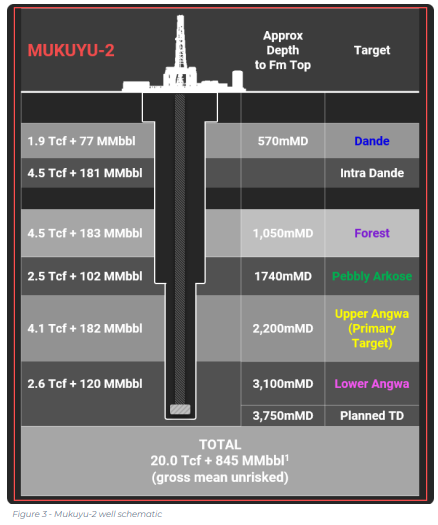 Drilling is planned to a total depth (TD) of ~3,750M and is expected to take ~50-60 days to complete.
IVZ's Managing Director Scott Macmillan mentioned in a previous presentation that the plan would be to reach TD first, and then start testing the reservoir units.
He also mentioned in today's announcement that "regular updates" would be provided as the drill program progressed.
Over the next few weeks, we expect to see updates on where the well is at in terms of depth and then once TD is reached, we expect to start seeing preliminary results from IVZ's wireline logging program.
The wireline logging program will be when we start to see the results from the drill program AND hopefully when IVZ is able to bring a fluid sample to surface and declare a discovery.
With this drill campaign, we are hoping IVZ can achieve our Big Bet:
Our IVZ Big Bet:
"To see IVZ make a basin opening oil/gas discovery in Zimbabwe and re-rate by over 700%, similar to the move Africa Oil experienced after making its basin opening discovery in Kenya"
NOTE: our "Big Bet" is what we HOPE the ultimate success scenario looks like for this particular Investment over the long term (3+ years). There is a lot of work to be done, many risks involved - just some of which we list in our IVZ Investment Memo. Success will require a significant amount of luck. There is no guarantee that our Big Bet will ever come true
To monitor the progress IVZ has made since we first Invested and how the company is doing relative to our "Big Bet", we maintain the following IVZ "Progress Tracker":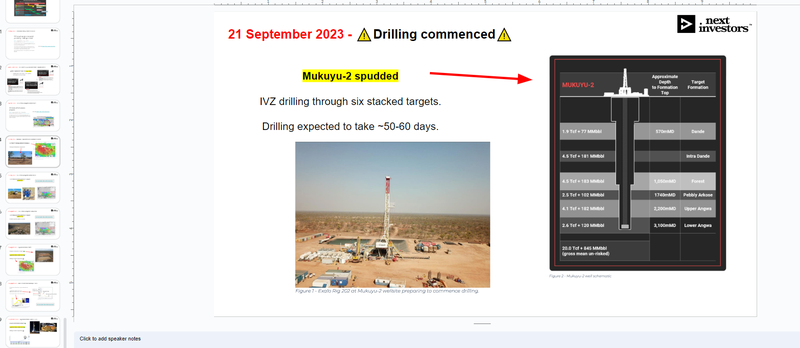 All of the reasons why we think IVZ's Mukuyu-2 could be a company maker:
We first Invested in IVZ back in 2020, and we named it our 2020 Energy Pick of the Year.
Over the years, we have written about the different reasons why we think a discovery for IVZ could be a company-making event.
We have 50 to 60 days while Mukuyu-2 drill grinds towards target depth, so here is some background reading on IVZ on the days where IVZ doesn't release any news.
IVZ holds the key to the basin, if a discovery is made (Basin Master position) - IVZ holds ~80% of its project and if a discovery is made it gets to decide what happens with the project post-discovery.
Oil and gas majors have paid multiples of IVZ's current valuation for discoveries across East Africa - some transactions were done at 12x to 224x of IVZ's implied working interest % on its project.
Basin Margin 'String Of Pearls Play' - IVZ has ~1.2Bn barrel oil equivalent prospective resources across basin margin targets. Basin Margin targets in the East African Rift System have an exploration success rate of 100% - 14 discoveries from 14 wells.
Directors who have had success in the East African Rift System - After drilling its first well in 2022, IVZ appointed John Bentley as its chairman and Robin Sutherland as its non-executive director. John built from the ground up and sold Energy Africa to Tullow Oil for US$500M and Robin worked for both Energy Africa and Tullow Oil.
Working conventional hydrocarbon system was declared - with its first well (Mukuyu-1) last year IVZ declared a working hydrocarbon system. Now it just needs to get a fluid sample to surface and declare a discovery.
IVZ is looking to do what Africa Oil has done before - back in 2012, Africa Oil Corp (TSX.V:AOI) drilled a string of successful wells and delivered a 1,000% share price run and sustained re-rate. We are hoping IVZ does the same thing.
Carbon offset projects to generate carbon credit revenues - IVZ is in the early stages of building out a carbon offset business that could generate revenues from carbon credits. IVZ is a unique small cap exposure to global carbon credit prices.
One of the biggest conventional oil and gas prospects globally - IVZ has a gross unrisked prospective resource of ~5.5 billion barrels of oil equivalent making it one of the largest conventional oil and gas targets in the world.
The Zimbabwe Sovereign Wealth Fund is aligned with IVZ - Back in March 2022, IVZ signed a head of agreement with the Zimbabwe Sovereign Wealth Fund which would see the fund take an interest in the project - this aligns the government and the people of Zimbabwe's interests with IVZ.
US$30M in work done by Mobil before IVZ acquired the project - The project had US$30M in legacy data leftover by Mobil from the 1990's. Interestingly Mobil had never drilled the project before IVZ took control of it.
Strategically located next to South Africa - IVZ's project sits next to South Africa which is one of Africa's biggest energy consumers and is expected to be structurally short of energy supplies over the next decade.
Above is really a snapshot of the many reasons we like IVZ.
To see the key reasons listed in our July 2023 IVZ Investment Memo check out the following link.
What's next for IVZ?
Drilling of Mukuyu-2 🔄
Drilling is expected to take 50-60 days to complete.
2D seismic across the eastern part of its acreage 🔄
IVZ recently completed its 2D seismic program across the eastern part of its project.
The results from the seismic program are expected in November.
Prospective resource upgrade 🔄
After the 2D seismic program's results come in and IVZ has completed drilling Mukuyu-2, we expect to see IVZ put out an updated prospective resource estimate for its project.
What are the risks?
In the short term, the key risk for IVZ is still exploration risk.
Mukuyu-2 well may not deliver the desired results and in that scenario, we would expect the company's share price to drop significantly.
Now that drilling has begun, there is also "technical failure risk" where something goes wrong with the drilling that causes delays or issues.
Click here to see all of the risks we list in our IVZ Investment Memo.
Our IVZ Investment Memo
In our IVZ Investment Memo, you can find the following:
Key objectives for IVZ
Why we are Invested in IVZ
The key risks to our Investment thesis
Our Investment plan
---