IVZ drilling Mukuyu-2 this quarter - gas discovery this time around?
Disclosure: S3 Consortium Pty Ltd (the Company) and Associated Entities own 5,893,666 IVZ shares and 2,675,435 IVZ options and the Company's staff own 101,667 IVZ shares and 31,679 IVZ options at the time of publishing this article. The Company has been engaged by IVZ to share our commentary on the progress of our Investment in IVZ over time.
Invictus Energy (ASX:IVZ) will drill the Mukuyu-2 well this quarter.
Many followed IVZ's first drill - the Mukuyu-1 well, late last year.
At the time, IVZ held the largest, seismically defined, undrilled oil and gas structure in onshore Africa.
In the months after IVZ's first drill started in September 2022, IVZ's share price ran from 15c to hit a high of 40.5c in the lead up to the drill result.
IVZ delivered a working hydrocarbon system on its maiden well. However a "discovery" was not declared, and the share price came back to around ~12.5c, where it has traded for the last 6 months.
We held a larger than usual position into the drill result in the anticipation a discovery would be announced.
IVZ is now just a couple of months away from drilling again, with all the lessons and data from its first well.
In recent months IVZ has raised a total of $35.4M which sees IVZ funded for this well. Today IVZ confirmed the new well location, designed to target multiple horizons with potential for a gas discovery.
Well pad construction works are underway, and the drill rig will start making its way to site over July and August.
We increased our Investment in IVZ at 12c in anticipation of a pre-result price run and hopefully this time, declaration of a hydrocarbon discovery.
We will be closely following the lead up to drilling, the drilling itself over the next 3 months, and the results beyond that.
Today we launch our IVZ Investment Memo #2 which we will use to track IVZ's progress over the next 12 months,
We also share our analysis of how IVZ delivered against our Investment Memo #1.
IVZ, with its first well, managed to define a working hydrocarbon system and is only a fluid sample from officially declaring a discovery.
IVZ's shares have been trading around ~12.5c for the last 6 months while the company analysed the results of the first well, planned the second well and raised money to fund drilling.
Now IVZ is ready to go again with its second well.
The ultimate aim this time is to bring a fluid sample to the surface, which allows the company to declare a new gas discovery.
IVZ is funded for the Mukuyu-2 well, having raised $35.4M at 12c over the last 3 months and is on schedule to drill this quarter.
Being funded is important because it means there are unlikely to be any more shares issued between now and the drilling of the IVZ's 2023 well.
We have written about the typical trading behaviours leading up to large Oil and Gas drilling events in the past - being in a strong funding position accelerates that process.
Regular readers know that we like to Invest in oil and gas explorers when they are temporarily out of favour, or in a "boring patch" with a drilling event still a while away.
Readers will also know that we like to Invest in explorers that are taking a big "swing for the fence" style approach to exploration - chasing a mammoth discovery.
A potentially company making discovery from a binary drill event like IVZ's has the potential to re-rate IVZ's share price many times over.... OR the price can drop significantly if the result doesn't meet or exceed market expectations (like IVZ's last drill result).
We think IVZ is in Stage 2 of a three-stage lead up to a major drilling event:
Well design and permitting ✅ - During this period, excitement for the drilling program is low, investors lose interest and patience, and share prices tend to fall. During this period we increased our Investment.
Rig contracting and site preparations 🔄- The explorer might raise some capital here, sign rig and project management contracts and set a date for drilling. Here, investors begin to turn their attention to the stock, and trading volumes start to rise.
Drilling starts (major catalyst) 🔲- This starts in the weeks leading up to the drilling event. Investors who want to hold going into the drilling event in anticipation of a discovery start to take positions in the company. All of this speculation can lead to a run in the company's share price.
We think IVZ is toward the end of stage 2, just before all of the speculation of stage 3 starts.
It's important to note that just because IVZ and other oil & gas explorers have had pre-results share price runs in the past does not mean IVZ will do the same for this upcoming drill.
We have increased our Investment in IVZ
In the lead up to drilling we made our Investments in the first stage of the three step process.
Over the last 6 months, we have been increasing our Investment in IVZ at ~12c.
Now it is all about the company's next drill program - the upside is that we don't need to wait very long for it.
The second well forms the basis for our IVZ Big Bet, which is as follows:
Our IVZ Big Bet:
"To see IVZ make a basin opening oil/gas discovery in Zimbabwe and re-rate by over 700%, similar to the move Africa Oil experienced after making its basin opening discovery in Kenya"
NOTE: our "Big Bet" is what we HOPE the ultimate success scenario looks like for this particular Investment over the long term (3+ years). There is a lot of work to be done, many risks involved - just some of which we list in our IVZ Investment Memo. Success will require a significant amount of luck. There is no guarantee that our Big Bet will ever come true
Invictus Energy
ASX:IVZ
Here's what IVZ is following up on:
IVZ is going into its second well (Mukuyu-2) having already learnt all of the following:
✅ Gas readings 135x above background levels
✅ Multiple (up to 13 in the sidetrack well) potential gas-bearing reservoir units.
✅ ~900m gross interval (225m in potential hydrocarbon bearing zones in one of the primary target areas (upper Angwa target).
✅ Multiple seals identified with several hundred-metre thicknesses above the deeper primary targets. This was a key risk going into drilling.
✅ Elevated (100%) fluorescence, indicating condensate or light oil.
✅ Elevated Logging While Drilling resistivity.
✅Commercial helium grades up to 0.1% (helium could be a valuable by-product for IVZ's project.
✅ Most importantly 🛢️A working conventional hydrocarbon system declared. 🛢️
The only thing missing for IVZ on the first well to officially declare a discovery was a fluid sample to surface.
Below is a summary of the objectives for IVZ's Mukuyu-2 appraisal well.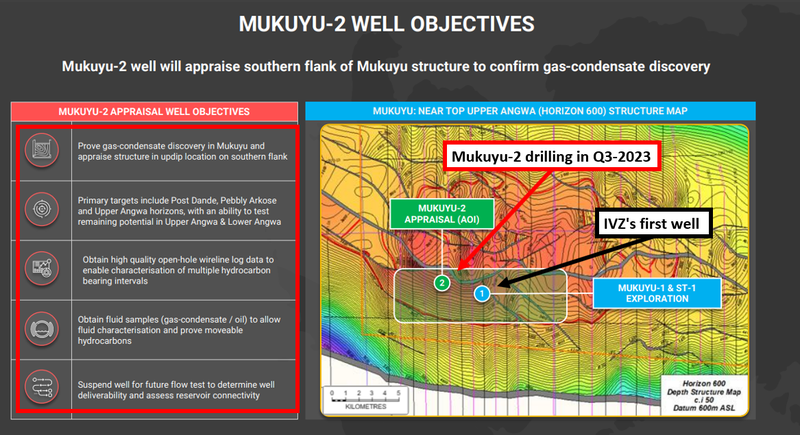 (Source)
What's next for IVZ?
IVZ already has its drill rig warm stacked from its first well- meaning the rig hasn't moved away from site.
The timeline to mobilise the rig at the Mukuyu-2 drilling location should therefore be a lot shorter this time around.
Today, IVZ locked in the Mukuyu-2 drill location and started well-pad construction works.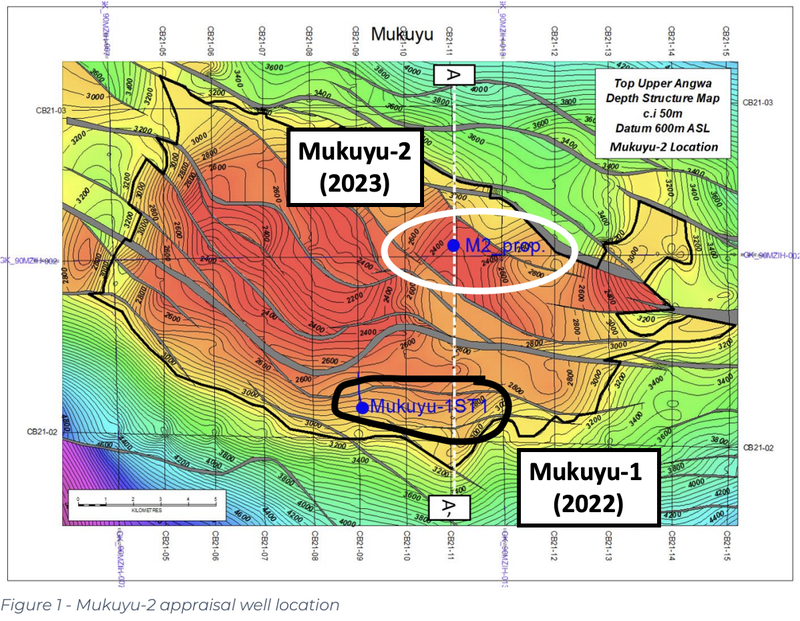 IVZ now expects the rig to be moved to the drilling location later this month/early August.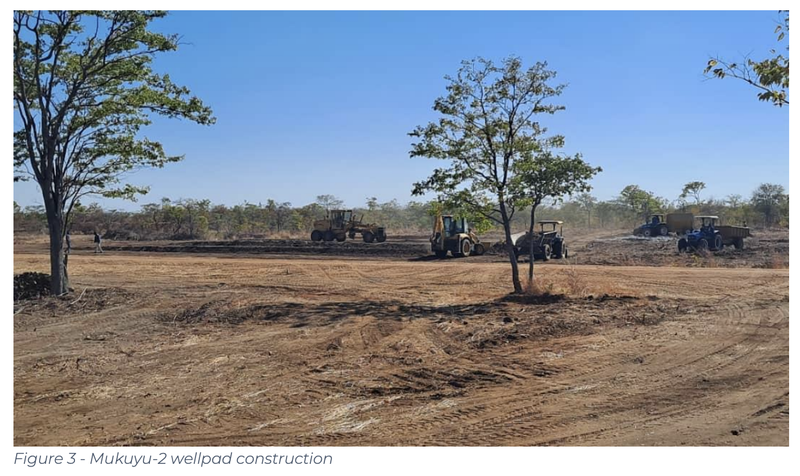 (Source)
Basin Margin 'String Of Pearls' play
One thing to note with IVZ is that the company is still yet to drill any of its 'Basin Margin' targets.
Up until today, all of the focus has been on the company's 'central fairway' prospects - where Mukuyu-1 drilled last year, and Mukuyu-2 will be drilling this quarter.
The basin margin targets are a big part of the IVZ story, though.
For context, Africa Oil, which we have written about in depth several times, unlocked the Lokichar basin in Kenya off the back of a well on the basin margin.
The discovery along the basin margin fault was what opened up the basin and led to a re-rate in Africa Oil's share price by >1,000%.
Here is a note we wrote just before IVZ started drilling Mukuyu-1 comparing IVZ to Africa Oil: IVZ to drill any day now - What a past successful exploration campaign looks like.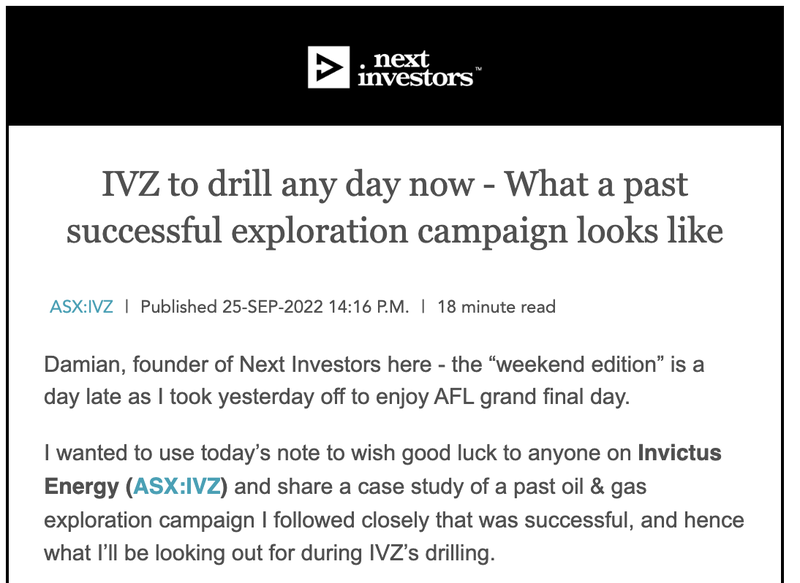 (Source)
Basin margin targets across the East African Rift System (EARS) also have an extremely high discovery rate.
In Uganda and Kenya, the EARS has an 80% success rate from nearly 40 exploration wells.
Across the Basin Margin Fault Closures - the success rate is 100% (14 from 14) since 2006.
The back-to-back discoveries on similar basin margin targets is what gave this style of prospects the nickname "string of pearls".
IVZ has its own 'string of pearls' across a ~90km basin margin where it has a prospective resource of ~1.2 billion barrels of oil equivalent.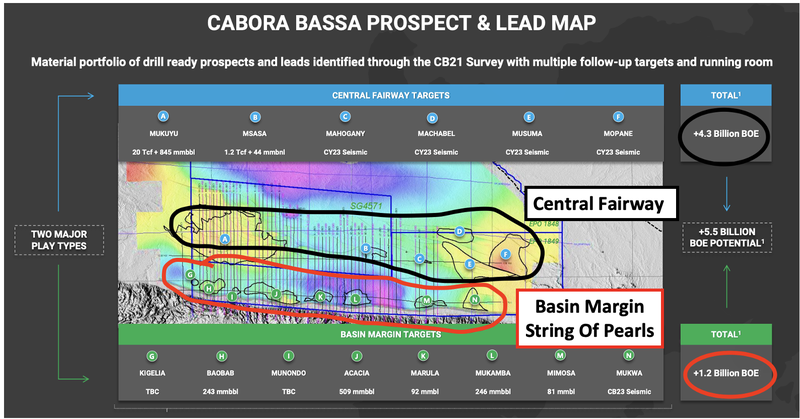 (Source)
The bonus is that none of IVZ's basin margin targets have ever been drilled.
Up until now, IVZ's approach has been the opposite of other companies who unlocked new oil and gas basins across East Africa.
Generally, the explorers would drill along the basin margin, make a discovery and then drill the technically riskier central fairway prospects.
IVZ is taking the opposite approach - drilling the technically riskier BUT much larger prospective wells first.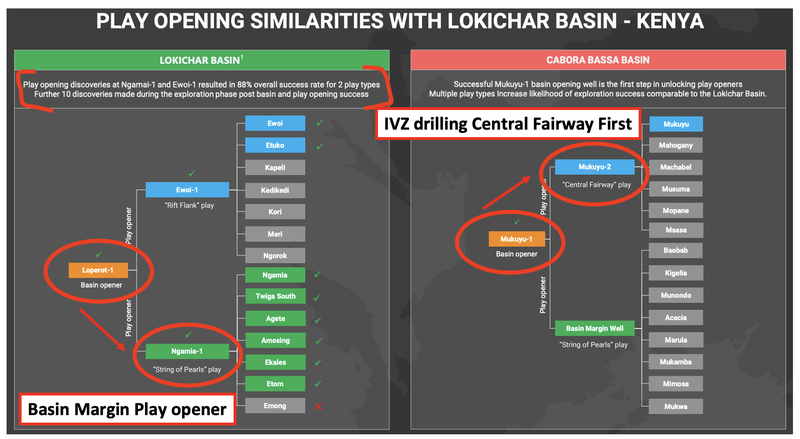 (Source)
In the short-term IVZ will be judged based on its success/failure with Mukuyu-2 BUT we plan to follow through our Investment until the company drills at least one of its basin margin targets.
What's next on the basin margin play
At the moment IVZ is running a 2D seismic program across the eastern part of its project.
The aim being to firm up its understanding of a part of its project that has no seismic data at the moment.
The 2D seismic program will eventually feed into an upgraded prospective resource estimate once IVZ can refine its understanding of the wider project area.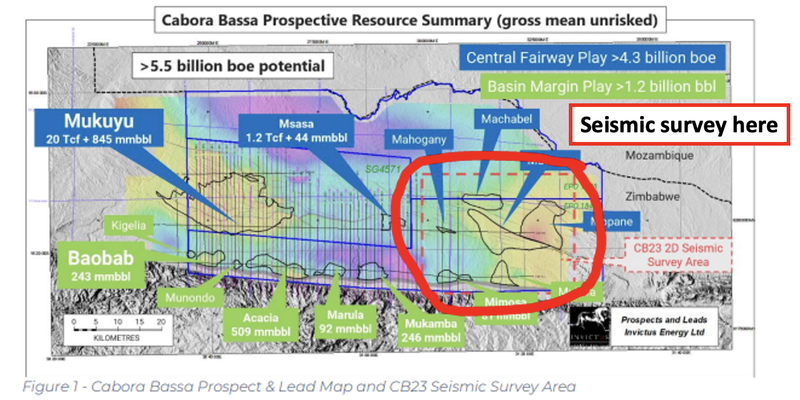 (Source)
Our New IVZ Investment Memo:
The main objective from our first IVZ Investment Memo was to see the company drill its first ever well.
With IVZ having completed that objective we decided to grade how IVZ performed against its Investment Memo and launch the company's new Investment Memo today.
To see our review of our 2022 memo click here.
With IVZ now just a few months away from drilling Mukuyu-3, we thought now is the time to put a new IVZ Investment Memo together.
Today we will be launching our new IVZ Investment Memo, where you can find:
Why we are Invested in IVZ
Our long term Big Bet - what we think the upside Investment case for IVZ is.
The key objectives we want to see IVZ achieve
The key risks to our Investment thesis
Our Investment Plan
Click here to see our Investment Memo
Investment Memo, Invictus Energy (ASX:IVZ), IM-2
Memo Opened: 13-Jul-2023
Shares held at open: 5,893,666
Options held at open: 2,675,435
What does IVZ do?
Invictus Energy (ASX:IVZ) is an oil and gas exploration company looking to confirm a discovery in Zimbabwe, Africa - one of the few underexplored basins remaining in the world.
IVZ is also developing a carbon offset project in Zimbabwe which could see it develop the world's first carbon neutral gas project.
What is the macro theme?
Natural gas demand is set to increase in Africa as it replaces existing coal power generation.
As governments around the world look to phase out ageing coal generation, gas will play a critical role in providing a lower carbon footprint. Gas is a more cost-effective alternative to base-load energy generation.
A potential discovery by IVZ has the potential to supply both Zimbabwe and the gas hungry South African market.
IVZ's carbon offset project also provides a rare ASX listed exposure to the "carbon credits" markets which is expected to grow by ~500% by 2030.
Our Big Bet for IVZ
"To see IVZ make a basin opening oil/gas discovery in Zimbabwe and re-rate by over 700%, similar to the move Africa Oil experienced after making its basin opening discovery in Kenya"
NOTE: our "Big Bet" is what we HOPE the ultimate success scenario looks like for this particular Investment over the long term (3+ years). There is a lot of work to be done, many risks involved - just some of which we list in our IVZ Investment Memo. Success will require a significant amount of luck. There is no guarantee that our Big Bet will ever come true
Why we are Invested in IVZ:
"Basin Master" position in Zimbabwe - IVZ holds an interest in the entire Cabora Bassa basin. In the event the company officially declares a discovery, any major company looking for exposure to the basin will need to negotiate a deal with IVZ.
Basin margin 'String of pearls' play - IVZ holds ~90km of basin margin fairway with a prospective resource of 1.17 billion barrels across five drill ready targets. IVZ's basin margin is analogous to the Lokichar basin where Africa Oil made its discovery and re-rated by over 10x. For context, the Lokichar basin saw >0.8 billion barrels of oil discovered with an 88% success rate after the first discovery was made.
De-risked project - IVZ has already confirmed a working conventional hydrocarbon system at its project. All the company needs to do to declare an official discovery is bring an oil/gas sample to surface. With the data and lessons learnt from its first well, we hope IVZ will deliver this milestone.


Strategic Location bordering South Africa - IVZ's project is located in Zimbabwe which borders energy hungry South Africa. The project benefits from immediate access to well developed energy markets servicing ~230 million people. South Africa in particular needs more natural gas supply with significant shortages expected by the year 2030 as the country looks to transition away from coal powered generators.
Experienced management team to lead project development - IVZ recently brought on board John Bentley as Chairman and Robin Sutherland as a Non-Executive Director. John grew the small cap company Energy Africa before selling the company to Tullow for US$500M. Robin led the Tullow exploration team through multiple discoveries, including the ones made in the Lokichar Basin in Kenya (the basin we always compare to IVZ).
Rare ASX exposure to a blue sky carbon offset project - Concurrent with its gas project, IVZ is developing a carbon offset project on a 50:50 partnership basis with the Forestry Commission of Zimbabwe. Carbon credits are expected to trade for up to US$80-150/tonne by 2035 - once IVZ's project is verified as eligible to generate carbon credits this could produce a second revenue source for the company.
What do we expect IVZ to deliver?
Objective #1: Drilling of the Mukuyu-2 appraisal well
We want to see IVZ drill the Mukuyu-2 appraisal well and officially declare a new discovery.
Milestones
✅ Long lead items ordered.
✅ Well design completed - location finalised.
🔄 Drill rig mobilised (Warm stacked rig)
🔲 Drilling starts
🔲 Drilling finishes
🔲 Drill results
Objective #2: Financing for the Mukuyu-2 well
IVZ's well is now funded having raised $35.4M in cash over the last 6 months. There is also a possibility IVZ looks to bring in an offtake partner for the project which may help with future funding rounds.
Milestones
✅ Capital raise 1.1 - Placement at 12c
✅ Capital raise 1.2 - SPP at 12c
✅ Capital raise 1.3 - Placement at 12c
🔲 Offtake MOU/agreement
Objective #3: Identify and confirm the first basin margin well
We want to see IVZ firm up its first drilling target across its basin margin fairway. At this stage, it looks like IVZ will drill the Baobab prospect but given the company is looking to acquire more 2D seismic data this could change.
Milestones
🔄 Review targets
🔄 2D Seismic acquisition program
🔲 Prospective resource update
🔲 First basin margin well location finalised
Objective #4: Progress the development of its carbon offset project
We want to see IVZ progress its carbon offset project to the point where it becomes accredited under Vera's Verified Carbon Standard (VCS) program so that the carbon credits can be sold in the open market.
Milestones
🔄 Results from the pilot program
🔲 Financing/partnership agreement on the project.
🔲 Accreditation under Vera's Verified Carbon Standard (VCS) program.
What could go wrong?
Exploration risk
IVZ is planning two wells, the first is an appraisal well and the second is a new exploration well.
While the appraisal well is somewhat derisked (because it is targeting a known hydrocarbon system) there is still a risk that nothing commercial is found.
There is also a risk of technical failure while exploring.
Commercialisation risk
If gas is found it doesn't guarantee that it can be economically produced, there is a risk that the water content of the gas flows is too high making it uneconomic to extract.
Flow-rates will need to prove that any gas found can be economically produced.
Commodity Price Risk
Ultimately demand for gas and its price will dictate the economic viability of IVZ's project.
Market risk
If the broader market sells off there is a chance that investors shy away from high risk investment opportunities like oil and gas explorers.
IVZ is a pre-revenue explorer and may be impacted by these market wide sell offs.
Funding risk
IVZ does not generate any revenues and so is reliant on fresh funding for its exploration programs.
This means IVZ is reliant on access to capital, if the markets are unwilling to finance IVZ's exploration programs the company may need to go slow on its operations or offer large discounts to its share price when raising capital.
Geopolitical Risk
The project is located in Zimbabwe which has a history of political and economic instability, there is always a risk that geopolitical issues make it difficult to advance the gas project.
IVZ has a preliminary Production Sharing Agreement Finalised but the second half is not completed, there is a risk that the agreement is delayed or that IVZ gives up a portion of the project as part of the agreement.
Investment plan
As with all our early stage oil and gas Investments, we Invest early, well before the main drilling event and will aim to be free carried and have taken some profit before the drill result comes in.
---