Drill rig now on site, only a couple of weeks till showtime for IVZ
Disclosure: S3 Consortium Pty Ltd (the Company) and Associated Entities own 5,893,666 IVZ shares and 2,675,435 IVZ options and the Company's staff own 101,667 IVZ shares and 31,679 IVZ options at the time of publishing this article. The Company has been engaged by IVZ to share our commentary on the progress of our Investment in IVZ over time.
The drill rig has arrived on site.
It has been assembled.
The rig mast has been erected.
Activity on site has moved to 24-hour operations in preparation for the arrival of the remaining equipment and personnel.
We are now just weeks away from IVZ starting its next shot at making a multi billion dollar oil & gas discovery.
Invictus Energy (ASX:IVZ) is all on track to spud its Mukuyu-2 well this month.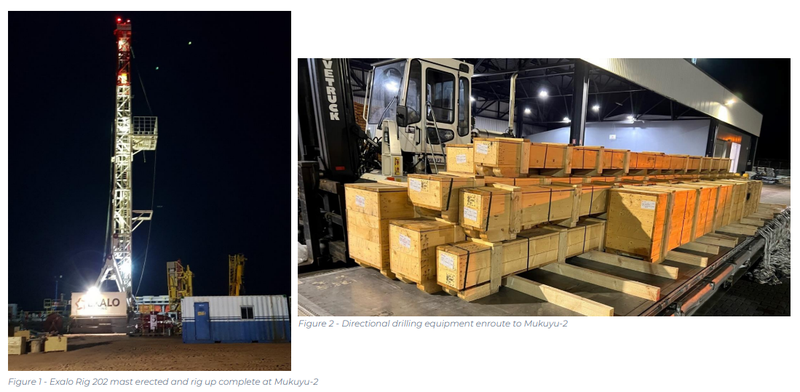 Our 2020 Energy Pick of the Year IVZ is just a few weeks away from drilling its second well in Zimbabwe's Cabora Bassa Basin.
We have been waiting all year for this drilling to start, and it's finally almost here.
The next few months should be very exciting (for investors and watchers alike) as IVZ progressively announces the drill commencement, drilling updates and then the all important results and testing.
The prize is huge, the risks are lurking, the lead up to the result should be full of ups and downs... and then finally the results announcement could be anything...
This is the type of "swing for the fence" oil & gas drilling event that first got us interested in small cap investing 20 years ago.
They are big and expensive - and they don't come around often.
The Cabora Bassa Basin is one of the last basins across East Africa that is yet to have an oil and gas discovery.
IVZ drilled in the basin last year and came very, very close...
IVZ was able to prove a conventional hydrocarbon system but was not able to declare an official discovery because no fluid samples were brought to the surface.
With this year's well, IVZ is chasing that official discovery.
IVZ's follow-up Mukuyu-2 well is going to test six different targets as it travels down to its target depth of 3,200m,
The gross mean unrisked prospective resource across all targets is 20 tcf gas plus 120 million barrels of oil.
Overall, IVZ's project has a gross 5.5 billion barrel equivalent prospective resource, of which IVZ owns ~80%.
Here is a simplified image of the drilling plan as IVZ makes its way through the six stacked targets: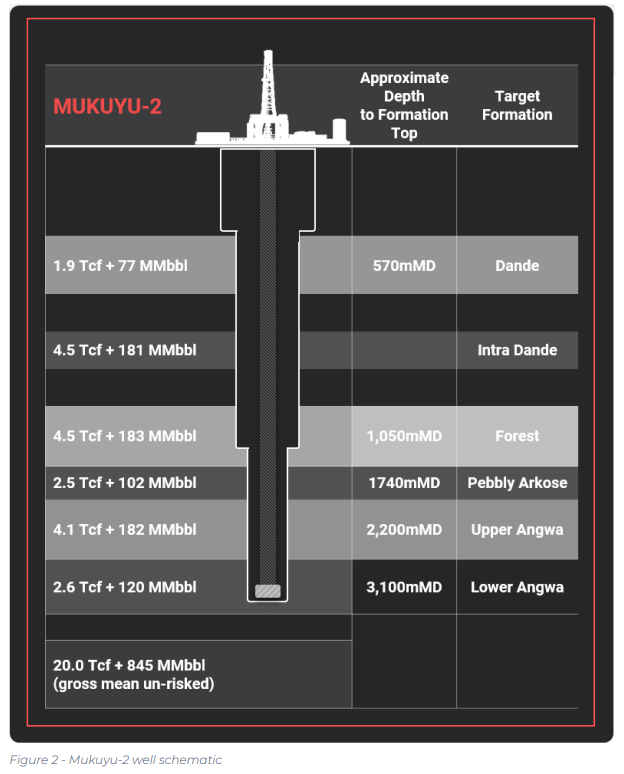 In a previous note we talked about the way investor excitement/interest changes in the lead up to a big drilling result for a small cap oil and gas explorer.
With only a few weeks left for drilling to start we think IVZ is now in that last stage of the curve where investor excitement/interest increases exponentially: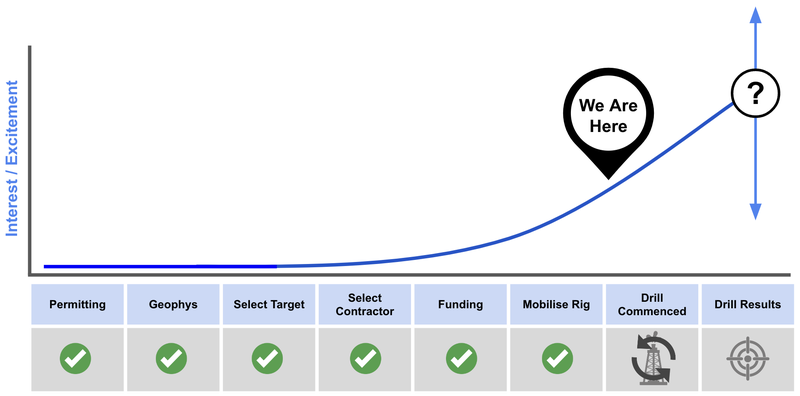 It's important to note that increased excitement/interest shown on our chart below does NOT necessarily correlate to share price increases, which depends on many other factors and broader market conditions.
Oil & gas drilling is risky and there is a high chance of failure and drops in share price.
In the rare event of success we have written a summary of what the lead up to a successful result looks like: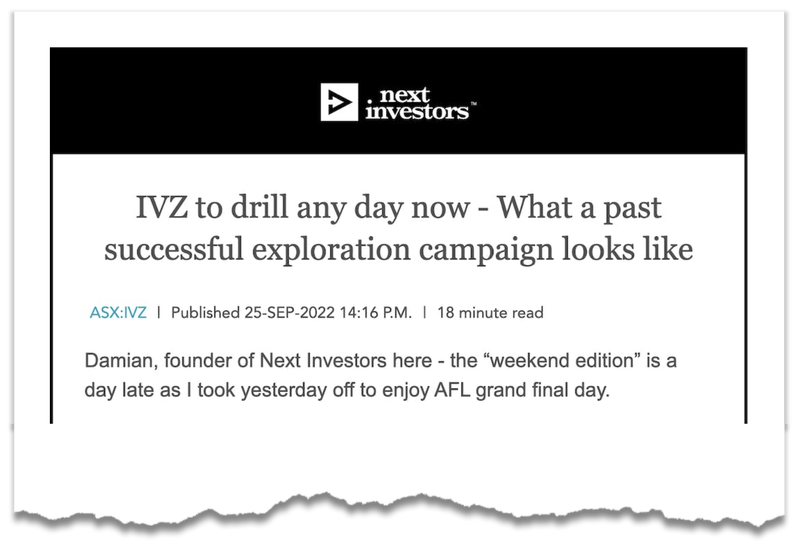 IVZ is going into the drill program with ~$23M in cash which should mean most of the Mukuyu-2 well costs are funded.
However, big drilling events like Mukuyu-2 can be expensive and can often go over budget as the company learns new things when drilling is underway.
As a result it wouldn't surprise us if IVZ tapped the market one last time to shore up its balance sheet going into the drill program.
Whatever happens between now and the drill results, we are looking forward to the next few weeks - a high-risk / high-reward period for the company.
Schematics for Mukuyu-2 well revealed
Today, IVZ published the well schematics for Mukuyu-2.
Of particular interest was the fact IVZ will be targeting the Lower Angwa reservoir as well as the upper targets.
The Lower Angwa wasn't tested with Mukuyu-1 and we see this as another "blue sky" potential for IVZ as it is currently unknown whether it contains hydrocarbons.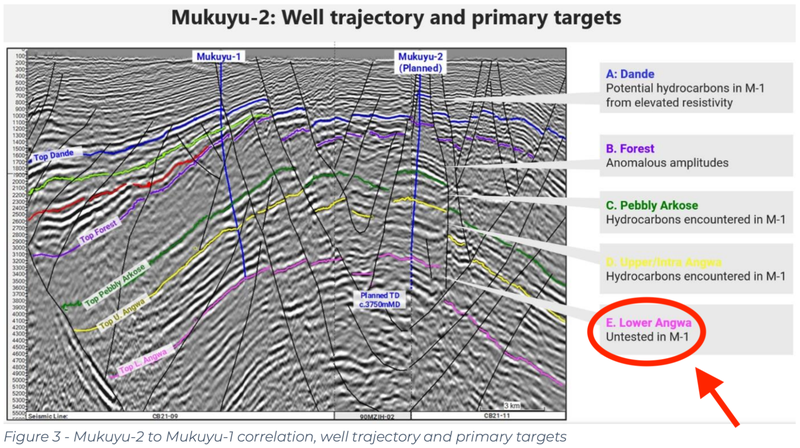 The latest from Scott Macmillan, IVZ's Managing Director
A few weeks ago we listened to the following podcast with Scott Macmillan:
The pod goes for 2 hours and 20 minutes and can get technical at some points... but is pretty compelling listening for the IVZ superfans.
As IVZ shareholders we appreciate the amount of time Scott takes to do these podcasts and communicate with the IVZ shareholder base.
If you can't spare over 2 hours listening to it, we have summarised the key points below:
Mukuyu-1 was the first time ever the basin was drilled (0:02:26)
IVZ's first well (Mukuyu-1) was the first ever well drilled in the basin, and IVZ has learnt a lot about the geology of its project.
All the data from Mukuyu-1 is guiding IVZ's understanding of the basin and the planning for the company's Mukuyu-2 well.
Basin opening discoveries rarely ever happen with the first well (0:03:55)
Scott comments on how rare it is to make a discovery with the first ever well in a basin.
Scott mentions the discovery in Namibia's Orange Basin (1974) as the only one and how the next discovery in the basin came almost 50 years later, in 2022.
The latest data from Mukuyu-1 (0:08:45)
At the time of recording the podcast Scott mentioned results were due from Mukuyu-1 in relation to mud gas samples.
Yesterday, IVZ announced these results which we covered in our quick take which you can read here: IVZ - More results from the 2022 Mukuyu-1 well.
How did IVZ pick the Mukuyu-2 drilling location (0:29:16)
Scott touches on why the Mukuyu-2 location was picked and mentions it is 'up-dip' from the first well, which always improves the chances of making a discovery.
Scott also mentions that access to the location is easy and all of the data from the first well suggests that it is a good spot to drill.
The access to the location also means its a near vertical well which makes it less risky from a technical perspective.
One of the main reasons for the location is because it will mean IVZ can test the 'Lower Angwa' reservoir unit as well.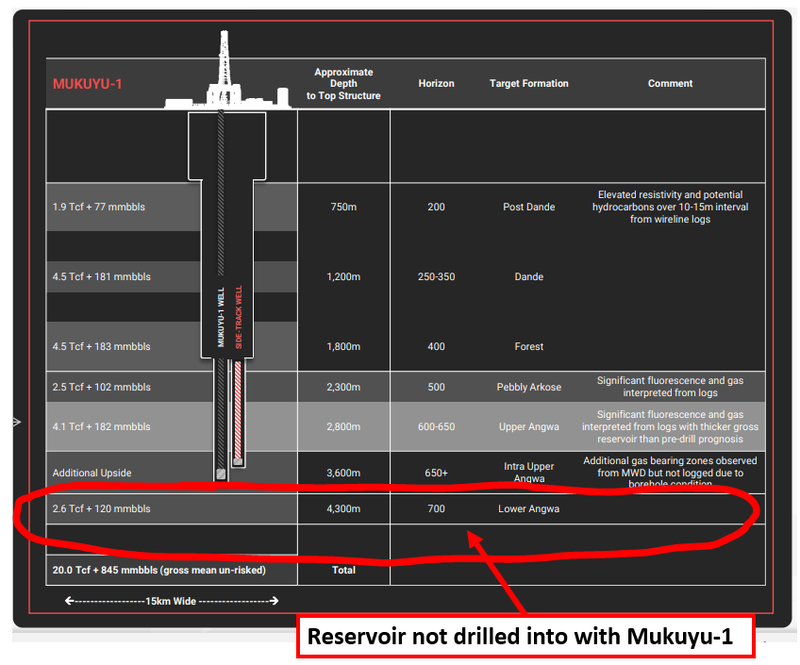 Changes to the exploration approach going into Mukuyu-2 (0:39:35)
Scott touches on a lot of the issues faced with Mukuyu-1 being technical issues related to equipment/tool failures.
IVZ is preparing a bigger contingency package for this program so that the company is prepared if things go wrong and backup tools are required.
IVZ has changed wireline services providers and is having all of the equipment go through independent quality assurance/quality control testing before being brought onto site.
Scott also touches on the increased data evaluation systems being brought on for Mukuyu-2 so that IVZ can get as much data as possible from the well.
What does success look like for Mukuyu-2? (0:45:51)
The primary goal of the program is to get a fluid sample and declare a discovery.
Scott touches on the multiple reservoir targets IVZ is testing and says he wants to try and get a "discovery" from as many reservoirs as possible.
If a discovery is made, what are the next steps (0:51:55)
Scott outlines the drilling plan saying it will first be drilled down to Total Depth (TD) and then have testing done (Wireline logging).
Plan is to drill the well and then test, meaning we should get results AFTER reaching TD.
Scott explains the reason for taking this approach, saying that stopping every time hydrocarbons are found and logging would make the well more risky from a technical perspective, take longer to drill and cost the company more money.
IVZ will be avoiding real-time logging because of the technical/cost risks in the event of equipment failures (Scott mentions the tools cost over $7M).
When is drilling expected to start? (1:03:30)
Scott mentions the rig move would start this week (and it did...).
Next will be acceptance testing the rig and installing all of the rig's infrastructure.
Scott also mentions that most of the parts are in transit to site and the wireline tools are being serviced.
He re-affirms the spud date as being on track for sometime in September.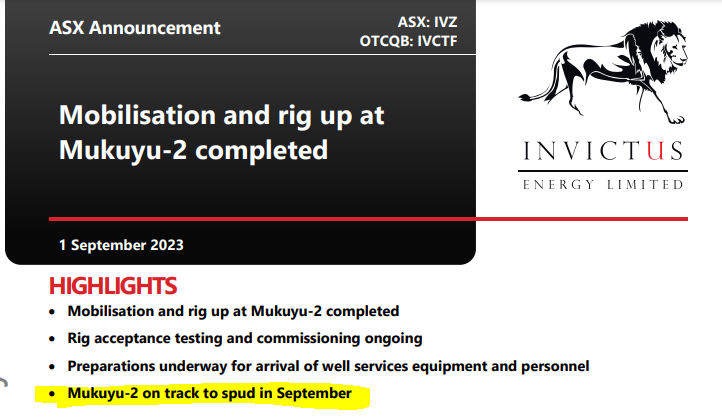 How long does IVZ have the rig for? (1:07:26)
IVZ has the rig contracted for as long as it needs to finish the Mukuyu-2 well.
Scott also mentioned that there were contingencies in place to make sure IVZ can declare a sidetrack well if it needs to.
Scott then touched on how he is currently negotiating contracts with Exalo (the rig owner) to see if they can keep the rig in-country.
Given the warm-stacking contract signed last year, if IVZ declares a discovery and the company's market cap multiplies we expect to see the rig get locked down for all of the drilling IVZ will do in the coming years.
Will IVZ be flow testing Mukuyu-2? (1:11:18)
Depending on the results from the well, IVZ will be looking to either:

Cement the well in place and test each of the reservoir zones at a later date.
Plug it back to a certain part in the well (depending on results) and then sidetrack and redrill that reservoir section for testing - this can be done straight after drilling is done.

Scott mentioned that nothing has been decided yet and that the next steps for the project would be dependent on the results from Mukuyu-2.
Will the prospective resource for the project be updated? (1:30:05)
Scott mentioned the prospective resource update is unlikely before the Mukuyu-2 well is done.
He then mentions that it's more likely a resource update would come after all of the data from the 2D seismic program comes back in and the Mukuyu-2 well is drilled and results are back from the labs.
Scott's comments on potential partnership offers (1:36:36)
Scott touches on whether or not he is considering partnerships for the project but says that instead of selling the project down at this stage of pre-discovery, he wants to declare a discovery, demonstrate moving hydrocarbons and then sign a deal after the project is "valued more appropriately".
Scott also mentions that conversations have happened with multiple parties BUT that he would only entertain them after he delivers fundamental progress at the project level.
Scott also mentions that eventually, IVZ will look to bring in a partner to help fund all of the drilling that needs to happen in the basin.
Scott confirmed that there is NO formal farm-in/JV process being run right now.
Update on the Production Sharing Agreement (PPSA) (1:46:44)
Scott touches on how it is in everyone's interest to have a PPSA signed given the current royalty terms are extremely favourable to IVZ.
The current structure is a 2% royalty on gas, 0% on oil and standard corporate taxes.
Scott also touches on how the Zimbabwean Government's equity interest in the project is tied to a signed PPSA.
He also mentions that all of the fiscal terms are agreed and it is now more about finalising the legal structures and getting the deal signed.
Scott expects the PPSA to be reviewed and signed after the new Sovereign Wealth Fund chair and CEO is appointed post-election.
When would IVZ fast-track multi-well exploration programs? (2:08:41)
Scott mentions that there are plenty of prospects to drill including all of the basin margin targets which to date have never been drill tested. He mentions that if IVZ can deliver a discovery and the company's market cap re-rates he would look to launch multi-well drill programs in 2024 and beyond.
Scott then mentions that all of this will be dependent on the market cap/funding position of the company.
Scott closes out the podcast at 2 hrs and 20 minutes with a summary of what's coming with Mukuyu-2.
It was a comprehensive overview of the project and we encourage all investors, if they have the time, to watch the interview in full.
So, what does happen if a discovery is made?
IVZ holds the key to the basin, if a discovery is made
IVZ holds what it is calling a "Basin Master" position.
The Basin Master position is a reference to IVZ's 80% control of the entire Cabora Bassa Basin.
If a discovery is made then IVZ is in control of the basin's destiny - meaning IVZ will be the gatekeeper to any major wanting exposure to the project.
Across other East Africa Rift System discoveries, junior explorers generally went into big drill programs pre-discovery with far less ownership in the projects.
When the discoveries were made, the juniors that did not have majority ownership of the projects were forced to accept takeover offers that may not have reflected the project's true potential value.
Typically, post discovery the market 'prices in' the value of that discovery alone and can forget about any of the exploration upside.
That's where the majors swoop in - buying out the project and then poking as many holes as quickly as possible into the ground to grow the size and scale of hydrocarbon discoveries in the basin.
A good example is Energy Africa which was sold to Tullow Oil for US$500M in 2004.
At the time, the Energy Africa board claimed they had "no choice but to accept the deal" and also that they were disappointed with the price.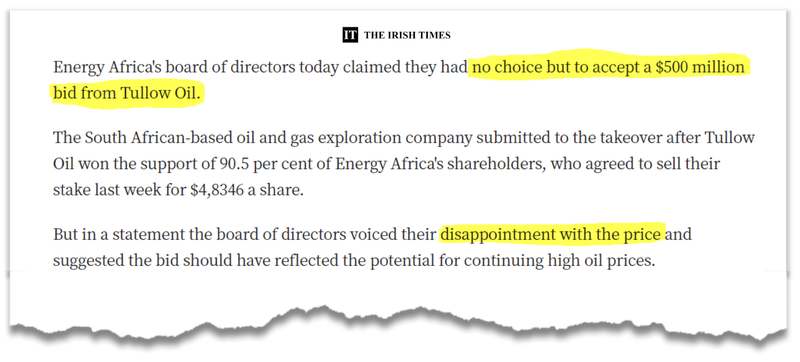 IVZ's directors know the Energy Africa transaction very well - and will know exactly what to do differently IF IVZ declares a discovery and unlocks the Cabora Bassa basin:
IVZ's Chairman, John Bentley built Energy Africa from the ground up, listed it on the Johannesburg and Luxembourg stock exchanges and eventually sold the company to Tullow for US$500M.
Non-executive director Robin Sutherland was also at Energy Africa before Tullow got involved. After the Tullow acquisition, Robin led the Tullow Oil exploration team through multiple discoveries.
Majors, after buying out juniors like Energy Africa, came in with their big balance sheets and drilled hole after hole with multiple rigs on the ground, turning the discovery into major oil and gas projects across entire basins.
We think IVZ is going into this drill program in a far stronger position with 80% control of its project, no major involved in the project YET, and heaps of other drill targets to follow up on in a post-discovery situation.
We think IVZ's approach will be to:
Unlock the basin by declaring a discovery and proving moveable hydrocarbons - hopefully after this the market re-rates the company to a higher market cap.
Bring onboard a cashed up major as a project partner OR raise capital at a much bigger market cap.
Drill out the project QUICKLY.
The new board members have been there and done it before, so we are hoping they can repeat the previous success with IVZ.
One thing we have noticed with majors who are looking to enter projects like IVZ's is that they much prefer to take on projects with added exploration upside.
IVZ fits that bill.
Even if Mukuyu-2 allows IVZ to declare an economic discovery of hydrocarbons, IVZ still has plenty of exploration upside - especially across its basin margin targets - which might tempt majors even more.
First though, IVZ needs to unlock the basin with Mukuyu-2.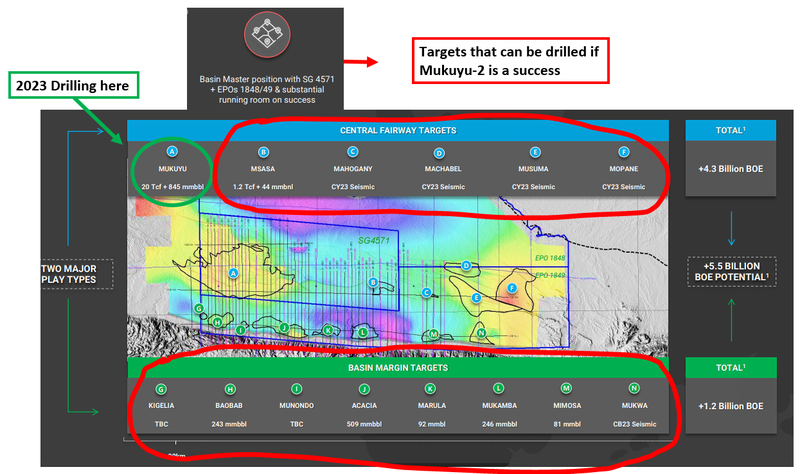 We are hoping Scott and his team declare a discovery and achieve our IVZ Big Bet which is as follows:
Our IVZ Big Bet:
"To see IVZ make a basin opening oil/gas discovery in Zimbabwe and re-rate by over 700%, similar to the move Africa Oil experienced after making its basin opening discovery in Kenya"
NOTE: our "Big Bet" is what we HOPE the ultimate success scenario looks like for this particular Investment over the long term (3+ years). There is a lot of work to be done, many risks involved - just some of which we list in our IVZ Investment Memo. Success will require a significant amount of luck. There is no guarantee that our Big Bet will ever come true
To monitor the progress IVZ has made since we first Invested and how the company is doing relative to our "Big Bet", we maintain the following IVZ "Progress Tracker":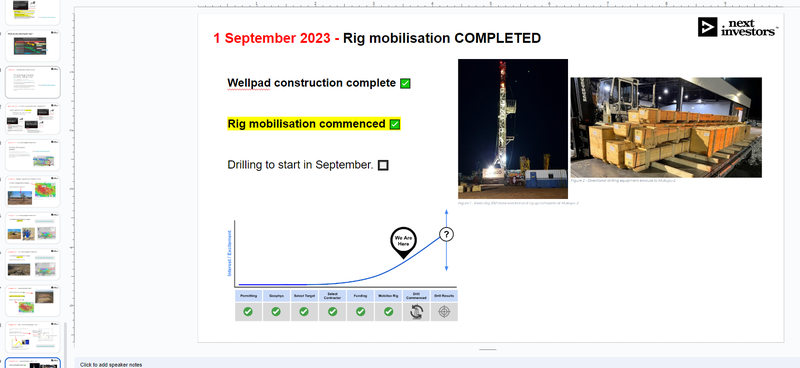 What's next for IVZ?
Drilling of Mukuyu-2 🔄
IVZ now has the rig on site and in position to start drilling.
Drilling is expected to start sometime this month.
2D seismic across the eastern part of its acreage 🔄
IVZ recently completed its 2D seismic program across the eastern part of its project.
On the JRI podcast above, Scott mentioned that processing and interpretation of the results would likely run through to November.
The 2D seismic program will eventually feed into an upgraded prospective resource estimate once IVZ can refine its understanding of the wider project area.
Prospective resource upgrade 🔄
After the 2D seismic program's results come in and IVZ has completed drilling Mukuyu-2, we expect to see IVZ put out an updated prospective resource estimate for its project.
What are the risks?
In the short term, the key risk for IVZ is still exploration risk.
There is always a chance the Mukuyu-2 well does not deliver the desired results and in that scenario we would expect the company's share price to drop significantly.
Another key risk between now and drilling starting is funding risk.
IVZ is going into a big binary drilling event which will be high risk/high reward and expensive.
There is always a chance that IVZ looks to shore up its balance sheet so that the company has enough funds for working capital post-drilling.
To see all of the risks we list in our IVZ Investment Memo click on the image below: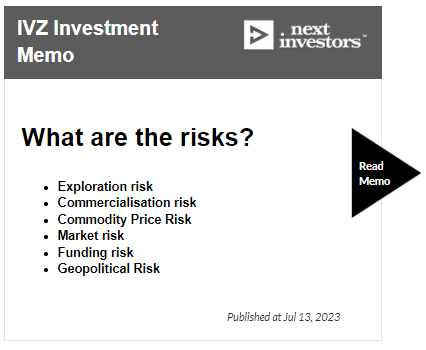 Our IVZ Investment Memo
In our IVZ Investment Memo, you can find the following:
Key objectives for IVZ
Why we are Invested in IVZ
The key risks to our Investment thesis
Our Investment plan
---