IVZ Gets a 7x Increase in Acreage, Focused on the Margins. Sovereign Wealth Fund on Board. Drilling Getting Closer
Disclosure: The authors of this article and owners of Next Investors, S3 Consortium Pty Ltd, and associated entities, own 6,706,980 IVZ shares and 140,989 IVZ options at the time of writing this article. S3 Consortium Pty Ltd has been engaged by IVZ to share our commentary on the progress of our investment in IVZ over time.

No other commodity has been mentioned more in the last few weeks than gas.
With the EU reliant on Russian gas imports for ~42% of its energy needs, the Ukraine/Russia conflict has seen gas prices rise all across Europe.
So it's no surprise that Europe is looking for alternative gas supplies. One place that was already starting to be recognised as the next frontier in hydrocarbon discoveries was Africa, and the conflict in Ukraine has only accelerated interest in the region's gas reserves.
This coming demand adds to existing demand pressure from southern Africa's power crisis and the lack of domestic energy security.
Our 2020 Energy Pick of the Year Invictus Energy (ASX:IVZ) is aiming to dramatically bolster Zimbabwe's discovered gas resources in the coming months.
IVZ is getting closer to drilling the largest seismically defined, undrilled oil and gas structure in onshore Africa, and at the same time solving an energy crisis for Zimbabwe.
IVZ's oil & gas project in Zimbabwe has a prospective resource of 9.25 tcf Gas + 294 million barrels of Conventional Gas-Condensate (100% gross basis).
Considered an "Elephant scale" target, a successful discovery in this part of Africa has "basin opening" potential.
"Opening a basin" means successfully discovering a large new oil and gas system - it would be a big achievement for a small cap energy explorer like IVZ.
In order to do this, IVZ needs to embark on a high risk, high reward, drilling program that could transform the company.
Long time readers will know our first ever Top Energy Pick was Africa Oil Corp (10 years ago) which moved up ~1,200% after making a discovery in Kenya after a similar style drilling program.
More recently 88 Energy did the same thing, after trading at 0.6c for most of 2020, before moving up 1,000% plus leading up to its drilling program in Alaska.
EXR also had a great run up after their basin opening gas discovery in Mongolia - and of course while all these results don't mean that IVZ will be successful, it provides some examples of the kind of results we hope to achieve in our oil & gas investments.
Today, IVZ announced that it had signed a Heads of Agreement with the Sovereign Wealth Fund of Zimbabwe, leading to an increase in the size of its project by over 7x from 100,000 hectares to 709,300 hectares.
At the same time IVZ confirmed that it now plans to drill a second well in this expanded part of its project when the company starts drilling in June of this year.
IVZ's expanded licence area covers the entire Cabora Bassa Basin, meaning IVZ will now be in control of the entire basin.
In the event of a successful "basin opening" gas discovery, this could prove to be extremely valuable.
The expanded licence area also means IVZ controls the entire basin margin to the south which IVZ has termed the "Basin Margin play".
It allows IVZ to set up the drilling program later this year to test both the Muzarabani-1 prospect as well as the potential for oil/gas accumulations all along the basin margin.
The Heads of Agreement (HOA) signed between the Sovereign Wealth Fund of Zimbabwe and IVZ had three other key takeaways outside of the increase in project size:
Second well before June 2024: Changes to the work commitment IVZ has made in this "second stage of exploration, with a commitment to drill a second well before June 2024, IVZ has confirmed this second well would be included in this year's drilling program.
10% back-in-right for Sovereign Wealth Fund: The negotiation of a 10% back-in-right, is effectively a right of first refusal for the Sovereign Wealth Fund to take a 10% free carried interest in the event of a discovery being made.
PSA negotiations complete: That negotiations over the Production Sharing Agreement had been completed and now await final governmental approvals. (This is the final stage of the permitting process).
The HOA is now subject to final governmental approvals.
Once approved, it will become a lot clearer what a successful discovery could mean for IVZ. The HOA will allow a clearer framework for bigger institutional investors to value IVZ's share of the project.
We are invested in IVZ because it is doing basin opening exploration, the type of exploration that brings with it the potential for "company making" discoveries. This is effectively a high risk/high reward "swing for the fences" approach to exploration.
With the size of the project now 7X bigger and the addition of the "Basin Margin play", that potential company making discovery just became even bigger.
Drilling is now targeted for June 2022. We expect to see market speculation and interest increase in IVZ in the coming months, as it often does in the lead up to a large oil & gas exploration well.
With drilling programs of this nature, we always like to stick to our well documented investment strategy with oil & gas explorers.
This style of frontier exploration in the oil & gas space can usually lead to binary exploration results which are always high risk high reward outcomes.
That's why we think having a well defined investment strategy is important as an oil & gas explorer gets closer to that big binary outcome.
To read more about our investment strategy you can check out our 2022 Investment Memo by clicking the image below:
More on today's announcement:
Today's announcement is effectively a "Heads of Agreement" (HOA) between IVZ and the sovereign wealth fund of Zimbabwe, which is the country's state owned investment fund.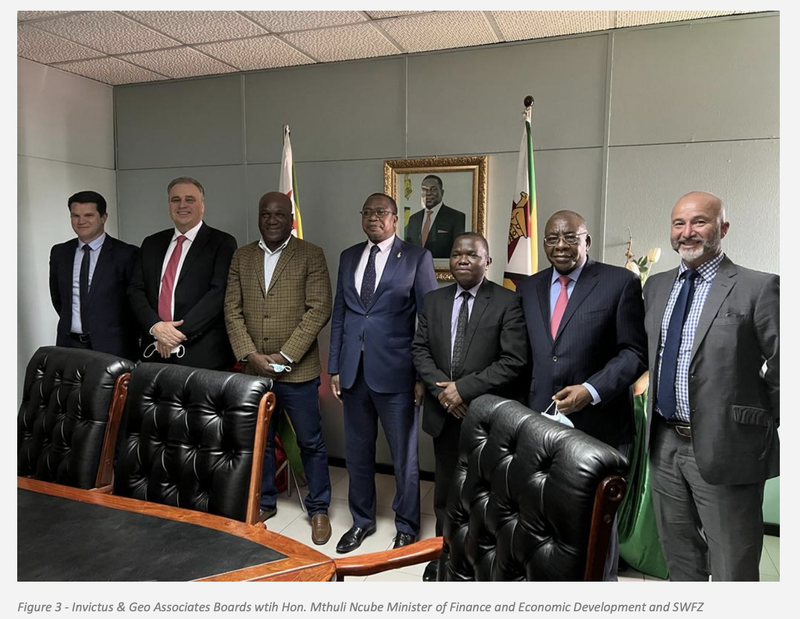 At the surface, the HOA means IVZ is a step closer to drilling but the deal is centred around four main points:
The first of these is the increase in the acreage:
As part of the HOA, IVZ have managed to increase the size of the total acreage from 100,000 hectares to 709,300 hectares.
An increase of over 7x in the size of the project.
This increase has come by including the existing licence area which covered ~100,000 hectares, the extended application area which IVZ had previously applied for, and the reserved area "MSC003" which was held by the Sovereign Wealth Fund of Zimbabwe.
For a long time, IVZ has been saying that the final drilling locations couldn't be determined until permitting and applications for an extended licence area had been completed.
Once the HOA has Zimbabwe government approval, IVZ will hold an interest in the entire Cabora Bassa Basin, including the part of the project where the "Basin Margin play" comes into play.
The basin margin covers the entire southern border of the project and is important because of the way large scale oil and gas projects form over millions of years.
As the rock structures below the ground move, they create pockets of pressure and in those pockets, oil & gas deposits start to develop.
These pockets of pressure then become noticeable through the analysis of seismic data where "faults and seals" form. These are all signs of the perfect place for large scale oil and gas deposits to develop.
We covered the initial results from the seismic program which confirms all of the above in a previous note which you can read here.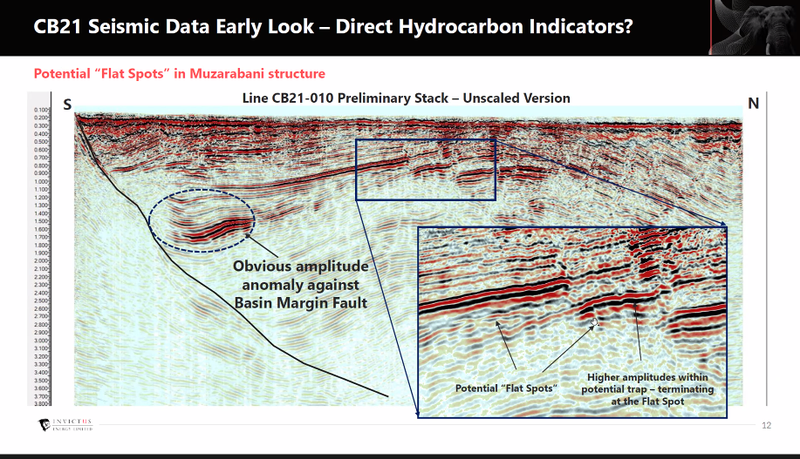 In fact, these types of geological fundamentals have led to multiple rift basin style discoveries across east Africa. Our long time readers may remember our first ever success in the oil & gas space (Africa Oil Corp) which went up 1,200% after its drilling program in Kenya.
Leading up to, and immediately following the maiden drilling program in Kenya, Africa Oil's share price went from ~CAD$1 to as high as CAD$10+.
Here is an excerpt from our coverage from way back in 2012.
With today's announcement including all of this area and IVZ confirming a commitment to a two well drilling program, we think the stakes are now that much higher going into the drilling program in June.
The second point is around IVZ's exploration commitments
The second exploration period which runs through to June 2024, didn't initially include a two well drilling program.
IVZ today confirmed a commitment to drill a second exploration well within this allocated "second exploration period" and is now planning on incorporating this into the drilling program later this year.
As mentioned above, we expect to see that second well test as close to the basin margin as possible.
The third is the negotiation of a "back-in-right" with the Sovereign Wealth Fund of Zimbabwe:
As part of the HOA, IVZ has negotiated with the Sovereign Wealth Fund of Zimbabwe a back-in-right of 10% into the project.
This gives the Zimbabwe Sovereign Wealth Fund the first right of refusal in the event that IVZ does successfully make a large scale discovery.
The fund will have the right to take a 10% interest in the project, free carried through to production, after which IVZ can recoup the costs of free carrying the fund via a cost recovery deal that is yet to be agreed.
Effectively this means IVZ would lose a 10% equity interest in the project but in exchange would get the Sovereign Wealth Fund involved as a partner to the project.
We think that the 10% equity interest is acceptable, given it brings the government into the project as an equity partner and will mean that in the event of a successful discovery, all parties' incentives are aligned to commercialise the project.
Projects like IVZ's which have basin unlocking potential can only be commercialised with government support around infrastructure development and assurances. We think that for IVZ, having the Sovereign Wealth Fund in its corner will go a long way towards assisting with all of this, should IVZ make a large scale discovery.
We also noticed that IVZ mentioned it would make an amendment to its equity interest in the project. We are hoping this is simply to reflect the 10% back-in-right and nothing more.
The fourth and final takeaway is around the Production Sharing Agreement:
Last week we wrote a Quick Take on why we thought IVZ may be in a trading halt, where we believed some progress might have been made with respect to the final production sharing agreement which was being negotiated with the Zimbabwe Government.
We mentioned that we expected IVZ to progress its Petroleum Exploration Development and Production Agreement (PEDPA) (signed in March 2021) into a 25 year production sharing agreement.
The signing of a Production Sharing Agreement would effectively be the final stage of permitting before IVZ has certainty around tenure, as well as having fiscal and legal frameworks in place in the event a discovery is made when drilling begins in June.
In today's announcement, IVZ confirmed that the Production Sharing Agreement had undergone independent review and is expected to be finalised and executed shortly.
The Production Sharing Agreement will actually be in addition to the back-in-right so will finalise the terms and conditions by which IVZ will get to operate the project.
The arrangement would effectively put in place the terms and conditions by which IVZ can operate a successful discovery and how much of the proceeds will flow back to the Zimbabwe government (in addition to the back-in-right).
What has IVZ completed leading up to drilling?
Binding rig contract signed ✅
On the 10 March, IVZ announced that it had signed a binding rig contract with Exalo Drilling S.A. for a two well exploration program scheduled to commence around June this year.
The binding contract will see Exalo's #202 rig mobilise onsite in Zimbabwe after it finishes drilling operations in Tanzania in May.
As part of the binding contract, IVZ has the right to drill the Muzarabani-1 exploration well and has signed for an option on an additional exploration well as part of this drilling program.
With today's announcement confirming IVZ is now committed to the two well exploration program, we think that the maiden drilling program after almost two years of waiting has just become that much more interesting.
This directly speaks to Objective #2 of our 2022 Investment Memo and leaves only the permitting left before we can tick all of this off for 2022.
What's left before IVZ can start drilling?
Heads of Agreement to be approved by Zimbabwe Government 🔄
With today's announcement, IVZ is now waiting on formal governmental approvals for both the Production Sharing Agreement as well as the approval over the extension to its acreage position.
With the terms of the HOA relatively clear to us now, we want to see some clarity around the terms and conditions in the production sharing agreement.
2D Seismic Data and final drilling locations 🔄
With the expanded acreage position now sorted, IVZ can finish up works finalising the well locations for the upcoming two well drilling program.
IVZ recently confirmed that the final results from the 2D seismic program completed in 2021 and the reprocessing of the US$30m datasets leftover by Mobil from the 1990's had all been completed as of the 28 February.
With several anomalies located, as can be seen in the image below, IVZ confirmed that it would be ranking the highest priority targets before finalising the locations for its drilling program.
In an investor webinar on the 15th of December (Which you can watch here), Managing Director Scott MacMillan commented on being able to test multiple formations with one drill rig in the middle, and another 'near the basin' margin fault. We suspect that IVZ is just cross checking all the data to make sure the drilling will be as perfectly targeted as possible.
IVZ also expects the results from the seismic program to lead to an updated independent prospective resource estimate, which we hope will make the project more attractive to potential offtake partners. Fresh seismic data, an updated independent prospective resource, and almost 7x an acreage position would make IVZ's project all that more interesting to potential partners.
With improvements in every aspect of the project's risk/reward profile we hope to see a lot more interested parties come to the table now, or at the very least, some revisions to the existing Cluff Energy Africa deal (see below).
Farm in option to be exercised 🔄
This brings us to the existing farm in agreement.
Under the terms of the non binding agreement with Cluff Energy Africa, the option needs to be exercised and converted into a binding farm in agreement by 31/03/2022.
This leaves only three days for some sort of decision on this. We suspect we will know the outcome of this before the end of the week.
With so much changed with the project's risk reward profile and the impending results from the interpretations for the 2D seismic program, ideally, we would see a revision to the terms initially agreed with Cluff Energy Africa.
Financing the now two well drilling program 🔲
In our most recent note, we wrote about how IVZ would need to bring in more capital either via a capital raise or through an alternative farm in agreement than the one being proposed with Cluff Energy Africa.
In our last note, we mentioned that the current deal with Cluff Energy Africa meant that IVZ would need ~US$8M to fund its share of the expected ~US$12M drilling program.
With today's announcement and the drill rig contract signed earlier this month, IVZ has now committed to expanding the drilling program to a two well program.
In the absence of any competing farm-in offer, IVZ's current cash balance of ~$9M won't be enough to finance all of this drilling work.
We plan to hold a position in IVZ into the drilling results and beyond but ideally we want to see the company secure more financing either via a capital raise or by bringing in new project partners who are willing to carry on a higher % of the drilling costs.
Of course, negotiating this is difficult given IVZ will not want to give up a large % of the project. We will be watching to see which path IVZ takes towards financing the now two well drilling program.
What could go wrong?
Of course its important to realise where IVZ is at with respect to its project.
At present there is no confirmed oil & gas discovery, there is a prospective resource that IVZ hopes it can try and prove out with several rounds of drilling.
We have been investing in high risk drilling programs like this for over 20 years now and have learnt the hard way to consider what could go wrong as a shareholder of a company doing this style of frontier exploration.
As part of putting together our 2022 Investment Memo we did just this and listed some of the key risks to our investment thesis for IVZ, below is a screenshot of those risks.
Our IVZ Investment Memo for 2022
Below is our 2022 Investment Memo for IVZ where you can find a short, high level summary of our reasons for investing.
The ultimate purpose of the memo is to record our current thinking as a benchmark to assess the company's performance against our expectations 12 months from now.
In our IVZ Investment Memo you'll find:
Key objectives for IVZ in 2022
Why we invested in IVZ
What the key risks to our investment thesis are
Our investment plan
To access the IVZ Investment Memo simply click on the button below:

---