IVZ rig on its way to drill - scheduled for next month.
Disclosure: S3 Consortium Pty Ltd (the Company) and Associated Entities own 5,893,666 IVZ shares and 2,675,435 IVZ options and the Company's staff own 101,667 IVZ shares and 31,679 IVZ options at the time of publishing this article. The Company has been engaged by IVZ to share our commentary on the progress of our Investment in IVZ over time.
IVZ's drill rig is now officially on its way to the drill site.
It's just started the 6.8km journey up the road to get there.
Drilling is expected to start next month.
After getting so close last year, this will be IVZ's second try at confirming a new hydrocarbon discovery.
Last year, IVZ's long awaited FIRST drill campaign saw a share price run that hit 40c in the lead up to the drill result...
While it was a technical success and a hydrocarbon system was proven, an official discovery was not able to be declared because a fluid sample could not be brought to the surface.
IVZ has been trading between 10c to 16c since.
With the SECOND drill fast approaching, this time around IVZ are fully funded to drill, have all the learnings and analysis from the first well and a beefed up technical team and board.
After what seemed like an eternity of waiting since the first drill result was announced in January, this morning IVZ announced that the drill rig is officially on the way to the drill location.
And that drilling will start next month.
Small cap exploration companies with big drilling events often see a run in share price in the lead up to drilling results (but obviously not always).
As drilling and results approach, interest and excitement builds in the lead up to drilling results, and speculators may enter the stock expecting a positive result.
We have created this very basic chart to show levels of increased excitement/interest in the lead up to a big drilling result for a small cap oil and gas explorer: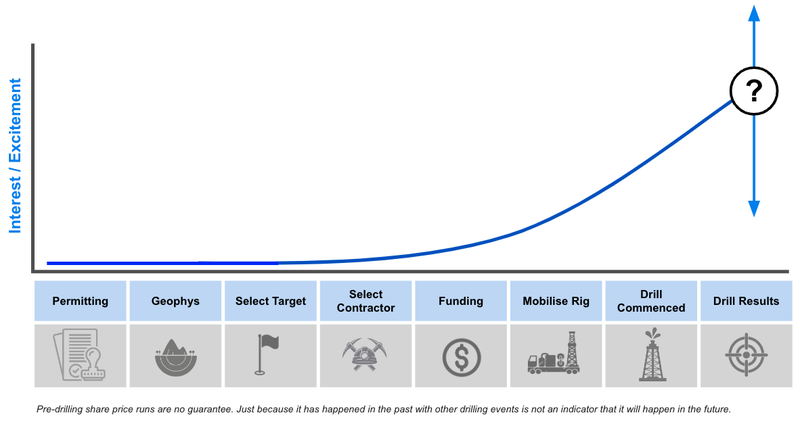 Below is where the IVZ currently sits on our curve that indicates general excitement/interest levels leading up to drill results.
It's important to note that increased excitement/interest shown on our chart below does NOT necessarily correlate to share price increases, which depends on many other factors and broader market conditions.
IVZ's upcoming second drill - Mukuyu-2: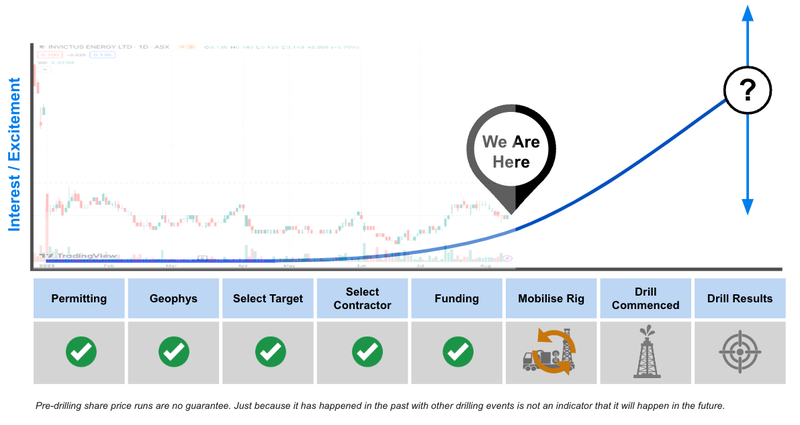 Below is how IVZ tracked on its first drill campaign and result.
Again, while there is some loose correlation in this previous drill campaign, it's important to note that increased excitement/interest shown does NOT necessarily correlate to share price increase, which depends on many other factors and broader market conditions:
IVZ's first drill - Mukuyu-1: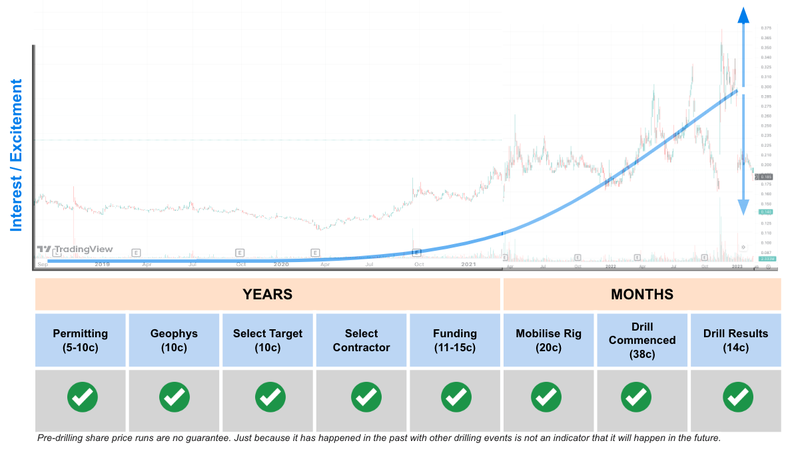 What an official discovery would mean for IVZ:
In the coming weeks, IVZ will be drill testing a 5.5 billion barrel of oil equivalent prospective resource, with the aim of officially declaring a discovery.
IVZ retains 80% control and ownership of the asset - and the upside.
The rig is currently making a short 6.8km journey (about an hour's walk) up the road to the drilling site, having been sitting on standby at last year's well location.
Here's IVZ's well site, with all civil works completed, and ready for drilling: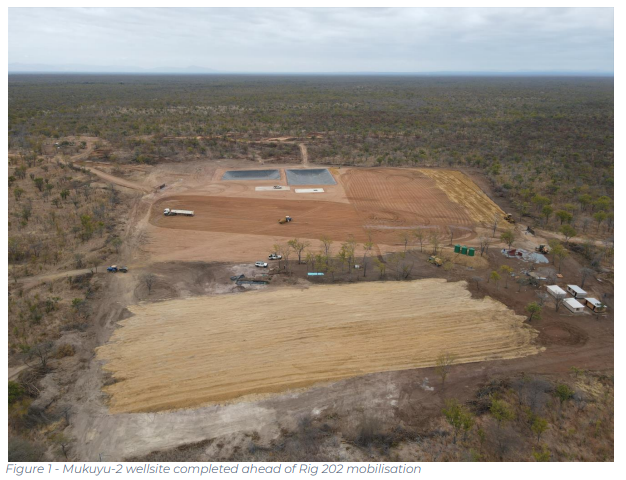 IVZ's second well (Mukuyu-2) will be following up on the first well the company drilled last year.
With its first well, IVZ confirmed a working conventional hydrocarbon system - an excellent result for a maiden well in a frontier location.
With the upcoming second well, IVZ's goal is to bring an oil sample to surface and hopefully flare some gas. Either of the two will mean IVZ can officially declare a discovery.
IVZ holds an 80% interest in all of the ground in one of the last basins in the East African Rift System (EARS).
The EARS is home to some of Africa's biggest oil and gas discoveries and has so far had a ~80% success rate from nearly 40 exploration wells.
IVZ's controlling position across an entire basin means that the stakes are high if a discovery is made.
If a discovery is declared then anyone wanting a piece of the basin will have only one company to deal with.
For context - Africa Oil which we have written about pre-discovery was 50-50 partners with Tullow Oil on its projects in Uganda - despite the smaller ownership percentage, its share price still went up over 1,000% after its first discovery.
We think IVZ's 80% ownership position puts the company in a much stronger position.
Given last year's result, and all the lessons learnt, we continue to be Invested in IVZ as we like its chances of success.
Of course, IVZ is still a high risk investment, as are all small cap pre-revenue energy exploration stocks. Past performance of stocks is not an indicator for future performance of stocks.
IVZ is not all about one single well though. It has a number of large targets across its basin margin acreage.
Discovery potential #1: The Central Fairway targets. IVZ has a 4.3 billion barrel unrisked prospective resource here. This is what IVZ is drill testing on the upcoming Mukuyu-2 well.
Discovery potential #2: The Basin Margin. IVZ has a 1.2 billion barrel unrisked prospective resource across five drill ready basin margin targets. IVZ is saving the drilling of these until later.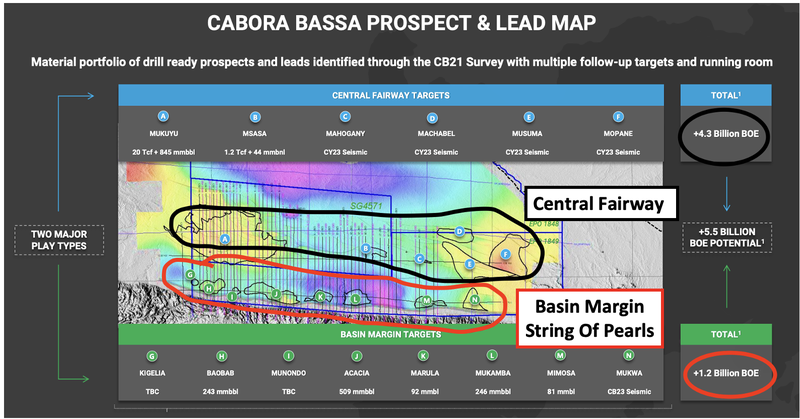 (Source)
Discoveries in the EARS by other junior explorers almost always led to oil and gas majors coming and taking out the explorer's position in each respective basin.
We think the same could happen given the Cabora Bassa Basin in Zimbabwe had been untouched until IVZ's drill program last year.
Another thing going for IVZ is its proximity to one of Africa's most gas hungry economies - South Africa.
South Africa is structurally short in gas supply and is in the midst of an energy crisis right now.
A commercial discovery by IVZ would be significant on both the international/regional scale.
A signal of demand from regional customers is the multiple offtake MOU's IVZ has in place to supply ~1.2 trillion cubic feet of gas over 20 years.
(Source)
We are hoping that a discovery puts IVZ's project on the radar of oil and gas majors the same way other discoveries did over the past two decades.
Below is a table showing the major transactions done across Africa, with the biggest being a $2.8BN deal in Mozambique with Exxon.
(Source)
IVZ making a discovery forms the basis for our IVZ Big Bet, which is as follows:
Our IVZ Big Bet:
"To see IVZ make a basin opening oil/gas discovery in Zimbabwe and re-rate by over 700%, similar to the move Africa Oil experienced after making its basin opening discovery in Kenya"
NOTE: our "Big Bet" is what we HOPE the ultimate success scenario looks like for this particular Investment over the long term (3+ years). There is a lot of work to be done, many risks involved - just some of which we list in our IVZ Investment Memo. Success will require a significant amount of luck. There is no guarantee that our Big Bet will ever come true
To monitor the progress IVZ has made since we first Invested and how the company is doing relative to our "Big Bet", we maintain the following IVZ "Progress Tracker":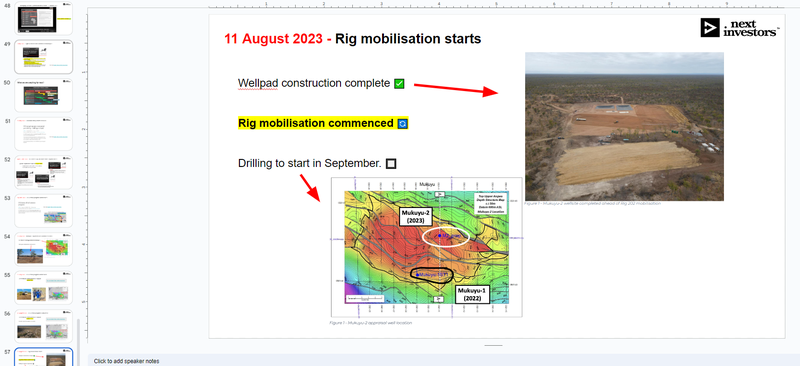 Our take on IVZ's share price chart
IVZ's share price is following the same story arc that most oil and gas explorers go through leading up to a big drill program:
The explorer's share price moves downwards when things are quiet, and the company isn't putting out regular newsflow.
Closer to the drill program and after the well is fully funded, the share price starts moving higher.
We have split that process into four main stages:
1) Company starts planning well - At this stage, the company is doing technical work and isn't focused on promoting its upcoming drill program.
Investor excitement for the drilling program is typically low during this stage.
✅ IVZ has passed this stage.
2) Well design and permitting - At this stage, the company has detailed its plan and started to message to the market what it aims to do with its drill program. In the background, the company works on permitting and well design.
Investors now start talking about the story and might add the company to their watchlists. Some will start buying shares, but most will be watching from the sidelines.
✅ IVZ has passed this stage.
3) Rig contracting and site preparations - Here, the company is contracting its rig and is running through the logistics work to get its rig to site. The company will also look to put out more regular updates and finance the drill program during this stage.
By this stage, investors have had ample time to do due diligence, work out for themselves the chance of success and start to imagine hypothetical scenarios where the company makes a discovery.
Investor buying during this stage starts to increase and trading volumes start to rise.
✅ IVZ has passed this stage.
4) Drilling starts (major catalyst) - Here, the explorer gets its rig to site and starts drilling.
By this stage, investors start to price in the blue sky scenario and the share price enters the "speculative mania" stage. Typically we see a speculative peak in the company's share price just before OR on the day of drilling starting.
IVZ is just begging this phase.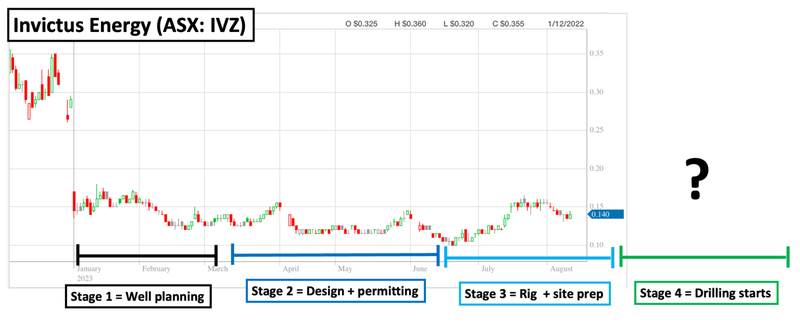 Well pad construction is complete and rig mobilisation began today.
What are we doing now?
Our Investment approach to big drilling events is pretty consistent, we typically look to:
Invest long before the drilling starts.
Patiently hold while the company does all of the pre-drilling work.
Wait for the company's share price to rise closer to the drilling date, free carry into the speculative buying and ride the rest of our position into a drilling result (hopefully a good one).
During the quiet phase (after Mukuyu-1), we Increased our Investment in IVZ 3x at 12c per share.

Now with only a month left for the drilling of Mukuyu-2 we think IVZ is close to entering the pre-drill speculative stage.
We expect the speculative pre-drill peak in IVZ's share price to happen around the time the company puts out the "drilling has commenced" announcement.
However, often our expectations don't match reality, and a peak may come later - for example closer to drill results, or never at all.
Given the potential risk/reward on offer from the Mukuyu-2 well we plan on holding a larger than normal position going into this drill program.
Ultimately we are always hoping to try and achieve Free Carry into a drilling program.
We should be clear here, this type of investing suits our risk profile as Investors - it may not suit yours.
Invest only what you can afford to lose in small cap speculative stocks, and to seek professional advice before investing.
Here's everything IVZ found out at Mukuyu-1:
✅ Gas readings 135x above background levels.
✅ Multiple (up to 13 in the sidetrack well) potential gas-bearing reservoir units.
✅ ~900m gross interval (225m in potential hydrocarbon bearing zones in one of the primary target areas (upper Angwa target).
✅ Multiple seals identified with several hundred-metre thicknesses above the deeper primary targets. This was a key risk going into drilling.
✅ Elevated (100%) fluorescence, indicating condensate or light oil.
✅ Elevated Logging While Drilling resistivity.
✅ Commercial helium grades up to 0.1% (helium could be a valuable by-product for IVZ's project.
✅ Most importantly 🛢️A working conventional hydrocarbon system declared. 🛢️
Here is what IVZ is looking to achieve with Mukuyu-2:
The only thing missing for IVZ on the first well to officially declare a discovery was a fluid sample to surface.
IVZ's Managing Director Scott MacMillan summarised the objectives of the drill program perfectly in the video below: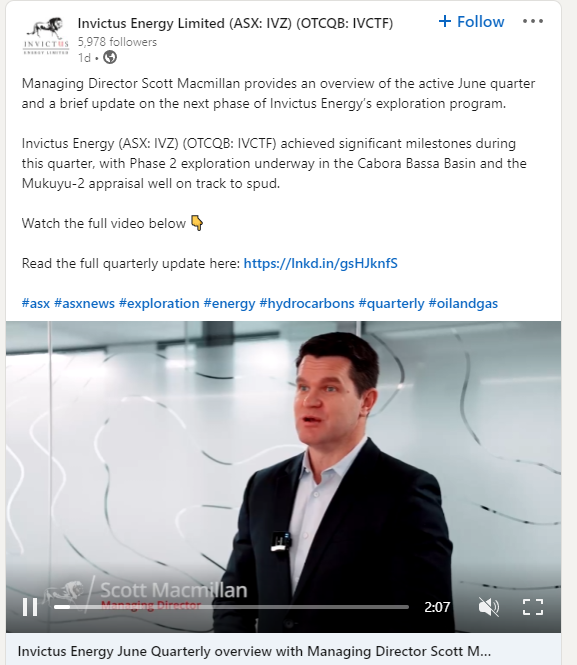 (Source)
Scott also gave a more in-depth overview in an interview here:
What's next for IVZ?
Drilling of Mukuyu-2 🔄
Wellpad construction is complete and IVZ has started the rig move to site.
IVZ's rig has been on standby since the last drill program and has now mobilised to site.
IVZ expects to be drilling in September - that's only a few weeks away.
2D seismic across eastern part of its acreage 🔄
IVZ recently completed its 2D seismic program across the eastern part of its project.
The processing and interpretation of the results are expected to be run over the next ~six months.
The 2D seismic program will eventually feed into an upgraded prospective resource estimate once IVZ can refine its understanding of the wider project area.
See our Quick Take on the news: IVZ's 2D Seismic acquisition program completed
Prospective resource upgrade 🔄
After the 2D Seismic program is completed, we expect to see IVZ put out an updated prospective resource estimate for its project.
What are the risks?
With IVZ's Mukuyu-2 well, and where IVZ is currently at with its journey, the key current risks are exploration and commercialisation risk.
At this stage, the drilling program should start next month, up until then we will be tracking to see how IVZ goes with its rig mobilisation.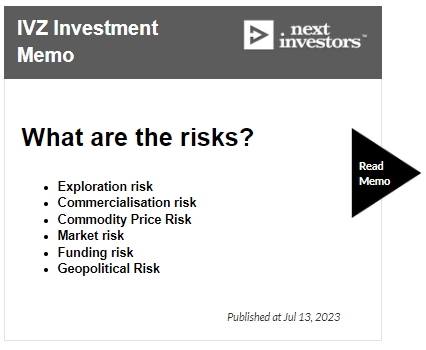 Our IVZ Investment Memo
In our IVZ Investment Memo, you can find the following:
Key objectives for IVZ
Why we are Invested in IVZ
The key risks to our Investment thesis
Our Investment plan
---