IVZ about to drill main targets - reports higher background gas, better reservoir, heavier hydrocarbons so far
Disclosure: S3 Consortium Pty Ltd (the Company) and Associated Entities own 6,261,999 IVZ shares and 2,833,212 IVZ options and the Company's staff own 161,667 IVZ shares and 51,679 IVZ options at the time of publishing this article. The Company has been engaged by IVZ to share our commentary on the progress of our Investment in IVZ over time.
We have been waiting a long time for this one.
IVZ has just provided another drilling progress update.
The drill is now at 1,966m depth (out of a planned depth of 3,750m).
IVZ has just announced it has now drilled through the secondary target zones and reported higher background gas and better reservoir quality so far...
IVZ could now be just a week or two away from drilling into its primary target zones.
And then the much anticipated drill results we are all waiting for....
Results of drilling like this is what small cap oil & gas investors wait years for, and often result in wild share price movements (up OR down) depending on the results.
And so far so good it seems from today's IVZ announcement.
So far the drilling through the secondary zones has revealed higher total background gas than in IVZ's first well.
IVZ has also announced better reservoir quality than encountered in the first well (average 15% to 20% porosity).
And importantly, so far there are no technical issues to delay the drilling progress, as happened with the first well.
Meaning that this well looks like it will be completed within the 50 to 60 day time frame by around ~ 20th November... about 6 weeks from today.
And then the results...

(Source)
IVZ is now setting drill casing and preparing to drill through the main targets: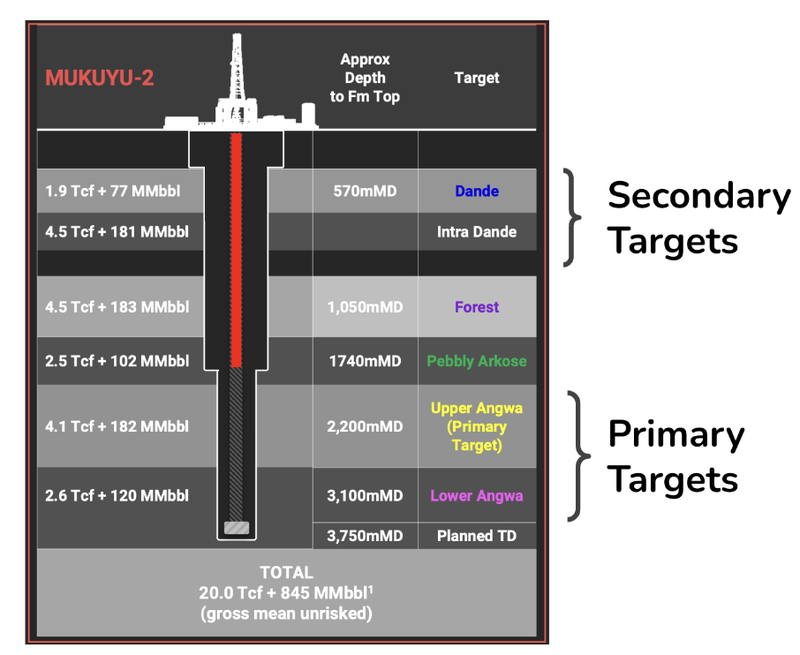 Our quick take on the news:
About 1/3 of the way through the drilling
Residual hydrocarbons interpreted to be located in secondary targets
IVZ about to penetrate primary targets
Background gas encountered so far higher than the first well
First word about reservoir quality - this was a key risk point from the first well and a good sign that IVZ is talking about this early.
Why we think IVZ's Mukuyu-2 could be a company maker:
We first Invested in IVZ back in 2020, and we named it our 2020 Energy Pick of the Year.
Over the years, we have written about the different reasons why we think a discovery for IVZ could be a company-making event.
While Mukuyu-2 drill grinds towards target depth, so here is some background reading on IVZ on the days where IVZ doesn't release any news.
Above is really a snapshot of the many reasons we like IVZ.
Remember that small cap investments are high risk and many things can and do go wrong - we list the risks we have identified and accepted with this Investment at the end of this note and in our Investment Memo.
See the key reasons we Invested and the risks listed in our July 2023 IVZ Investment Memo.
What's next for IVZ?
Drilling of Mukuyu-2 🔄
Drilling is expected to take 50-60 days to complete. We are now 19 days into the program so given that everything is progressing well and is on track, we expect that the program will be complete in the next ~30-40 days.
2D seismic across the eastern part of its acreage 🔄
IVZ recently completed its 2D seismic program across the eastern part of its project.
The results from the seismic program are expected in November.
Prospective resource upgrade 🔄
After the 2D seismic program's results come in and IVZ has completed drilling Mukuyu-2, we expect to see IVZ put out an updated prospective resource estimate for its project.
Risks
In the short term, the key risk for IVZ is still exploration risk.
Mukuyu-2 well may not deliver the desired results and in that scenario, we would expect the company's share price to drop significantly.
Now that drilling has begun, there is also "technical failure risk" where something goes wrong with the drilling that causes delays or issues.
Exploration risk
IVZ is planning two wells, the first is an appraisal well and the second is a new exploration well.
While the appraisal well is somewhat derisked (because it is targeting a known hydrocarbon system) there is still a risk that nothing commercial is found.
There is also a risk of technical failure while exploring.
Commercialisation risk
If gas is found it doesn't guarantee that it can be economically produced, there is a risk that the water content of the gas flows is too high making it uneconomic to extract.
Flow-rates will need to prove that any gas found can be economically produced.
Commodity Price Risk
Ultimately demand for gas and its price will dictate the economic viability of IVZ's project.
Market risk
If the broader market sells off there is a chance that investors shy away from high risk investment opportunities like oil and gas explorers.
IVZ is a pre-revenue explorer and may be impacted by these market wide sell offs.
Funding risk
IVZ does not generate any revenues and so is reliant on fresh funding for its exploration programs.
This means IVZ is reliant on access to capital, if the markets are unwilling to finance IVZ's exploration programs the company may need to go slow on its operations or offer large discounts to its share price when raising capital.
Geopolitical Risk
The project is located in Zimbabwe which has a history of political and economic instability, there is always a risk that geopolitical issues make it difficult to advance the gas project.
IVZ has a preliminary Production Sharing Agreement Finalised but the second half is not completed, there is a risk that the agreement is delayed or that IVZ gives up a portion of the project as part of the agreement.
Click here to see all of the risks we list in our IVZ Investment Memo.
Our IVZ Investment Memo
In our IVZ Investment Memo, you can find the following:
Key objectives for IVZ
Why we are Invested in IVZ
The key risks to our Investment thesis
Our Investment plan
---