Vonex Integrates $31M Direct Business into its Operations
It has been a hectic year to date for our telco investment Vonex (ASX:VN8) with the company on an acquisition spree to aggressively grab market share.
Today, VN8 provided an update on the integration of its latest and largest acquisition — the $31M Direct Business purchased from MNF Group. The integration is progressing well as the companies combine into one, and the growth announced today is impressive.
VN8 is a little different from most of our other portfolio stocks, as it already generates stable, recurring revenue, which is growing.
VN8 provides telecommunication solutions primarily for Australian small and medium enterprises (SME). With the pandemic transforming how SMEs across the board operate, the importance of having trusted and reliable business interconnectivity has never been greater.
The first fruits of the combined business have been quite positive.
After only a few weeks in the VN8 stable, this new division has helped increase monthly retail/SME customer billings by more than 185% from a year ago and has substantially grown VN8's customer base and channel partner network.
Furthermore, VN8 has now ticked off on two key milestones that we track on our VN8 investment journey.
We also note that small cap fund manager Regal Funds Management — with over $2 billion funds under management — has been buying on market, increasing its stake in VN8 to almost 10%. (More on this and the two milestones reached later.)
We added VN8 to our portfolio 12 months ago as our first and only small cap telco holding, gaining exposure to a sector that we viewed as crucial as businesses adjusted to the new pandemic remote work lifestyle.
We were also big fans of VN8's aggressive acquisition strategy, which has now netted three value-adding businesses within an 18 month period - we think VN8 will eventually be acquired by a big telco once it achieves a certain size.
We recently increased our holding in VN8 on the back of the latest acquisition of MNF Group's Direct Business, which was settled last month.
Whilst most of our other portfolio investments have delivered strong gains this year, VN8 remains one of our few investments that's yet to gather much market traction.
After hitting a 52-week high of 32.5 cents in early February 2021, the stock has since fallen, with the telco now trading at near 52 week lows (12.3¢ close yesterday).
Poor market sentiment across the broader communication services sector over the past six months partially explains VN8's market performance. But we remain somewhat perplexed by the current market valuation, given the company's robust organic growth, complemented by its two value adding acquisitions in 2021.
We presume that the market wants to see how these acquisitions are digested, and if they lead to stronger earnings and customer growth over the coming quarters.
We also suspect that at some stage, the tables will turn for VN8, possibly with a bigger player taking it out.
Let's deep dive into what else we can garner from today's integration announcement, and what we expect to see for the remainder of the year.
Today VN8 announced that it has begun the full of its recent acquisition, "Direct Business", into its operations. This is significant because of the size of the integration. Remember, the $31M Direct Business deal was done at valuation greater than VN8's market capitalisation at the time (~$25M).
We believe the outcome will be very positive in two key areas:
Substantial growth across key metrics such as annual recurring revenues and underlying earnings within two years and;
Very rapid impact on customer base growth, channel partner network and market expansion.
We are already seeing the positive impact of the latest acquisition after only a few weeks. Here are the highlights from today's announcement: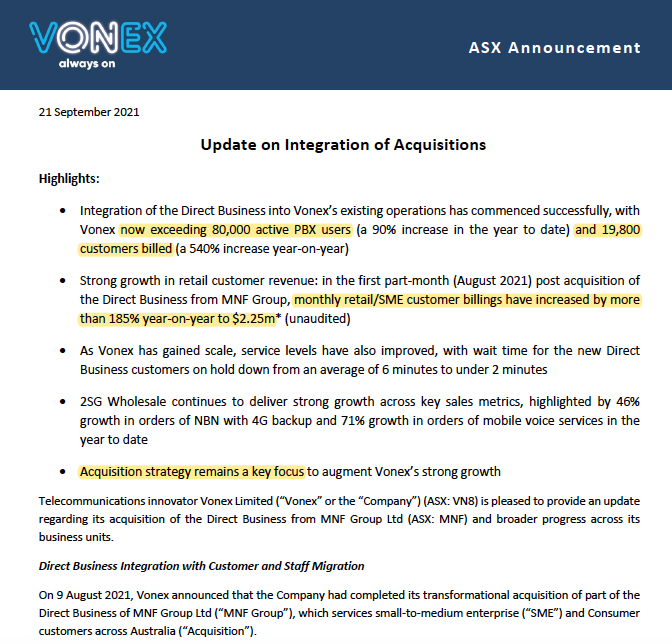 VN8 now has over 80,000 registered users on its Private Branch Exchange (PBX) cloud-based phone service, a key indicator of its business development progress. This is a quantum growth leap in user numbers enabled by the Direct Business acquisition.
PBX is an 'easy to follow' metric for VN8's revenues, given that every PBX user pays a fee that will contribute to the bottom line. The more PBX users, the more fees collected.
Now, with the new PBX users from the acquisition, its impact is immediate on this key metric: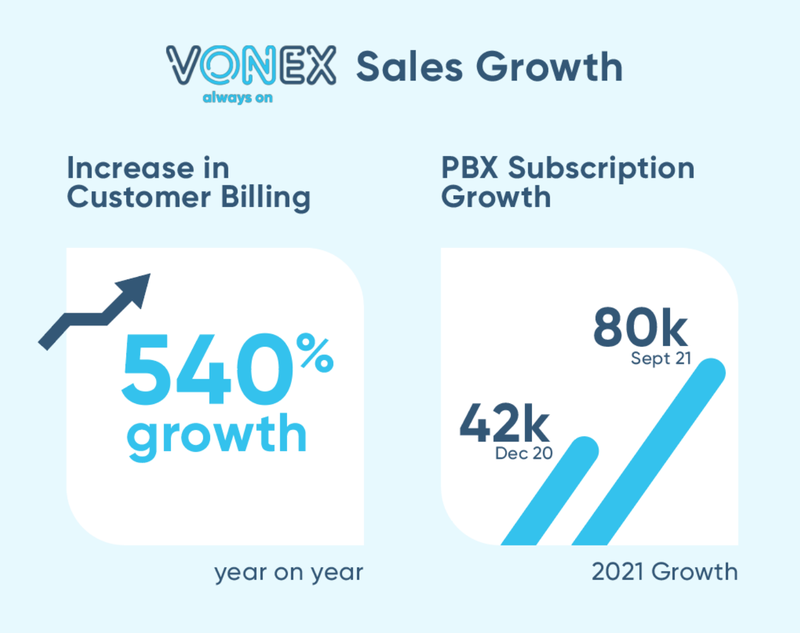 To put this in perspective, we were previously awaiting VN8 to hit 50,000 PBX users and had a future target milestone of 75,000. We thought perhaps that could be reached in mid to late 2022 at VN8's organic growth rate. So we're very supportive of VN8's acquisitions as we witness it accelerate this growth.
We also take comfort in seeing that VN8's register is attracting serious investment from institutional funds, with several participating in the most recent capital raise in July.
Of particular note was Sydney-based Regal Funds Management, which has also been snapping up VN8 shares on market, lifting its stake to 9.92% as of 3 August 2021. This follows a pattern of Regal investing in junior telcos of late, with the fund becoming a substantial shareholder in Tuas (ASX:TUA) in July.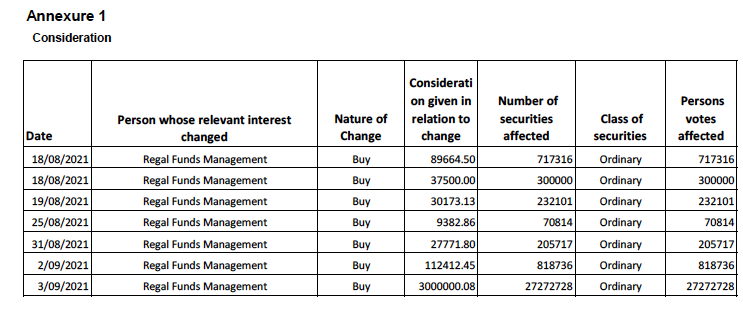 What's next?
With integration of the latest acquisition underway, we expect to see substantial growth across several key metrics as soon as the next quarterly statement — most importantly, annual recurring revenue and earnings (EBITDA).
We also suspect that as VN8 has crossed into cashflow positive territory in the last half year period, this should continue going forward. We expect that once its recent acquisitions are fully integrated, the company will be able to report its first full year in the black.
VN8's acquisition strategy remains a key focus and the company has a strong pipeline of acquisition opportunities in negotiation and due diligence stages.
Vonex Company Milestones
✅ Acquisition 1: Incorporation Complete (2SG)
✅ Portfolio Initiation
✅ 2SG Wholesale 5G services selected by Optus as a key 5G partner
🟥 Oper8r app discontinued
✅ Acquisition 2: Acquisition Complete (Nextel)
✅ Wholesale Agreement with Orange
✅ Acquisition 2: Incorporation Complete (Nextel)
✅ Acquisition 3: Acquisition Announced (MNF Group Direct Business)
✅ $14M Cap Raise @11c ($12M Insto, $2M SPP)
✅ Acquisition 3: Acquisition Complete (MNF Group Direct Business)
✅ Acquisition 3: Incorporation into Business (MNF Group Direct Business)
🔲 Acquisition 4 - Announced
🔲 Acquisition 4 - Complete Transaction
🔲 Acquisition 4 - Incorporate into business
🔲 Acquisition 4 - Revenue Growth
✅ 50,000 PBX Customers
✅ 75,000 PBX Customers
🔲 100,000 PBX Customers
🔲 [NEW] 150,000 PBX Customers
✅ Annual recurring revenue hits $25M
🔲 Annual recurring revenue hits $50M
🔲 [NEW] Positive EBITDA FY22
✅ Cashflow positive for half year
🔲 Cashflow positive for full year
🔲 Unexpected Announcement 1
🔲 Unexpected Announcement 2
🔲 Unexpected Announcement 3
🔲 Vonex acquired by larger telco company
Here is our VN8 investment strategy
✅ Initial Investment: @14c
✅ Increase Investment: @11c
🔲 Increase Investment
🔲 Price increases 500% from initial entry
🔲 Price increases 1000% from initial entry
🔲 Price increases 2000% from initial entry
✅ 12 Month Capital Gain Discount
🔲 Free Carry
🔲 Take Profit|
🔲 Hold remaining Position for next 2+ years
---